Sony Vario-Tessar T* FE 16-35mm f/4 ZA OSS lens review: Welcome addition to the range
By Kevin Carter -
Thursday November 06 2014
Lens Review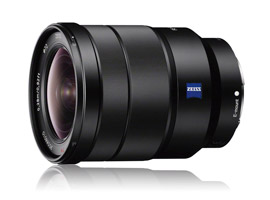 Sony introduced this ultra wide-angle full-frame zoom for the A7 series cameras at this year's Photokina. With a constant f4 maximum aperture this new stabilized model looks compelling on paper, but just how well does this it perform in the lab? Read on to find out.
Announced in the run-up to this year's Photokina this stabilized ultra-wide is designed essentially for the A7 series bodies but can also be used by the APS-C E-mount models as well, albeit with the corresponding reduction in the field of view. As well as featuring a four-stop stabilizer this new Zeiss branded model adopts an unusually complex optical construction consisting of five aspherical lenses element one bing what Sony describe as an AA (Advanced Aspherical) type which are more convex and are said by Sony to offer improved reproduction and rendering than usual aspheres.
It also features three ED glass elements bringing the total to 12 in 10 groups. It has 7 circular aperture blades, a minimum focus distance of .92' (0.28m) and a 72mm filter thread. The complex design means the lens is compact at 3.07 x 3.88" (78 x 98.5 mm) and relatively light in weight at 18.27 oz (518 g). The Sony Vario-Tessar T* FE 16-35mm f/4 ZA OSS is available to pre-order now at $1,349.
Further readings for the Sony Vario-Tessar T* FE 16-35mm f/4 ZA OSS lens review: Welcome addition to the range
To provide photographers with a broader perspective about mobiles, lenses and cameras, here are links to articles, reviews, and analyses of photographic equipment produced by DxOMark, renown websites, magazines or blogs.
---
Comments
16-35 FE on a a6000

Sharpness = 7 P-Mpix
Why the score is so low ?

Thank you



Reply
---
Added by

jajaba

| November 13 , 2014

Green flash your incorrect about the 10-18 E-mount

<div id="linkdxomark">This a comment for <a href="http://www.dxomark.com/Lenses/Sony/Sony-FE-Carl-Zeiss-Vario-Tessar-T-STAR-16-35mm-F4-ZA-OSS">this page on the website</a></div>Comparing the FE 16-35 to the E 10-18 is pointless. First of all your comment about the 10-18 giving wider coverage on your NEX-7 is true, it's a cropped ASP-C sized sensor! The NEX-7 crops over ⅓ of the frame off any image when you use a full frame lens on it! Secondly, the 10-18 has truly terrible image smearing in the corners when used on the A7R! The only focal length that is acceptable (barley) for professional use is at 13-14mm f6.3 - f9 with a minimum focal distance of over 10 feet from the corners, at any other settings the corners are unusable for large printing unless the subject has no details in the corners or you intentionally want very smeared (not blurred) corner for some reason. To confirm your mention about OSS, YES the FE 16-35 f4 does have OSS!

Finally I am baffled at your claim that the Sony E-mount 10-18 "has significantly greater clarity" ???? Where and how did you determine that???? Have you tested the 16-35 side by side on the A7R and NEX-7? Because I have and the sharpness "clarity as you call it" from the 16-35 at any setting on either the A7R or NEX-7 body, corner to corner, is significantly sharperer with the 16-35, I would say it's at least twice as sharp at any setting than the 10-18mm f4! Also the sharpness is much better on the NEX-7 because the corners are tack sharp due to the cropping that occurs due to the APS-C sensor!

If you have actually tested both lenses on both bodies as I have please post some samples of the greater "clarity" you are getting with the 10-18 on your NEX-7..... Because I am seeing the exact opposite of what your claiming.


Reply | Read all replies for this comment
First replies for this comment
---
Added by

paged

| November 11 , 2014

Why does it wins against the nikon

<div id="linkdxomark">This a comment for <a href="http://www.dxomark.com/Lenses/Sony/Sony-FE-Carl-Zeiss-Vario-Tessar-T-STAR-16-35mm-F4-ZA-OSS">this page on the website</a></div>Hi

can somebody explain me why it wins against the nikon (26 vs 25 points). Because the nikon seems to be much better in sharpness and a little bit better in Distortion, Vignetting, Chr. aberation? So why? (talked about the Sony Vario-Tessar T* FE 16-35mm)


Reply
---
The Emount 10-18 f4 is a better choice

This is quite disappointing and points up the major difficulty of the A7r camera: That is, that while its sensor is the equivalent of the D810, for whatever reason, Sony has had a lot of difficulty creating lenses that take advantage of it. Comparing this lens (on the Nex 7),to the Emount 10 to 18, also f4, the 10-18 has significantly greater clarity, gives a wider angle and also has OSS. I tried it on my A7r and it projects an image wide enough to fill the entire frame without noticeable vignetting from 12-18 mm but does show some some clipping at 10-11 mm. So folks looking for wide angle coverage might prefer this much less expensive option.
BTW The name of this lens and your text suggest it has OSS, but your spec sheet says it has no stabilization.


Reply | Read all replies for this comment
First replies for this comment
---
Added by

swldstn

| November 07 , 2014

Appears like the Canon is the best all around performer

It appears to me that the Canon is the best all around performer and that the only thing holding it back are the Canon bodies used for testing its sharpness. Still don't understand why you are not willing to adapt the Canon lens to the Sony A7R body to get a more fair comparison especially since that is a realizable solution. I understand if a lens can't be adapted but since it can, and there are a lot of Canon shooters doing just that with the A7R body its a comparison I think should be done. Also don't understand why we can never see how the lens performs on the A7 24 Mpixel sensor since so many own that body and not the A7R.


Reply | Read all replies for this comment
First replies for this comment
---
Added by

Raziar

| November 07 , 2014

Sony FE 16-35

Thanks for the great review , once again. Comparing it to the recent nikon 18-35 would be great too , since it's half the price. Do we have any chance to see lenses tested with the A7 ?



Reply
---
Added by

Touit

| November 07 , 2014

Compact size, but similar performance compared to bigger ones

This lens is 100g lighter than Canon's and 165g than Nikon's(while Sony's is the most expensive ones...), but this is showing similar performance compared to bigger Nikon and Canon's 16-35 f/4. Not outstanding performance, but enough to make me take into account- I hope you test Loxia ones soon.


Reply
---