Apart from a larger screen, the Apple iPhone 15 Plus and iPhone 15 share many of the same specs, including the same A16 Bionic processor. We tested the iPhone 15 Plus display, and as expected, the results were mostly the same as those for iPhone 15. Overall, these two products had a very similar performance despite a different screen-to-body ratio and some slight differences in color rendering.
For a more detailed look at the iPhone 15 Plus's display performance, please see the test results of the Apple iPhone 15.
Overview
Key display specifications:
6.7 inches AMOLED Retina XDR, (~87.7% screen-to-body ratio)
Dimensions: 160.9 x 77.8 x 7.8 mm (6.33 x 3.06 x 0.31 inches)
Resolution: 1290 x 2796 pixels, (~460 ppi density)
Refresh rate: 60 Hz
Scoring
Sub-scores and attributes included in the calculations of the global score.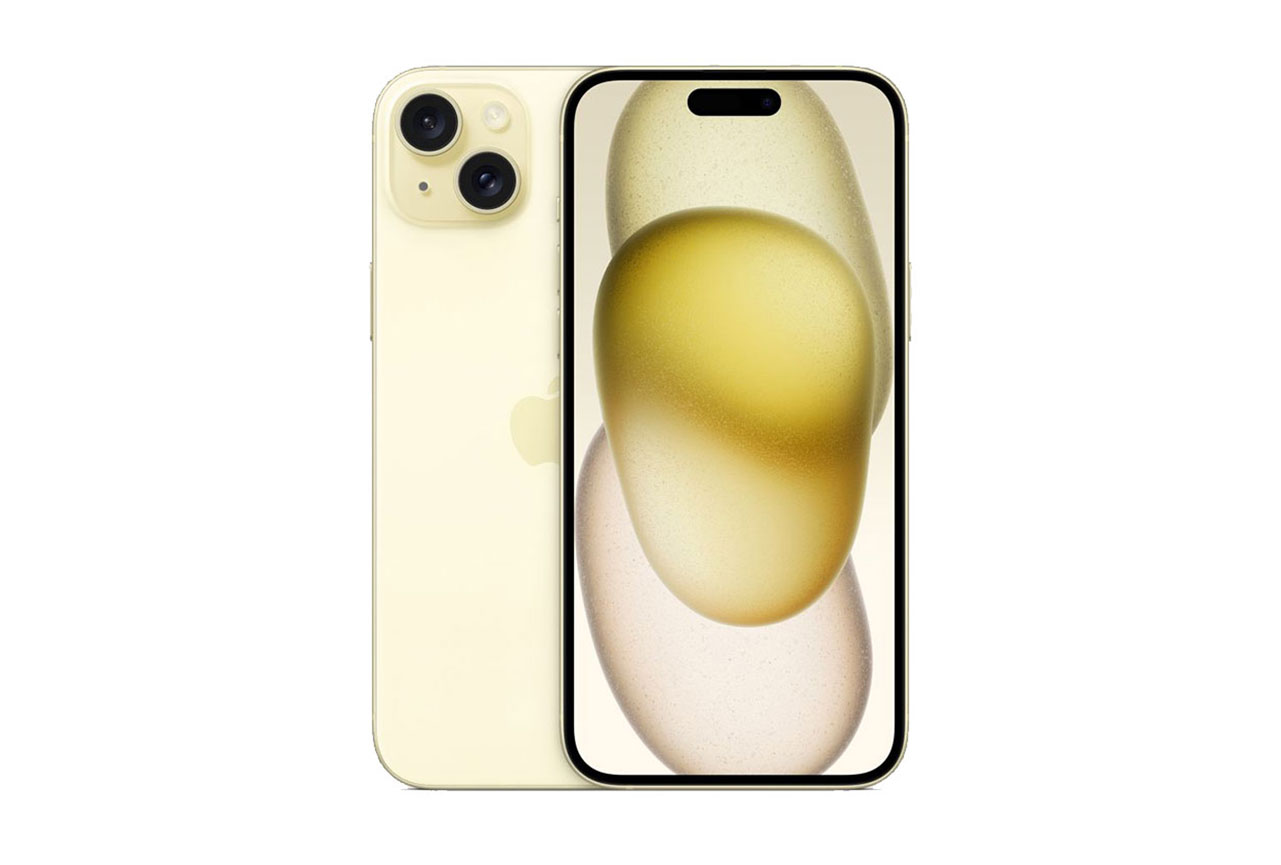 Apple iPhone 15 Plus
144
display
Position in Global Ranking
18
th
3. Samsung Galaxy Z Fold5
152
6. Apple iPhone 15 Pro Max
149
6. Apple iPhone 14 Pro Max
149
6. Samsung Galaxy Z Flip5
149
11. Samsung Galaxy S23 Ultra (Snapdragon)
148
11. Samsung Galaxy S23 (Snapdragon)
148
13. Samsung Galaxy S23 Plus (Snapdragon)
146
16. Apple iPhone 13 Pro Max
145
21. Honor Magic4 Ultimate
140
34. Samsung Galaxy S22 Ultra (Snapdragon)
136
37. Samsung Galaxy S22+ (Exynos)
135
42. Samsung Galaxy Z Flip4
134
42. Samsung Galaxy S22 Ultra (Exynos)
134
42. Vivo X80 Pro (MediaTek)
134
48. Samsung Galaxy Z Fold4
133
48. Samsung Galaxy S22 (Snapdragon)
133
48. Samsung Galaxy S22 (Exynos)
133
48. Vivo X80 Pro (Snapdragon)
133
54. Samsung Galaxy S21 Ultra 5G (Snapdragon)
131
54. Samsung Galaxy S21 Ultra 5G (Exynos)
131
58. Samsung Galaxy S21 FE 5G (Snapdragon)
130
65. Samsung Galaxy Z Fold3 5G
129
65. Samsung Galaxy Note20 Ultra 5G (Snapdragon)
129
74. Samsung Galaxy Z Flip3 5G
128
74. Samsung Galaxy Note20 Ultra 5G (Exynos)
128
78. Apple iPhone 12 Pro Max
127
85. Vivo X70 Pro (MediaTek)
125
85. Vivo X60 Pro 5G (Snapdragon)
125
101. Oppo Reno6 Pro 5G (Snapdragon)
123
101. Samsung Galaxy S20 Ultra 5G (Exynos)
123
105. Apple iPhone SE (2022)
122
105. Motorola Edge 30 Pro
122
111. Samsung Galaxy A54 5G
120
115. Motorola Edge 40 Pro
118
118. Motorola Razr 40 Ultra
117
122. Apple iPhone 11 Pro Max
116
127. Motorola Edge 20 Pro
111
127. Samsung Galaxy A52 5G
111
131. Samsung Galaxy A52s 5G
110
137. Xiaomi Redmi K50 Gaming
107
139. Nubia RedMagic 6 Pro
105
140. Samsung Galaxy A53 5G
104
147. Microsoft Surface Duo
99
149. Nubia RedMagic 7 Pro
97
150. Xiaomi Mi 10T Pro 5G
95
158. Samsung Galaxy A22 5G
74
159. Xiaomi Black Shark 3 Pro
69
161. Lenovo Legion Phone 2 Pro
60
Position in Ultra-Premium Ranking
15
th
2. Samsung Galaxy Z Fold5
152
5. Apple iPhone 15 Pro Max
149
5. Apple iPhone 14 Pro Max
149
5. Samsung Galaxy Z Flip5
149
10. Samsung Galaxy S23 Ultra (Snapdragon)
148
11. Samsung Galaxy S23 Plus (Snapdragon)
146
14. Apple iPhone 13 Pro Max
145
18. Honor Magic4 Ultimate
140
27. Samsung Galaxy S22 Ultra (Snapdragon)
136
29. Samsung Galaxy S22+ (Exynos)
135
32. Samsung Galaxy Z Flip4
134
32. Samsung Galaxy S22 Ultra (Exynos)
134
32. Vivo X80 Pro (MediaTek)
134
37. Samsung Galaxy Z Fold4
133
37. Vivo X80 Pro (Snapdragon)
133
41. Samsung Galaxy S21 Ultra 5G (Snapdragon)
131
41. Samsung Galaxy S21 Ultra 5G (Exynos)
131
48. Samsung Galaxy Z Fold3 5G
129
48. Samsung Galaxy Note20 Ultra 5G (Snapdragon)
129
52. Samsung Galaxy Z Flip3 5G
128
52. Samsung Galaxy Note20 Ultra 5G (Exynos)
128
56. Apple iPhone 12 Pro Max
127
67. Samsung Galaxy S20 Ultra 5G (Exynos)
123
73. Motorola Razr 40 Ultra
117
74. Apple iPhone 11 Pro Max
116
78. Microsoft Surface Duo
99
81. Xiaomi Black Shark 3 Pro
69
Pros
Readable in most tested lighting conditions
More vivid colors in photos
Good frame drop performance
Cons
Deteriorated smoothness experience due to the 60Hz screen
HDR10 videos lacks contrast in midtones
An orange cast affects color rendering and skin tones in photos