Competing in the High-end price segment, the Apple iPhone SE (2022) is the most affordable way to own a new iPhone. With a 4.7-inch IPS display, the device is fairly compact and powered by Apple's own A15 Bionic chipset. In the camera department, the SE focuses on the essential and only comes with a 12MP wide-angle camera.
With no ultra-wide or dedicated tele camera on offer, let's see how the Apple iPhone SE (2022) shapes up against the competition from the Android camp.
Key camera specifications:
12MP sensor
f/1.8-aperture lens
LED flash
4K at 24/25/30/60fps, 1080p at 25/30/60fps (tested at 4K/30fps)
About DXOMARK Camera tests: For scoring and analysis in our smartphone camera reviews, DXOMARK engineers capture and evaluate over 3000 test images and more than 2.5 hours of video both in controlled lab environments and in natural indoor and outdoor scenes, using the camera's default settings. This article is designed to highlight the most important results of our testing. For more information about the DXOMARK Camera test protocol, click here. More details on how we score smartphone cameras are available here.
Test summary
Scoring
Sub-scores and attributes included in the calculations of the global score.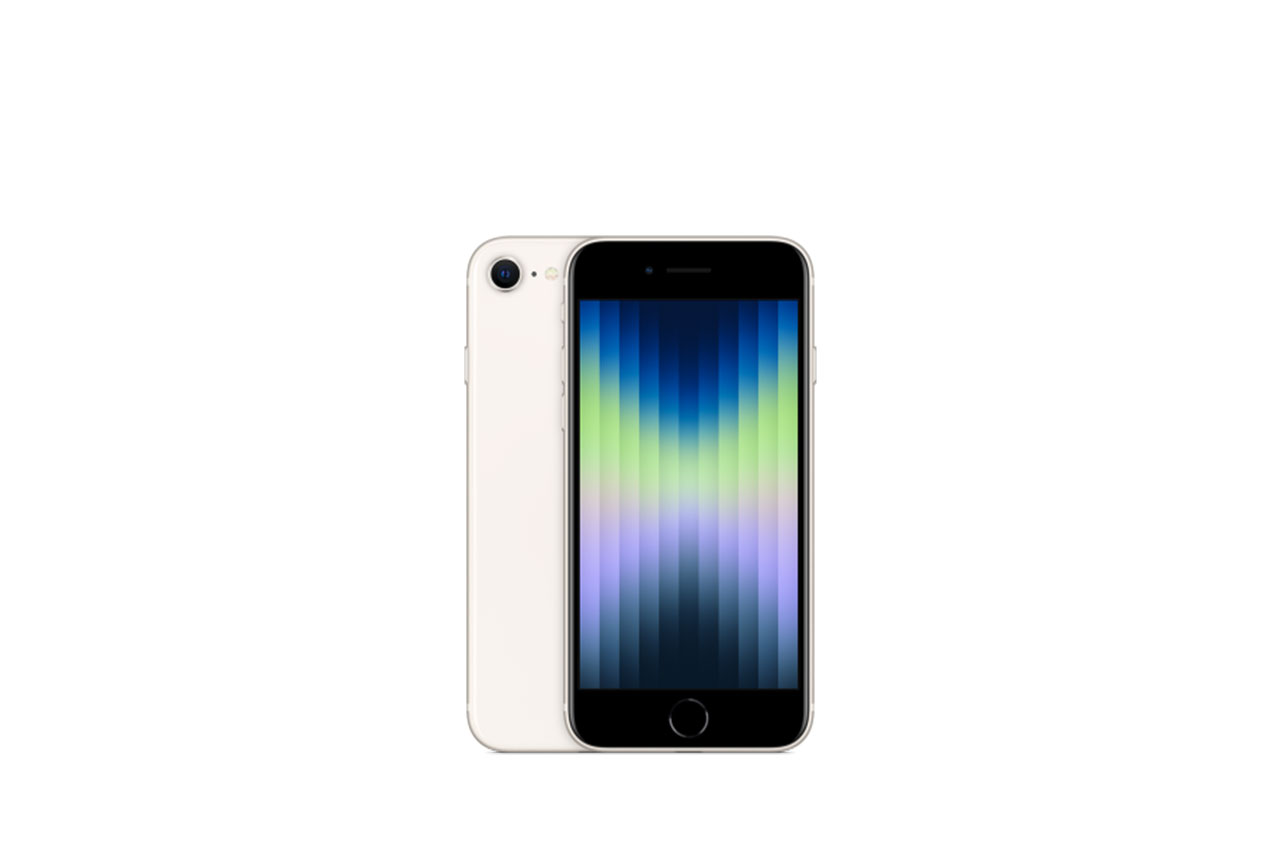 Apple iPhone SE (2022)
100
camera
Use cases & Conditions
Use case scores indicate the product performance in specific situations. They are not included in the overall score calculations.
Outdoor
Photos & videos shot in bright light conditions (≥1000 lux)
Indoor
Photos & videos shot in good lighting conditions (≥100lux)
Lowlight
Photos & videos shot in low lighting conditions (<100 lux)
Friends & Family
Portrait and group photo & videos
Please be aware that beyond this point, we have not modified the initial test results. While data and products remain fully comparable, you might encounter mentions and references to the previous scores.
Position in Global Ranking
74
th
4. Apple iPhone 14 Pro Max
146
7. Apple iPhone 13 Pro Max
141
13. Samsung Galaxy S22 Ultra (Snapdragon)
135
18. Apple iPhone 12 Pro Max
131
18. Samsung Galaxy S22 Ultra (Exynos)
131
26. Asus Smartphone for Snapdragon Insiders
127
28. Vivo X70 Pro (MediaTek)
126
32. Samsung Galaxy S22+ (Exynos)
125
36. Samsung Galaxy Z Fold4
124
38. Apple iPhone 11 Pro Max
122
42. Samsung Galaxy Z Fold3 5G
120
42. Samsung Galaxy S22 (Exynos)
120
45. Samsung Galaxy S21 Ultra 5G (Snapdragon)
117
45. Samsung Galaxy S21 FE 5G (Snapdragon)
117
45. Samsung Galaxy S21 5G (Snapdragon)
117
50. Vivo X60 Pro 5G (Snapdragon)
116
53. Samsung Galaxy S21+ 5G (Snapdragon)
115
53. Samsung Galaxy S21 Ultra 5G (Exynos)
115
62. Samsung Galaxy Z Flip4
112
64. Samsung Galaxy Z Flip3 5G
111
64. Samsung Galaxy S21+ 5G (Exynos)
111
64. Samsung Galaxy S21 5G (Exynos)
111
68. Vivo X60 Pro 5G (Exynos)
108
74. Apple iPhone SE (2022)
100
83. Samsung Galaxy A52s 5G
88
83. Samsung Galaxy A52 5G
88
85. Samsung Galaxy A33 5G
85
88. Samsung Galaxy A53 5G
79
89. Xiaomi Redmi Note 11 Pro 5G
78
91. Samsung Galaxy A23 5G
70
94. Xiaomi Redmi Note 11S 5G
65
102. Xiaomi Redmi 10 2022
51
104. Samsung Galaxy A22 5G
48
Position in High-End Ranking
7
th
7. Apple iPhone SE (2022)
100
13. Samsung Galaxy A52s 5G
88
13. Samsung Galaxy A52 5G
88
15. Samsung Galaxy A53 5G
79
Pros
Good exposure in bright light and indoors for photo and video
Fast and accurate autofocus, wide depth of field
Accurate colors and neutral white balance
Preview image is close to final capture
Nice color in bright light and indoor video
Cons
Lack of fine detail
Luminance and chroma noise
Image artifacts, including ringing ghosting and color fringing
Strong lack of detail when tele zooming
Occasionally extremely underexposed night shots in flash-off mode
Strong underexposure and shadow clipping in low light video
Low texture/noise trade-off and indoor and low light video
White balance casts in video
Ineffective video stabilization and autofocus instabilities when moving while recording video
With a DXOMARK Camera score of 118, the Apple iPhone SE (2022) does well in its segment and has made significant improvements over its predecessor the iPhone SE (2020). But the lack of ultra wide and tele cameras on the 2022 version means it cannot quite keep up with the best-in-class Google Pixel 6.
When capturing still images, exposure is good in bright light and under typical indoor conditions, but images shot in low light are often underexposed. The autofocus performs well and is quite fast, thanks to zero-shutter-lag technology. A wide depth of field means background subjects are rendered sharp. Color rendering is accurate, with fairly neutral white balance.
On the downside, the texture/noise trade-off is fairly low. Images lack fine detail, and luminance noise and low-frequency chroma noise are often noticeable. Our testers occasionally also found artifacts, such as ringing, ghosting and color fringing.
This graph shows that the iPhone SE is capable of capturing good detail when mounted on a tripod in bright light and indoors. However, things quickly go downhill in low light. When handholding the phone detail is preservation is already low at indoor light levels and drops further in low light.
Zooming isn't a strong point of the iPhone SE. Without an ultra wide camera there simply is no way to zoom out from the primary camera. Tele-zooming is done purely digitally, which results in a strong loss of detail as you can see in the samples below.
In video mode, the camera produces accurate exposure in bright light and indoors but, like for stills, underexposure can occur in low light. While recording in bright light or indoors white balance is fairly neutral and colors are pleasant and saturated. Autofocus can be a little unstable, though. This is particularly noticeable with moving subjects in the scene. The footage lacks fine detail, and while noise is only slightly visible outdoors it becomes more intrusive indoors and in low light, with some chroma noise mixed in. Stabilization works well while recording statically, but when moving or running while recording there's a lot of camera shake.
In this sample clip, the face is well exposed, and a wide dynamic range ensures good detail on both face and sky. Exposure and dynamic range are also fairly stable across the entire video. Colors are pleasant, with good saturation, but some autofocus instabilities and pumping are noticeable. When it's in focus, the face has good detail, though, and noise is low. The stabilization system is not capable of compensating for all camera motion.
Apple iPhone SE (2022), good exposure, good detail and low noise on face, autofocus instabilities, camera shake
Apple iPhone 13 mini, better texture, lower noise, effective stabilization
Xiaomi 12, better texture, lower noise, effective stabilization, blue cast