In early 2020, Black Shark revealed a new brand identity using the slogan "Game is Real," which aimed to balance users' mobile gaming experience with their everyday use of their phones. Less than a year later, undaunted by the unlucky number in Chinese culture, the Chinese company has released the Black Shark 4 Pro. Equipped with the premium-tier Qualcomm Snapdragon 888 processor, it boasts a 6.67-inch AMOLED display (slightly smaller than its predecessor's) with a 144 Hz refresh rate, a 4500 mAh battery, and super-fast 120W charging.
Audio specs include a fully symmetrical dual loudspeaker design (top and bottom) for stereo playback, and specific tuning for music, movies, or games. Along the lines of its predecessor, the latest version includes a 3.5mm jack, which often comes in handy for gaming and music enthusiasts.
We put the Black Shark 4 Pro through our rigorous DXOMARK Audio test suite to measure its performance both at recording sound using its built-in microphones, and at playing audio back through its built-in speakers. In this review, we will break down how it fared in a variety of tests and several common use cases.
Audio specifications include:
Fully symmetrical dual loudspeakers (top front-firing and bottom side-firing)
Three microphones with noise cancellation
Headphone jack output
Featuring DTS, AAC and Cirrus Logic components
About DXOMARK Audio tests: For scoring and analysis in our smartphone audio reviews, DXOMARK engineers perform a variety of objective tests and undertake more than 20 hours of perceptual evaluation under controlled lab conditions. This article highlights the most important results of our testing. Note that we evaluate both Playback and Recording using only the device's built-in hardware and default apps. (For more details about our Playback protocol, click here; for more details about our Recording protocol, click here.)
Test summary
Scoring
Sub-scores and attributes included in the calculations of the global score.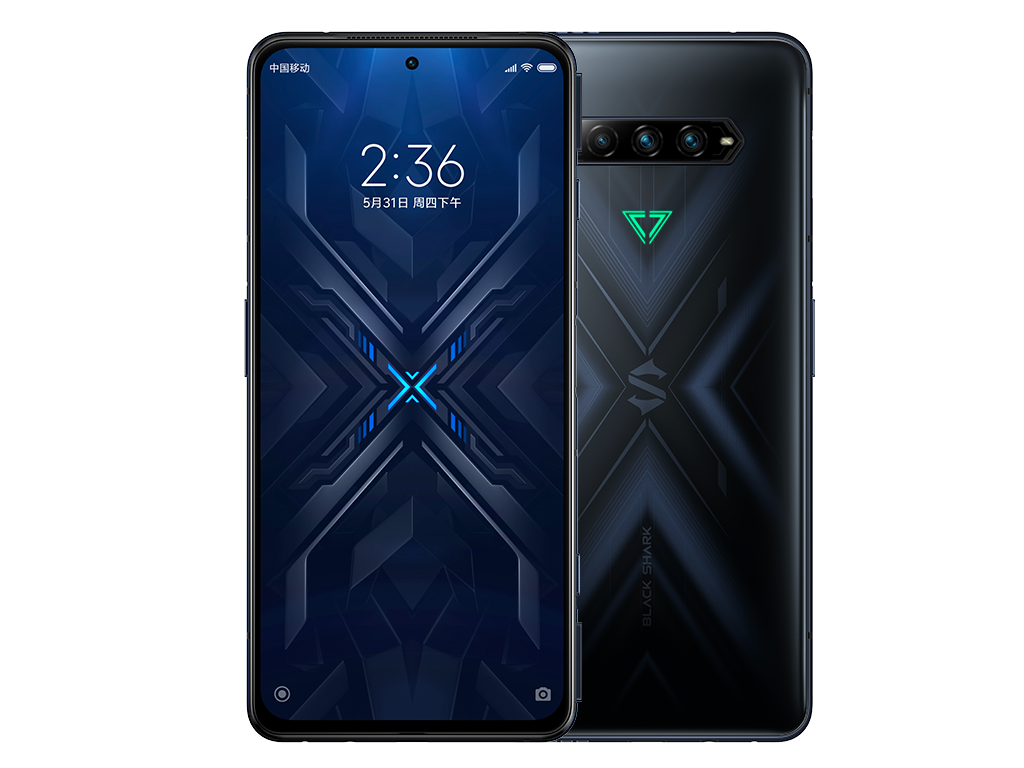 Black Shark 4 Pro
149
audio
Please be aware that beyond this point, we have not modified the initial test results. While data and products remain fully comparable, you might encounter mentions and references to the previous scores.
A mere two weeks after the Mi 10S planted its flag atop our audio ranking database, the Black Shark 4 Pro and its global score of 81 sets a new benchmark for audio quality, in particular for playback.
With a Playback score of 83, the latest Back Shark generation surpasses the previous title holder by no fewer than three points. With the exception of Artifacts, it exhibits best-in-class scores for every tested category.
The Black Shark 4 Pro's playback results are extremely consistent across all our use cases, from listening to music to watching movies and playing games. The phone delivers one of the most balanced frequency responses we've measured to date, enriched by impressive low-end extension, impactful and sharp dynamics, an exceptionally wide sound stage, precise localizability, realistic distance rendering, consistent volume steps, and intelligible content even at soft volumes. Of all the audio quality tests included in our protocol, our experts detected only two shortcomings for playback: a slight hiss noticeable on specific electronic signals, and distortion appearing at loud volumes.
In Recording tests, the latest Black Shark's performance was good and consistent across all use cases. Microphones deliver good low-mids and bass, natural and realistic midrange, precise treble, good high-end extension, great wideness, precise localizability, and accurate distance rendering.
However, the Black Shark 4 Pro doesn't fare so well when recording in loud environments because of spectral and temporal artifacts. Dynamics are impaired by elevated background noise, and selfie videos exhibit a very narrow sound field.
Sub-scores explained
The DXOMARK Audio overall score of 81 for the Black Shark 4 Pro is derived from its Playback and Recording scores and their respective sub-scores. In this section, we'll take a closer look at these audio quality sub-scores and explain what they mean for the user.
Playback
Timbre
Black Shark 5 Pro
Best: Black Shark 5 Pro (89)
Timbre tests measure how well a phone reproduces sound across the audible tonal range and takes into account bass, midrange, treble, tonal balance, and volume dependency.
The Black Shark 4 Pro demonstrates an excellent timbre performance in playback thanks to one the best tonal balances measured to date, along with an impressive low-end extension in every use case. A subtle lack of low-mids in portrait mode and a slight boost of high-mids are perceivable, though not problematic in the least for the overall balance. In terms of use cases, the phone fares outstandingly well in music and movie playback.
Music playback frequency response
That said, the phone's remarkable bass response is hindered by occasional resonances, and a lesser presence at maximum listening volume.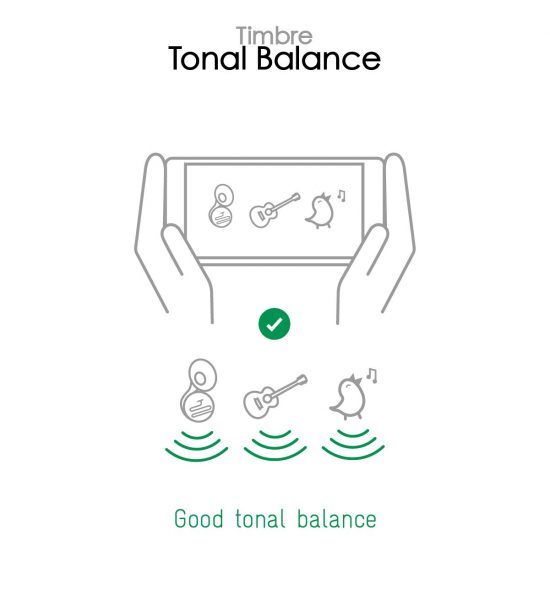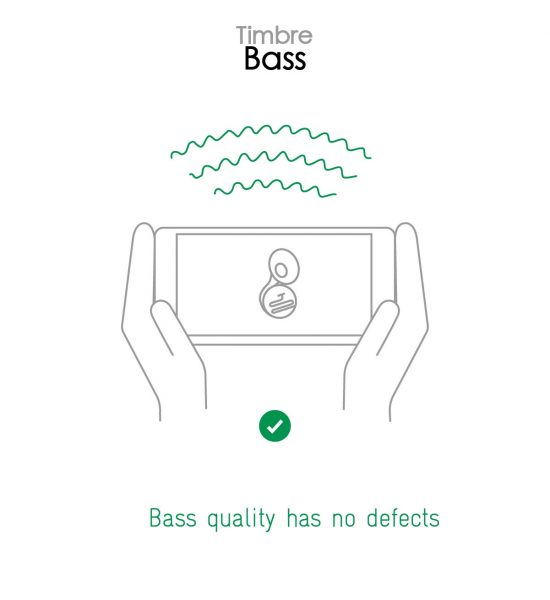 Dynamics
DXOMark's dynamics tests measure how well a device reproduces the energy level of a sound source, and how precisely it reproduces bass frequencies.
Playback dynamics is also one of the Black Shark 4 Pro's strengths. Attack is extremely sharp across all use cases, and particularly well reproduced when playing games. Bass precision is also very satisfactory, particularly from nominal to maximum volume. As for punch, it is highly impressive, thanks to a considerably impactful reproduction for nearly all evaluated tracks.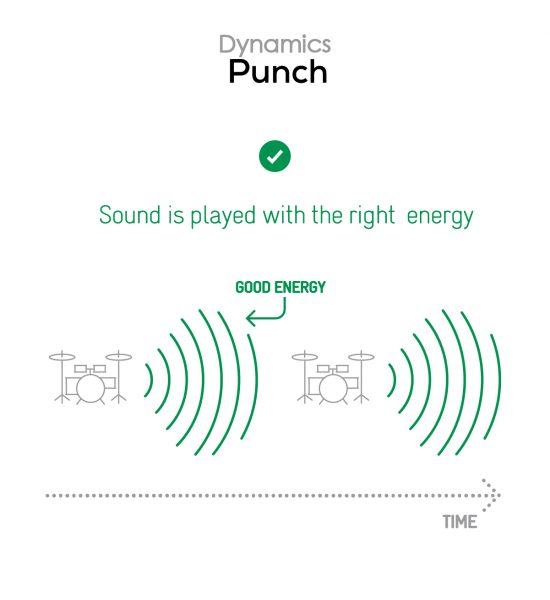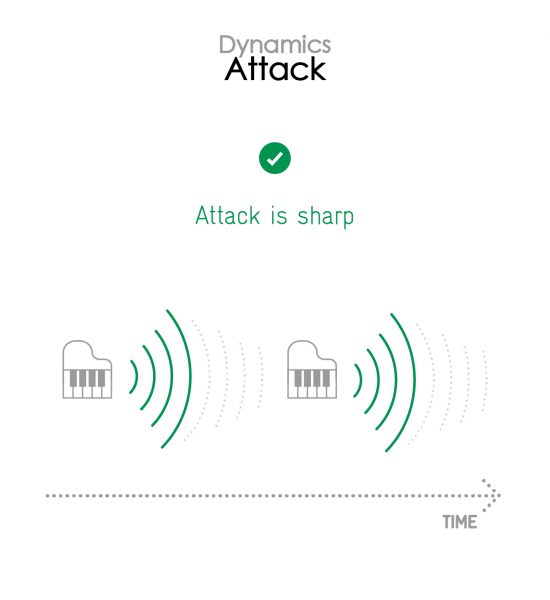 Spatial
Black Shark 5 Pro
Best: Black Shark 5 Pro (88)
Sub-attributes for perceptual spatial tests include localizability, balance, distance, and wideness.
The Black Shark 4 Pro also outshines its competitors in the spatial area, where it deploys an exceptionally wide sound stage that appears to exceed the physical limits of the device. Spatial audio attributes are very naturally reproduced: sound sources are precisely localizable, distance rendering is realistic, and balance between the left and right channels is well centered. However, note that using the phone in portrait mode considerably narrows the sound field.
Volume
Nubia RedMagic 7 Pro
Best: Nubia RedMagic 7 Pro (91)
Volume tests measure both the overall loudness a device is able to reproduce and how smoothly volume increases and decreases based on user input.
The Black Shark Pro 4 delivers a great volume performance. As shown in the graph below, the numerous and highly consistent volume steps allow for precise adjustment of the listening volume.
Maximum volume is loud enough, and minimum volume is cleverly tuned, leaving high dynamic content (such as movies and classical music) perfectly intelligible.
| | | |
| --- | --- | --- |
| | Hip-Hop | Classical |
| Black Shark 4 Pro | 74.5 dBA | 69.5 dBA |
| Xiaomi Mi 10S | 74.7 dBA | 72 dBA |
| Asus ROG Phone 5 | 74.4 dBA | 71.2 dBA |
Artifacts
Xiaomi Redmi K50 Gaming
Best: Xiaomi Redmi K50 Gaming (113)
Artifacts tests measure how much source audio is distorted when played back through a device's speakers. Distortion can occur both because of sound processing in the device and because of the quality of the speakers.
Artifacts is the only playback category where the Black Shark 4 Pro doesn't devour its competitors. Still, its score sits only four points away from the top-scoring phones in DXOMARK's rankings, namely the Asus ROG Phone 5 and the Samsung Galaxy S21 Ultra 5G (Exynos).
Audio played back through the Black Shark 4 Pro's speakers exhibits very few artifacts overall: there are no noticeable temporal artifacts (such as dynamic compression), and the speakers are not easily occluded by the user's palms or fingers. However, granular noises and overshoot occasionally occur on synthetic signals that can often be found in electronic music. At loud volumes, bass distortion becomes perceivable.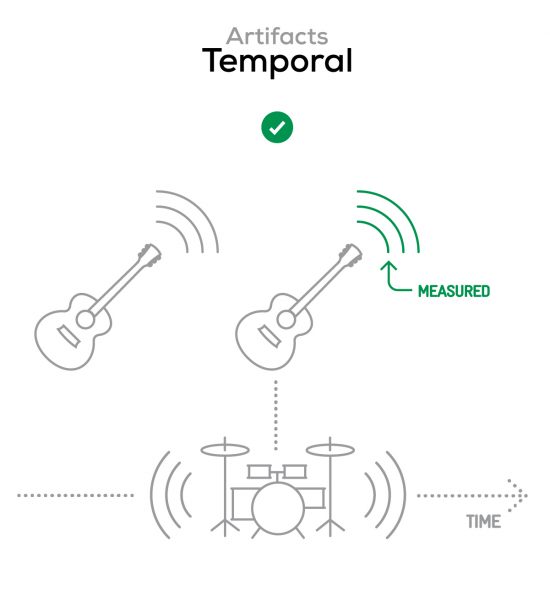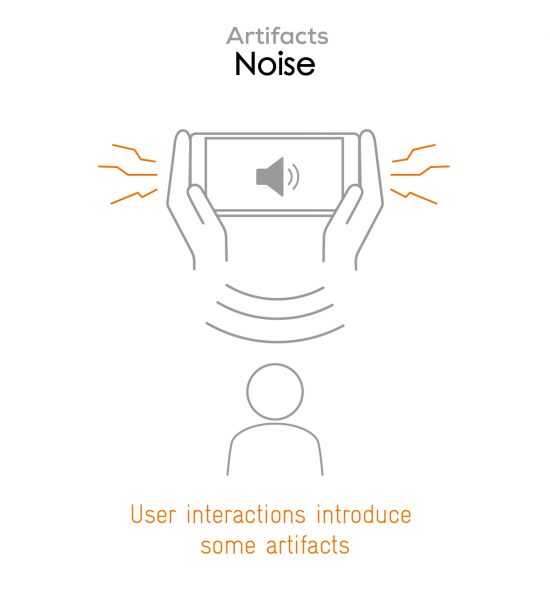 Recording
Timbre
Honor Magic3 Pro+
Best: Honor Magic3 Pro+ (91)
The Black Shark 4 Pro's microphones deliver an excellent timbre performance, with good low-mids and bass, natural and realistic midrange, precise treble, and good high-end extension.
Life video frequency response
Tonal balance is highly realistic when recording "normally loud" scenarios, and remains very good even when recording in loud environments. Regrettably, treble is severely impaired by perceivable clipping.
Dynamics
Black Shark 5 Pro
Best: Black Shark 5 Pro (81)
Unlike its playback counterpart, the Black Shark's recording dynamics performance is only middling, due to a strong bass presence which increases background noise — especially in urban surroundings, thus lowering the signal-to-noise ratio.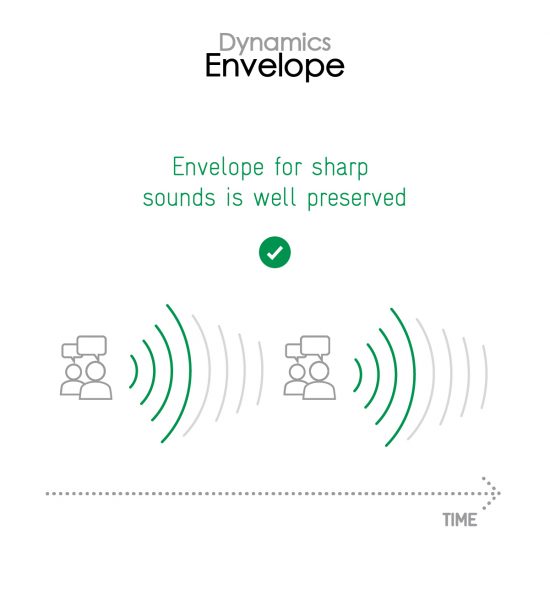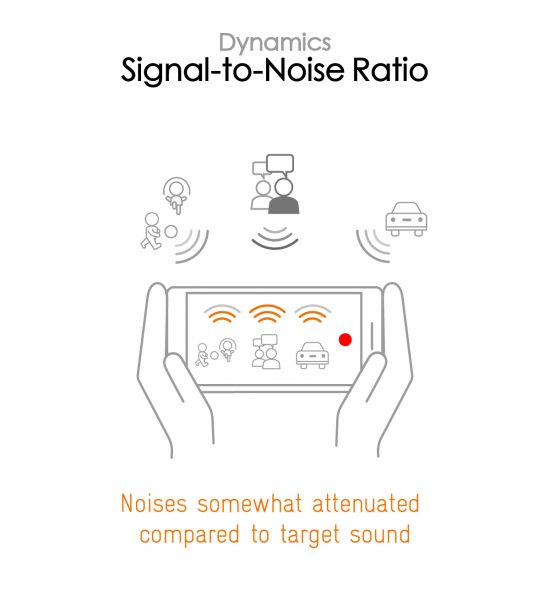 On the other hand, the voice envelope is accurate, thanks to sharp plosives and precise attack. When recording in loud environments, the envelope remains precise and punchy due to both low- and high-end frequency reproduction.
Spatial
The Black Shark 4 Pro regains its prestige in the Spatial sub-category, sharing the top spot with the Asus ROG Phone 5, with very good localizability and great wideness in life videos, along with accurate distance rendering thanks to a strong presence in the lower midrange.
Selfie videos are not as convincing due to lesser precision in localizing sound sources, and a narrower sound field. And as in almost every device tested thus far, the microphones' directivity doesn't adapt to the use case (life video, meeting recording, etc.).
Volume
Black Shark 5 Pro
Best: Black Shark 5 Pro (99)
Thanks to fairly good loudness for voices, volume attributes in recorded audio are decent, albeit impaired by excessive dynamic compression. Maximum reachable level without perceivable distortion is quite poor, since spectral artifacts are easily triggered when recording in high SPL environments.
| | | | | |
| --- | --- | --- | --- | --- |
| | Meeting | Life Video | Selfie Video | Memo |
| Black Shark 4 Pro | -27.6 LUFS | -20.8 LUFS | -18.8 LUFS | -20.8 LUFS |
| Xiaomi Mi 10S | -23.6 LUFS | -17.7 LUFS | -16.4 LUFS | -17.4 LUFS |
| Asus ROG Phone 5 | -22 LUFS | -21.2 LUFS | -17.9 LUFS | -18.5 LUFS |
Artifacts
Black Shark 5 Pro
Best: Black Shark 5 Pro (97)
As mentioned in the previous paragraph, both temporal and spectral artifacts are noticeable depending on the type of acoustic scene recorded. In urban scenarios, slight compression can be noticed on voices, and clipping can occur on shouting voices.
In loud environments, recordings are systematically affected by clipping on high-pitched instruments (such as snares) as well as by excessive compression.
Background
Black Shark 5 Pro
Best: Black Shark 5 Pro (60)
The microphones' harmonious tonal balance rendering allows fairly natural background recordings, and the solid presence of the lower half of the spectrum (bass and low-mids) undoubtedly enhances the user experience. However, the noise-canceling algorithm can generate slight pumping.
Conclusion
Black Shark has made impressive progress with the 4 Pro, becoming the best audio performer of all the phones we've tested to date. This outstanding evolution is particularly remarkable in playback, where it outperforms the previously (and freshly) top-scoring phone by no fewer than three points, thanks to highly consistent and impressive performance across all use cases. It thus makes an excellent choice for listening to music, watching movies… and playing games, of course.
When it comes to recording, selfie enthusiasts or concert-filming connoisseurs might expect more from the Black Shark 4 Pro. But despite a few weaknesses as a recording device, the Black Shark 4 Pro performs consistently in all use cases.
Playback
Pros
Best-in-class timbre performance, very pleasant flat tonal balance and impressive low-end rendering
Very good spatial performance, great wideness in landscape mode, realistic distance and great localizability
Excellent dynamics performance, impressive punch, and almost perfectly preserved attack
Great volume performance
Cons
Slight hissing noticed on specific tracks as well as some bass distortion at loud volumes
Some bass distortions and resonances at maximum volume
Recording
Pros
Great timbre performance, natural tonal balance and good extensions
Great spatial performance, very wide audio scene in landscape mode, and good localizability and distance
Good, very natural background rendering
Cons
Poor artifacts performance, especially in a high SPL scenario: systematic clipping severely impairs other attributes, and compression issues induce variations in loudness.
Maximum recording level without distortion is poor compared to other tested devices.
Middling dynamics performance, as dark tonal balance tends to increase background noise, especially in an urban scenario.
Narrow audio scene in selfie videos