Launched in June 2017, the Canon EOS 200D is an APS-C format DSLR aimed at novice photographers who want a few more features than the Canon 1300D provides. Billed as the world's smallest, lightest DSLR with an APS-C sensor and a vari-angle screen, the 200D (known as the Rebel SL2 in some places) is the replacement for the Canon 100D (Rebel SL1) launched in March 2013.
Four years is a long time in digital camera development terms, and the 200D makes a 6.2 million-pixel upgrade on the 100D. What's more, the sensor is a Dual Pixel CMOS device, which means that every pixel on the sensor is phase detection-enabled, which among other things allows phase detection focusing in video and Live View mode. In addition, the processor has been upgraded from DIGIC 5 to DIGIC 7, and this new sensor technology enables a full sensitivity range of ISO 100 to 51,200, up from ISO 100 to 25,600, despite the increase in pixel count.
Key Specifications:
24.2Mp 22.3×14.9mm CMOS sensor with low-pass filter
ISO 100 – 25,600 (expandable to 51,200) for stills
9-point autofocus system with 49-area Dual Pixel AF in Live View
3.0-inch, 1.04m-dot, touch-sensitive, vari-angle LCD
5fps continuous shooting
DIGIC 7 processing engine
1080p@59.94fps HD video
Overall image sensor performance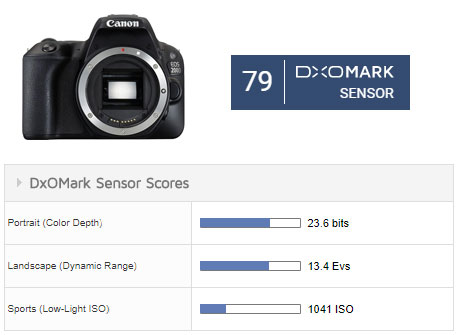 With an overall DxOMark sensor score of 79 points, the Canon 200D is on par with the Canon 80D, the highest-scoring APS-C-format Canon DSLR that we have tested.
It also shows an improved performance across the board in comparison with the Canon 100D. In fact, its Landscape (Dynamic Range) score is over 2 EV higher than the camera it replaces, indicating that it's capable of capturing a wider brightness range in a single shot. Its Portrait score is also better, with a Color Depth of 23.6 bits that indicates the camera records an excellent range of tones with smooth gradation.
The Sports (Low-Light ISO) score of 1041 is rather low by modern standards, suggesting that the 200D isn't the best camera for photographers wanting to shoot frequently in low light when high-sensitivity values are required.
Image quality compared
As you can see from the table below, the Canon 200D puts in a very similar performance to the Canon 80D in all respects. Its Portrait (Color Depth) score is identical, while its Landscape (Dynamic Range) and Sport (Low-Light ISO) scores are very slightly different — although you are unlikely to notice a difference in image results.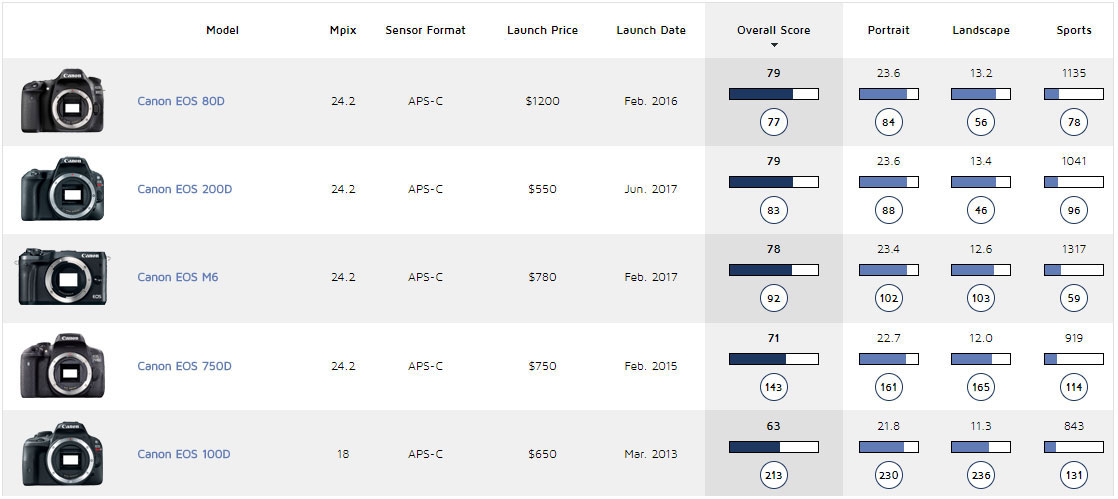 Click here to open our interactive DxOMark comparison tool
While it achieves a slightly better Landscape (Dynamic Range) score than the M6, Canon's recent mirrorless camera beats it for Sports (Low-Light ISO), suggesting that the M6 has better control over noise, color, and dynamic range as sensitivity (ISO) rises. As the cameras have the same sensor size, pixel count, and DIGIC 7 processing engine, it also suggests that the 200D has been calibrated slightly differently.

Click here to open our interactive DxOMark comparison tool
Although the 200D is the second-highest scoring APS-C format Canon DSLR, it lags behind the Nikon D3400 and D5600, which both achieve better Landscape (Dynamic Range) and Sports (Low-Light ISO) scores. The two Nikon cameras have a 0.5 EV and 0.6 EV wider dynamic range and also a very small sensitivity advantage in terms of our Low-Light ISO score.
In-depth comparisons
For a more detailed analysis of sensor performance, we'll take a look at how the 200D compares with the Nikon D5600 and its in-house mirrorless rival, the Canon M6, throughout the sensitivity (ISO) range.
Portrait (Color Depth)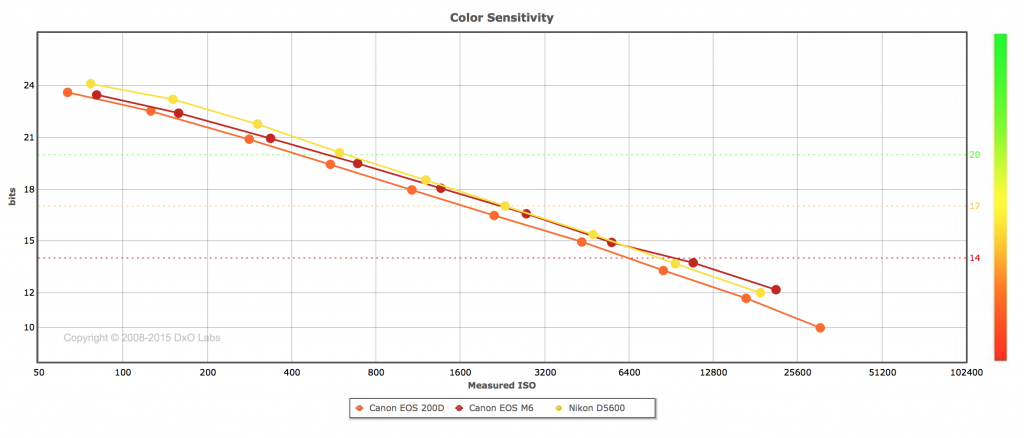 Our testing reveals that the Canon M6 and Nikon D5600 score slightly better for color sensitivity, but the results are so close that you are unlikely to discern any differences in normal shooting conditions. However, the 200D dips below our acceptable signal-to-noise barrier a little earlier in the sensitivity range than the M6 and and D5600, so we recommend sticking to ISO 800 or lower if possible.
Landscape (Dynamic Range)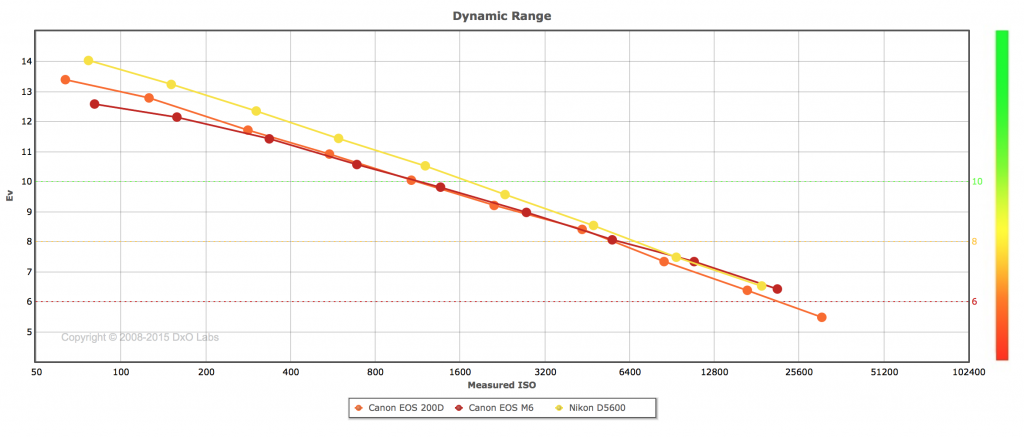 This graph makes it clear that the Nikon D5600 captures images with a wider dynamic range than the Canon 200D throughout the sensitivity range, but the difference becomes less marked as the ISO value rises. At ISO 100 and 200, the 200D lags more than half a stop behind the D5600, indicating that highlights will burn out sooner and noise will appear a little earlier in shadows that are brightened post-capture.
Interestingly, the 200D and M6 have a very similar dynamic range around ISO 400 to 6400, with the 200D having the advantage to the tune of over half a stop at the lowest sensitivity settings, and the M6 performing better at higher values.
Sports (Low-Light ISO)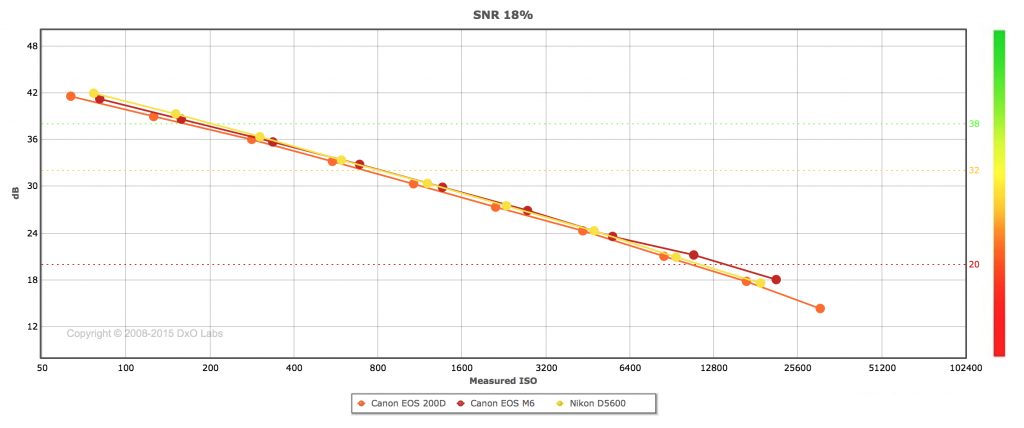 The tight grouping of the three lines indicates that there's little separating the three cameras for noise control, but our Sports score also takes into account color and dynamic range as ISO rises, and it's the color sensitivity that is the most limiting factor for the 200D at higher ISO values.
This graph shows that the 200D is the first to dip below our 30 dB cut-off for acceptable image quality, with the M6 and Nikon D5600 following about 0.3 EV further up the ISO range. To ensure the best signal-to-noise ratio, the 200D should be set to below ISO 200; meanwhile, the Nikon D5600 can be used at up to ISO 200 and still achieve a signal-to-noise ratio of 38 dB.
Conclusion
The Canon 200D's sensor performance is a marked step up from that of its predecessor, the Canon 100D: in good light, it produces results that are a close match for the Canon 80D, a DSLR aimed at enthusiast photographers. However, the new camera's performance is marred by lackluster low-light capability and reduced color sensitivity, achieving a maximum sensitivity value of ISO 1041. As the 200D allows sensitivity to be set only in whole stops in stills mode, however, our maximum recommended setting is ISO 800.
Although the 200D captures a significantly wider dynamic range than the 100D, it falls behind its Nikon rivals, the D3400 and the D5600; and photographers shooting high-contrast scenes will need to be a little more careful with exposure.
In this review we have compared the Canon EOS 200D to its most direct rivals from other brands and among Canon's own line-up. As usual, you can create your own comparison and in-depth analysis using our interactive image sensor comparison tool.