Launched in June 2017, the EOS 6D Mark II is Canon's latest semi-pro DSLR, aimed at enthusiasts looking to dip their toes in to full-frame photography, or pros after a more affordable second body. Five years on from the original 6D, the 6D Mark II boasts multiple upgrades, including a higher resolution sensor, improved autofocus system, faster frame rate and vari-angle touch-screen LCD. Built around a 26.2MP CMOS sensor, the 6D Mark II nestles between the 30.4MP 5D Mark IV and 22MP 5D Mark III for Canon full frame sensors, and provides a much needed resolution boost that puts it on par with key competitors, such as the 24MP Sony A7 II and Nikon D750.
The 6D Mark II's autofocus system offers a significant improvement over its predecessor, featuring a maximum of 63 AF points (including 45 cross-type targets), focusing sensitivity down to f/8 and Canon's Dual Pixel CMOS AF system, for more accurate focusing using live view with stills and video capture. Its maximum native ISO has been increased to ISO 40,000 (up from 25,600 on the 6D), and remains expandable to ISO 102,400 when required. For burst shooting, the 6D Mark II now offers 6.5fps up to 150 JPEGs/21 RAW files, with full exposure and focusing tracking and Canon's latest DIGIC 7 processing engine to crunch the data. The 3.0-inch LCD screen also benefits from an upgrade, including an increased 1.04m-dot resolution, vari-angle control for shooting video or framing stills at awkward angles and more user friendly touch-screen controls.
For video, the 6D Mark II offers full HD 1080p resolution at frame rates between 60 to 24fps, a maximum clip duration of nearly 30 minutes and capture in either .mp4 (MPEG4) or .mov (Motion JPEG) file formats.
Key Specifications:
26.2Mp 35.9x24mm CMOS sensor with low-pass filter
100 – 40,000 ISO (expandable to 102,400)
45-point autofocus system with Dual Pixel AF in Live View
0-inch, 1.04m-dot, touch-screen, vari-angle LCD
5fps continuous shooting
Digic 7 processing engine
1080p@60fps HD video
Overall image sensor performance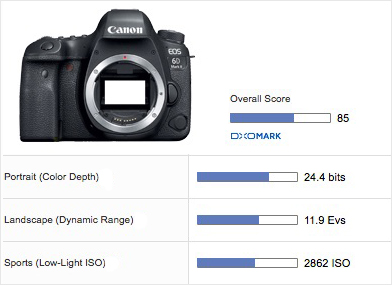 The Canon 6D Mark II's new 26.2Mp full-frame CMOS sensor delivers very good overall performance, achieving a DxOMark sensor score of 85 points to rank as the 5th best Canon sensor we've tested.
Its stand out performance is in the Sports (Low-Light ISO) category, where a very good score of ISO 2862 ensures well-controlled noise on unprocessed RAW files up to mid ISO sensitivities. Its headline score for Portrait (Color Depth) is also very good at 24.4 bits, putting it inline with recent Canon sensors we've tested and ensuring excellent color using low to mid ISO settings.
For Landscape (Dynamic Range) its headline score of 11.9 Ev is a slight step back compared to the original 6D however, and remains off the pace compared to the best performing new sensors from both Canon, as well as its main Nikon and Sony competition.
Image Quality compared
Improvements in the Sports (Low-Light ISO) and Portrait (Color Depth) scores over the original 6D have propelled the 6D Mark II in to the top 5 for Canon sensors.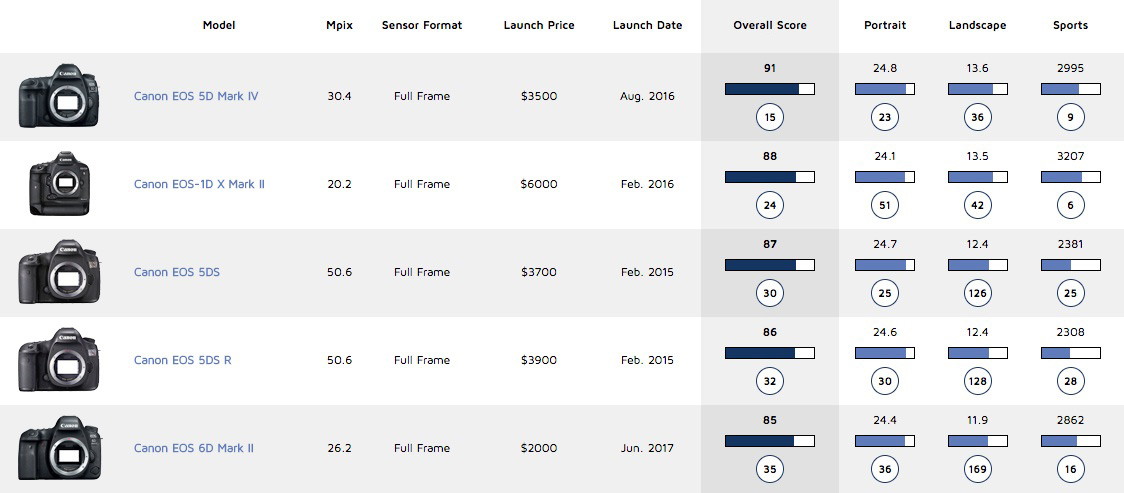 Click here to open our interactive DxOMark comparison tool
It remains a little behind the first Canon chip to crash through the 90-point barrier in the 5D Mark IV however. The primary reason is that dynamic range performance lags around 1.5 stops behind the 5D Mark IV at base ISO, making Canon's higher resolution and more expensive full-frame semi-pro DSLR the better option for landscape, architectural and bright light photography.
Canon can be commended for delivering both an increase in sensor resolution with an improvement in ISO on the 6D Mark II however. Although the difference in signal to noise ratios between the top five Canon chips is slight, well controlled noise in RAW files using sensitivities up to ISO 3200 makes the 6D Mark II a good low light option. A modest improvement in color depth at base ISO over its predecessor also gets the 6D Mark II much closer to the best performing Canon sensors.
Head to head against the current full-frame semi-pro DSLR completion from Nikon and Sony, the 6D Mark II compares well for both color and ISO performance. It's that lower dynamic range score which has impacted on the 6D Mark II's overall score however, with over 2-stops better dynamic range possible on the Nikon D750 at base ISO.
In-depth comparisons
For a more detailed analysis of sensor performance, our in-depth analysis takes a closer look at the 6D Mark II's sensor performance, compared to the Nikon D750 & Sony A7 II throughout the ISO range.
Portrait (Color Depth)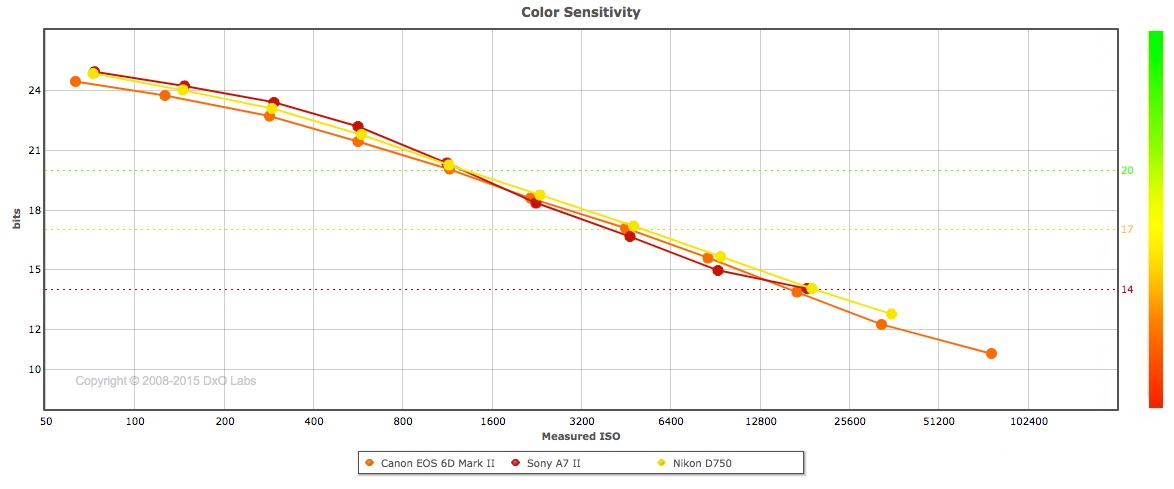 Color Sensitivity is comparable between the three competing sensors, with only a slight advantage for the Nikon and Sony at lower ISOs, and practically the same performance at mid to high ISO sensitivities. We can say the difference is so slight as to be indiscernible in real world results, with all three sensors boasting excellent color over 20 bits up to ISO 1600, with good color around 17 bits up to ISO 6400.
Landscape (Dynamic Range)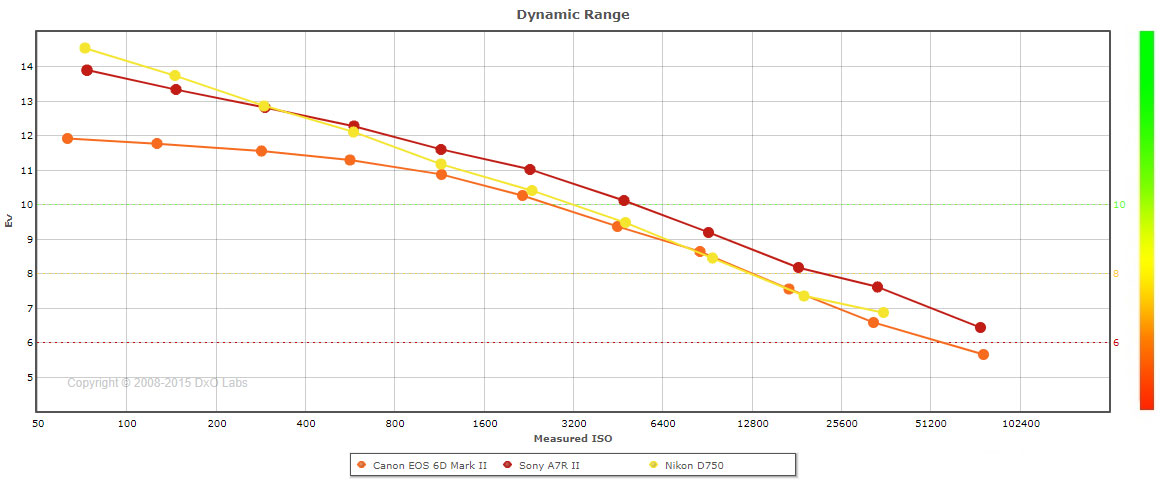 It's immediately obvious from the Dynamic Range graph the advantage the Nikon D750 and Sony A7 II offer at lower sensitivities up to ISO 1600. Whilst the 6D Mark II is far behind at base ISO, the gap narrows as sensitivity increases, with dynamic range much closer at ISO 800. Between ISO 3200 and 25,600, the 6D Mark II's dynamic range is effectively the same as the D750 and marginally better than the Sony A7 II, which is encouraging for low light shooters.
Sports (Low-Light ISO)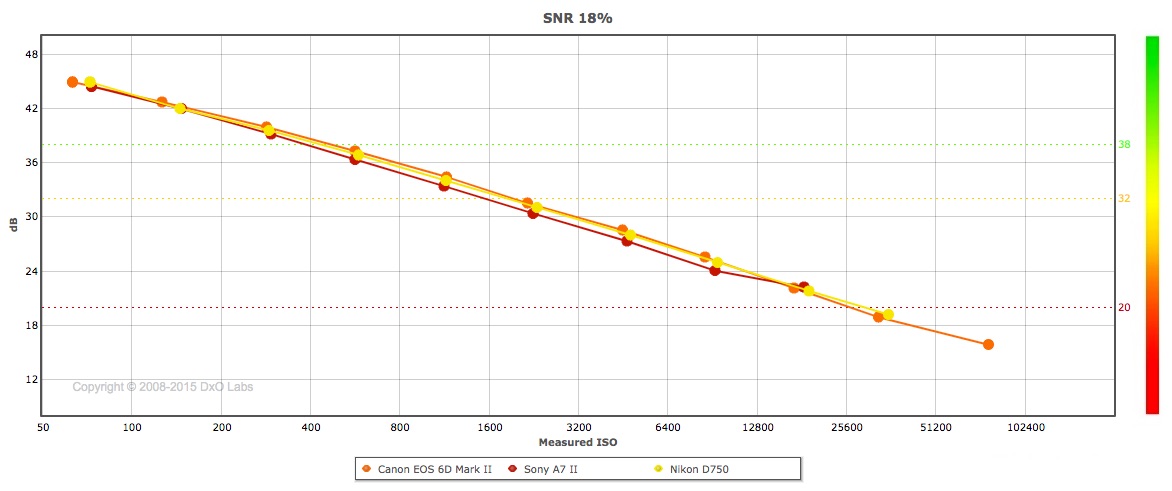 In both printed and on-screen results for noise there's almost nothing to separate the three sensors, with excellent signal to noise ratios around 30dB up to ISO 3200. Remember that's on unprocessed RAW files too, so with effective noise reduction in post excellent results at much higher sensitivities, should be possible too.
Conclusion
Canon's 6D proved a popular and affordable DSLR for serious-enthusiasts looking to step up to full frame, or pros after an affordable second body.
Five years on, it was crying out for an upgrade however, and the 6D Mark II's resolution boost, improved autofocus system, faster frame rate and touch-screen LCD make it a more viable option in the modern market.
Its sensor performance continues the upward trend for Canon chips too, although it doesn't quite hit the dizzy heights of Canon's best sensor to date in the 5D Mark IV. This is a result of notably lower dynamic range recorded by the 6D Mark II at base ISO, which is a concern for photographers after the best image quality in good light. From ISO 800, dynamic range is much closer to the performance of semi pro rivals such as the Nikon D750 and Sony A7 II however, and with good color sensitivity at all settings and well-controlled noise the 6D Mark II lends itself better to low light photography.
In this review we have compared the Canon EOS 6D Mark II to its most direct rivals from other brands and among Canon's own line-up. As usual, you can create your own comparison and in-depth analysis using our interactive image sensor comparison tool.