Announced in August 2017, the EOS M100 is Canon's latest mirrorless hybrid, interchangeable-lens camera. Aimed at entry-level photographers stepping up from a compact or smartphone, the EOS M100 offers a small and simplified design. Built around a 24.2Mp APS-C CMOS sensor, the camera packs plenty of punch for high-quality photography. It also boasts Canon's Dual Pixel autofocus system for faster, more accurate focusing, as well as their latest DIGIC 7 image processing engine. To keep the dimensions diminutive, there's no electronic viewfinder (EVF) or hot shoe, so photographers have to rely on the 3-inch tilting LCD screen for composition and on a pop-up flash unit when there's not enough ambient light.
Typically supplied with the 14-45mm kit lens, the EOS M100 is also compatible with 6 additional EOS M-mount lenses, including telephoto zooms and fast-aperture primes, as well as with larger Canon EF lenses via the EF-EOS M lens adapter that's available separately.
We've analyzed the quality of the EOS M100 image files in our industry-standard benchmark tests to see how it compares to the competition and are delighted to share the results in this review.
Key specifications:
24Mp APS-C CMOS sensor
Dual Pixel autofocus
DIGIC 7 processor
3″ tilting LCD
6fps continuous shooting
1080/60p video
Wi-Fi and NFC with Bluetooth
Overall image sensor performance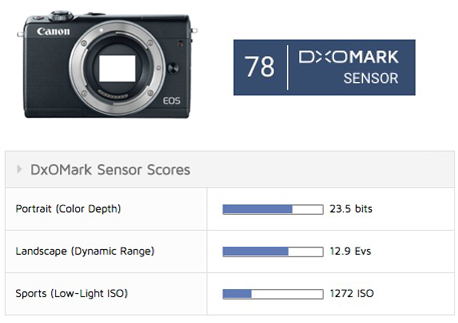 The Canon EOS M100 achieves a very respectable overall DxOMark score of 78 points, making it the top-performing Canon hybrid camera we've tested. It delivers its best image quality at the lowest ISO sensitivity setting of ISO 100, where we recorded good color depth of 23.5 bits and dynamic range of 12.9 EV.
A device's low-light ISO score is the highest ISO speed at which it meets three key thresholds: 18-bit color, 9 EV dynamic range, and a signal-to-noise ratio above 30 decibel. The EOS M100 achieved this at 1272 ISO, so you can be confident of good image quality when shooting in low-light environments up to this ISO setting. We conduct all our analyses on unprocessed RAW files, however, so with good image processing via the latest Canon DIGIC 7 processing engine, high-quality JPEG images at higher sensitivities such as ISO 1600 or 3200 should be well within the reach of the EOS M100.
Image quality compared
Featuring the same 24.2Mp APS-C sensor resolution as the more expensive Canon hybrid M5 and M6 models, the EOS M100 offers very similar image quality overall. Thanks to very modest improvements for both color depth (Portrait Score) and dynamic range (Landscape Score), however, the EOS M100 just nudges out its predecessors to rank as the best Canon hybrid sensor we've tested.
For color, the scores are very close, and in real-world terms we can say that they offer essentially the same image quality at base ISO. For dynamic range, however, its 1/3-stop improvement over the M6 (12.9 EV vs. 12.6 EV), and half-stop improvement over the M5 (12.9 Ev vs. 12.4 EV) make the EOS M100 slightly better suited for recording landscapes that include bright highlights and dark shadows. The slightly bigger and more expensive M6 model offers a small advantage for low-light performance (Sports score), but there's barely anything in it and you can be confident of good image quality on the EOS M100 using high ISO sensitivities up to around ISO 1250 (and potentially higher with good JPEG processing).

Click here to open our interactive DxOMark image sensor ranking tool
The EOS M100 offers very comparable image quality to many of Canon's entry-level DSLR cameras that feature similar specifications to (or possibly the same) 24.2Mp APS-C sensor. Slightly better dynamic range (Landscape score) of 1/3 stop on the EOS 80D, or 1/2 stop on the EOS 200D are possible at base ISO compared to the EOS M100, but there's virtually nothing in it for color depth (Portrait Score). The hybrid EOS M100 slightly outperforms its chunkier DLSR counterparts for low-light performance (Sports score), too.

Click here to open our interactive DxOMark image sensor ranking tool
In-depth comparisons
For more detail about sensor performance, our in-depth analysis takes a closer look at the Canon EOS M100 compared to some of the highest-scoring APS-C mirrorless sensors, the Sony A6300 and the Samsung NX1.
Portrait (Color Depth)
At their respective lowest ISO values (base ISO), two of the highest-scoring APS-C sensors we've tested are in the Sony A6300 and Samsung NX1, both of which offer a modest advantage for color sensitivity of around 2/3 stop, with scores of 24.4 bits and 24.2 bits , respectively, compared to 23.5 bits for the EOS M100. It's a small difference, but for the best color rendition, the Sony and Samsung mirrorless cameras display slight improvements in color graduation on complex areas such as a sunset.
As ISO sensitivity is increased, color sensitivity deteriorates, which is true of all sensors. At low to mid ISO settings, the EOS M100 and Samsung NX1 display a similar downward trajectory, while the NX1 maintains around a half-stop advantage up to ISO 1600. The Canon sensor improves a little against the Samsung for color at high ISO settings, though, so at their highest ISO settings of 12,800 and 25,600, respectively, they're effectively the same.
It's not quite the same pattern when comparing the Canon and the Samsung to the Sony A6300, as not only does the Sony offer the best color at base ISO, but it continues to improve up to ISO 1600. This ensures that excellent color over 20 bits is possible on the A6300 at ISO 1600, compared to around ISO 800 on the NX1, and to ISO 640 on the EOS M100. Again, color deteriorates on the A6300 at higher ISO sensitivities, so between ISO 3200 to ISO 25,600, color rendition is much more comparable among the 3 sensors.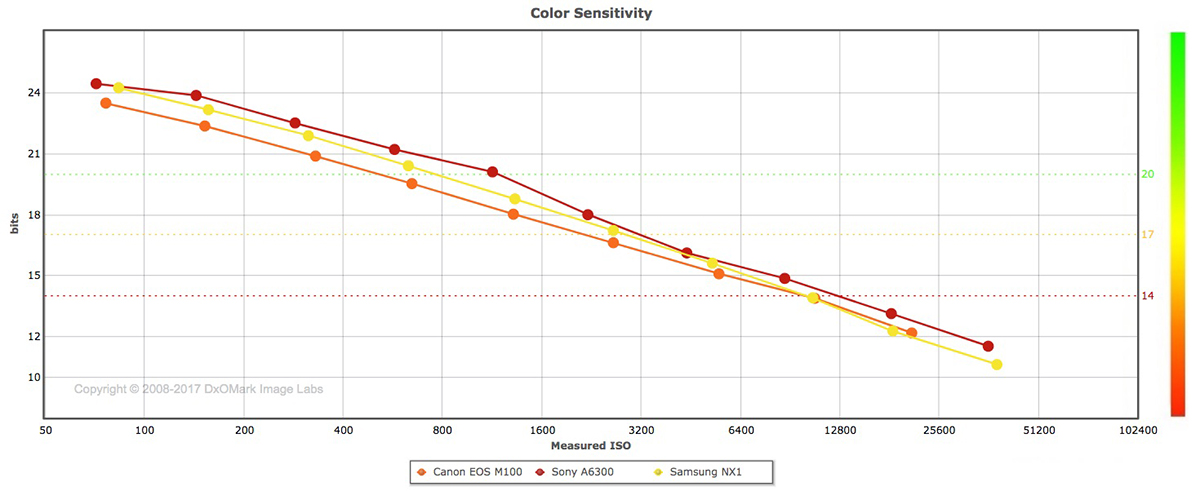 Landscape (Dynamic Range)
For dynamic range, which is a measure of how well a sensor captures extremes of luminosity from bright highlights to dark shadows, the Sony A6300 offers almost a whole stop better dynamic range compared to the EOS M100 at base ISO. That margin narrows slightly up to ISO ISO 400, but the Sony A6300 benefits from a significant uplift at the mid to high ISO settings. So while excellent dynamic range over 10 EV is possible on the EOS M100 up to ISO 800 (10.67 EV), the Sony A6300 continues to capture excellent dynamic range of 10.17 EV up to ISO 3200, giving it around a stop-and-a-half advantage. The Sony continues to improve for dynamic range at high ISO settings, too, making it a good choice for photographers regularly shooting in low-light conditions. The Samsung NX1's broadly maintains its roughly 1/3-stop advantage for dynamic range over the EOS M100 up to ISO 800, but at higher sensitivity settings, the gap narrows, with the Samsung and Canon sensors offering the same results from ISO 3200 onwards.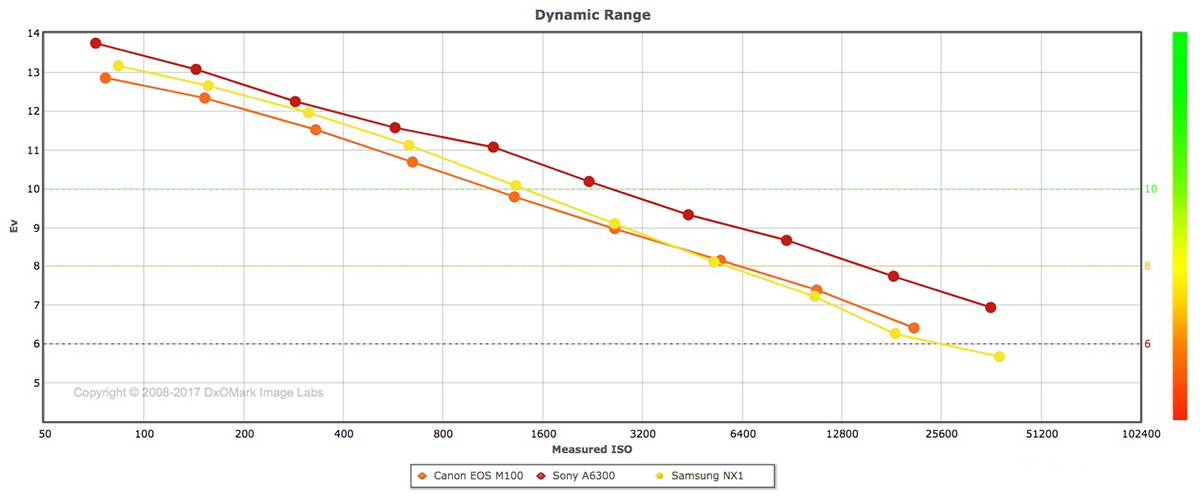 Sports (Low-Light ISO)
Signal-to-noise ratios (SNR 18%) gives an indication where noise, or unwanted random variations, start to become visible in images. For printed images, the resolution of all sensors is "normalized" to a standard 12×8-inch print at 300 ppi, and the results among these three hybrid sensors are very comparable. For excellent results with very little visible noise, it's best to shoot at low ISO settings up to ISO 200; and although noise continues to be well-controlled up to around ISO 1600, expect to see more digital interference in your prints if you shoot at very high ISO sensitivities.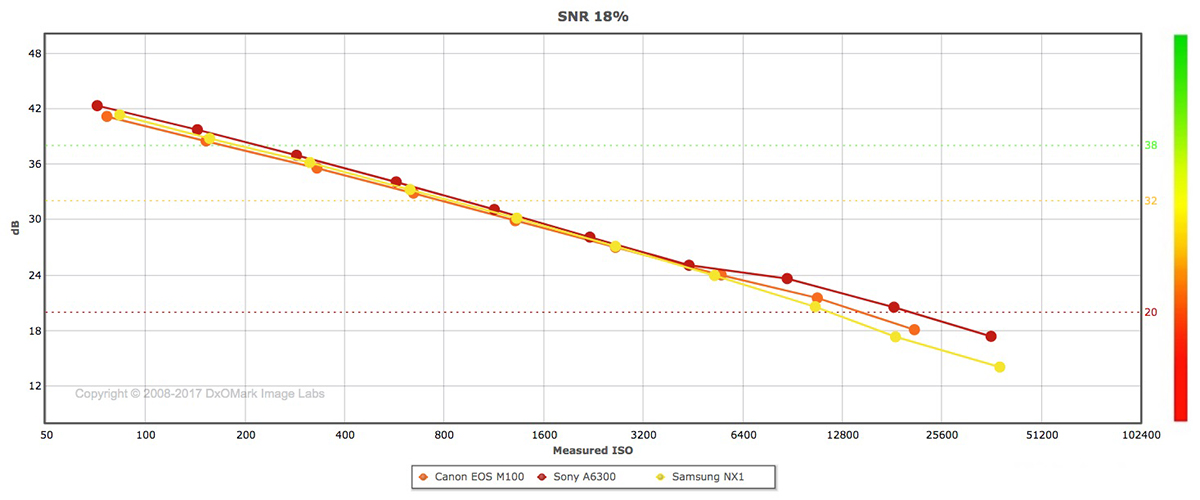 Conclusion
While the significant improvements in smartphone image quality are having a big impact on the compact and entry-level consumer camera market, there's still demand for cameras with physically larger sensors that are versatile enough to deliver good-quality images in challenging lighting conditions. Packing a large 24.2Mp APS-C sensor into a small and simplified camera, Canon's EOS M100 looks to address this section of the market.
For budding photographers looking to take a step up from the smartphone, the EOS M100 is a user-friendly entry into the world of interchangeable lens cameras and the creative possibilities they bring. For more seasoned users, the lack of an EVF, hot shoe, and more advanced body-mounted controls for quicker operation might frustrate a little, but they're not the EOS M100's target market.
The same (or very similar) sensor as we've seen in the larger and slightly more expensive Canon EOS M5 and M6 hybrid cameras delivers comparable results for image quality. In fact, the EOS M100 just nudges out its predecessors to become the top-ranked Canon hybrid sensor we've tested, offering color sensitivity, dynamic range, and noise performance that's very close to that of recent Canon APS-C DSLRs, too.
In this review we have compared the Canon EOS M100 to its most direct rivals that we've tested. As usual, you can create your own comparisons and in-depth analyses using our interactive image sensor ranking tool.