The Canon EOS R3 is the new full-frame mirrorless flagship model, sitting above the Canon EOS R5 and more or less alongside the Canon EOS-1DX Mark III. Aimed at potentially the same market as the Canon EOS-1DX Mark III DSLR, the EOS R3 features a completely new 24.1 MP 'stacked' BSI CMOS sensor capable of 30 fps (RAW or JPEG) bursts with AF using the fully electronic shutter and up to 12 fps with the mechanical option.
Besides offering silent operation (with the option to add a shutter sound) the fully electronic shutter option is said to have very low rolling shutter distortion and maxes out at an impressive 1/64,000th sec. Flash sync tops just 1/180th sec, though faster synching to 1/250th sec is available with the electronic first curtain shutter option.
An improved Dual Pixel CMOS AF II system features 1053 AF 'zones' that cover the entire sensor area, and offers vehicle recognition to the more usual eye and animal AF options.
The EOS R3 also has built-in 5-axis sensor stabilization, which is claimed to reduce camera shake by up to 8 stops with certain IS equipped RF lenses.
Additional high-end features include the re-introduced Eye-controlled AF point selection from the company's film-era cameras, a 5.76m dot OLED viewfinder with black-out free viewing and a pull-out and tilting 3.2" 4.15m-dot touch-sensitive LCD.
As well as offering high speed RAW stills the EOS R3 has high-grade video capabilities that include full-width 6K 12-bit RAW with internal recording and 4K up to 120p. Also of note the EOS R3 features unrestricted recording times.
The camera has dual card slots; one CFexpress (Type B) for high speed and high data capture and one SD UHS-II for back-ups and less demanding shooting. There's also HDMI D (micro) and USB Type C (USB 3.2 Gen 2) with external charging, plus Wi-Fi (2.4/5G), Bluetooth, GPS and 1000BASE-T Ethernet (RJ45) for camera control and image sharing.
Key specifications
24.1 MP Full Frame 'stacked' BSI CMOS sensor
5-Axis image stabilisation (up to 8 stop with specific IS lenses)
Dual-pixel CMOS AF II with 1053-zones, Eye control AF
Native ISO 100-102,400, with expansion to ISO 50-204,800
30 fps with electronic shutter, 12 fps mechanical
5.76 m dot viewfinder, 120 fps refresh
3.2" touch-screen LCD, 4.15 m dots
6K RAW (internal), 4K 120p in 10-Bit
2.4/5 GHz Wi-Fi, Bluetooth, GPS, USB-C, micro-HDMI, Ethernet
Dual slots: one CFexpress (Type B), one SD (UHS-II compatible)
Overall performance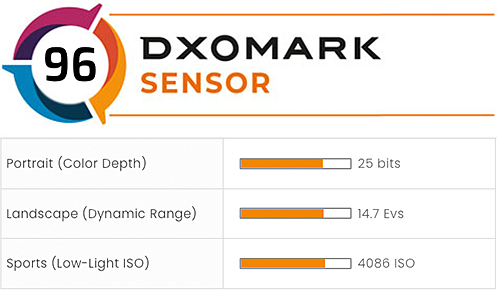 Click on the score chart above to open the Canon EOS R3 product page.
The Canon EOS R3 achieved a high DXOMARK sensor score of 96, which puts it ahead in image quality of any previous Canon sensor in our rankings, even in advance of the EOS R5's 45 MP sensor, albeit by just a tiny fraction (95). Image quality from the Canon EOS R3 is also ahead of its closest market rival, the 24 MP Sony A9II at 93 points in our sensor 'ranking'.
It has excellent maximum color depth measured at 25 bits at native base and just short of 15 stops (14.7 EV) of dynamic range. The new 'stacked' CMOS sensor also compares exceptionally well in the low-light ISO (Sports) category; a computed figure that's based on certain thresholds for color depth, dynamic range and noise levels. Indeed, with a extrapolated figure of ISO 4086 the new Canon sensor ranks in first place for all full-frame models, which is just ahead (+0.13 EV) of the next best, the Sony A7 II at ISO 3730, and ahead of the Sony A9 II at ISO 3434.
In-depth comparisons
As this is a camera aimed at news, sports and wildlife photographers, we've compared the 24 MP Canon EOS R3 with the output from incumbent DSLR flagship, the 20 MP Canon EOS-1DX Mark III. We should probably also compare the EOS R3 against its direct competitor the 24 MP Sony A9 II from 2019, which also features a 24 MP stacked and stabilised CMOS. However, the EOS R3 will inevitably be compared with the newer Sony A1. Featuring a similarly advanced AF system the Sony A1 is a 50 MP camera also using a 'stacked' CMOS that can also clock-up an impressive 30 fps, albeit using lossey rather than lossless RAW of the EOS R3.
Portrait (color depth)
The Canon EOS R3 has a strong response in color sensitivity, particularly at low ISOs compared with the Canon EOS-1DX Mark III. Indeed it outperforms the Canon EOS-1DX Mark II throughout the majority of the sensitivity range with the exception being at the manufacturer's ISO 51,200 and 102,400 settings, where it drops below that camera by 0.4 and 0.3 bits respectively.
Against output from the similar stacked CMOS of the Sony A1 the Canon EOS R3 (when scaled to same print size) has a somewhat lower response at ISO 100 of 0.9 bits increasing to 0.5 bits at ISO 200, and then widening again to 0.8 bits difference at ISO 800. However, RAW output from the R3 sees an uplift at ISO 400 over the Sony A1's and then more generally between 1600-12800. This appears to show the EOS R3 is tweaked more generally for high ISO performance than the Sony A1.
The Canon EOS R3 easily stays within our high quality range (above the 20-bit threshold) when set to ISO 1600, and just stays within our acceptable range (above 14-bit) when set at ISO 25,600 (measured ISO 21112), which is an improvement on the Mark III, although surprisingly around 0.5 bit lower than the Sony at ISO 25,600.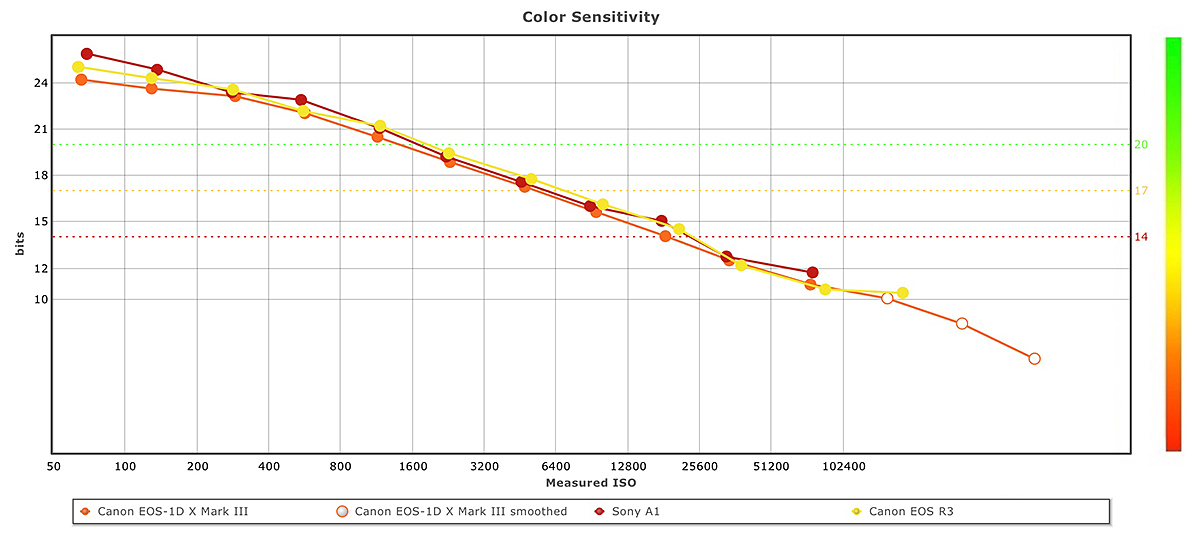 Landscape (dynamic range)
At its native base of ISO 100 the Canon EOS R3 captures slightly more dynamic range both than the Sony A1 and its sibling the Canon EOS-1DX Mark III. In both cases it's a small difference though of less than 0.2 EV. At ISO 200 the EOS R3 and Sony A1 are practically identical, with both mirrorless models very slightly behind the Mark III.
It's not until ISO 400, however, where we see a slight difference in strategy between them, with the two Canon models displaying an earlier uplift in sensor gain than the Sony A1; the EOS R3 sees a bump of +0.9 EV and the Mark III nearly +1.3 EV.
The Sony A1 sees a similar hike in gain at ISO 800, lifting DR over the EOS R3 by around +0.7. EV, however it still only matches the Canon EOS-1D Mark III's gentle decline in DR at around 13 stops. What's interesting is what looks like the EOS R3's two deliberate boosts in gain at low to mid ISOs, instead of the Sony's one and the Mark III's more consistent and gentle decline. This results in the EOS R3 sensor's DR being stable at around 13.5 stops at ISO 200 and ISO 400, and then at just over 12 stops at both ISO 800 and ISO 1600.
After the leapfrogging at lower ISOs, it is the Canon EOS R3 that has the slightly better DR in the higher ISO range when compared to the Sony, with the exception of ISO 102,400 where the latter has around a +0.4 EV advantage. The Canon EOS 1-DX Mark III has the slightly better DR at 25,600 than the other two but we noticed some smoothing in the Mark III RAW files at ISO 102,400.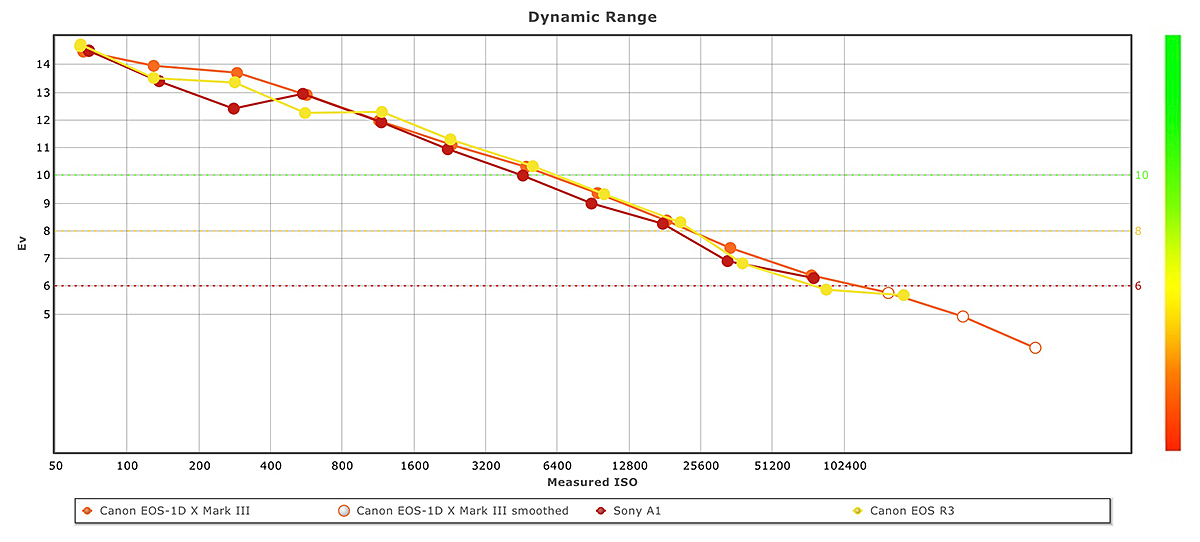 Sports (low-light ISO)
The Canon EOS R3 is the best full-frame low light performer we've seen to date with output at 30dB (where we compute ISO with both a minimum 18-bit color and 9 stop DR) more than +0.3 EV cleaner than the Sony A1 (4086 ISO vs 3163 ISO) and the Canon EOS-1DX Mark III (4086 ISO vs 3248 ISO).
In cameras with full-frame sensors it is the Sony A7 III that comes closest, where it's just -0.13 Ev behind the EOS R3. Even the best sensor in our database with the lowest noise capable of meeting the our low-light criteria; the cropped (44 x 33mm) medium format 50 MP CMOS in the Pentax 645Z, is just slightly better (+0.14 Ev) than the EOS R3.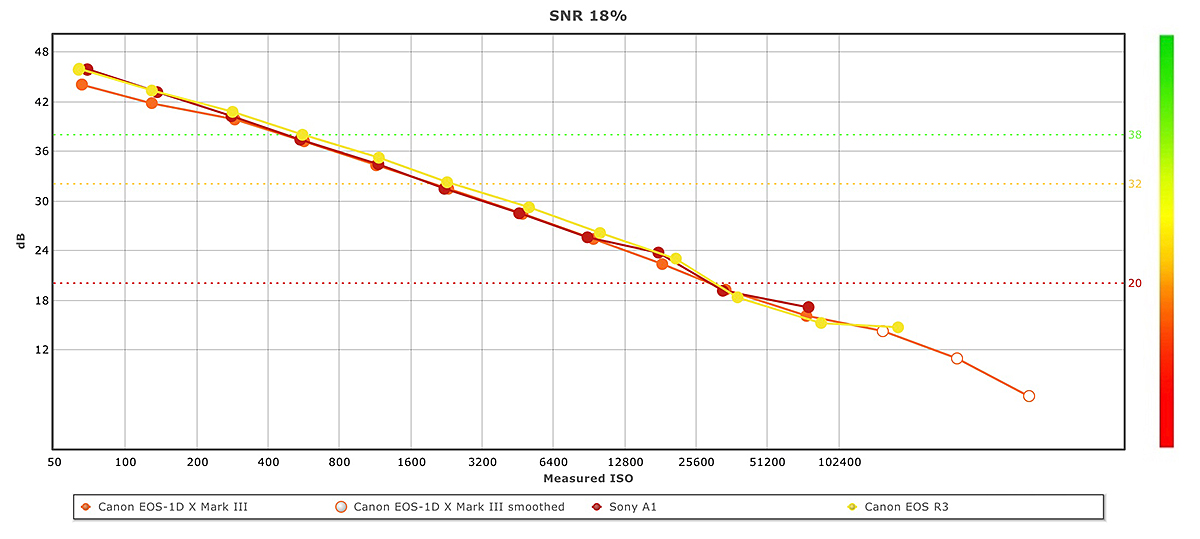 Conclusion
The introduction of a '3' series pro-oriented camera with a built-in vertical grip sitting mid way between the existing top-of-the range '1' series and the popular '5 ' series is a little confusing, especially as the new model appears to take on the role reserved for the Canon EOS-1DX Mark III DSLR. While we'll have to wait and see what form a possible top-of-the-range EOS R1 takes, the Canon EOS R3 is certainly a compelling contender for its intended market. Not only does it have excellent dynamic range at key low, mid and high sensitivities, it has the best low light performance of any full-frame camera in our database. This makes the Canon EOS R3 a very attractive option for Canon EOS-1DX Mark III users transitioning over to Canon's mirrorless RF system and it's a solid option for any photographers new to the Canon brand.
In this review, we have mentioned the Canon EOS R3's most relevant rivals from other brands. As usual, you can compare it with these and with other models and create your own comparisons and in-depth analyses using our interactive image sensor ranking tool.