Announced at the same time as the Canon EOS R6, the pro-oriented Canon EOS R5 is the current top-of-range model in Canon's mirrorless EOS R system. As a second-generation model from Canon, the EOS R5 offers quite a leap in capabilities.
Besides a jump to a stabilized 45 MP CMOS sensor that can reduce camera shake by up to 5 stops and up to 8 stops with a suitably stabilized RF lens, it has upgraded dual-pixel AF II with 1053 AF points and 100% coverage of the whole frame.
Canon has improved speed of operation over the original EOS R, with the R5 offering continuous shooting at up to 12 fps using the mechanical shutter, or up to 20 fps using the electronic shutter option, both with continuous AF.
Featuring a more rounded body of mainly aluminum alloy, Canon says the EOS R5 has weather sealing at a level similar to the EOS 5D Mark IV. Inside, it has an OLED electronic viewfinder with 5.76 million dots and a magnification of 0.76x. At the rear, it has 3.2″ vari-angle (fully articulating) touch-sensitive LCD with 2.1 million dots.
Video capture is another of the camera's highlights. The EOS R5 can capture 8K (DCI) video at up to 30p, saved internally as RAW or H.265 footage as 10-bit 4:2:2, and it can shoot 4K up to 120p. Like the EOS R6, the R5 has C-Log for additional versatility in post-production and a HDR PQ option to help realize the potential of HDR-supported monitors.
The camera also features dual slots: one SD and another for faster CFexpress (CFe) memory; and it has both Wi-Fi and Bluetooth for wireless camera control and image sharing.
Key specifications:
45 MP CMOS sensor
1053 point AF-system with dual-pixel AF II
Native ISO 100-51,200, with expansion to ISO 50 – 102,400
12 fps mechanical, or up to 20 fps with electronic shutter
3.15-inch touchscreen LCD, 2.1 million dots
8K 30p video, 4K up to 120p
Wi-Fi, Bluetooth connectivity
Dual card slots (CFe and SD)
Overall performance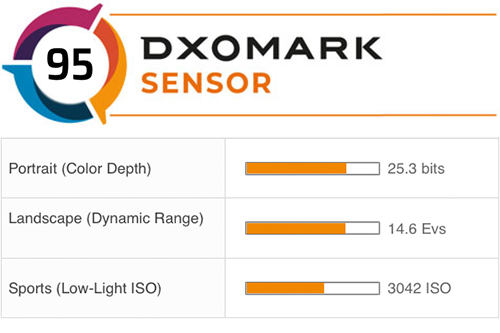 Click on the score chart above to open the Canon EOS R5 product page.
With a DXOMARK sensor rating of 95 points, the Canon EOS R5 has a highly responsive sensor. Its score places it in 16th position in our database of full-frame and MF sensors overall; in 14th place for full-frame 35mm cameras; and in 1st place for Canon sensors.
Looking at the individual metrics, the EOS R5 sensor has a strong response in our Portrait (Color Depth) category, measured at 25.3 bits at its high point at ISO 100 and lower. However, Canon has made substantial progress in the EOS R5 sensor's maximum dynamic range, where it measured 14.6 EV at ISO 50/100.
In our low-light ISO (Sports) category, which takes dynamic range and color depth into account, the EOS R5 achieves a highly competitive 3042 ISO at 30 dB.
As it combines high spatial resolution with good color depth, excellent dynamic range, and low noise, the Canon EOS R5 is an extremely attractive "all-rounder," which makes it a strong choice for typical still life and landscape genres, as well as for portraiture, reportage, and even sports and action.
Image quality compared
As a high-end second-generation mirrorless model in the EOS R system, the Canon EOS R5 has seen a sizable leap in pixel count and features, not to mention price. As a result, it can be readily compared to rival models with sensors in the 42-47 MP range.
Against those high-resolution sensors, the EOS R5 is just 1/3 stop behind in sensitivity than the best in this class, and it has around the same 1/3-stop improvement in sensitivity over the lower pixel count sensors in the EOS R6 and in the original EOS R.
At very low ISOs, the EOS R5 has the benefit of wider dynamic range and higher color depth than the EOS R6. However, at ISO 500 and higher, it is the EOS R6 that has a slightly wider and more useful dynamic range of approximately 0.5-1 EV.
Current state-of-the-art BSI-CMOS sensors used in the Sony A7R III and IV and in the Nikon D850 and Z 7 (and in the new Z 7 II), and in Panasonic Lumix DC-S1R, offer lower noise levels and occupy the top positions in overall sensor dynamics in the 30-60 MP range. However, as we can see in the table below, the new 45 MP EOS R5 sensor has excellent maximum dynamic range at base and it is close to the best-in-class (BSI) sensors throughout the ISO range.
We would also expect to see similarly low noise levels, but strictly speaking, that's not the case. At low ISOs, the Canon EOS R5 has slightly lower SNR than the BSI sensors, and lower color depth — meaning higher noise levels; however, it is comparable at high ISOs. It is that anomaly that prevents a higher overall ranking.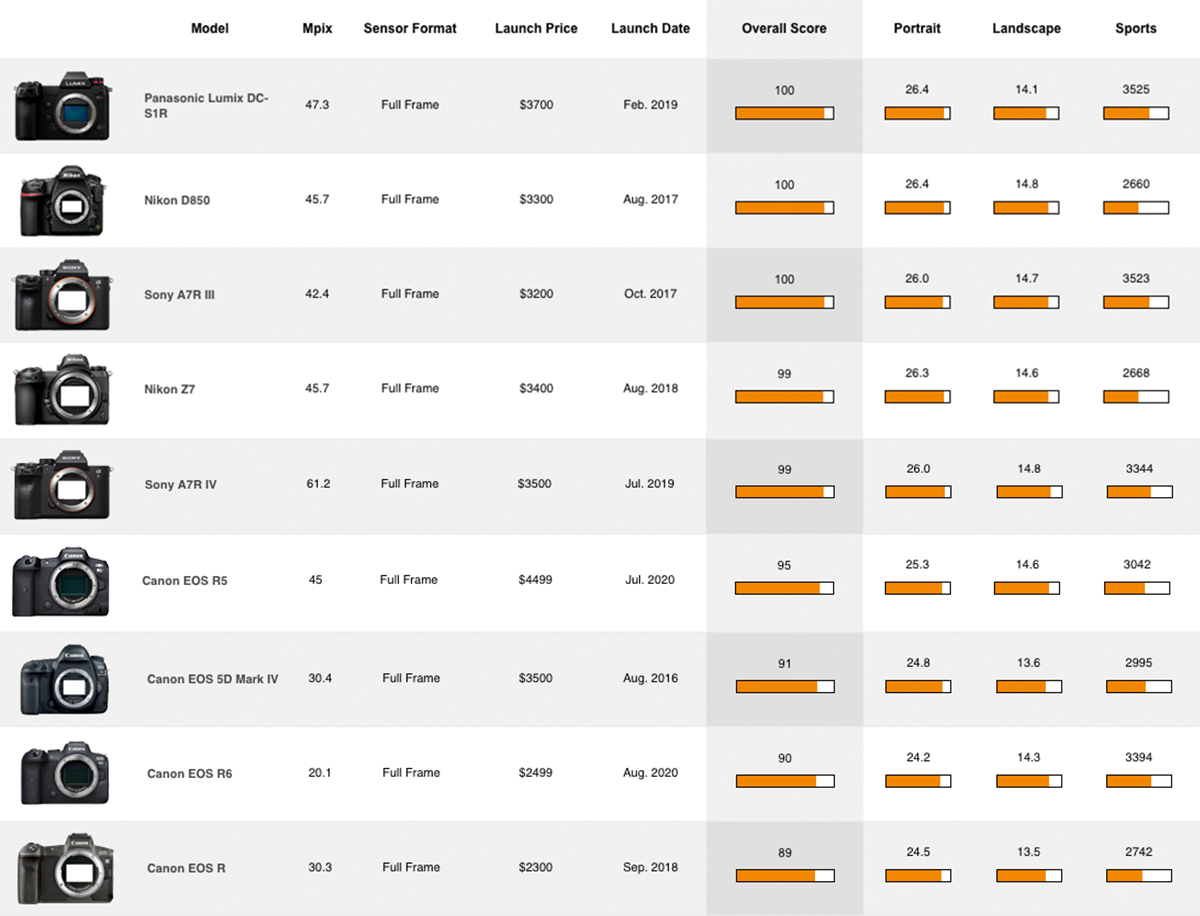 Click here to open our interactive DXOMARK image sensor ranking tool.
In-depth comparisons
If the Canon EOS R5 is the successor to the EOS 5D Mark IV, then it isn't exactly pitched as a high-resolution studio or landscape camera in the same way that the Panasonic Lumix S1R and Nikon Z 7 models are. Despite that "leapfrogging" from one category to another (in terms of pixel count, if not exactly in features), the EOS R5 is competing in the same space, so we'll take a closer look at its sensor performance against those two very capable cameras.
Portrait (color depth)
The color depth of the Canon EOS R5 at high ISOs is quite close to the Nikon Z 7, though the Panasonic Lumix DS-S1R is better still. For the most part, it's in the lower ISOs where we see the most disparities.
Maximum color depth of the Canon EOS R5 is 25.3 bits at ISO 100 and ISO 50 (ISO 55 measured for both), whereas the Z 7 sensor has a lower ISO 32 setting (ISO 47 measured) and a more useful, if small, 1-bit higher maximum color depth of 26.3 bits.
While the maximum color depth of the Panasonic Lumix S1R is similar to the Nikon's at 26.4 bits, like the Canon EOS R5, ISO 50 and ISO 100 are effectively the same (ISO 83 measured). What's more, there's evidence of noise reduction (seen as smoothing on the graph) in those low ISOs. That means both rivals are technically better at distinguishing color than the R5 at lower ISOs, at least up to ISO 400, where a bump in performance brings the R5 in line.
Beyond that, at mid to high ISOs, the R5 continues to offer high color depth (over 20 bits) up to ISO 1600, which is excellent.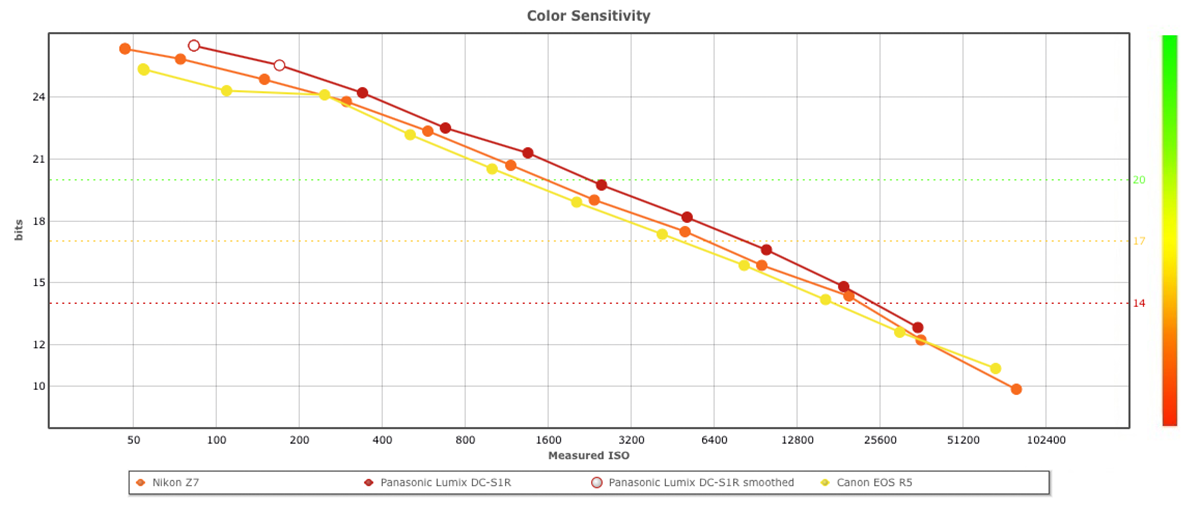 All three cameras dip beneath our 20-bit threshold for good image quality (green dotted line in the graph) when set to ISO 3200, while the trio all fall below our 14-bit threshold at ISO 25,600.
Landscape (dynamic range)
At its lowest sensitivity, the Canon EOS R5 has a maximum dynamic range of 14.6 EV, which is outstanding, especially since it's not a BSI-CMOS sensor.
Dynamic range always falls with higher ISOs as more noise is introduced, as can be seen in the slope in the graph below. However, thanks to a bump in response after ISO 200, the Canon EOS R5 sensor continues to impress with close to 14 stops (13.8 EV) dynamic range at ISO 400. Even at ISO 800, it achieves a highly useful 12.5-stop dynamic range.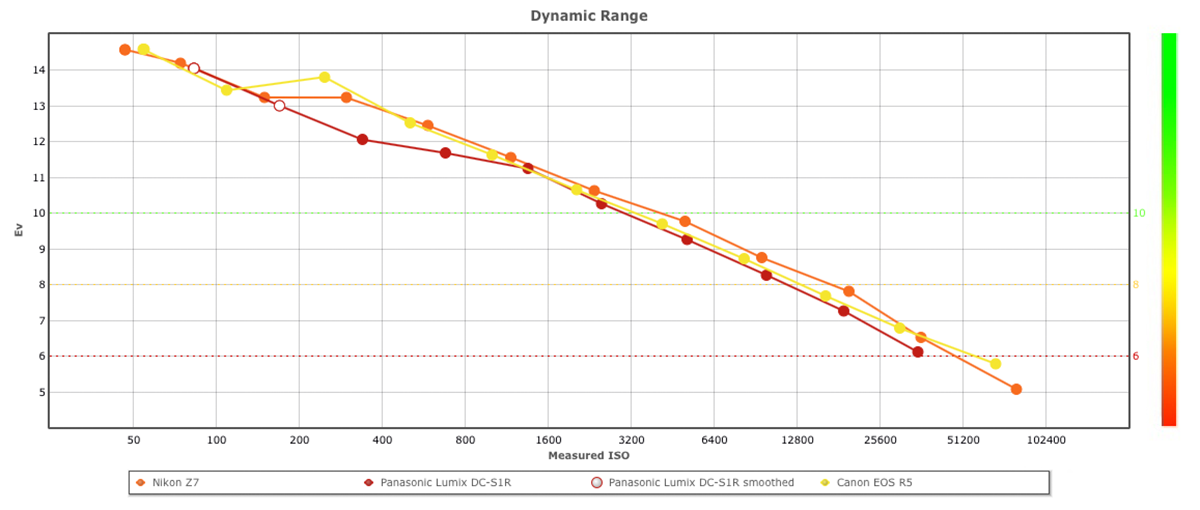 While the Nikon Z 7 matches the maximum dynamic range of the EOS R5, the new Canon sensor in the EOS R5 actually surpasses the Z 7 at ISO 400 by +0.6 EV—a small but still useful amount.
More impressive, though, is the close to 2 stops' (+1.8 EV) advantage over the Panasonic Lumix S1R at ISO 400. That's a sizable difference and gives the EOS R5 a distinct advantage when capturing high-contrast scenes. Even at ISO 800, the EOS R5 has a +0.85 EV advantage over the Lumix S1R.
At ISO 1600 and above, the EOS R5 continues to have a slightly wider and more useful dynamic range than the S1R by around +0.4 EV at each ISO setting. And while the R5 has the slightly lower measured sensitivity at each ISO setting, except at ISO 50, there's no appreciable difference between the R5 and the Nikon Z 7 in terms of dynamic range from ISO 800 and up.
Sports (low-light ISO)
Noise levels are well controlled in the Canon EOS R5 at high ISOs. It has an approximately 0.5-1 EV advantage in SNR (signal to noise ratio) over the Nikon Z 7, depending on the ISO setting, and very similar noise levels to the Lumix S1R. That's due in part to the R5's lower measured ISOs, but admittedly it's difficult to see in the graph below.
Between the lowest sensitivity and ISO 200, though, the EOS R5 is bettered by both the Nikon Z 7 and the Panasonic Lumix S1R. That means both rivals have lower noise at low ISOs, but it's still not a bad result for the R5.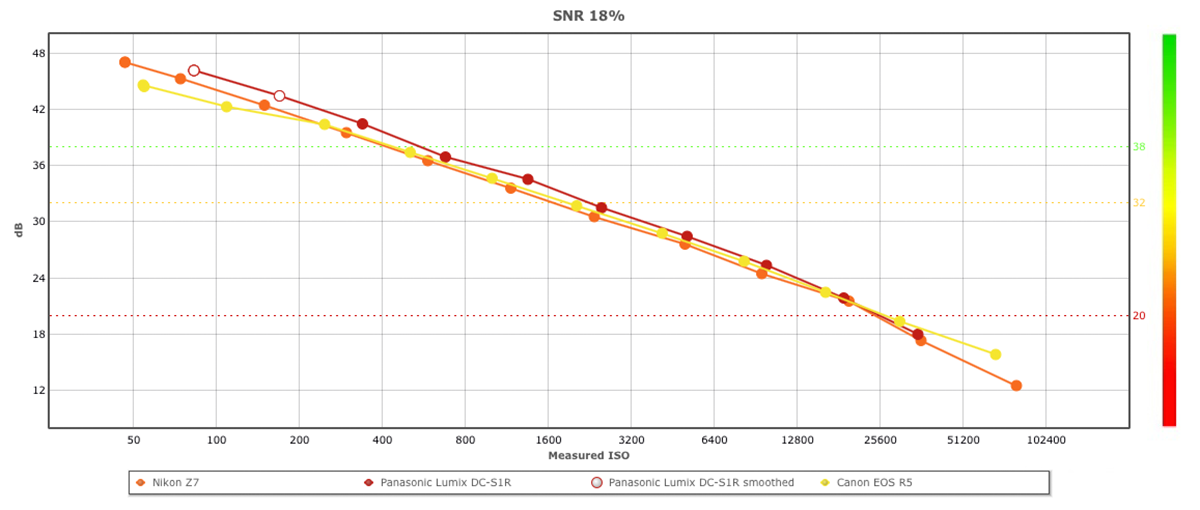 As for the Sports (low-light ISO) score, where we take the highest ISO value at the 30 dB mark, the Canon EOS R5 sensor has the slightly more useful ISO of 3042, compared to the Z 7 at ISO 2668, while the Lumix S1R is computed at a slightly higher ISO 3525. Given the very small differences here, the EOS R5 is a highly competitive sensor for noise at high ISOs.
Conclusion
As the true successor to Canon EOS 5D Mark IV, the mirrorless Canon EOS R5 was one of the most highly anticipated cameras of the year. When it finally arrived, the technical specifications— a high-resolution stabilized body, super-fast burst rates, highly capable dual-pixel AF II, and some incredible video capabilities—exceeded all expectations. But it wasn't without some downsides. Extended 8K DCI and oversampled 4K video capture may have been a bit of stretch in such a highly compact body, but there's no denying Canon really did push the boundaries of what's possible.
As for sensor performance, the EOS R5 sensor represents a high water mark for Canon. Maximum dynamic range is competitive with the best in class, and the R5 sensor offers a useful advantage at some crucial ISO settings over its rivals. It also has excellent color and low noise at high ISOs, which all go toward making the Canon EOS R5 one of the most well-rounded performers in this important category. It may have taken a while to get here, but the Canon EOS R5 looks set to be the one to beat.
In this review, we have compared the Canon EOS R5 to its most relevant rivals from other brands. As usual, you can create your own comparisons and in-depth analyses using our interactive image sensor ranking tool.