The Canon EOS RP is the second full-frame mirrorless camera after the EOS R to feature the company's RF mount, and while it is one of the least expensive current generation full-frame mirrorless models available (aimed at entry-level users), it still has attractive specs.
The RP features a full-frame 26.2MP CMOS sensor and a native 100-40,000 ISO range (expandable to 50-102,400). There's Canon's innovative Dual Pixel AF system with F11 sensitivity and up to 4779 selectable AF positions, covering 88% x 100% (horizontal x vertical) of the image frame. It also has face- and eye-detection AF and features continuous shooting at up to 5 fps (or 4fps with Servo AF tracking of moving subjects), and a UHS-II SD card with unrestricted buffering (depending on remaining card capacity).
Although the body has an unusually compact silhouette, it retains the familiar EOS ergonomics from the company's DSLRs and drops the controversial touch bar of the EOS R. The top-plate LCD of the EOS R has also been replaced in favor of a more conventional mode dial. Inside the low-profile viewfinder hump is a 2.36 million-dot OLED viewfinder with 0.7x magnification and 100% coverage, while at the rear there's a 7.5cm / 3.0-inch touch-enabled, fully articulating LCD.
Despite the market positioning of the RP, there are some surprise features, such as Bluetooth and Wi-Fi for wireless smart device connectivity and tethered control, focus bracketing, and a built-in interval timer. Video capture options include 4K recording at 24/25 fps from a 1.7x crop, and Full HD at up to 60 fps with a maximum duration of a second shy of 30 minutes.
Key specifications:
26.2MP full-frame CMOS sensor

Dual Pixel CMOS AF

Native ISO 100–32,000, with expansion to ISO 50–102,400

Up to 5 fps shooting with continuous AE/AF tracking

UHD 4K 24/25p video

Single SD card slot (with UHS-II support)
Overall performance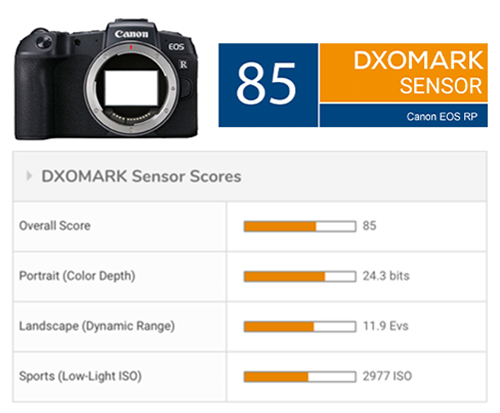 Click on the score chart above to open the Canon EOS RP product page.
The Canon EOS RP sensor achieves an overall DXOMark score of 85 in our tests, which is a good solid result, even if it's a little behind the best of the leading-edge sensor results we've recorded.
The RP's 26MP CMOS sensor is strong in the Portrait (color depth) test, maxing at 24.3 bits at its base ISO—a good result. It is also good throughout the sensitivity range up to its maximum expanded value of ISO 102,400 and shows that it is capable of high color discrimination.
The RP also performs well in our Sports (low-light ISO) score, achieving a very respectable ISO 2997, which puts it among the best-performing sensors in this particular category.
However, the RP's sensor doesn't fare quite so well in Landscape (dynamic range), where it achieved a maximum of just 11.9 EV at base ISO. Dynamic range is an important metric in sensor performance, although that applies to whole of the sensitivity range, not just to the maximum at base. In fairness, the dynamic range of the RP sensor falls only by 1 EV over ISO 100 to 1600; although this is something of a compromise at base, it is also relatively impressive at the higher end of the range.
Image quality compared
The RP's overall result puts the camera in joint 7th position in our sensor ranking of current and near-current full-frame mirrorless models. Overall performance puts it alongside the 12.2MP Sony A7S II, and just behind the 30MP Canon EOS R—the closest camera to the RP with a similar pixel count.
Achieving a strong Portrait (color depth) score of 24.3 bits at its base ISO, the RP is slightly ahead of the Sony A7S II; and at ISO 2977 vs 2993, it even matches the Sony (highly regarded for its low-light capabilities) in the Sports (low-light ISO) category. Against its stablemate EOS R, our tests indicate the RP performs similarly in the low-light score, with the latter a negligible +0.1 EV ahead.
The RP sensor also performs favorably against the Nikon Z models in the Sports (low-light ISO) category. It has around a +0.2 EV advantage over the 45.7MP Nikon Z 7, one of the highest-performing models overall in our database. And it performs almost identically against the Nikon Z 6, which has a similar sensor resolution, with little more than +0.1 EV difference between them.
Although the RP performs well overall, its weakest result is in its dynamic range response, at just under 12 EV at base ISO; the other full-frame mirrorless models comfortably surpass it. In some cases, the best sensors are as much as +2 EV or more ahead at base ISO. While the results for dynamic range holds back the overall performance, the RP's response is very clearly different from all the rest. Although we cannot speculate as to why that is, it is particularly noticeable over the range of ISO 100-1600, where the dynamic range falls by around 1EV. Even so, at ISO 1600 and above, it's still below the rest.
Comparing against other Canon cameras, the RP's score is identical to the EOS 6D Mk II's, suggesting that they share the same sensor.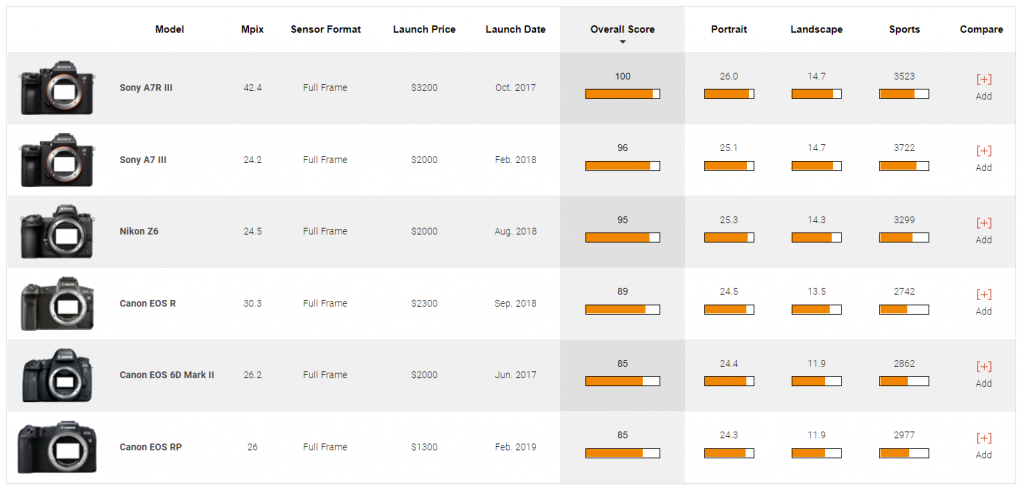 Click here to open our interactive DXOMARK image sensor ranking tool.
In-depth comparisons
Although the Canon EOS RP compares favorably in its results with the sensors for both the Sony A7S II and the Canon EOS R, the former is not new, nor are they that close in terms of their target market. It makes more sense to look at newer-generation rival models with similar pixel counts, so although they're mid-range models, we'll compare the RP's sensor performance with that of the Nikon Z 6 and Sony A7 III. You can use our comparison tool to see how it stacks up against other models yourself, however.
Portrait (color depth)
The Canon EOS RP has very good color sensitivity; however, it doesn't quite match either the Nikon Z 6 or the Sony A7 III, which share similar results throughout the sensitivity range. Both those rival models achieve around 25 bits at their respective base ISOs versus a still very respectable 24.3 bits for the RP. (All three manufacturers claim higher ISOs at base 100, but when we measured, the trio was lower, which we assume is a way of protecting highlights. Lower sensitivities also typically lead to better results in our tests, with the Canon in this case having the lowest at ISO 65, against ISO 74/77 for the other two—but there's no real advantage in this case.)
Throughout much of the lower- to mid-range (to ISO 3200), the RP is consistently around 0.8-1.2 bits lower than the Sony and the Nikon sensors, but the gap narrows after that, particularly compared with the Sony. This difference isn't going to be noticed in everyday scenes, but it may be visible in some extreme cases. The RP's RAW images meet our high-quality guidelines for color depth at ISO 25,600, as do both rivals. After that, all three models just drop below our 14-bit acceptable quality threshold when set to ISO 51,200 (manufacturers' settings).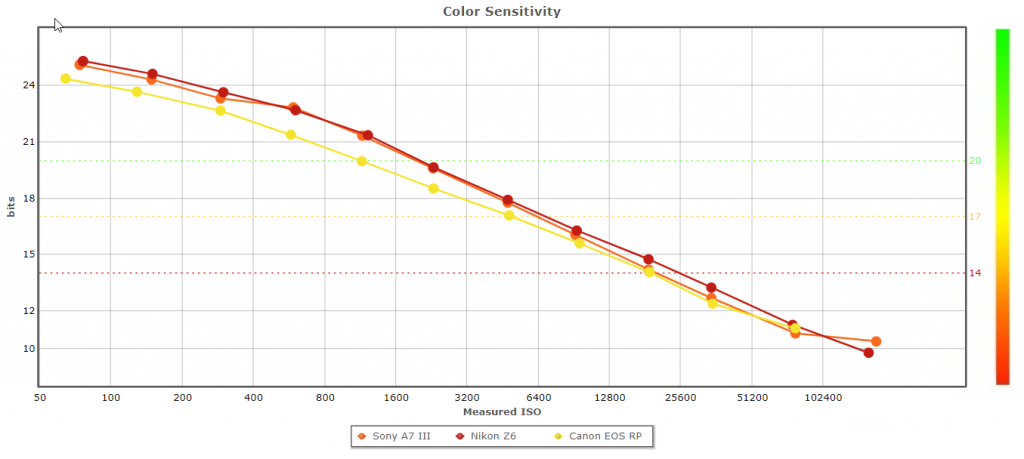 Landscape (dynamic range)
With nearly 12 stops (11.9 EV) of dynamic range at base (ISO 100), the Canon EOS RP sensor response is behind the Sony A7 III and Nikon Z 6 by over 2EV. That's quite a significant difference, and the effect would be noticeable when trying to recover detail in the highlights of RAW images with heavily backlit scenes.
Intriguingly, the RP's response curve is far shallower than the Nikon's and the Sony's across the low- to mid-sensitivity range, meaning that there's not much difference in dynamic range between ISO 100 and ISO 800. Even at ISO 1600, the RP's dynamic range contracts by just one 1 EV. After that it decreases by roughly 1 EV for every one-stop increase in ISO. Although this is the same rate as the sensors in the Sony and the Nikon, there remains around 1 EV less dynamic range in the resultant RAW files for the RP.
In everyday photos where backlighting or contrast isn't too high, the RP still has plenty of reserve, but in today's highly competitive field, dynamic range counts for quite a lot in the image quality stakes.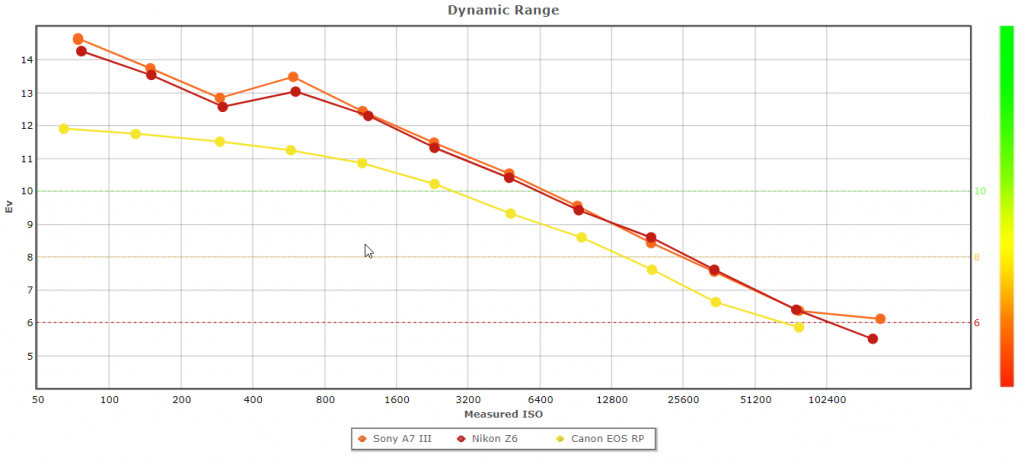 Sports (low-light ISO)
While the Canon EOS RP sensor lags behind the current best sensors in dynamic range by some margin, that's not so much the case with noise levels, particularly at high ISOs. Between base and ISO 200, though, the Sony and Nikon sensors have lower noise, equating to around a 0.7 EV advantage over the RP, but by ISO 400, there's not much difference among them.
At the 30dB threshold, where we evaluate the low-light ISO value for each model, the RP measures ISO 2977; the Sony A7 III achieves ISO 3730, or around a +0.4 EV advantage over the RP. Technically, the Nikon would also have cleaner files than the RP, but the difference of around 0.2 EV isn't likely to be noticeable. At higher ISOs, there's even less difference among them, with all three dipping just beneath our 20dB lower-quality threshold when set to ISO 51,200.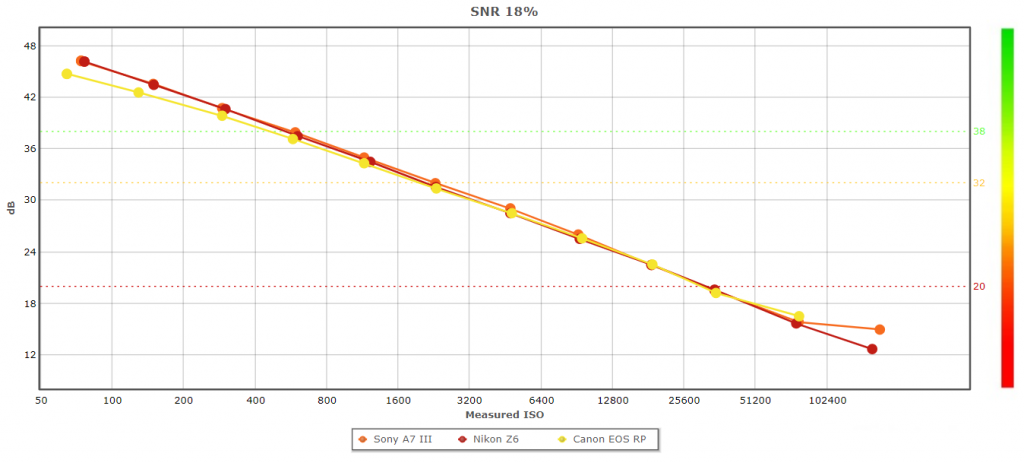 Conclusion
As the first and only entry-level full-frame mirrorless camera currently available, the Canon EOS RP provides an easier entry into the full-frame mirrorless market than the EOS R from a pricing point of view. However, it might be too much to expect the RP sensor to match the current leading-edge sensor performance in the considerably more expensive mid-range mirrorless models. At the moment, those wanting better sensor performance from a Canon full-frame mirrorless camera, particularly with regard to dynamic range, will have to spend considerably more on the Canon EOS R.
This said, noise levels and color accuracy are very good and not that far behind the sensors in the Nikon Z 6 and Sony A7 III. These traits, combined with its inherent portability and generally good mix of features and ergonomics, make the RP an attractive option for travel, street, and yes, even landscape photographers.
In this review, we have compared the Canon EOS RP to its most relevant rivals from other brands. As usual, you can create your own comparisons and in-depth analyses using our interactive image sensor ranking tool.