Please note: In September 2019, we updated the DXOMARK Mobile test protocol to cover ultra-wide-angle performance and renamed the protocol DXOMARK Camera. We also expanded our low-light testing and created the new Night sub-score, which incorporates the previous Flash score. We have retested this device using the new Wide and Night test protocols and updated the scores in this review, but we have not changed the text from the original review. For more information, please see the articles about our new Wide and Night test protocols.
86
camera
Crosscall Trekker-X4 camera review (originally published October 25, 2018)
For those unfamiliar with the Crosscall brand, the French company has been making mobiles and smartphones packed with features designed to appeal to outdoor sport enthusiasts — rugged build, altimeter, FM radio, barometer, etc. — since 2010. The company's latest smartphone, the Crosscall Trekker-X4, retains many of the key elements of its predecessor, the Trekker-X3, while having upgraded its processor to a Qualcomm Snapdragon 660 chipset to go along with a lower-resolution 12 MP, 1/2.8-inch image sensor, and a faster f/1.8 aperture lens in the single-lens main camera. The Trekker-X4 is pretty unique insofar that it features a secondary built-in ultra-wide-angle "action camera," allowing you to use the phone as a dash-cam, or mounted on, say, a bike or helmet. However, this secondary camera is not controlled via the default camera app and therefore not within the scope of our tests.
Key camera specifications:
12 MP, 1/2.8-inch sensor
f/2.2 aperture
28 mm-equivalent focal length
Dual-LED flash
5.5-inch full-HD IPS display
Qualcomm Snapdragon 660 chipset
Full HD, 1080p @ 30 fps video
About DxOMark Mobile tests: For scoring and analysis in our smartphone camera reviews, DxOMark engineers capture and evaluate over 1500 test images and more than 2 hours of video both in controlled lab environments and in natural indoor and outdoor scenes, using the camera's default settings. This article is designed to highlight the most important results of our testing. For more information about the DxOMark Mobile test protocol, click here. More details on how we score smartphone cameras are available here.
Test summary
With a DxOMark score of 85 points, the Trekker-X4 lands in the upper end of the pack for mid-tier devices, with an overall performance pretty much on par with that of the iPhone 7 from 2016. Its major strengths are its good exposure and dynamic range; its color rendering and white balance for both stills and video; and a generally fast and accurate autofocus.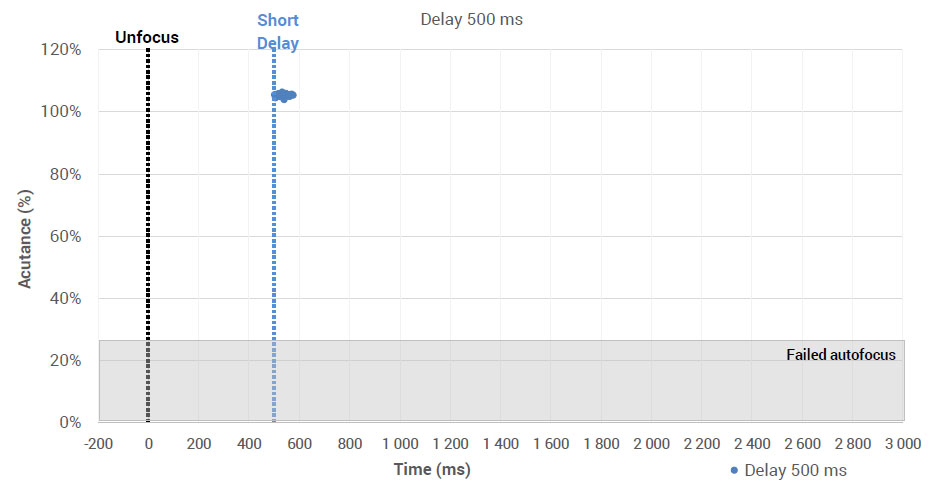 Trekker-X4 AF performance in bright light (1000 lux)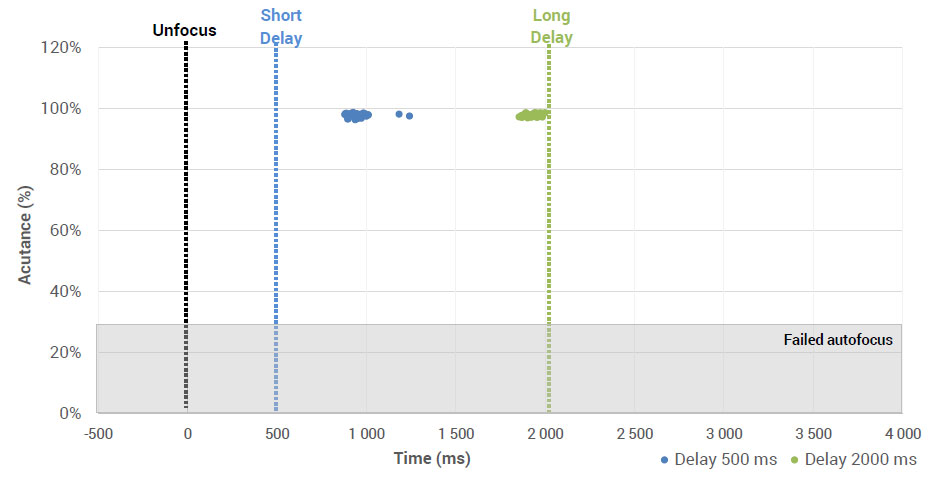 Trekker-X4 AF performance in low light (20 lux)
As you can see in the graphs above, the autofocus system consistently delivers sharp images in bright light, although we noted occasional AF failures when shooting handheld outdoors. The AF also delivers sharp images in low-light conditions (20 lux), but after defocusing the lens, the camera takes a moment to focus and capture the image after hitting the shutter button. If you wait a little longer to press the shutter after defocusing, image capture is instantaneous.
Although its color rendering is good, particularly in the lab, outdoor pictures lack a certain degree of contrast or "pop," with the overall result that they seem a bit flat. Even in images taken in bright light, there is perceptible noise in uniform areas such as the sky — and not just luminance noise, but also the more bothersome chroma noise, as shown in the crop below.
One of the camera's biggest weaknesses is the quality of its primary lens, which results in a significant loss of acutance (sharpness) in the field, as shown in the ladybug image below. Another significant weakness is its inability to capture texture and fine details. Further, the Trekker-X4 also has a tendency to produce a ringing effect along high-contrast edges and a cyan-shift effect in blue skies. (Other artifacts are pretty well-controlled.)
Given its intended market and purposes, it would not be fair to expect the Trekker-X4 to be an outstanding performer in low-light situations; and indeed, while it manages to produce some usable pictures down to about 5 lux, problems with motion blur and graininess are often visible, and photos taken in even lower light are essentially unusable.
The Trekker-4X's dual-LED flash takes usable photos with flash alone, but does better when combined with some ambient light. There's usually some visible attenuation, but nothing particularly out of the ordinary.
The Crosscall's secondary action camera operates completely separately from the main camera, which for practical purposes means that the Trekker-X4 is a single-lens setup, without depth-sensing for bokeh simulation or any kind of optical zoom. So there's no way to take portrait images with a nicely blurred background, and digital zoom performance is … as good as it can be, considering the setup, with low detail preservation when zoomed in.
As for Video, the Trekker-X4 scored a solid 86 points by demonstrating good color and white balance, clean transitions, and fast and accurate autofocus. It could really use a boost in stabilization, however (or again considering the target market, perhaps the capacity to shoot video at 60 fps), as a judder effect was particularly apparent along sharp edges. This judder, along with some jitter (oscillation between sharp and blurry frames), can sometimes make the playback a bit uncomfortable to watch.
Conclusion
As a reminder, our protocol requires that we test smartphone cameras only in their default camera mode, which means that we did not test one of the Trekker-X4's major selling points, its secondary ultra-wide-angle action camera. Even so, it's not hard to answer the question of whether the Trekker-X4 is right for you: if crisp zoom shots and excellent image quality in low light are must-haves, you may want to look elsewhere. But if you're more of an outdoor enthusiast than you are an aspiring photographer, and if you need a rugged device chock-full of helpful features, you can be assured that the Trekker-X4 will do a perfectly fine job of capturing stills and videos of your action adventures in good light.
Pros
White balance is accurate in most conditions
Autofocus is fast and accurate in the lab
Noise is well-controlled in indoor conditions
Pros
Fast, repeatable and accurate autofocus
Good target exposure in indoor and outdoor conditions
Good details in indoor and outdoor conditions
Cons
Detail preservation is low in all conditions
Contrast is slightly low in many natural scenes
For zoom, detail preservation is low
A strong loss of acutance in the field is visible
Noise is often visible in blue skies
Cons
Indoors and in motion, sharpness differences between frames are strongly visible
Noise is strongly visible in lowlight conditions
White balance instabilities in indoor conditions are noticeable