Announced on October 17, 2017, for use with the DJI Inspire 2 drone, the Zenmuse X7 is the first APS-C format drone camera from DJI. When capturing stills, the Zenmuse X7 uses the full imaging area of its APS-C format sensor with an effective pixel count of 24.2 million.
In video mode, the Zenmuse X7 records movies using a Super 35mm (23.5×12.5mm) area, and it's possible to shoot 6K CinemaDNG RAW or 5.2K Apple ProRes video at up to 30fps, or 3.9K CinemaDNG RAW or 2.7K ProRes at up to 59.94fps, making the footage suitable for professional workflows.
The Zenmuse X7 has the new DJI DL lens mount that has an extremely short flange depth to keep lens size down. Four lenses will be available at launch with focal lengths of 16 mm, 24 mm, 35 mm, and 50 mm. All four have a maximum aperture of f/2.8 and a carbon fiber construction to minimize weight.
Key Specifications:
24.2Mp APS-C (23.5×15.7mm) CMOS sensor for stills, 23.5×12.5mm for video
ISO 100 – 25,600 for stills, for video ISO 100 – 1600 (EI mode on); 100 – 6400 (EI mode off)
Auto, Manual, Shutter Priority and Aperture Priority exposure modes
DJI DL lens mount
Up to 20fps
6K video
Overall image sensor performance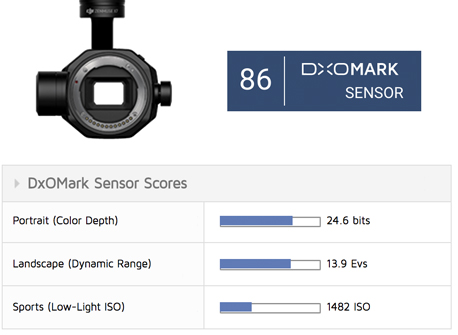 With an overall DxOMark sensor score of 86 points, the DJI Zenmuse X7 has a sensor that's on par with some of the highest-performing APS-C format sensors, including the Nikon D7500's.
The Zenmuse X7 has the largest sensor in a DJI drone camera to date. Predictably, this enables it to outperform the Zenmuse X5S, which has a Four-Thirds type sensor with 20.89 million effective pixels, and which achieved an overall score of 74 in our tests. The X7's Landscape (Dynamic Range) score, for example, improves by 1.2 EV, which should mean it retains more detail in highlights without blocking-up shadows, making it potentially very useful in sunny conditions. Meanwhile, the Portrait (Color Depth) score steps up from 23 to 24.6, indicating that the X7's images have a very wide range of tones — something users will appreciate when shooting the subtle variations of a landscape from above.
At 1482, the X7's Sports (Low-Light ISO) score compares well with many cameras, and it's more than half a stop better than the X5S's.
Image quality compared
The table below shows how the Zenmuse X7 compares with the Four-Thirds format DJI Zenmuse X5S and the Phantom 4 Pro, which has a 13.2 x 8.8mm sensor.
As we'd expect, the most significant difference is between the X7 and the Phantom 4 Pro. The difference in the Sport (Low-Light ISO) scores is especially noticeable, with the X7 having an advantage of around 1.6EV, which could prove useful for images taken among trees or even indoors.
With a difference of 2.6 bits higher for the Portrait (Color Depth) score, the Zenmuse X7 will produce images with colors that look just a little better than those from the Phantom 4 Pro, while the 1.4EV increase in dynamic range will also have a significant impact on high-contrast scenes.

Click here to open our interactive DxOMark comparison tool
The table below shows how closely the Zenmuse X7 compares with the Nikon D7500, and how it outperforms the Panasonic GH5.

Click here to open our interactive DxOMark comparison tool
There's actually very little difference between the Zenmuse X7's scores and the D7500's, as the Sport (Low-Light ISO) and Landscape (Dynamic Range) scores are practically identical and the Portrait (Color Depth) scores are very close (just 0.3 in the X7's favor).
The difference between the Zenmuse X7 and the Panasonic GH5, however, is more marked, with the results showing that the X7 is capable of capturing a slightly broader range of colors and tones. The Sports (Low-Light ISO) score also indicates that the drone camera is around 0.8EV better at controlling noise than the GH5.
In-depth comparisons
In this section we'll take a closer look at how the Zenmuse X7 compares with the Nikon D7500 and the DJI Zenmuse 5S throughout the raw file sensitivity (ISO) range.
Please note that we detected the X7 applying some noise reduction to RAW files from the X7, but we are able to calculate the sensor's true performance from its output.
Portrait (Color Depth)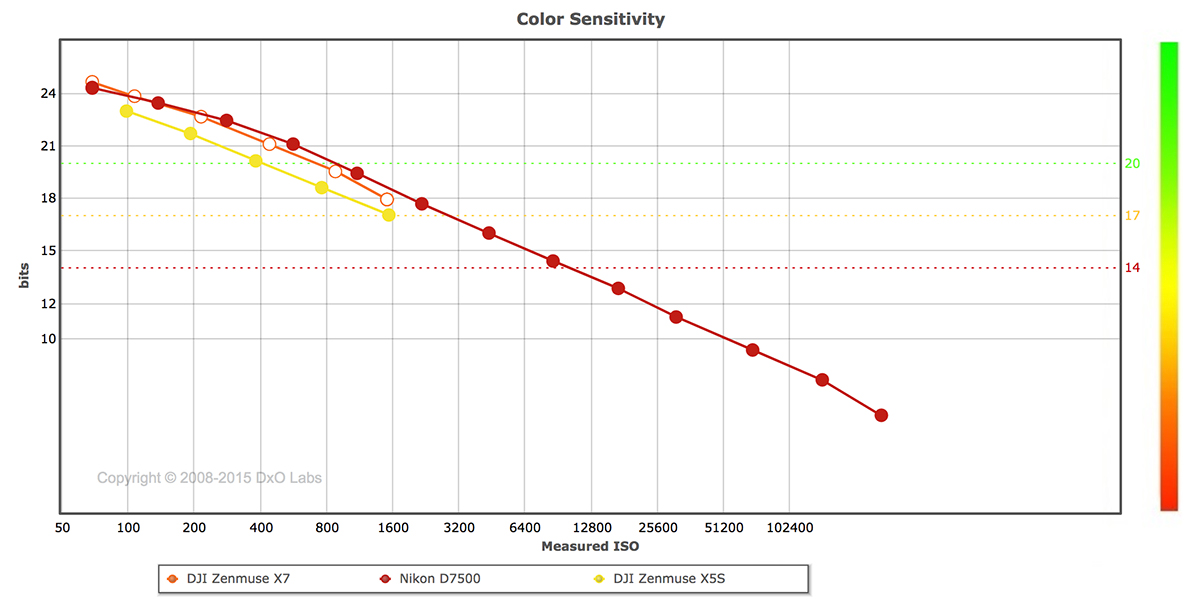 At their lowest sensitivity settings, the Zenmuse X7 and Nikon D7500 have the same scores for color sensitivity, and although the X7's score drops a little below the Nikon camera's, the differences are unlikely to be apparent in most normal shooting conditions. That said, if you want to capture images that we categorize as high quality, you can set the D7500 to ISO 800, whereas you will need to set the X7 needs to a lower value. — And that said, users should set the X5S to a maximum of ISO 400.
When you're shooting RAW files with the X7 you cannot set sensitivity higher than ISO 1600, but it's at around this point that the image quality falls to a more mediocre level.
Landscape (Dynamic Range)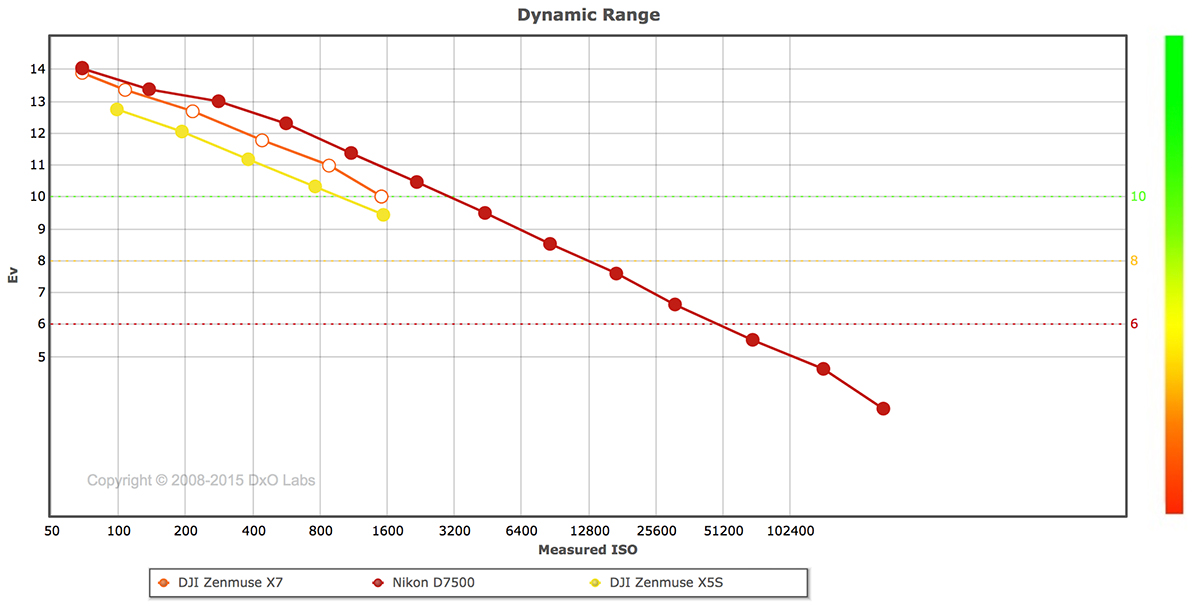 With a dynamic range that's 10EV or higher for all its entire RAW sensitivity range, the Zenmuse X7's sensor is a good performer. In fact, at the lowest ISO setting, it's a very close match for the D7500 with a dynamic range of almost 14EV. This also indicates a good level of latitude, allowing you to adjust image brightness post-capture.
In daylight flying outdoors, the sensitivity is likely to be kept to ISO 400 or lower and for much of that range, the X7 captures over 12EV, indicating that clipped highlights shouldn't be a major issue. Nevertheless, the D7500 beats the X7, and by ISO 1600, the difference between the two cameras has expanded to almost a whole stop. This means that you will need to take more care about the drone camera's exposure to ensure that the highlights are not lost.
The X5S lags a little behind the X7 for dynamic range — around 0.5EV or worse at each sensitivity value. This won't make a dramatic difference in some real-world terms, but it would still be noticeable in moderate- to high-contrast situations.
Sports (Low-Light ISO)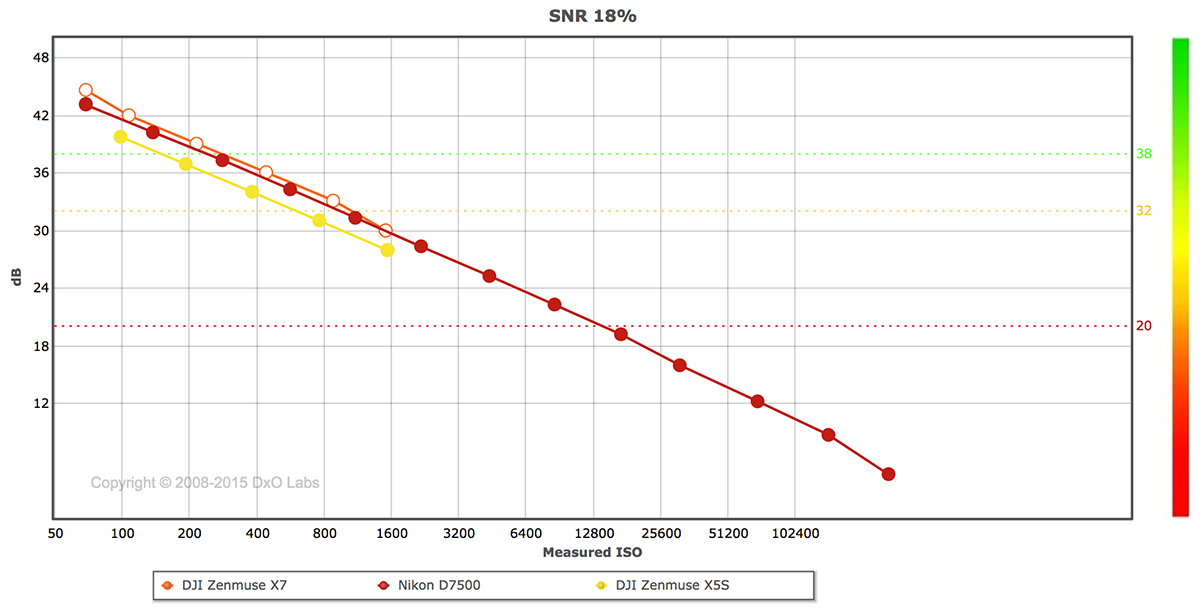 The Zenmuse X7's plot almost overlies the Nikon D7500's for most of its sensitivity range, indicating that images have a high level of detail and that noise isn't a major issue. It's around a stop better than the Zenmuse X5S, which means you'll get roughly the same level of noise at ISO 800 with the X7 as you would with the X5S at ISO 400. The difference could prove useful on overcast days and when shooting indoor events.
Conclusion
Thanks to an increase in its size as much as to technological advancements, the DJI Zenmuse X7's sensor takes a significant step up in performance from the Zenmuse X5S sensor. In fact, it delivers results that compete closely with those from a high-scoring APS-C format DSLR, despite being housed in a camera that's mounted in a stabilized gimbal and specifically designed for aerial photography.
The Panasonic GH4 (recently been replaced by the GH5) has been a popular choice of camera for drone use, but our results indicate that the Zenmuse X7 could be a better choice of camera for aerial photography than the GH5, as it delivers better color sensitivity, dynamic range, and low-light performance.
In this review we have compared the DJI Zenmuse sensor to its most direct rivals from other brands and among DJI's own line-up. As usual, you can create your own comparison and in-depth analysis using our interactive image sensor comparison tool.