Please note: In September 2019, we updated the DXOMARK Mobile test protocol to cover ultra-wide-angle performance and renamed the protocol DXOMARK Camera. We also expanded our low-light testing and created the new Night sub-score, which incorporates the previous Flash score. We have retested this device using the new Wide and Night test protocols and updated the scores in this review, but we have not changed the text from the original review. For more information, please see the articles about our new Wide and Night test protocols.
Google Pixel 2 camera review (originally published October 4, 2017)
The Google Pixel 2 is the top-performing mobile device camera we've tested, with a record-setting overall score of 98. Impressively, it manages this despite having "only" a single-camera design for its main camera. Its top scores in most of our traditional photo and video categories put it ahead of our previous (tied) leaders, the Apple iPhone 8 Plus and the Samsung Galaxy Note 8, despite the Pixel 2 coming in lower in the new Zoom and Bokeh categories. The Pixel 2 is also a major step forward from the Pixel (which was our top scorer when it was released a year ago), moving from 90 to 98.
Key camera specifications:
1/2.6-inch 12MP sensor
f/1.8 aperture
Dual-Pixel Autofocus
Optical Image Stabilization
HDR+ technology
New Portrait Mode software solution
About DxOMark Mobile tests: For scoring and analysis in our smartphone camera reviews, DxOMark engineers capture and evaluate over 1500 test images and more than 2 hours of video in both controlled lab environments and in natural indoor and outdoor scenes. This article is designed to highlight the most important results of the testing. For more information about the DxOMark Mobile test protocol, click here.
Test summary
The Google Pixel 2 not only takes the DxOMark Mobile scoring crown with a stunning Overall score of 98, but its video performance improves by 5 points over the original Pixel, putting it at 96 and at the top of our video ranking. The Pixel 2's photo performance is really impressive at 99, and just one point short of the Samsung Galaxy Note 8, which scored an amazing 100 in our photo category.
Bright light
In bright light the Google Pixel 2 offers good detail, excellent color rendering, and very impressive dynamic range, making it a great camera for capturing high-contrast scenes. Details are preserved in both highlights and shadow areas, with well-controlled noise levels.
Autofocus performance is excellent as well. Overall, the Pixel 2's capabilities in bright light make it ideal for a wide variety of outdoor photographers — from image lovers who are looking for the perfect landscape or cityscape, to those who want to capture sporting events or family outings.
The Pixel 2 does an amazing job of rendering detail in both the bright and dark areas of difficult scenes, even compared to one of our other top Photo performers, the HTC U11 (click on an image to view a full-resolution version):
Low light and flash
In lower light conditions, the Google Pixel 2 camera does a very good job preserving fine detail, although at the cost of some luminance noise. In addition, there is some loss of detail in brightly-backlit indoor scenes. In terms of dynamic range and autofocus performance, the Pixel is very good in low light as well, and apart from some color non-uniformity in indoor conditions and lower light, color rendition is very nice, too.
For those who like taking pictures in very low light and in social situations, it's good to know that the Pixel 2 is also one of the best all-round performers when using flash. Often phone cameras excel either when the flash is the only source of light or when there is help from ambient light, but the Pixel 2 does an excellent job in both cases. This makes the Pixel 2 an excellent choice for recording family or group portraits indoors and in dim light.
Zoom and Bokeh
Because the Pixel 2 has only a single main camera, software is what generates Zoom, Depth Effect, Portrait Mode, and Bokeh from one or more frames captured with that camera. The software on the Pixel 2 does a good job on all of these, although with some flaws.
Our Zoom tests cover ranges from 2x all the way to 8x. At medium to long range, the Pixel 2 definitely loses detail compared to a true telephoto lens. However, the loss is less than with most other single-camera designs. Here you can see that at 4x, the Pixel 2 does well suppressing noise, but loses quite a bit of detail. Images at zoom ratios greater than 4x weren't really usable.
Our Bokeh sub-score measures several different aspects of image quality, including how well the camera can portray limited depth of field (sometimes called "Depth Effect"), its ability to do that specifically for portraits (sometimes called "Portrait Mode"), and Bokeh itself — the shape and aesthetic quality of the out-of-focus areas. In the indoor portrait image comparison below, you can see that the Pixel 2 improves significantly over the Pixel, but that the background blur and bokeh are not as natural as that provided by the iPhone 8 Plus's dual-camera system.
Video
With a score of 96, the Pixel 2 is the current leader in our video ranking and delivers an impressive video performance, with only a few small flaws. Exposure is good in almost all lighting conditions, with quick transitions between lighting levels. Autofocus is very fast, smooth, and stable — including subject tracking. The Pixel 2 also does an excellent job at balancing detail preservation and noise reduction — among the best we've seen.
The original Google Pixel had excellent video stabilization, but this has been improved even further with the new model. In particular, the Pixel 2 video mode delivers a high level of stabilization, with fewer artifacts in both indoor conditions and bright light.
Photo scores explained
The Google Pixel 2 achieves a total Photo score of 99, which is a composite of a number of category sub-scores. The Pixel 2 set new high watermarks in several of them, although it was just edged out in the overall Photo category by the Samsung Note 8. In this section we'll take a closer look at these image quality sub-scores.
The Pixel 2 features very consistent exposures in bright light, and is very impressive when compared with other smartphones indoors and in low light as well. One difference with most other phones is that the Pixel 2 renders bright light scenes a little brighter than is technically accurate, but that may be a better match for the way the photographer remembers the scene.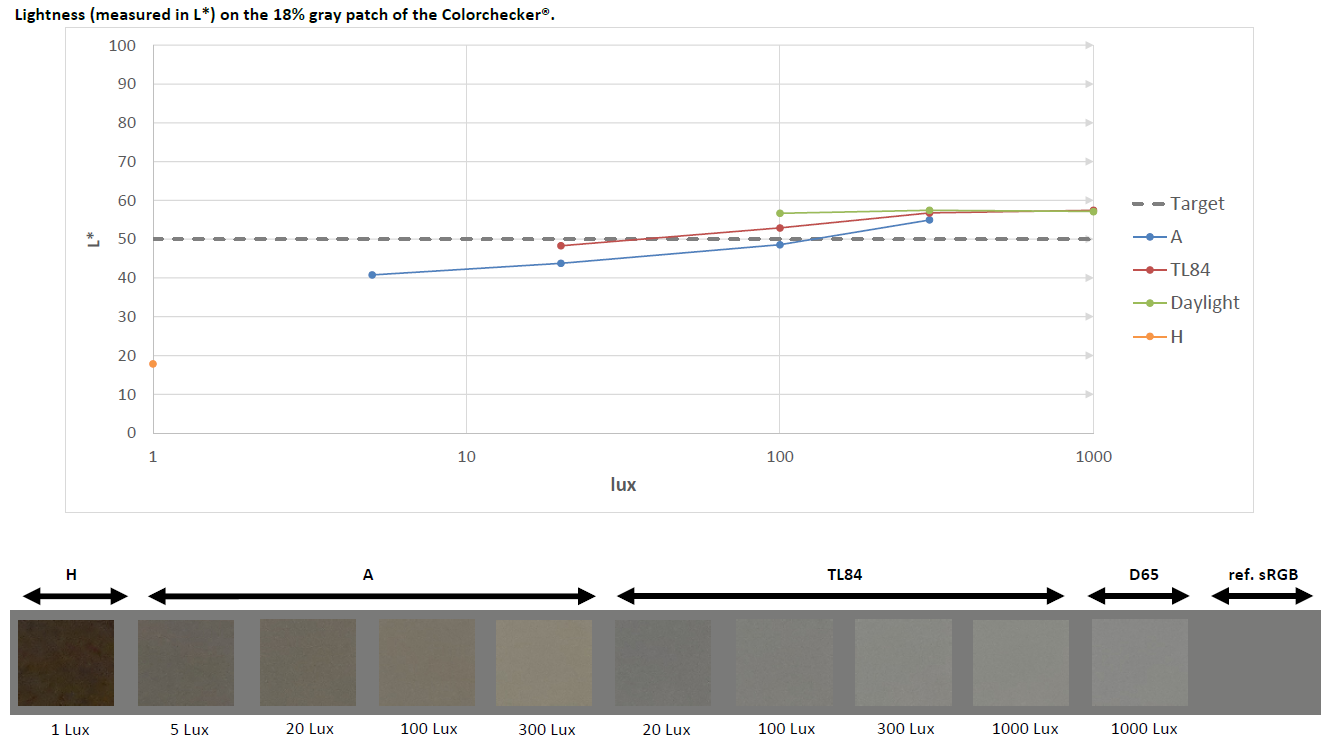 You can see from the chart and by looking at the reference patches that in bright light, the Pixel 2 provides an exposure that makes mid-tone objects appear slightly brighter than they should be.
One weak spot for the Pixel 2 is exposure in very low light. In our extreme 1 Lux (essentially candlelight) tests (shown as H — for Horizon lighting — in this chart), the Pixel 2 drastically underexposed.
In low light, the Pixel 2 images show increased noise in high dynamic range scenes, but have excellent exposure and highlight preservation. For example, in this comparison, only the Pixel 2 is able to preserve the shape of the light fixture:
In most conditions, both indoors and outdoors, the Pixel 2 features very good color rendering. In this comparison, for example, you can see by looking closely at the carousel that while all three devices do an excellent job of color rendering, the Pixel 2 also does a better job of retaining detail at the same time (click to view full-resolution images):
White balance is generally very good as well, though there can be a slight, but not unpleasant, warm cast to outdoor images. Indoors, white balance is very accurate.
The Pixel 2 not only has the best autofocus we've ever seen, it is substantially better than any other smartphone camera we've tested. It focuses quickly, accurately, and consistently in all lighting conditions. In one of our defocus/refocus tests, the Pixel 2 managed to refocus in an impressive 16ms. Even indoors, at a light level of 300 Lux, the Google Pixel 2 showed remarkably fast and consistent autofocus results, as you can see in the graph below.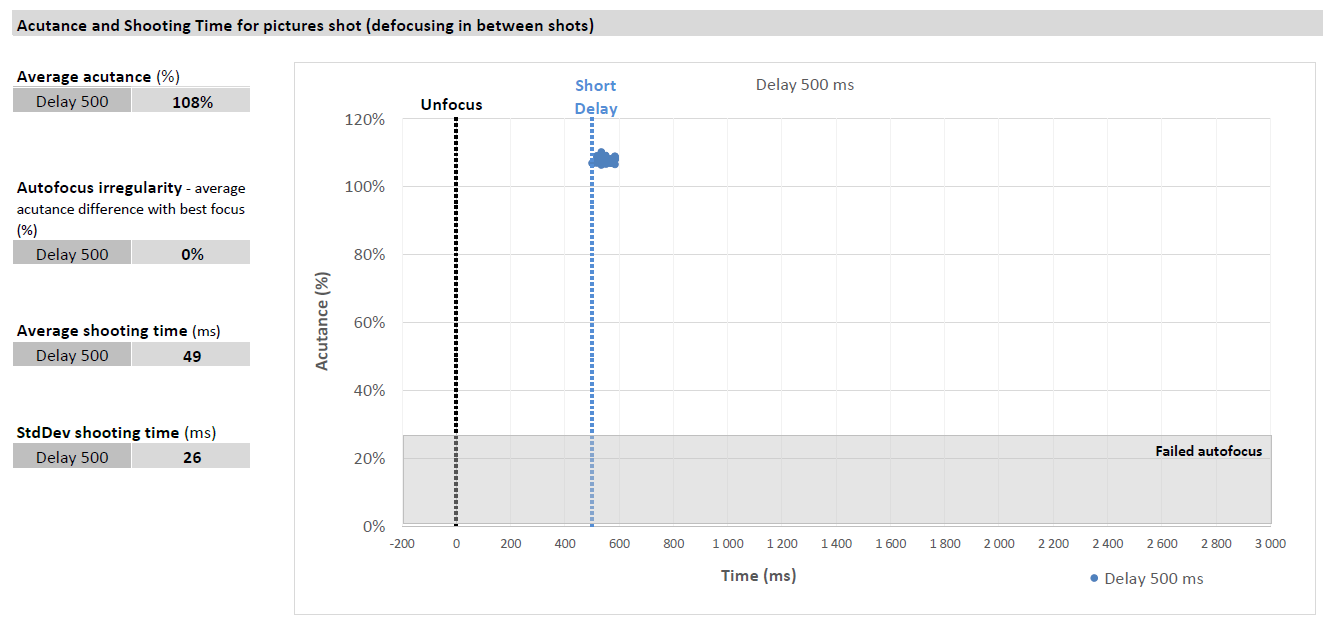 Detail / Texture (73)
While the Pixel 2 does an excellent job of preserving detail in images, it doesn't set any new records here. In our low-light laboratory scene, however, the Pixel 2 does an excellent job of preserving details, edging out the iPhone 8 Plus and the Note 8, as you can see in this comparison of the full image and a full-resolution crop of the currency in the scene below (captured at 5 Lux).
Compared to its other very strong category scores, the presence of noise is one of the Pixel 2's weaker areas. For example, you can see fairly strong luminance noise in the blue sky in the scene below if you click through to the full-size image and look closely:
In low light, the Pixel 2 does a very good job of noise suppression, but the Samsung Galaxy Note 8 takes it even further, as you can see from this crop of the same indoor test scene we used above for comparing detail preservation:
While the Pixel 2's outdoor performance is generally very impressive, it is susceptible to several different artifacts, one of which is demosaicing artifacts in heavily-textured areas. You can see it if you look closely at the water in the photo of the Eiffel Tower and bridge at the beginning of this review.
In addition, backlit scenes can cause strong flares and some halos, as you can see in these two sample images:
The Pixel 2 is impressive for taking excellent flash images both when the flash is the only source of light, and when it is assisted by ambient light. In both cases, White Balance, Color, and Exposure are very good. There is a slight amount of luminance fall-off, but less than for most other mobile devices, as you can see from these images comparing the Pixel 2 with the original Pixel:
There can be some exposure instability from shot to shot when using flash, both alone and when coupled with ambient light.
The Pixel 2 performed very well for a single-camera phone, but couldn't quite match the currently best devices in this category, the Apple iPhone 8 Plus and Samsung Galaxy Note 8. The Pixel 2 also sometimes displays aliasing and moiré artifacts in medium- and long-range zooms.
Bokeh, including Depth Effect and Portrait Mode (45)
Despite not having a second camera, the Pixel 2 does a good job using software to synthesize blur in both the foreground and the background of images. The feature is susceptible to irregularities from frame to frame, however, with occasional artifacts along the edges of subjects. Indoor scenes can also display gradient artifacts. Here you can see the improvements over the original Google Pixel, but even the Pixel 2 version shows some depth-estimation artifacts behind the model, as well as in such high-frequency areas as the top left corner (click on individual images to get a full-size version for easier comparison):
Video scores explained
The Pixel 2's video Exposure sub-score of 84 is very good, but marred slightly by dramatic underexposure in very low light, as illustrated in the exposure chart below.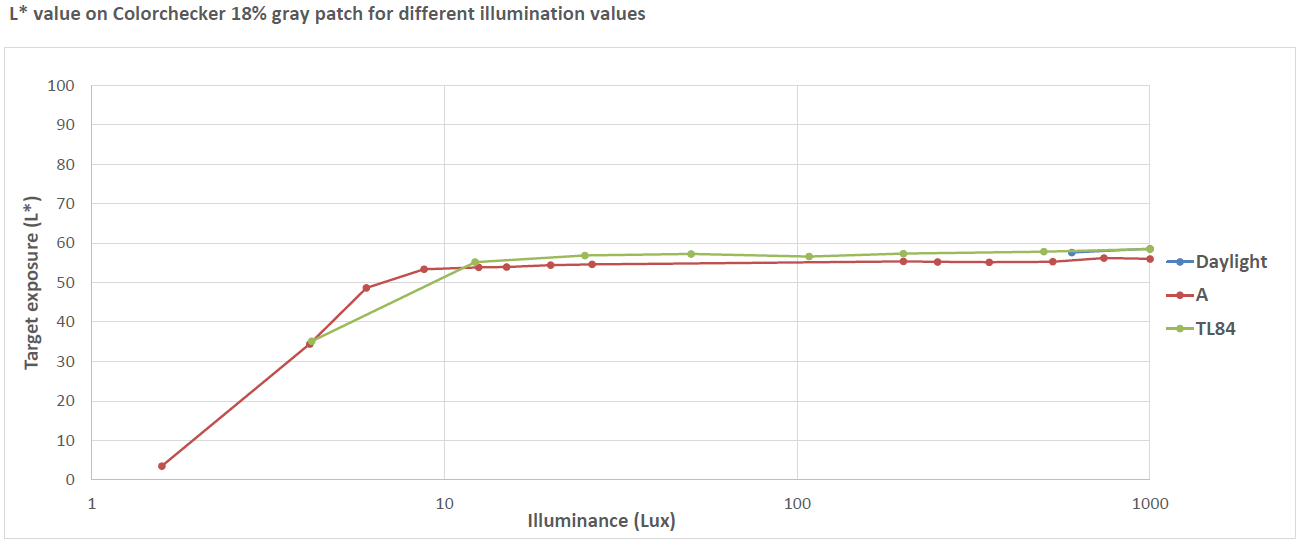 Its Color sub-score of 83 in video mode is also very good, although behind Apple's iPhone 8 Plus. The Pixel 2's Autofocus sub-score (95) is very impressive as well.
You can see the improvement in the Pixel 2's Detail preservation (Texture score of 57) by looking at the full-resolution crops from this test video frame shot under low light (100 and 5 Lux):
The Pixel 2 is able to provide a lot of detail while still doing an excellent job of suppressing noise (Noise sub-score of 80). While the Pixel 2 scores are highest in bright light, of course, it achieves almost the same performance indoors, and does very well in low light compared to other devices we have tested. Overall, the Google Pixel 2 also has excellent temporal noise suppression, as shown by its high scores in all lighting conditions.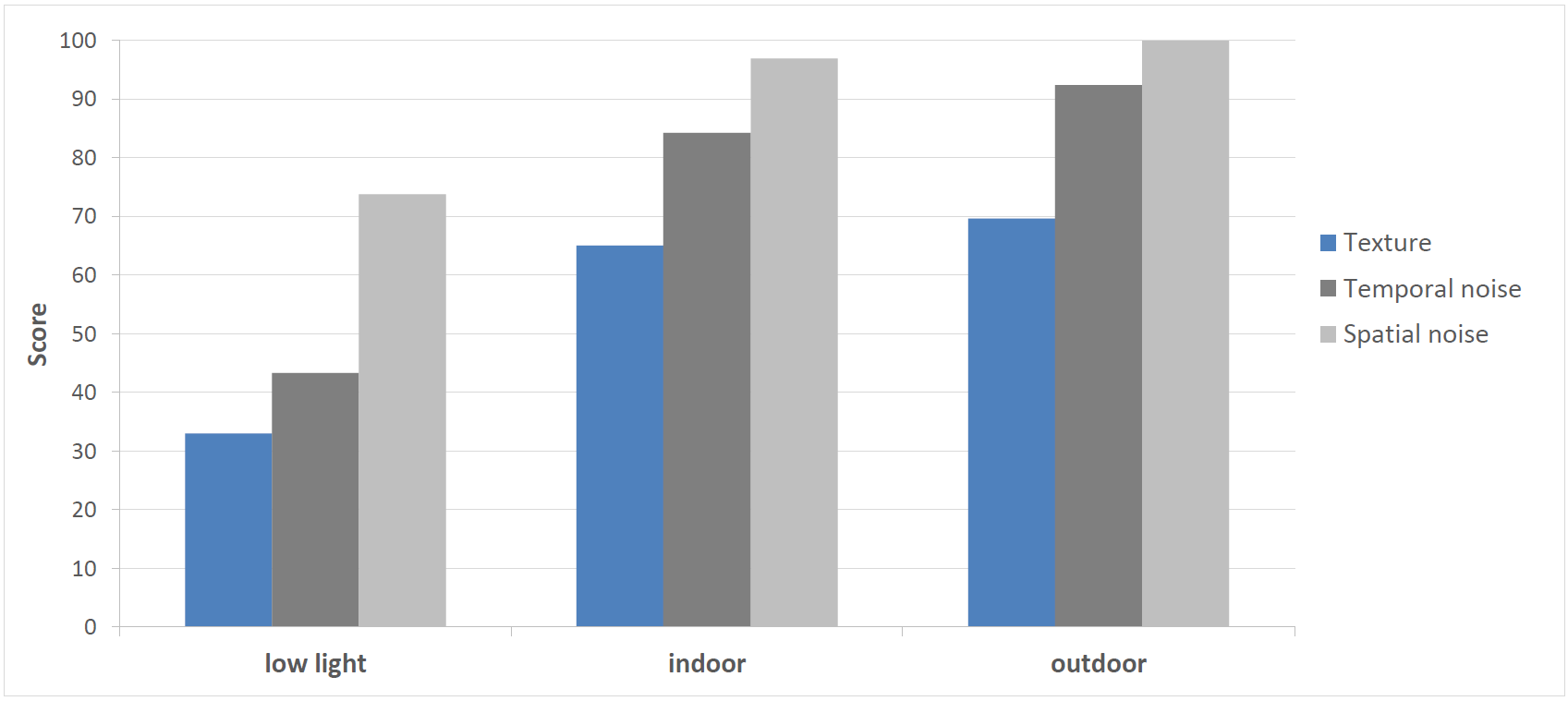 The Pixel 2's video Artifact sub-score (86) is quite good, but was somewhat reduced because of excessive judder and a small amount of aliasing. Scoring a 93, its video Stabilization is one of the best we have tested, topping the iPhone 8 Plus's score of 91 in this category.
Conclusion: Smartphone camera on a new level
We're in danger of running out of superlatives when describing the major image quality attributes of the Google Pixel 2. That makes sense for a device that tops our scoring charts —up from the 94 of the Apple iPhone 8 Plus and Samsung Galaxy Note 8 to a record-setting 98. So for just about any Photo or Video use case, it recommends itself as the phone camera with the best image quality. A notable exception to that assessment centers around the added performance in Zoom and Bokeh (including Depth and Portrait) that dual-camera smartphones such as the Apple iPhone 8 Plus and Galaxy Note 8 can provide. This said, the Pixel 2 is especially well-suited to videographers, as it achieves the highest Video score for any device we've tested — a 96.
Worried what happens when we get to 100? Don't be: Our new DxOMark Mobile test protocols and scoring system have plenty of headroom for new devices as they are introduced. There is nothing magical about the score of 100, and no reason that other cameras can't go past it. We're sure the time will come when they do!
A note about the image formats of the iPhone 8 Plus comparison images in this review: In some cases, we captured iPhone 8 Plus images using Apple's HEIF format and DCI-P3 colorspace. In such cases, we converted them to very high-quality JPEGs to use in this article so that they can be viewed in standard browsers and image editing software (in which case the Creator tag may say Photoshop). HEIF is very similar to JPEG, but provides better compression for similar image quality, so the conversion makes the sample image file sizes larger than they were when shot.
In the Press