Within Google's Pixel line of smartphones, the Pixel 6 is the option for those users who prefer compact dimensions over maximum screen size. It's powered by the same Tensor chipset as the Google Pixel 6 Pro but comes with a smaller 6.4-inch display and therefore as an overall smaller package. Other differences include less RAM (8 vs 12GB) and a smaller battery.
In the camera department the Pixel 6 lacks the Pro models dedicated tele camera but uses the same 50 MP primary module and 12.5 MP ultra-wide as the flagship model. Read our review to find out what that means for the Pixel 6's performance in the DXOMARK Camera tests.
Key camera specifications:
Ultra-wide: 12.5 MP 1/2.86″ sensor, 1.25μm pixels, 16mm equivalent f/2.2-aperture lens
LDAF (laser detection autofocus) sensor
LED Flash
4K at 30/60fps (4K/30fps tested)
About DXOMARK Camera tests: For scoring and analysis in our smartphone camera reviews, DXOMARK engineers capture and evaluate over 3000 test images and more than 2.5 hours of video both in controlled lab environments and in natural indoor and outdoor scenes, using the camera's default settings. This article is designed to highlight the most important results of our testing. For more information about the DXOMARK Camera test protocol, click here. More details on how we score smartphone cameras are available here.
Test summary
Scoring
Sub-scores and attributes included in the calculations of the global score.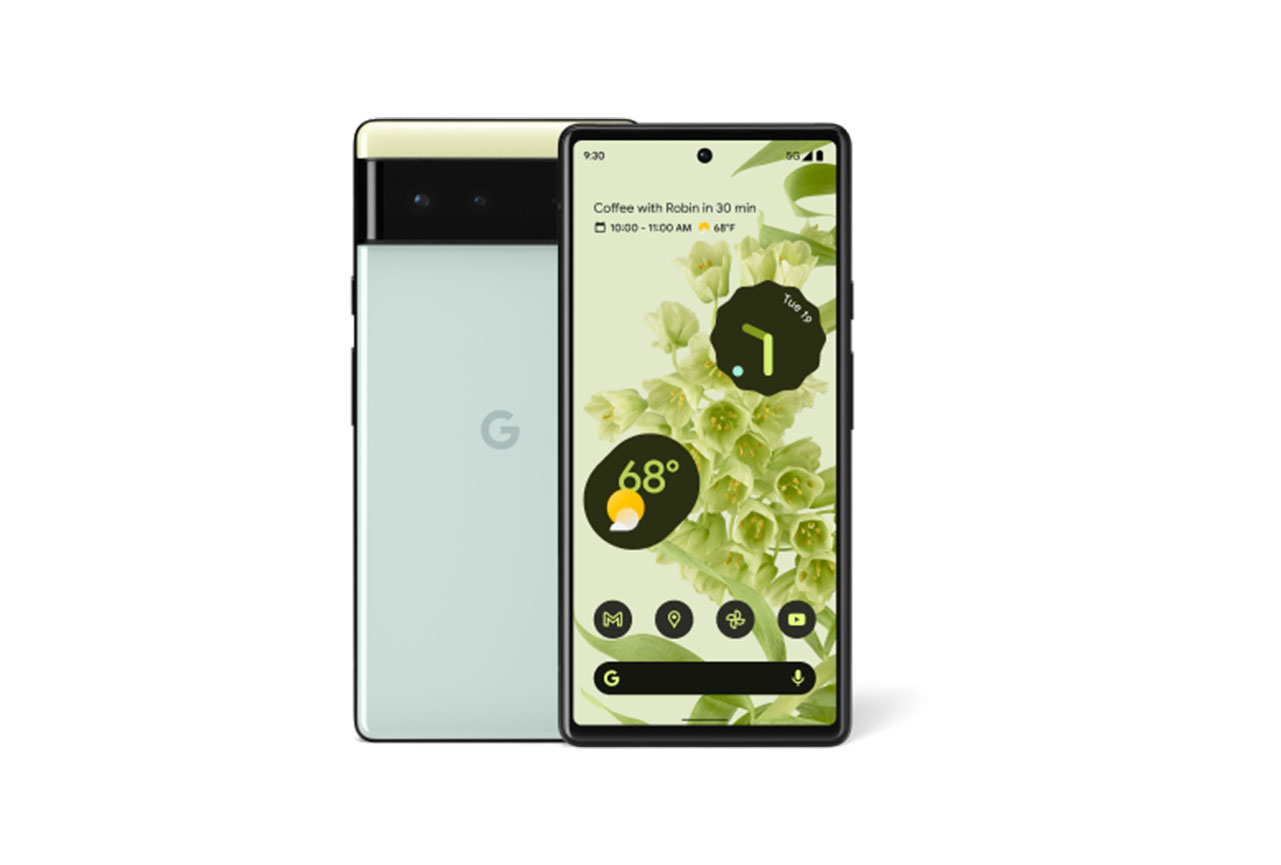 Google Pixel 6
126
camera
Use cases & Conditions
Use case scores indicate the product performance in specific situations. They are not included in the overall score calculations.
Outdoor
Photos & videos shot in bright light conditions (≥1000 lux)
Indoor
Photos & videos shot in good lighting conditions (≥100lux)
Lowlight
Photos & videos shot in low lighting conditions (<100 lux)
Friends & Family
Portrait and group photo & videos
Please be aware that beyond this point, we have not modified the initial test results. While data and products remain fully comparable, you might encounter mentions and references to the previous scores.
Position in Global Ranking
33
rd
4. Apple iPhone 14 Pro Max
146
7. Apple iPhone 13 Pro Max
141
13. Vivo X80 Pro (Snapdragon)
137
16. Samsung Galaxy S22 Ultra (Snapdragon)
135
16. Vivo X80 Pro (MediaTek)
135
23. Apple iPhone 12 Pro Max
131
23. Samsung Galaxy S22 Ultra (Exynos)
131
31. Asus Smartphone for Snapdragon Insiders
127
33. Vivo X70 Pro (MediaTek)
126
37. Samsung Galaxy S22+ (Exynos)
125
41. Samsung Galaxy Z Fold4
124
43. Apple iPhone 11 Pro Max
122
47. Samsung Galaxy Z Fold3 5G
120
47. Samsung Galaxy S22 (Exynos)
120
50. Samsung Galaxy S21 Ultra 5G (Snapdragon)
117
50. Samsung Galaxy S21 FE 5G (Snapdragon)
117
50. Samsung Galaxy S21 5G (Snapdragon)
117
55. Vivo X60 Pro 5G (Snapdragon)
116
58. Samsung Galaxy S21+ 5G (Snapdragon)
115
58. Samsung Galaxy S21 Ultra 5G (Exynos)
115
67. Samsung Galaxy Z Flip4
112
69. Samsung Galaxy Z Flip3 5G
111
69. Samsung Galaxy S21+ 5G (Exynos)
111
69. Samsung Galaxy S21 5G (Exynos)
111
74. Vivo X60 Pro 5G (Exynos)
108
81. Apple iPhone SE (2022)
100
90. Samsung Galaxy A52s 5G
88
90. Samsung Galaxy A52 5G
88
92. Samsung Galaxy A33 5G
85
95. Samsung Galaxy A53 5G
79
96. Xiaomi Redmi Note 11 Pro 5G
78
98. Samsung Galaxy A23 5G
70
100. Motorola Moto G62 5G
66
101. Xiaomi Redmi Note 11S 5G
65
104. Honor Magic4 Lite 5G
61
106. Xiaomi Redmi Note 11
60
109. Xiaomi Redmi 10 2022
51
111. Samsung Galaxy A22 5G
48
Position in High-End Ranking
2
nd
8. Apple iPhone SE (2022)
100
14. Samsung Galaxy A52s 5G
88
14. Samsung Galaxy A52 5G
88
16. Samsung Galaxy A53 5G
79
Pros
Good detail in bright light and indoors
Nice and accurate color
Natural detail and good shadow detail
Fast and consistent autofocus in bright light and indoors
Good detail in close and mid range tele shots
Good video stabilization
Good detail in video
Accurate video exposure and dynamic range
Cons
Lack of detail in low light
Lack of detail in long range tele shots
Bokeh effect not visible in preview
Unstable color in video
Noise in video, especially indoors and in low light
Occasionally unstable video autofocus in low light
With a DXOMARK Camera score of 132, the Google Pixel 6 secures a position just outside the top ten in our overall Camera ranking — an outstanding performance at this price point, which also means the Google phone is the lone leader in the High-End segment ($400 to $599) and currently the best option for mobile photographers who prefer smaller devices.
In this slightly difficult indoor scene, the Pixel 6 does very well, offering nice contrast, good fine detail on the subject, and overall natural white balance and color. Some noise is visible in the shadows, though.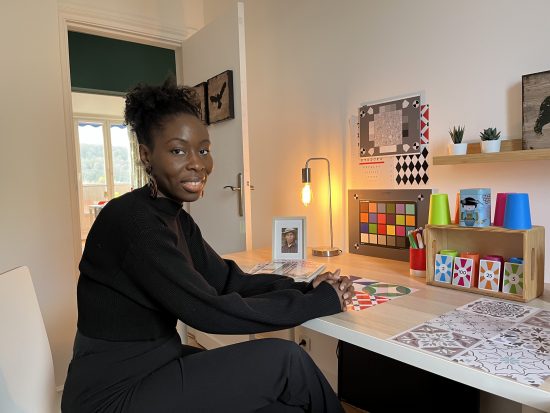 Apple iPhone 13 mini, similar dynamic range as the Pixel, slightly yellow white balance, good detail but some
luminance
noise
When shooting still images the camera delivers excellent exposure and contrast as well as portrait color and skin tones, and shows no major shortcomings in any test areas. Target exposure is accurate most of the time, only in difficult backlit scenes can images sometimes be a little too dark, and good contrast is maintained at all times. The autofocus is fast and reliable in most situations, but we did notice some failures in low light.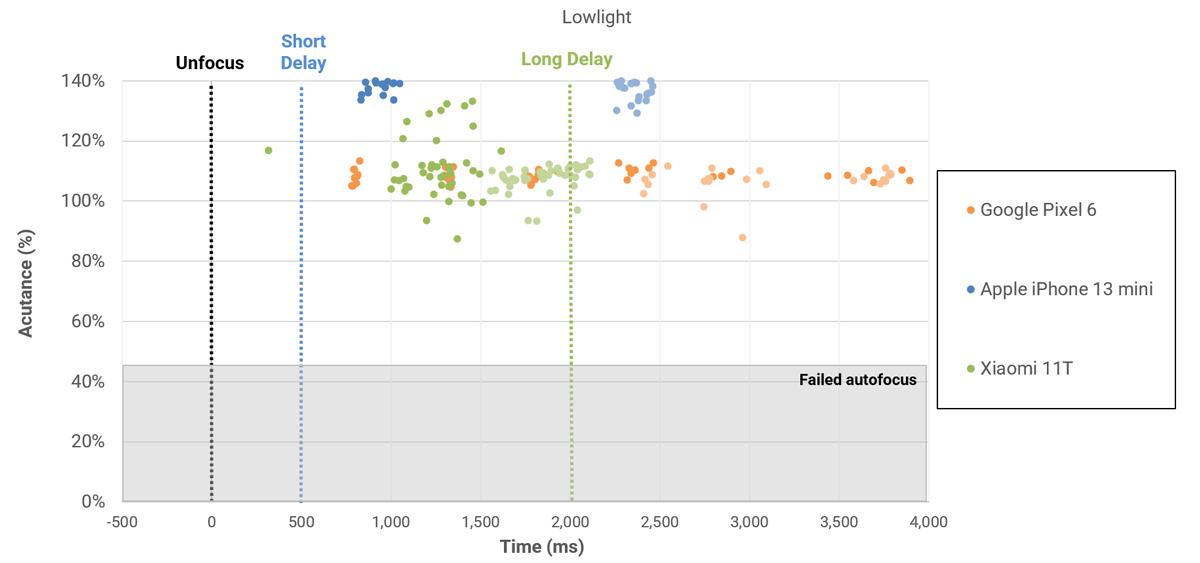 Texture
comparison in low light (5 lux), handheld: in low light the autofocus is not consistent and it can take a moment to capture the image. The subject is usually in focus, though.
The relatively large image sensor of the primary camera provides a natural bokeh that works well for portrait shots at short distances, but on the downside, people or objects located at the back of multi-plane scenes can be out of focus. Color fringing and aliasing are often visible, but most other unwanted image artifacts are very well under control.
The preview image on the display generally gives you a very good idea of the final capture and zooming is very smooth but the bokeh effect in portrait mode is not simulated at all, you'll only see it after capture.
When using the Pixel 6's ultra-wide and tele cameras to zoom out or in, target exposure is accurate at all zoom settings. The field of view of the ultra-wide is not the widest that we have seen, though, and the lack of a dedicated tele lens means that images captured at long tele settings lack detail.
In video mode the Pixel provides effective stabilization in all conditions, resulting in stable and smooth footage. Exposure tends to be on the bright side, with a wide dynamic range, capturing good detail in both highlight and shadow areas. Detail is good in videos, too. On the downside, white balance and exposure can be a little unstable under changing light conditions and most clips show some noise, especially when recording under typical indoor lighting or in low light. In low light, our testers also observed some autofocus instabilities; some video artifacts, including aliasing, flickering, and judder effects, were also noticeable.
Google Pixel 6, good exposure and stabilization but white balance instabilities
Apple iPhone 13 mini, good exposure and stabilization, no white balance instabilities
Xiaomi 11T, good exposure, slight AF and white balance instabilities, moving texture artifacts