Interview
Blackbab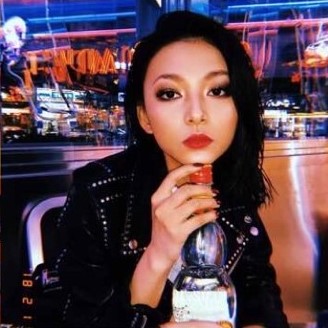 Beauty influencer with 420k+ followers
Mobile phone selfies are widely popular among users, including a number of beauty and fashion industry professionals who frequently take selfies. Blackbab, our interviewee, is such a fashionista and vlogger in China, boasting 420,000 fans on the weibo platform.
Interviewer: Nice to meet you! Please tell us how you became a fashionista.
Blackbab: While at college, I used to like to show things online, mostly related to cosmetics and fashion. Now I am a professional in this field, mainly publishing vlogs and beauty makeup tutorials.
Interviewer: What device do you usually use to take pictures?
Blackbab: Mainly my smartphone. I also use compact cameras and Canon's latest EOS R to shoot high-quality videos, depending on the situation. For casual life subjects and self-portraits, I prefer smartphones, while I often use the Canon to shoot videos for more formal vlogs. When taking a selfie, I am more accustomed to using my mobile's front camera to shoot directly, and then I edit it.
Interviewer: I have noticed a phenomenon that many people in China take selfies with Android mobile phones that have a pre-installed beautification app. What are your thoughts?
Blackbab: I think that people's aesthetic standards have changed and they now tend to like real and natural photos more. However, in the case of mobile phone cameras that include skin beautification as a main feature, the pictures generated seem unreal and unnatural. But even these photos can be edited later with appropriate software to look more fine and more natural.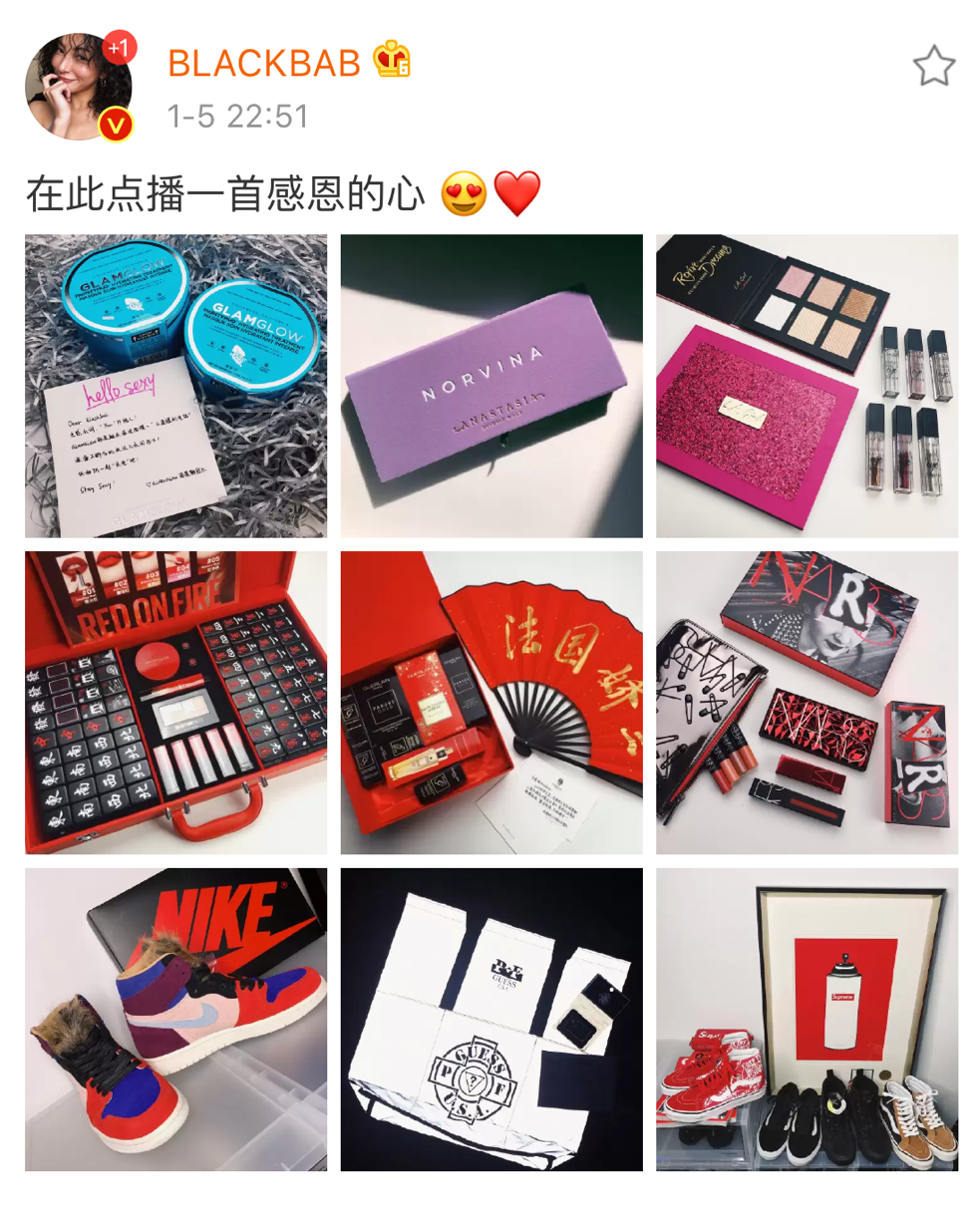 Interviewer: The quality of most smartphone front cameras is currently not ideal, and their pixel counts are usually not high enough; however, it's possible to use the screen of a DSLR to take a self-portrait. Have you considered taking self-portraits with a camera with more pixels?
Blackbab: People carry mobile phones every day, which makes selfies more convenient. Taking a selfie with a smartphone creates a kind of intimacy that people don't feel when taking a self-portrait with a camera.
Interviewer: What feeling do you get when you shoot a selfie?
Blackbab: Shooting a selfie makes me feel more at ease and doesn't require too much deliberation. Taking size into consideration, a mobile phone is small and light, while even a compact camera is bigger and heavier. So I will always carry a mobile phone, as shooting with a camera often feels somewhat more official and formal.
Interviewer: Under what circumstances do you feel like taking a selfie?
Blackbab: As a professional fashion blogger, I am often photographed by others, and I am very busy at work. I seldom take selfies at work. However, when enjoying my leisure time, when eating and shopping, and while traveling abroad, I take lots of selfies, particularly when there is beautiful scenery.
Interviewer: Do your fans send you their selfies?
Blackbab: Usually after I release a beauty tutorial, they will practice the makeup techniques they've learned, and then send me their self-portraits to show the results. Of course, they use their mobile phones to take selfies.
Interviewer: What do you think the differences are between using the front camera of a mobile phone and using its rear camera?
Blackbab: If a mobile front camera had as many pixels as the rear camera, I might not like the results as much, because if the pixel count of the front camera is very high, people can easily spot any flaws on the face. I like to use my current smartphone, as it produces selfies that make such flaws harder to detect.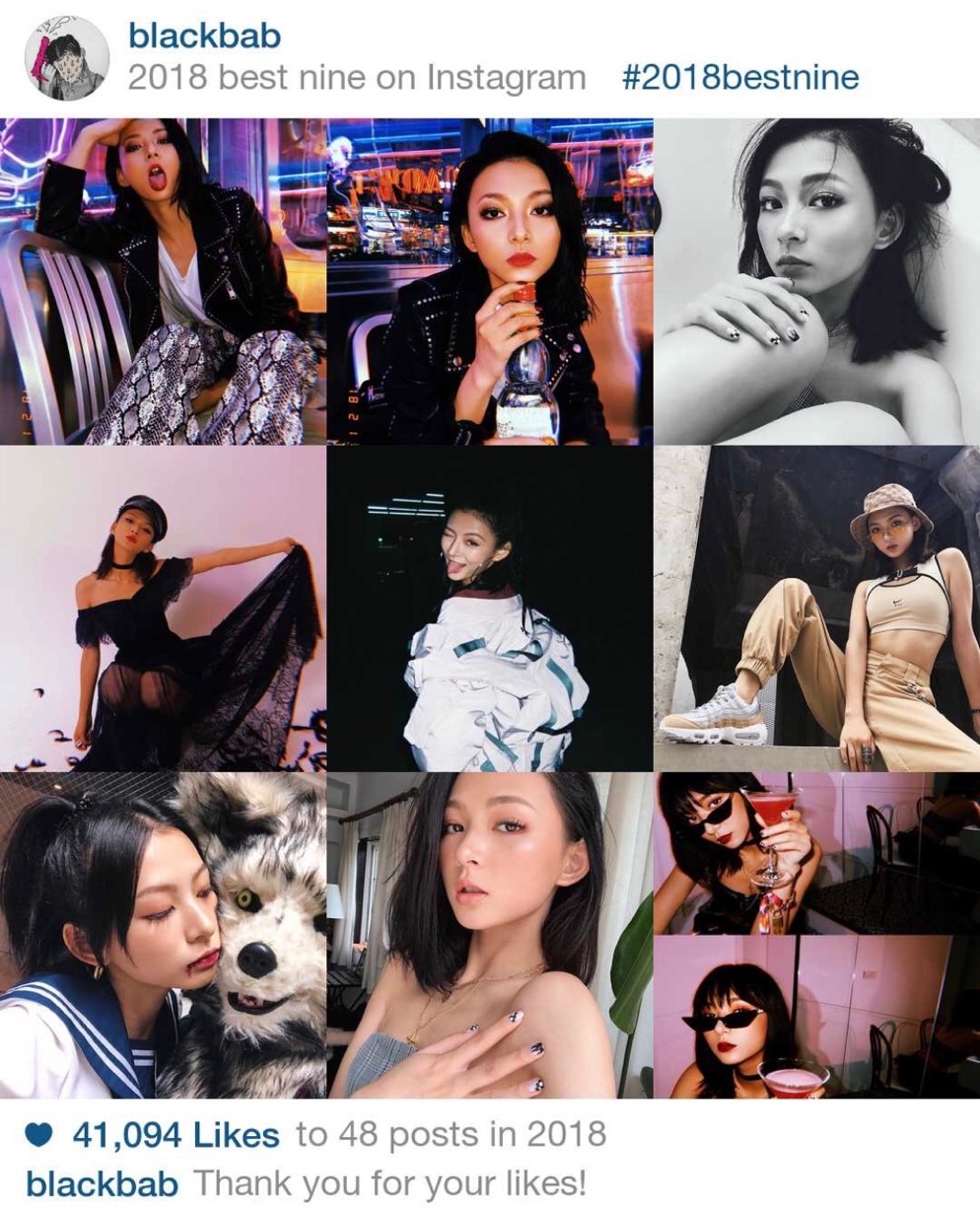 Interviewer: What do you think are the advantages of Meitu smartphones? [Editor's note: Meitu-brand smartphones are very popular in China, and Meitu has focused on taking selfies since 2013, when it introduced the Meitu Kiss.]
Blackbab: Meitu smartphone users can adjust the level of beautification. When I use OPPO mobile phones, even when I reduce the beautification level to a minimum, there is still some trace of "makeup." Meitu selfies have higher resolution and greater sharpness, so there is not much loss of detail, and I can also take a "natural" photo after I have taken one using beautification. Of course, the quality of selfies taken with a mobile phone is not always the same. If one wishes to take a high-quality photograph, that requires using a professional-level device—that is, a camera instead of a mobile phone.
Interviewer: What tips can you share with us about taking selfies on everyday occasions?
Blackbab: My advice is not to take selfies under very strong light, though you can edit them afterwards. In addition to light, you can also turn on the phone's grid lines for help during composition. This depends on how experienced one is with the phone's camera software. I find that Android interfaces to have too many function menus and are therefore too complicated to use. The iPhone's camera interface is very simple, and moreover, all the features I need are there.
Interviewer: When you take selfies, do you use the front or rear camera more?
Blackbab: I use the front camera more. My friends and I also take selfies together, but if there are more than three people, the front camera cannot include all of us in one frame.
Interviewer: Have you ever used a selfie stick?
Blackbab: Occasionally, but I rarely use one.
Interviewer: To solve the problem of taking selfies with several people, some mobiles phones have a wide-angle lens function. Do you think this feature helps in practice?
Blackbab: It's definitely better to have this feature.
Interviewer: What other smartphone camera modes do you usually use?
Blackbab: The panoramic camera mode. As for the new portrait mode, I almost never use it.
Interviewer: As for recording videos, do you care more about portability or about image quality?
Blackbab: I care more for the quality of the video, so I almost never use the smartphone's front camera to shoot vlogs. I use a regular camera to shoot vlogs, and rarely use the filters that come with the social exchange software (so to speak); and I use Final Cut Pro to adjust the color and then upload them. Of course, this all depends on personal preferences. This is what I do, but there are still many people who use their mobiles to record video.
Interviewer: What new features do you think smartphones should include in the future?
Blackbab: I really like the image quality of DSLR cameras. Compared to DSLRs, especially in dark environments, mobile phone output has a lot of image noise that damages the quality of the photos. Mobile phones can meet the basic needs for taking selfies when there is adequate light during the day, but I hope that smartphones will become better at improving images taken against dark backgrounds.
At present, mobile phones will not completely replace cameras, nor do I think they're meant for professional photography. However, if one day mobile phone image quality really matches that of a DSLR camera, I will take photos only with my mobile phone—after all, it is easy to carry.
To find out more about the new DxOMark Selfie test protocol for smartphone front cameras, read our articles, "Introducing the DxOMark Selfie test protocol" and "The evolution of the Selfie."