Leica M cameras boast a long and prestigious heritage, with the first analog M model dating back to 1954. The M8 was the first digital option unveiled in 2006, and Leica has experimented with different designs and specifications since. Launched in January 2017, the Leica M10 is the latest incarnation, offering a svelte mirrorless design built around a 24Mp full-frame CMOS sensor. Claimed to be the slimmest digital Leica M camera of all time, the M10 offers similar proportions to those legendary M analog versions, revered by photojournalists and street photographers alike for their petite dimensions and simple controls. Combining a rangefinder or viewfinder for composing, the Leica M10's rangefinder boasts a 30% larger field of view, greater magnification, and improved eye-relief distance compared to its predecessors.
The M10 also features Leica's latest Maestro-II image processor, which offers ISO sensitivity between 100 and 50,000; further, the M10's Leica M-Bayonet lens mount ensures compatibility with almost all M-system lenses, as well as Leica screw-mount lenses via an adapter. As usual, the Leica M10 is manual focus, so using legacy lenses is a viable option, although the Leica 6-dot coded M lenses are recommended for full electronic coupling. We've been busy getting to know the Leica M10 during our industry-standard benchmark testing and can now lift the lid on the verified results.
Key specifications:
24Mp full-frame CMOS sensor
Leica Maestro-II image processor
ISO 100–50,000
5fps burst shooting
Rangefinder viewfinder
Leica M-Bayonet lens mount
Overall performance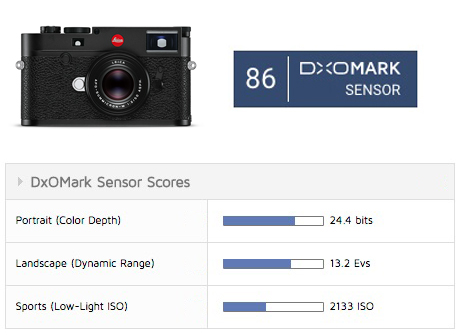 The Leica M10 achieves an overall DxOMark sensor score of 86 points and ranks as the second-best Leica sensor we've tested, just behind the Leica SL (Typ 601) with 88 points. That second-place finish among Leica sensors holds true at the sub-score level, too, with a Portrait (color depth) score of 24.4 bits and a Sports (low-light ISO) score of 2133. The M10 drops into third place for Leica sensors for Landscape (dynamic range), but its score of 13.2 EV is only fractionally behind both the Leica SL (Typ 601) and the Leica M Typ 240.
Image quality compared
While the M10's overall score and sub-scores are good, they fall behind the best full-frame image quality we've found with the Sony A7R III and the Nikon D850. As you can see, head-to-head against the top-performing Nikon and Sony full-frame sensors, both with 100 points, the Leica M10 achieves a lower result for all three sub-scores. For color depth (Portrait score), the Leica M10's 24.4 bits is a stop behind the Sony AR7 III at 26 bits, and around a stop-and-a-third off the Nikon D850 at 26.4 bits. The gap is also slightly wider with dynamic range (Landscape score) results, where the Leica M10's 13.2 EV is trumped by over 1.5 stops by both the Sony A7R III at 14.7 EV and the Nikon D850 at 14.8 EV.

Click here to open our interactive DxOMark image sensor ranking tool
In fact, the Leica M10's sensor scores are more on par with the best APS-C chips we've tested in mirrorless cameras, such as the Samsung NX500 and the Sony A6300. Headline sub-scores for color depth (Portrait) and dynamic range (Landscape) are either the same or better for both the Samsung NX500 and the Sony A6300. Dynamic range is better at base ISO for these top-performing APS-C chips, too, offering half or two-thirds of a stop better performance compared to the M10 at base ISO. So while the M10's 24Mp full-frame CMOS sensor has great specifications, it doesn't quite hit its full potential. Where the M10 outperforms the APS-C chips is for low-light ISO performance (Sports), thanks to its physically-larger full-frame sensor, with larger photosites, pixel pitch, and light-gathering capabilities. So good color sensitivity as well as dynamic and tonal range can be captured on the M10 up to ISO 2133, which is around a third of a stop better than for the APS-C chips.

Click here to open our interactive DxOMark image sensor ranking tool
In-depth comparisons
For more details about sensor performance, our in-depth analysis takes a closer look at the Leica M10 compared to one of the highest-scoring full-frame sensors in the Nikon D850, as well as against the APS-C Sony A6300.
Landscape (Dynamic Range)
For dynamic range, the Leica M10 is around 1.5 stops behind the Nikon D850 at their respective base ISOs, with scores of 14.81 EV vs. 13.24 EV. That advantage is broadly maintained and very slightly improved as ISO sensitivity is increased, making good dynamic range around 10 EV possible on the Nikon D850 up to ISO 6400, compared to ISO 3200 on the Leica M10. The difference is smaller at base ISO compared to the APS-C Sony A6300, but the physically-smaller chip offers around a 0.5-stop advantage, with scores of 13.73 EV vs. 13.24 EV. Dynamic range between ISO 100 and 400 is essentially the same between the M10 and the A6300, but the Sony sensor benefits from a slight rise in performance at mid and high ISO settings, where again it offers around a half-stop advantage over the M10.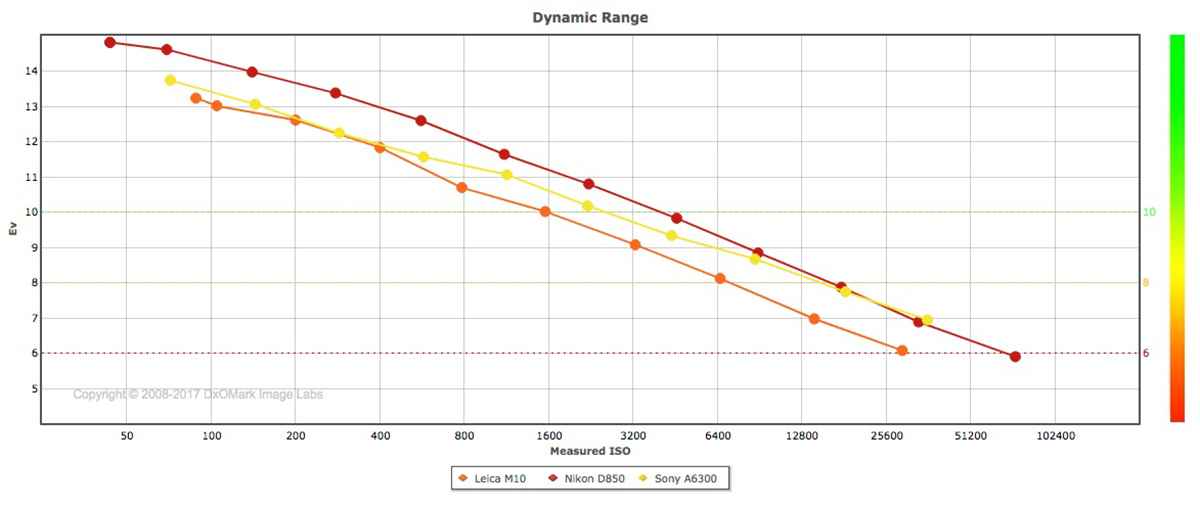 We detected some strange behavior for dynamic range on the M10, with quite aggressive offset correction for darker tones. All sensors have an offset correction. Some manufacturers apply it to the RAW file, others apply it as a first step in RAW conversion, as RAW files will not inherently record the darkest tones at a zero value. There is a risk of a homogeneous glare effect being visible on the image if an offset is not applied, but offset correction that is too strong results in shadow clipping. In conclusion, the M10's dynamic range could be better with a better-implemented offset correction.
Portrait (Color Depth)
Performance for color sensitivity broadly follows the same pattern for dynamic range, with the Nikon D850 outperforming the Leica M10 at all sensitivities, and with essentially the same results as the Sony A6300. For the greatest color rendition, the Nikon D850 offers 26.4 bit color depth at base ISO, which is over a stop better than the Leica M10 and the Sony A6300. The gap narrows a little as sensitivity is increased, resulting in around half a stop better color on the Nikon, but the Nikon remains ahead at all sensitivities.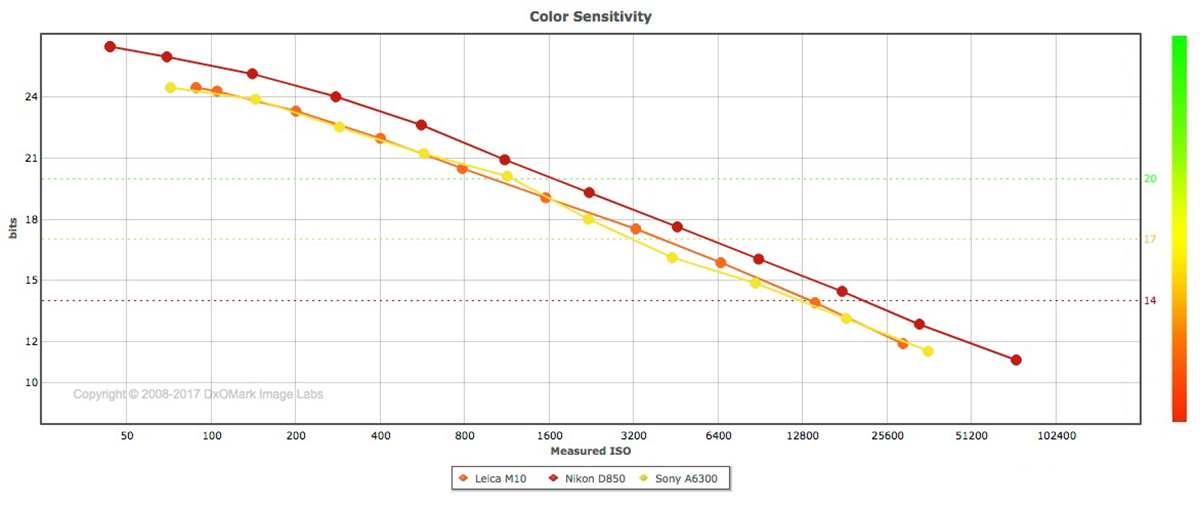 We also noticed a particular issue for color on the Leica M10, with a difference in levels of color saturation in the highlight regions. At 1 pixel wide, color saturation isn't the same line by line, which risks the possibility of visible banding, especially in large areas of highlight detail if image files aren't well-managed during processing.
Sports (Low-Light ISO)
Signal-to-noise (SNR 18%) ratios are pretty good on the Leica M10, with a well-managed signal confining noise to around 32 dB up to ISO 3200 on "normalized" printed results. Viewing prints, the Nikon D850 manages to display slightly less noise, despite the fact it offers nearly double the resolution of the Leica M10. Both physically-larger full-frame sensors also give the M10 and D850 an edge over the Sony A6300 for noise, but the difference isn't dramatic.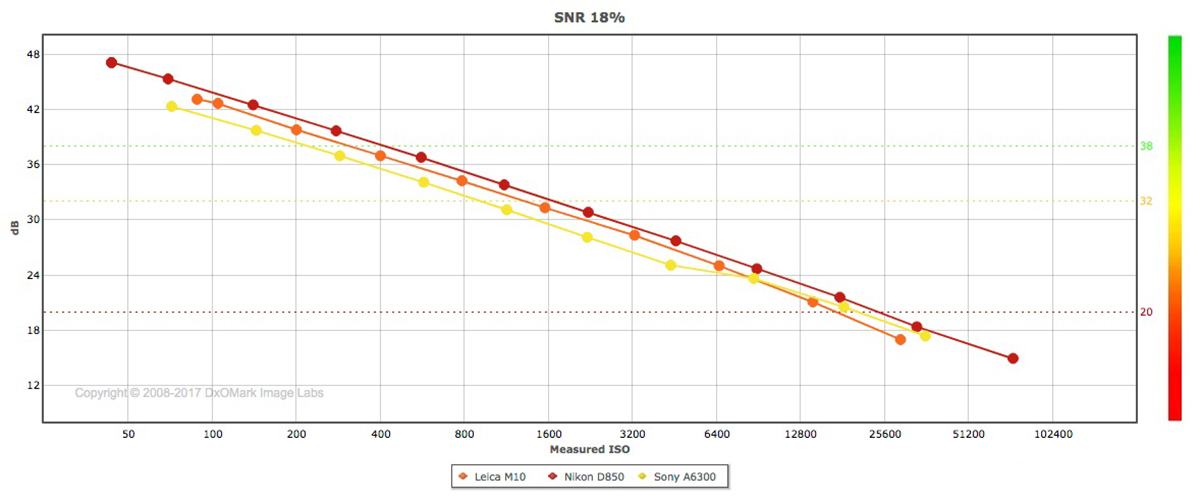 As for results for full-resolution images analyzed on-screen, the Leica M10 offers a slight improvement over both the D850 and the A6300 sensors, thanks mostly to its favorable pixel pitch.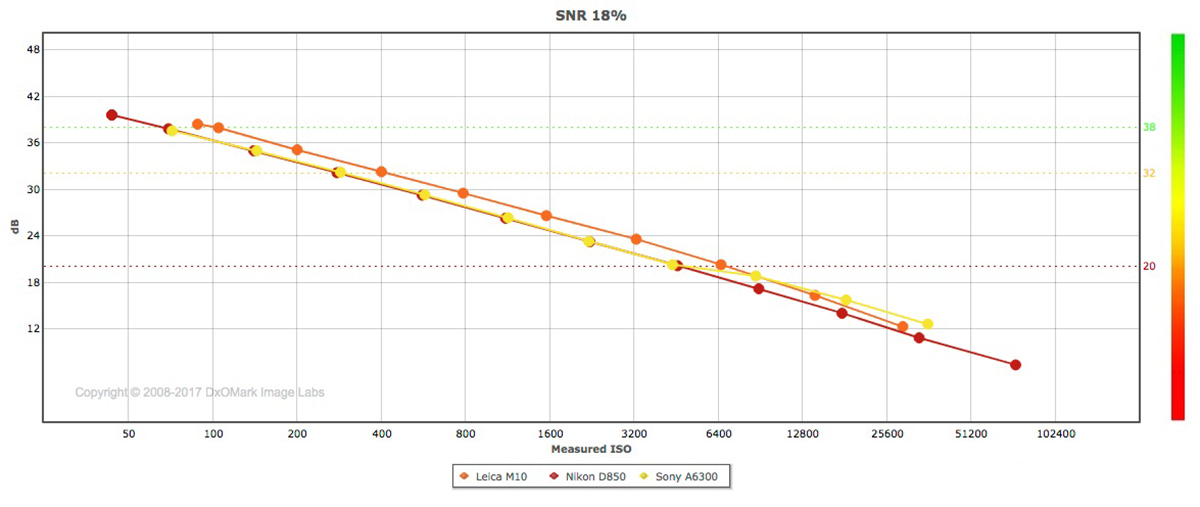 Conclusion
For pure sensor performance, the Leica M10's 24Mp CMOS chip is in the same ballpark as recent Leica full-frame chips. Its odd behavior for both color and dynamic range is worth looking out for, and it's fair to say that although sensor quality is good, it could be improved with better implementation. Compared to the top-performing full-frame sensors we've tested, the M10 lags a little behind at base ISO and throughout the sensitivity range, with image quality more in line with the best APS-C chips. So better image quality is available and the M10 isn't cheap, but first-class engineering that meets the Leica standard never is. However, a digital camera with similar proportions to analog M cameras will be hugely appealing to Leica enthusiasts. Add to that compatibility with almost all Leica lenses ever made, as well as its simplicity of operation, and the M10 will be an attractive proposition to those who appreciate the quality of the Leica system.
In this review we have compared the Leica M10 to its most direct rivals that we've tested. As usual, you can create your own comparisons and in-depth analyses using our interactive image sensor ranking tool.