The Leica SL2-S is the new lower-res, more video-oriented version of the SL2. Instead of that camera's 47 MP sensor, the SL2-S has a newly-developed BSI CMOS full-frame sensor with an effective pixel count of 24 million. The new sensor is paired with the Maestro III processor required for demanding video bitrates and for high-speed bursts of up to 25 fps with the electronic shutter option, while also enabling sensitivity from ISO 100-100,000.
In addition, the Leica SL2-S has built-in sensor stabilization, which is said to reduce camera shake by up to 5.5 stops. There's also a multi-shot capability culminating in a 96 MP image. The new camera also features a high-res 5.76 M-dot OLED viewfinder along with a fixed 3.2-inch, 1.44 M-dot touch-sensitive LCD.
Beside the wide-ranging stills, the SL2-S can capture essentially full-width 4K (DCI/UHD) video oversampled from 6K at up to 60p, and it can shoot Full HD up to 180 fps. The camera has two SD UHS-II card slots. There's also full-size HDMI and USB-C with external charging, plus Wi-Fi and Bluetooth for wireless camera control and image sharing.
Key specifications
24 MP BSI CMOS full-frame sensor
5.5 stop, 5-axis image stabilization
Contrast AF with 225 points, object tracking, and face detection
Native 100-100,000 ISO, with expansion to ISO 50-100,000
9 fps mechanical, 25 fps with electronic shutter
5.76 M-dot viewfinder, 120 fps
3.2-inch LCD touchscreen, 2.1 M dots
4K (DCI/UHD) 60p, Full HD up to 180 fps
Wi-Fi, Bluetooth connectivity
Two SD slots (UHS-II compatible)
Overall performance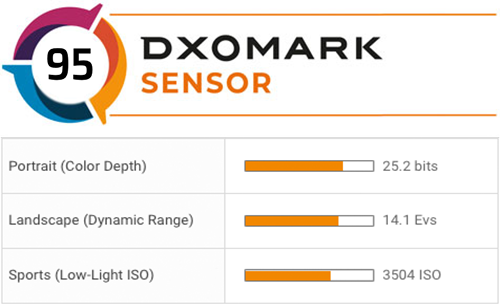 Click on the score chart above to open the Leica SL2-S product page.
The Leica SL2-S achieved an overall sensor score of 95, which places it in 20th position in our sensor ranking (including medium format), and in 18th place for full-frame 35mm cameras, just behind the Sony A7C and A7 III, and the Canon EOS R5. It is also the second highest-scoring Leica, just one point behind the higher-resolution (47 MP) Leica Q2 full-frame compact, which means the two are practically identical in terms of sensitivity.
Although the SL2-S sensor has very good maximum color depth and dynamic range, measured at 25.2 bits and 14.1 EV respectively, the sensor's strongest showing is in our low-light ISO (Sports) category, which is a performance indicator of noise and dynamic range at high sensitivities. The SL2-S achieved an excellent calculated value of ISO 3504.
In-depth comparisons
Throughout the sensitivity range, the SL2-S's sensor performance is almost identical to the 24 MP Panasonic Lumix DC-S1 and the Nikon Z 6, both of which use a similar 24 MP BSI-CMOS sensor. Rather than look at those, however, we'll take this opportunity to compare the SL2-S with the original Leica SL and the Leica M10 instead. Both of these cameras feature a front-side illuminated 24 MP sensor, so we'll highlight the improvements made in the SL2-S and see why Leica has returned to using a 24 MP sensor.
Portrait (color depth)
The Leica M10 and the original Leica SL share very similar color depth for much of the sensitivity range. However, with slightly cleaner files from a lower minimum ISO, Leica managed to wring an extra 0.6 bit from the SL sensor, taking the maximum color depth to an impressive 25 bits. As you might expect, the BSI sensor trumps both for maximum color depth at 25.2 bits. At first sight that's only by the narrowest of margins until you realize that the SL2-S's minimum measured ISO is nearly double that of the SL. In fact, it's not just at the minimum sensitivity where the SL2-S sensor outdoes the M10 and SL sensor, but throughout the range, complete with a slight increase in the response between ISO 400 and ISO 800.
Both the the M10 and SL2-S just dip beneath our 20-bit measurement threshold for good image quality (green dotted line on the graph below) at ISO 3200, but the SL does so at ISO 1600. All three hover around our 14-bit threshold for acceptable image quality at ISO 25,600.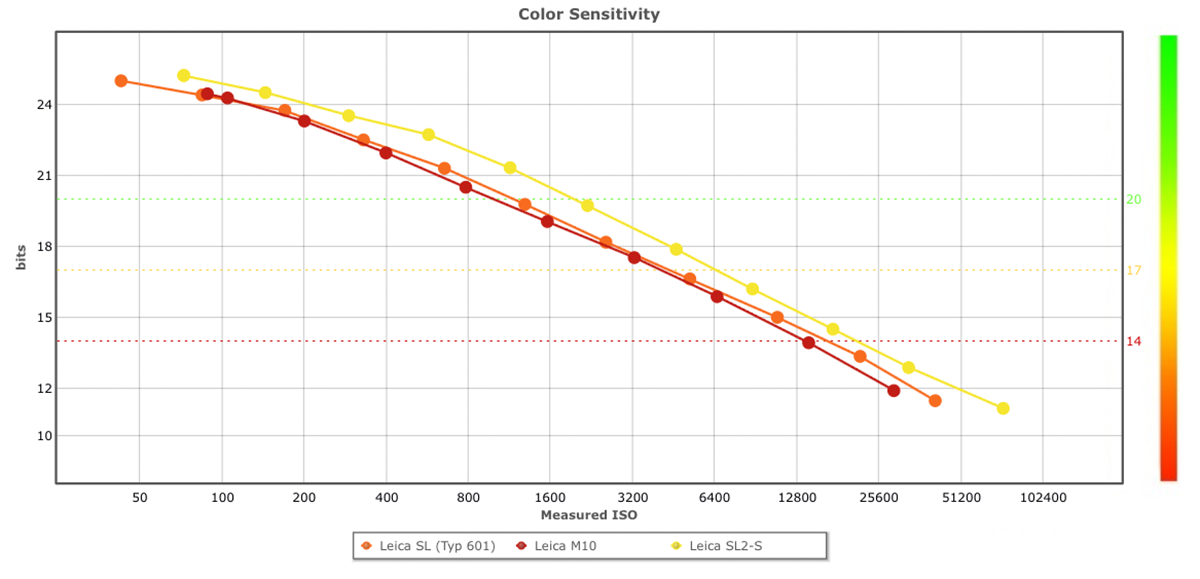 Landscape (dynamic range)
Some of the most significant differences in performance between the three sensors can be seen in the dynamic range measurements. While there isn't much between the M10 and SL up to ISO 400, the original SL has around an extra +1 EV advantage above that through to ISO 1600 (then narrowing after). Note that the M10's one-stop difference between manufacturer and measured ISO values makes direct comparison trickier, at least from the chart below. Bigger gains are made with SL2-S sensor — and not just at base, but crucially, throughout the sensitivity range, optimizing the SL2-S sensor for improved dynamic range at high ISOs. An increase in the response in between ISO 400-800 means there's a stop or so extra in dynamic range over the SL, and over 2 stops between it and the M10 right up to the maximum ISO setting.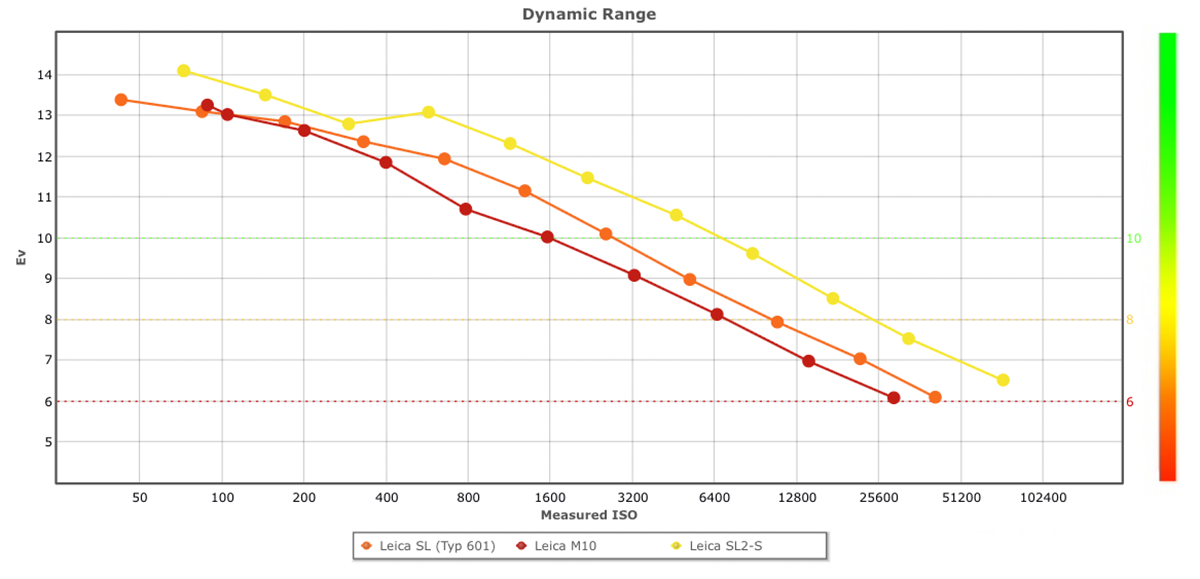 Sports (low-light ISO)
While there's some small advantage from the original SL's lower minimum ISO, noise levels are practically identical between the M10 and the SL throughout much of the sensitivity range. However, the BSI sensor in the SL2 delivers noticeably lower noise levels at all settings, including lower noise at ISO 800 than at ISO 400 below 0.1% gray scale (see Full SNR chart). When calculating our low-light ISO score, the SL2-S sensor achieves a much more useful computed ISO 3504 value, compared to the SL and M's values of ISO 1821 and 2133, respectively — giving the SL2-S just less than a stop (+0.94 EV) advantage over the SL and around +0.7 EV improvement over the M10.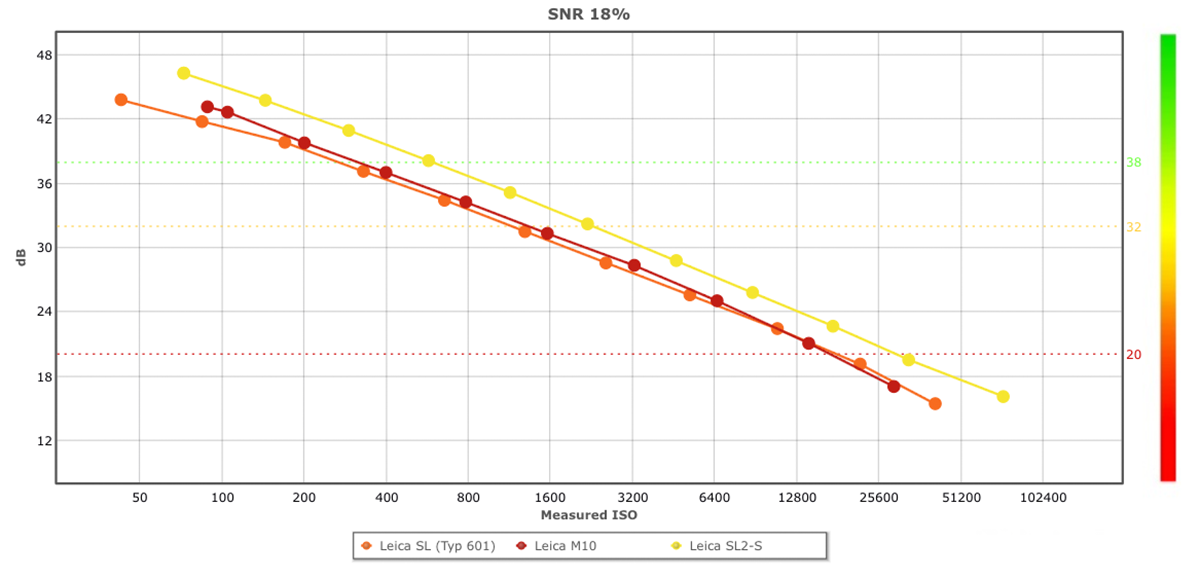 Conclusion
Although the Leica SL2-S mimics the sensor response of the Nikon Z 6 and Panasonic Lumix DS-S1 almost exactly, and is therefore capable of producing outstanding image quality under a wide range of lighting conditions, the new Leica model is targeting a different, more video-centric market. In that respect, the Leica SL2-S offers many benefits over the original Leica SL, while the much-improved sensor performance and high-res EVF will also likely appeal to Leica M owners as a complementary option when using adapted lenses.
In this review, we have mentioned the Leica SL2-S's most relevant rivals from other brands. As usual, you can compare it with these and with other models and create your own comparisons and in-depth analyses using our interactive image sensor ranking tool.