Announced in April 2019, the Lenovo Z6 Pro is the Chinese manufacturer's latest flagship. With its quad-cam main camera setup, a Qualcomm Snapdragon 855 chipset, and an octa-core processor, it achieved pretty good scores for still photos. Its front camera—the subject of this short review—features a 32MP sensor and f/2.0 lens combination. Read on to see how the Lenevo Z6's selfie camera performed in our DXOMARK Selfie tests.
Key front camera specifications:
32 Mp sensor with 0.8µm pixels (8Mp output resolution)
f/2.0-aperture lens
1080p@30fps video
About DxOMark Selfie tests: For scoring and analysis in our smartphone front camera reviews, DxOMark engineers capture and evaluate over 1500 test images and more than 2 hours of video both in controlled lab environments and in natural indoor and outdoor scenes, using the camera's default settings. This article is designed to highlight the most important results of our testing. For more information about the DxOMark Selfie test protocol, click here.
Test summary
75
selfie
An overall score of 75 appears to place the Lenovo Z6 Pro front camera on par with the Huawei Mate 20 Pro in the lower middle of the pack for DXOMARK Selfie scores. The tie score is a bit misleading, however: while the Z6 Pro achieves a respectable Photo score of 85 (vs. 73 for the Huawei), it achieves only 60 points for Video, putting the Lenovo device significantly behind its rival's score of 79 points.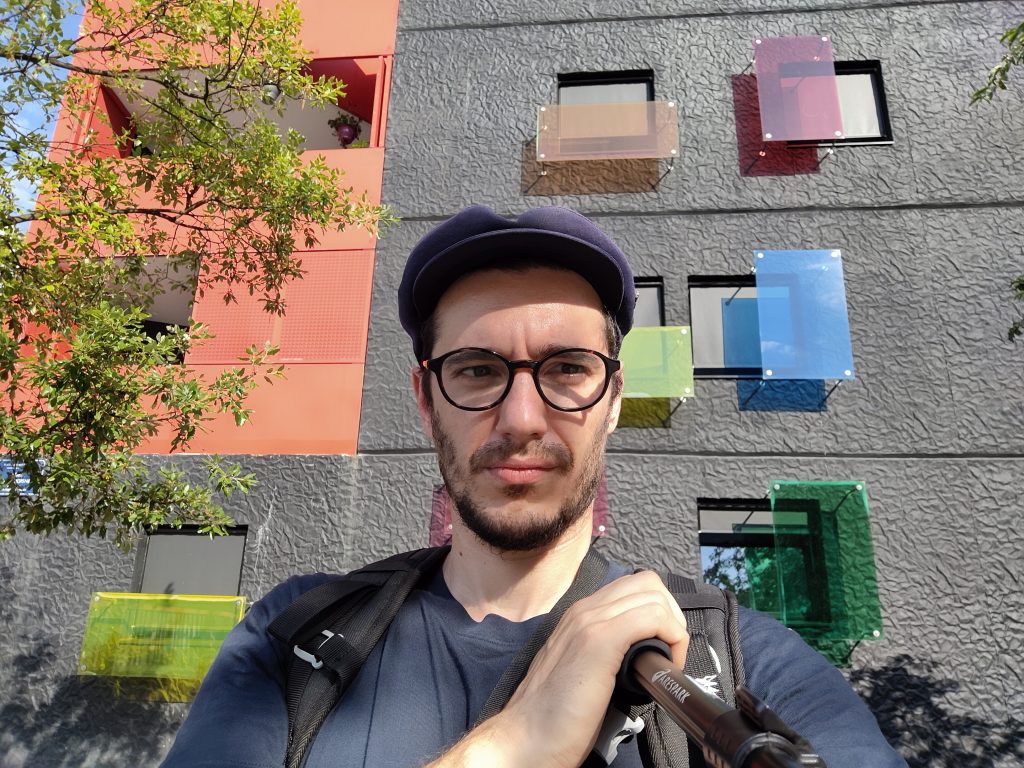 The Lenovo Z6 Pro front camera produces nice colors but images can be slightly undersaturated at times.
The Lenovo Z6 Pro front camera's main strengths for still selfies are control of both noise and artifacts and color. White balance is usually accurate in bright light as well as under indoor conditions, but color saturation can be slightly low sometimes. Texture and detail are usually well-preserved when shots are in focus; however, a shallow depth of field means that people in the back of group selfies tend to be a bit blurry, as shown in the examples below.
The Z6 Pro's scores in most other categories, while not stellar, are generally acceptable, with one exception—flash. Unlike the rear cam that comes equipped with a dual-LED flash, the Lenovo's selfie cam has neither LED nor display flash to use in low- or no ambient light conditions, resulting in totally dark pictures.
As with the Lenovo's main camera, video performance for the front camera is disappointing. Selfie videos have noticeable focus and color irregularities, but the biggest problems are very poor stabilization and highly visible moving texture artifacts.
Conclusion
Although the Lenovo Z6 Pro's front camera controls noise quite well and generally has pleasant color rendering, its DXOMARK test results in other categories may well induce serious selfie photographers—and particularly serious selfie videographers—to conclude that there are better options available.
Photo pros
White balance is fairly neutral in most tested scenes.
Target exposure on faces is usually accurate.
Texture and details are fairly well-preserved when focus is correct.
Noise levels are low on faces in most conditions.
Bokeh effect has pleasant subject isolation.
Video pros
Target exposure is mostly good on faces.
Details are generally well-preserved.
Manages noise well in outdoor conditions.
Photo cons
Dynamic range is very limited.
Close-up selfies are out of focus.
Depth of field is shallow: the background and some faces towards the back in group selfies are slightly blurred.
Facial geometry modification is not stable and creates some visible artifacts.
There is neither LED nor screen flash available, leading to completely black images when no light is available.
Video cons
Exposure instabilities are very visible at the beginning of every recorded video and when the subject's face is moving.
Color casts are frequently visible in outdoor and indoor conditions, impacting skin tones rendering is some cases.
Faces are not in focus at 30cm and when located in the background of group selfies.
Coarse and chroma noise is visible in indoor and low-light conditions, especially in the corners.
Moving textures artifact is very visible during panning.