The Z6 II is the second generation of Nikon's mid-range full-frame mirrorless camera, which was launched some three years ago in 2018. Like the high-res Z7 II launched alongside, the Z6 II looks practically identical to the original Z6. Like its sibling, it retains the core spec of the original, such as the 24.5 MP BSI CMOS sensor and in-body stabilization with 5-axis compensation for Z-series (3-axis for F-mount ) lenses. It also holds onto the 3.86 M-dot OLED viewfinder and the familiar control layout.
Notable updates include twin Expeed 6 processors instead of one previously, and a redesign of the memory card slot interface to include two slots. In addition to the original XQD/CFexpress (Type B) slot, the Z6 II adds an SD (UHS-II compatible) slot for a wider and more affordable choice of media.
With the increased processing capabilities comes a new higher burst rate of 14 fps with a larger buffer and reduced viewfinder blackout times. There's also improved autofocus with support for Eye-AF in Wide Area AF modes including during video capture as well as a promised 4K/60p video option with an APS-C crop via a future firmware update.
Key specifications
24.5 MP BSI CMOS full-frame sensor
5 stop, 5-axis image stabilization with Z-mount lenses
Phase detection AF with 273-points, object tracking and face-detection
Native ISO 100-512

00, with expansion to ISO 50 to 204,800

14 fps with single point AF, 12 fps in other AF modes
3.69 m-dot OLED viewfinder
3.2" tilting, touch-screen LCD (2.1m-dot)
UHD 4K/30p (up to 60p with firmware 1.10)
Wi-Fi, Bluetooth (BLE) and SnapBridge connectivity
Dual memory slots, CFe/XQD and SD (UHS-II compatible)
Overall performance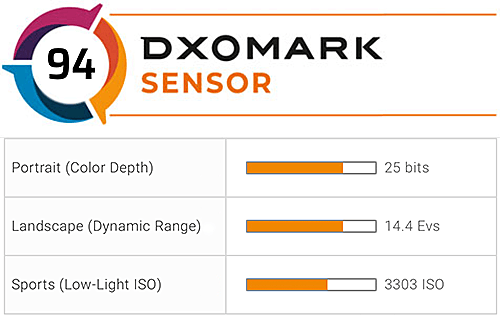 Click on the score chart above to open the Nikon Z6 II product page.
The Nikon Z6 II achieved a DXOMARK score of 94, which is practically the same as the model it replaces. Like its predecessor, the Nikon Z6 II has one of the highest performing sensors with a 24 MP pixel count in our database, ranking alongside the likes of the Panasonic Lumix DC-S1, Leica SL2-S, Sony A7C and Sony A7 III mirrorless models.
The Nikon Z6 II sensor has very good maximum color depth at 25 bits at base, which is just 0.3 bits lower than the original Z6 and the reason for the slightly lower score of 94 (vs. 95). It also has excellent dynamic range, measured at 14.4 EV at base ISO. It also has an excellent low-light ISO (Sports) measurement of ISO 3303. BSI sensors like that found in the Z6 II perform well at all ISOs including high sensitivities where they have wide DR and high Color Depth, which is what we take into account with the Low-light score. Although a measured value and not an ISO setting you can select on your camera, it's a good way of comparing potential image quality in low-light between sensors.
In-depth comparisons
In this comparison, we'll look at a more recently released model using a 24 MP BSI CMOS sensor, the 24MP Sony A7C, rather than the now somewhat aging Sony A7 III even if that model is more in line with the target market of the Z6 II. We will also take a look at output from a more conventional front side illuminated sensor in the 20 MP Canon EOS R6.
Portrait (color depth)
The BSI CMOS sensor performs well at all ISO settings, and the Nikon Z6 II hits a peak color sensitivity of 25 bits at its lowest base sensitivity (ISO 100). The same value was measured at ISO 50, but this is an extended setting as opposed to a genuinely lower base, such as the ISO 64 base found in the Nikon Z7 II. The Sony A7C behaves similarly, with a color depth of 25 bits for the extended ISO 50 setting and the ISO 100 base. The Sony A7C continues to match the Nikon Z6 II through to ISO 1600 after which the Nikon has a very slight advantage of up to 0.2 bits through to the extended high ISO settings where the Sony sees an uplift.
Although the Canon EOS R6 has very good color sensitivity, it doesn't quite achieve the same lofty performance of the BSI sensors in the Nikon Z6 II, or the Sony A7C through the ISO range. Counterintuitively for this type of sensor (FSI), it's particularly noticeable at low sensitivities where, for example, the maximum color depth is 24.1 bits, some 0.9 bits lower.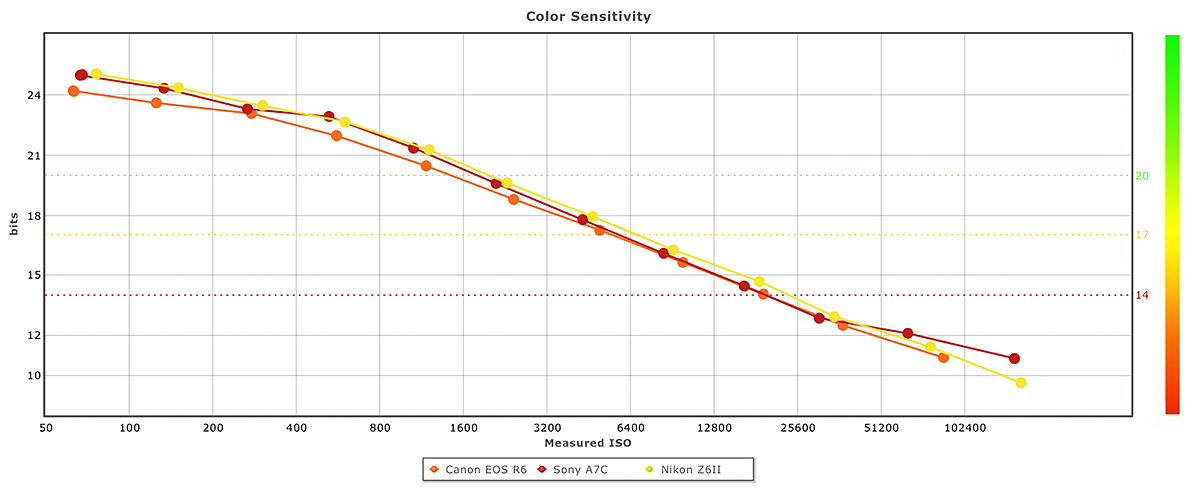 Landscape (dynamic range)
Measuring 14.43 EV, the Nikon Z6 II sensor has an excellent dynamic range at its base ISO, but the Sony A7C manages to extract a little more, close to +0.3 EV. While not much of an advantage there, the Nikon Z6 II can't claim a wider DR at any sensitivity as the Nikon and Sony are practically identical in their response throughout the ISO range.
Against the Canon EOS R6, the Nikon Z6 II performs better generally, with a wider DR at base and at higher ISOs where BSI sensors perform well. Even so, the Nikon Z6 II loses out at ISO 400 where a gain applied between ISO 200 and ISO 400 sees output from the Canon EOS R6 with a significant and meaningful +0.9EV advantage in DR. At least that's the case when we consider the performance when normalized, with the output scaled for a 12 x 8 inch print at 300dpi, which equates to an 8 MP image. There are fewer differences in DR on a computer screen at 100% magnification (actual pixels).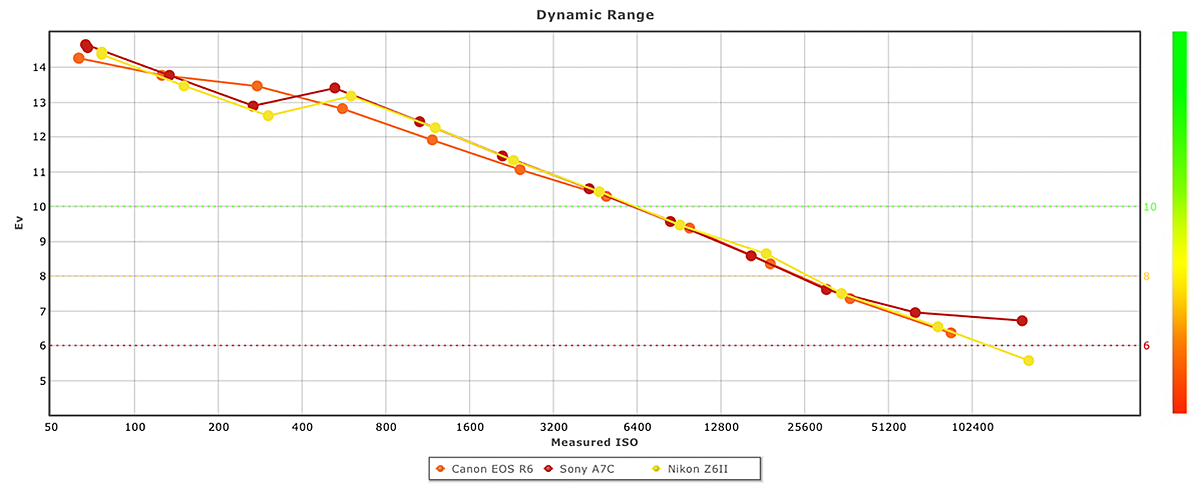 Sports (low-light ISO)
Noise levels are low in the Nikon Z6 II throughout the ISO range, meaning it has excellent low-light performance. However, it is very slightly behind the Sony A7C. While the slope in the SNR 18% graph (below) is practically identical between the Nikon and Sony, the lower measured ISO of the A7C contributes to the better response of the Sony. The Canon EOS R6 on the other hand matches the Nikon and Sony at higher ISOs, which is a good result for an FSI type sensor, however, over the ISO100-200 range noise levels are a bit higher and lagging behind output from the two BSI types.
At the 30dB SNR threshold, where we calculate the ISO value while also having at least 9 EV dynamic range and an 18-bit color depth for our low-light score, the Nikon Z6 II is only -0.04 EV behind the Canon EOS R6, which is too close to make any difference.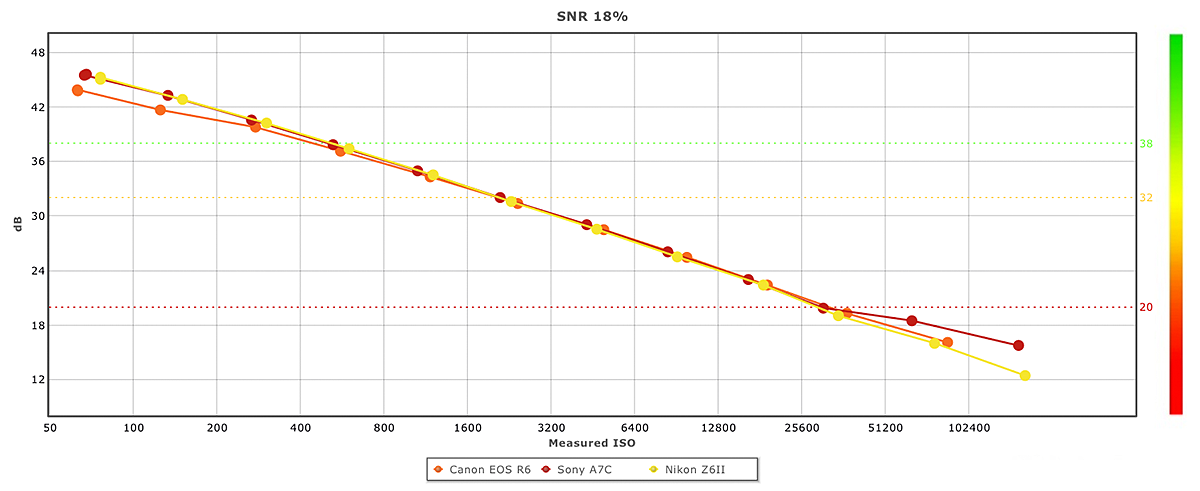 Conclusion
While it's good to see Nikon moving forward with its second-generation models, the sensor performance of the Nikon Z6 II hasn't really changed a great deal over the original. As a state-of-the art 24 MP BSI CMOS sensor, it was already an excellent performer. What's more interesting perhaps is that while Nikon and Sony share similar sensors, there isn't much to differentiate between the performance, while Canon, which makes its own sensors, has been making some inroads.
Even so, with its excellent all-around sensor performance, the Nikon Z6 II remains a worthy choice for photojournalism, wedding and portrait photographers, and it's also a good fit for occasional video projects.
In this review, we have mentioned the Nikon Z6 II's most relevant rivals from other brands. As usual, you can compare it with these and with other models and create your own comparisons and in-depth analyses using our interactive image sensor ranking tool.