The Z7 II is the first update to the Z7, Nikon's first high-resolution full-frame mirrorless camera launched in 2018. While looking very similar externally to the original Z7, the mark II retains all the headline features such as the 45.7 MP BSI CMOS full-frame sensor, IBIS with 5-axis compensation for Z-series (3-axis for F-mount) lenses, and 3.86 M-dot OLED viewfinder, though of course there have been some new additions. The most far-reaching of these is the inclusion of dual Expeed 6 processors (instead of just one previously), and provision for two memory cards, with the additional slot being SD- (UHS-II) compatible, rather than expanding the use of XQD/CFexpress (Type B) from the original.
As well the increased processing capabilities, there's a new higher burst rate of 10 fps (up from 9 fps) and a larger buffer, improved AF with support for Eye-AF in Wide Area AF modes, and a new 4K/60p video option with a slight crop. It also comes with connections for an optional vertical grip with controls that wasn't available with the original Z7.
The Z7 II also features HDMI and USB-C with external charging, plus SnapBridge, Wi-Fi, and Bluetooth for wireless camera control and image sharing.
Key specifications
45.7 MP BSI CMOS full-frame sensor
5 stop, 5-axis image stabilization with Z-mount
Phase-detection AF with 493 points, tracking and face detection
Native ISO 64-25,600, with expansion to ISO 32 and to 102,400
10 fps continuous shooting
3.69M-dot viewfinder
3.2-inch LCD touchscreen, 2.1M-dot
4K (UHD) up 60p with 1.08x crop, Full HD up to 120 fps
Wi-Fi, Bluetooth, and SnapBridge connectivity
Dual memory slots, CFe/XQD and SD (UHS-II compatible)
Overall performance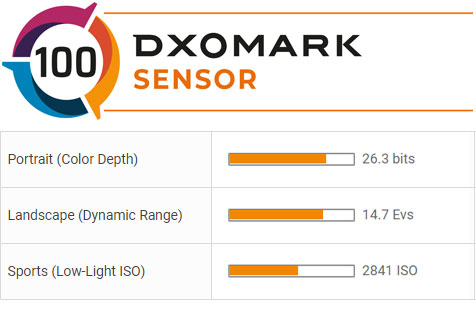 Click on the score chart above to open the Nikon Z7 II product page.
The Nikon Z7 II achieved an overall DXOMARK sensor score of 100, which is a slight improvement over the model it replaces and puts it in joint 1st place in our sensor ranking for full-frame sensors, alongside the likes of the Nikon D850 DSLR, the Panasonic Lumix DC-S1R, and older Sony A7R III mirrorless models. This also positions the Z7 II just behind the two "cropped' (44 x 33 mm sensor) medium-format models at the top of our database, though the difference of one or two points in terms of overall "sensitivity" is obviously very small.
The Nikon Z7 II sensor has excellent —practically class-leading — maximum color depth and dynamic range, measured at 26.3 bits and 14.7 EV, respectively. Not quite so strong but still very good is its low-light ISO (Sports) measurement of ISO 2841. Although a measured value and not an actual ISO setting, it's a good way of comparing low-light sensitivity between sensors.
In-depth comparisons
In this comparison we'll look at the latest high res model from Sony, the 61MP Sony A7R IV, and the 45MP Canon EOS R5. While the Canon is touted more for its mix of stills and video and possessing a mild AA filter as a result, its pixel count is high enough for it to be comparable to the landscape-oriented Nikon Z7 II and A7R IV cameras.
Portrait (color depth)
With a lower and "real" base sensitivity of ISO 64, as opposed to a base of ISO 100 for both the Canon EOS R5 and the Sony A7R IV, the Nikon Z 7 II has the edge and achieves the highest color depth of the three, measured at 26.3 bits.
Both the Canon EOS R5 and the Sony A7R IV have an "extended" ISO 50 setting shown on the graph below, but essentially ISO 50 and ISO 100 are the same. In turn, there's no benefit in terms of noise or color depth to be gained by dropping to ISO 50. Even then the Sony measures 26 bits, just 0.3 bit lower than the Nikon, while the maximum color depth of the Canon EOS R5 sensor is 25.3 bits at its base ISO. That's still excellent, although technically the Nikon has slightly better color sensitivity, which might be noticeable in the two cameras' output in areas of smooth transitions.
The Nikon Z7 II and Sony A7R IV follow much the same trajectory at higher ISO settings, though an increase in color depth between ISO 12,800 and ISO 25,600 in the Sony (appearing as smoothed in the graph below) implies that some noise reduction is being applied to the RAW files.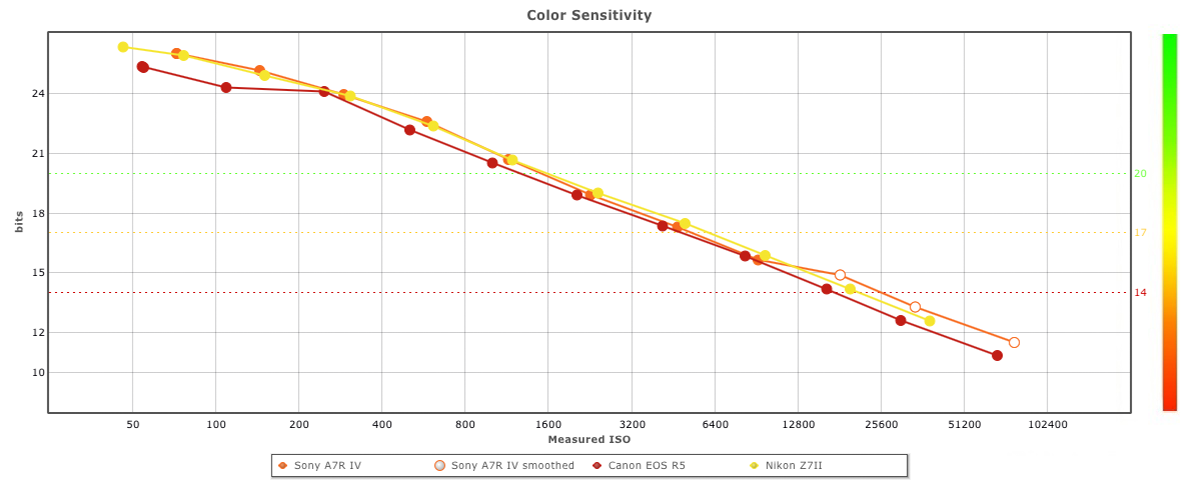 Landscape (dynamic range)
Low noise at the ISO 64 setting in the Nikon Z7 II sensor means that it has excellent dynamic range, but even with that lower native setting, it still achieves the same result more or less as the Sony at ISO 50/100 settings. At the manufacturer's ISO 100 and ISO 200 settings, the Nikon Z7 II actually has a lower dynamic range of around -0.5 and 0.8 EV, respectively, compared to the Sony A7R IV. Even when compared with the Canon EOS R5, whose ISO 50 and ISO 100 share the same result (shown overlapping on the graph below), the Z7 II has lower dynamic range at ISO 100, though it's practically the same by ISO 200.
A gain applied between ISO 200 and ISO 400 sees the Nikon Z7 II sensor's dynamic range widen slightly, placing it on par with the Sony A7R IV, though it's not quite enough to match a similar gain applied to the Canon sensor. Even so, at higher ISOs the Z7 II has dynamic range comparable to the other two until ISO 25600, where the Sony's noise reduction (seen in the Color Sensitivity result) improves the response and thus achieves in slightly better dynamic range.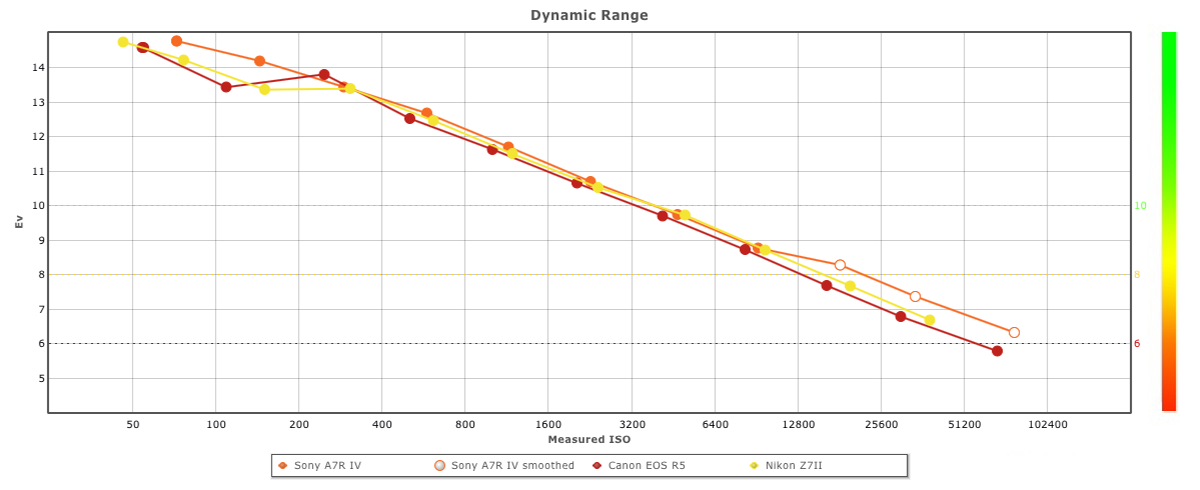 Sports (low-light ISO)
Noise levels are low in the Nikon Z7 II at low ISOs, hitting a peak of 47 dB at ISO 64 compared with 45.9 dB for the Sony A7R IV at ISO 50/100. However, while the slope in the SNR graph (below) is practically identical to the A7R IV's, from ISO 400 and up the Nikon doesn't have quite the same low noise as the other two in this comparison.
At 30dB SNR, where we calculate the ISO value while also retaining 9 EV dynamic range and an 18-bit color depth, the Nikon Z7 II is 0.2 EV behind the best of the two rivals, the Sony A7R IV. In between those two cameras is the Canon EOS R5, which has around a 0.1 EV noise advantage over the Nikon Z7 II, so the difference between all three is small for that criterion.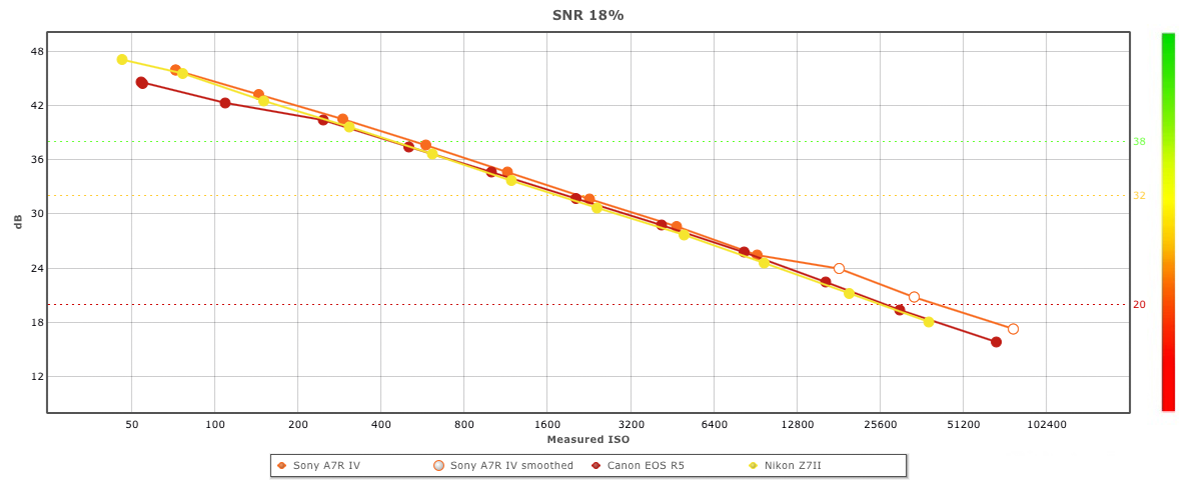 Conclusion
While the original Nikon Z7 sensor was an excellent performer, the camera itself received more than its fair share of criticism for adopting a single XQD card slot, and because it didn't include a way to fit the optional battery back (with integrated controls). That's been rectified with the Z7 II, and the inclusion of dual processors has allowed a number of other small but welcome advances.
Noise levels, color accuracy, and dynamic range have all seen some slight improvement, making the Z7 II the best-performing mirrorless model in the Nikon lineup. While continuous improvement in output is always good to see, it doesn't change very much, as even the price remains highly competitive. And just like its predecessor, the Nikon Z7 II remains an excellent choice for just about any genre, from landscape to portraits and weddings.
In this review, we have mentioned the Nikon Z7 II's most relevant rivals from other brands. As usual, you can compare it with these and with other models and create your own comparisons and in-depth analyses using our interactive image sensor ranking tool.