The OnePlus 8T is an updated version of the OnePlus 8. Not much was changed outwardly; the differences are mainly tweaks to the camera setup, a bigger battery, and a faster refresh rate for the display (the 8T refreshes at up to 120 Hz vs. 90 Hz in the older version). It's a midrange device that is a smaller and more affordable option than the flagship OnePlus 8 Pro. The OnePlus 8T has the same 6.55-inch AMOLED display as its predecessor, and inside it runs on the same Snapdragon 865 chipset. Read on to find out how the OnePlus 8T's front camera fares in our testing.
Key front camera specifications:
16 MP, 1/3.06″ sensor, 1.0µm pixels
F/2.4-aperture lens with 26 mm-equivalent focal length
Fixed focus
Display flash
1080p video at 30 fps
About DXOMARK Selfie tests: For scoring and analysis in our smartphone front camera reviews, DXOMARK engineers capture and evaluate over 1500 test images and more than 2 hours of video both in controlled lab environments and in natural indoor and outdoor scenes, using the camera's default settings. This article is designed to highlight the most important results of our testing. For more information about the DXOMARK Selfie test protocol, click here.
Test summary
Scoring
Sub-scores and attributes included in the calculations of the global score.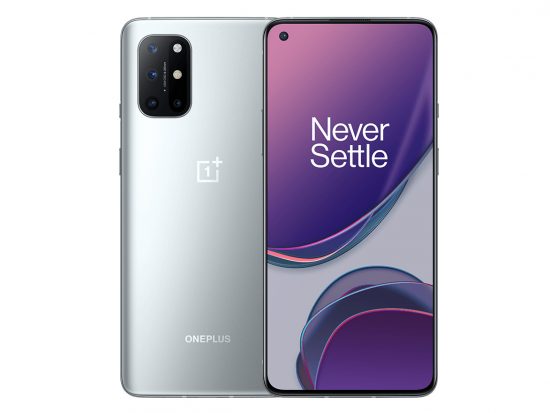 OnePlus 8T
107
selfie
Please be aware that beyond this point, we have not modified the initial test results. While data and products remain fully comparable, you might encounter mentions and references to the previous scores.
With a DXOMARK Selfie score of 82, the OnePlus 8T selfie camera lands in the bottom third of our database, drawing even with the Apple iPhone XS Max, and one point down from the Xiaomi Mi 10 Pro. Its strengths include accurate target exposure in both indoor and outdoor conditions, a nice level of detail at close range, good management of noise both indoors and out, and a smooth bokeh effect with accurate subject isolation.
Like many other devices, the OnePlus 8T is somewhat limited by its fixed-focus lens, which produces a shallow depth of field with slightly out-of-focus subjects at medium and long range. Objects or people in the background of a shot tend to be slightly out of focus, too.
Dynamic range is somewhat limited, leading to some clipping in bright and dark areas. In low light, the target exposure can be a little low. Our engineers also noted some artifacts, such as flare, anamorphosis, and oversharpening on faces at times.
Color rendering is usually acceptable indoors and outdoors, but skin tones are sometimes oversaturated. In low-light situations, skin tones are inaccurate. Color shading is sometimes visible in low-light scenes. White balance and skin tones are often inaccurate, especially in low-light conditions.
When it comes to focus, the OnePlus 8T performs well between 30 cm and 50 cm, but shots made using a selfie stick (at about 120 cm) are slightly out of focus. This becomes evident when taking group selfies, as some of the subjects are outside the optimum range of the fixed-focus lens. When it comes to texture and detail, when the OnePlus 8T is on focus in an outdoor setting, it achieves a high level of detail and produces low levels of noise. Indoors, when on focus, the device also captures a high level of detail, but with some slight luminance noise. In low-light conditions, however, there's a high level of luminance noise.
Our engineers noted a variety of artifacts. In group selfies, the heads on the edge of the frame suffer some anamorphosis. Further, there was strong oversharpening on the unfocused faces. Outdoors, flare was sometimes an issue. On the other hand, bokeh performance was rather good, with portrait mode producing a smooth bokeh effect and accurate subject isolation.
When shooting with the display flash, skin tone rendering is inaccurate and some noise is visible, but detail is acceptable.
For video our engineers tested the OnePlus 8T at 1080p resolution and 30 frames per second, which provides the best results overall. The device earned a score of 84 in this category, placing it on level similar to slightly older devices like the Google Pixel 3 and the Xiaomi Mi MIX 3.
Target exposure on the face in front camera clips is accurate in both indoor and outdoor situations but can be low in dimmer light. Dynamic range is limited, with both bright and dark areas often lost in high-dynamic scenes.
Noise is well managed and white balance is accurate in bright outdoor light. We saw some color casts indoors, though.
Like for stills, depth of field is narrow and our engineers observed artifacts such as hue shifts on the face or in the background. They also noted some stabilization artifacts such as face deformation and loss of sharpness between frames.
In the sample video, the target exposure is accurate, but you can see the limited depth of focus on the subjects at the back.
OnePlus 8T, outdoor video
Conclusion
The OnePlus 8T, while not earning sterling scores for its front camera, produces decent selfies within its limits. Especially outdoors and at optimal focal distance (30 cm to 50 cm), it captures sharp, well-exposed selfies, even if there tends to be strong luminance noise in low-light conditions.
Its limitations show up at greater distances because of the fixed-focus lens. Selfie-stick devotees may be disappointed because of slightly out-of-focus images at longer distances. The limited depth of field could be an issue for those seeking to present detailed backgrounds. The camera also has some limitations in lower light situations. Video performance is adequate but not spectacular.
Pros
Accurate exposure in stills and video
In outdoor and indoor conditions, noise is well managed in both stills and video
Good bokeh effect
White balance accurate in videos outdoors
Cons
Limited depth of field
High level of noise in low light
Limited dynamic range in both video and stills means some clipping in bright and dark areas.
Hue-shift artifacts and stabilization artifacts observed.