The OnePlus 8T is a refreshed version of the company's OnePlus 8 model. It comes with a very similar design and has the same 6.55-inch AMOLED display as the 8, and features the same Snapdragon 865 chipset. However, OnePlus has upped the display refresh rate (120 Hz vs 90 Hz) and also made some changes to the rear camera.
The macro camera comes with an increased 5 MP resolution (up from 2 MP) and there is a new dedicated monochrome camera with 2 MP resolution.
In addition, the primary camera comes with a slightly faster aperture and the ultra-wide features a wider field of view. Let's see how the updated device performs under the latest version of the DXOMARK Camera test protocol.
Key camera specifications:
Standard-wide: Sony IMX586 1/2″ 48 MP sensor, 0,8 µm, 26 mm-equivalent f/1.7, PDAF, OIS
Ultra-wide: 12 MP sensor and 14 mm-equivalent f/2.2 lens
Macro: 5 MP sensor (not covered by the DXOMARK test protocol)
Monochrome: 2 MP sensor (not covered by the DXOMARK test protocol)
LED flash
4K at 60/30 fps (4K/30fps tested)
About DXOMARK Camera tests: For scoring and analysis in our smartphone camera reviews, DXOMARK engineers capture and evaluate over 3000 test images and more than 2.5 hours of video both in controlled lab environments and in natural indoor and outdoor scenes, using the camera's default settings. This article is designed to highlight the most important results of our testing. For more information about the DXOMARK Camera test protocol, click here. More details on how we score smartphone cameras are available here.
Test summary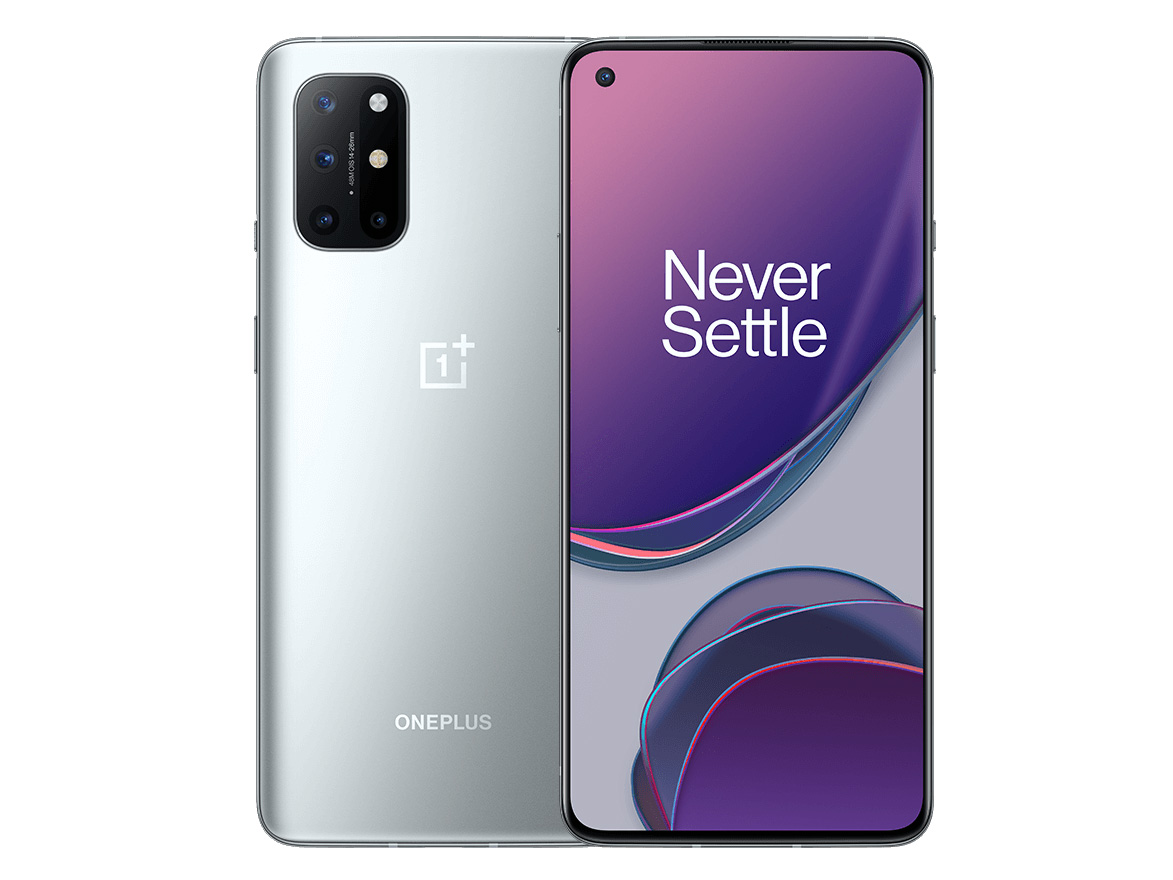 OnePlus 8T
111
camera
With a DXOMARK Camera overall score of 111, the OnePlus 8T can be found in the bottom half of our Camera ranking, tying scores with such devices as the Google Pixel 4a and the Sony Xperia 5 Mark II.
The camera is capable of capturing images that are nice to look at in the right conditions and achieves a Photo score of 115. However, there are some areas for improvement as well. The OnePlus usually gets exposure right, but a slightly limited dynamic range means that some bright and/or dark areas in the frame can clip in high-contrast conditions. When shooting at night, our testers also observed some fairly strong variance in exposure and dynamic range between shots.
Color isn't quite perfect either. Many images show color casts or inaccurate color rendering, especially when shooting in low light. While the level of captured image detail is acceptable in bright light and under typical indoor conditions, it drops in low light. Fairly strong noise is also visible in all conditions, and gets worse in low light.
The OnePlus 8T captures a better exposure than the comparison devices in this indoor scene, but also has the highest levels of image noise.
Image artifacts are generally fairly well under control, but we did observe flare and color quantization artifacts in some images. Our testers also saw some focus failures, but on the plus side, the camera offers a wide depth of field, so it renders background detail or people at the back of a group pretty sharp.
The 8T's bokeh mode does a decent job at simulating the look of a fast lens on a large-sensor camera, thanks mostly accurate subject isolation from the background. However, the preview renders the bokeh effect much less strongly than in the final image.
The OnePlus 8T doesn't have a dedicated tele-lens, so not unexpectedly, tele-zoom image quality is not one of the camera's strengths. Image noise is visible in all tele shots and strong lack of detail is evident in medium- and long-range tele photos.
The ultra-wide camera doesn't provide the widest field of view we have seen, and a loss of fine detail as well as noise are often noticeable. Our testers also observed a range of artifacts, including color fringing, ringing, and a loss of sharpness in the field.
The OnePlus 8T scores 102 for Video, which again puts it in the bottom half of the ranking for this category. The camera offers effective video stabilization, neutral white balance and pleasant colors, as well as well-controlled noise levels as long as you don't shoot in low light.
Strong white balance casts and noise become visible when the light is too dim and the autofocus system is a lot less stable than in bright light. Our testers also found focus transitions to be quite abrupt, making it challenging to record scenes with moving subjects.
This indoor video shows effective stabilization, nice colors, and well-controlled noise.
Conclusion
The OnePlus 8T comes with a high-end chipset and large display with a 120 Hz refresh rate, making it an interesting proposition for general use.
Its camera's primary module is capable of delivering mostly pleasant images and video clips, as long as you stay away from low light. This said, those who like to view their images in large format might prefer better detail and lower noise levels, even in images recorded in bright light.
The lack of a dedicated tele-camera means it's best to limit yourself to small doses of tele-zoom to avoid too much loss of detail. The ultra-wide camera is a good option when you need a wider field of view to capture a scene, but noise and image artifacts mean it's not for image quality perfectionists.
Video benefits from good stabilization, but abrupt focus transitions make it less than ideal for all applications. Overall, however, the device's camera performance is more or less in line with other devices in its price bracket.
Pros
Good exposure in most conditions
Wide depth of field keeps backgrounds sharp
Good depth estimation in bokeh shots
Effective video stabilization in bright light and indoor conditions
Well-controlled noise in indoor and outdoor videos
Cons
Color casts and inaccurate color rendering in photo and video, especially in low light
Limited dynamic range
Strong noise, especially in low light
Strong loss of detail and noise in medium- and long-range tele shots
Focus instabilities in low light and abrupt focus transitions
Noise in low-light videos
In the Press