Headlining Oppo's latest mid-range phone series, the Reno4 Pro 5G has made some changes since the previous Reno generation. Besides its thinner, lighter, and plusher design, the phone now packs a Qualcomm Snapdragon 765G chipset, a 6.55-inch, 90 Hz refresh rate AMOLED HDR10+ display, and 48 MP main, 12 MP ultra-wide, and 13 MP telephoto cameras. On the audio side of things, the Chinese company teamed up with Dolby, aiming to make audio more engaging by bringing the listener into "a world of immersive 3D surround sound."
Audio specifications include:
Dolby Atmos technology
No 3.5mm jack output
USB-C earphones included
About DXOMARK Audio tests: For scoring and analysis in our smartphone audio reviews, DXOMARK engineers perform a variety of objective tests and undertake more than 20 hours of perceptual evaluation under controlled lab conditions. This article highlights the most important results of our testing. Note that we evaluate both Playback and Recording using only the device's built-in hardware and default apps. (For more details about our Playback protocol, click here; for more details about our Recording protocol, click here.)
Test summary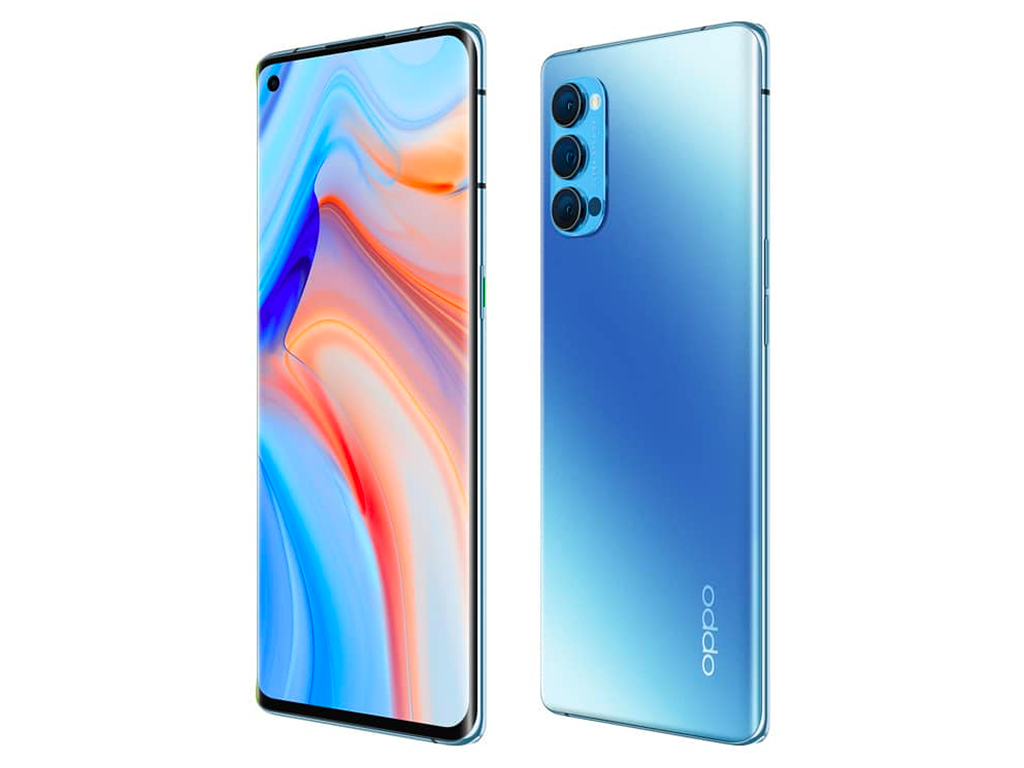 Oppo Reno4 Pro 5G
61
audio
Despite being a premium mid-ranger, the Reno4 Pro 5G is an average audio performer, with an overall score of 61. The phone fares equivalently in playback and in recording, with a score of 61 for the former, and 59 for the latter.
Due to a lack of high- and low-end extension, audio played back through the Reno4 Pro's speakers sounds canny. The lack of treble affects clarity on high-pitched instruments and their attack, wideness of the sound field, and localizability of the sound sources. The significant lack of bass and low midrange frequencies (mids) make voices sound nasal, punch fairly weak, and distance unrealistic. That all said, few artifacts are noticeable, balance between the left and right channels is exemplary, maximum volume is satisfying, and dynamic content remains intelligible even at minimum volume.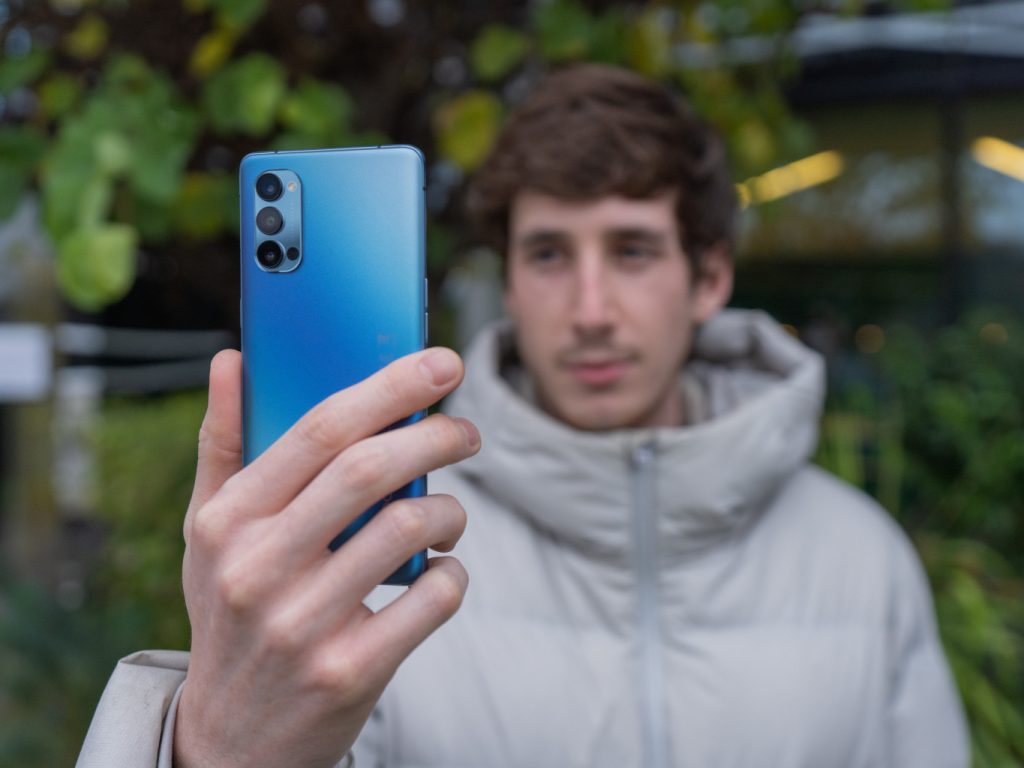 Filming selfie videos with the Oppo Reno4 Pro 5G
The recording sub-score is brought down mainly by a lack of timbre extension which affects dynamics and makes voices sound unnatural, and by a particularly low loudness in most use cases. Further, the recordings are not directional, which means that videos include sounds from all directions, not primarily from the scene being filmed.
When recording in loud environments, treble improves, which in turn improves the localizability of sound sources. While videos shot with the rear camera offer a good signal-to-noise ratio and great wideness, selfie videos are particularly narrow. Overall, recordings are relatively clean, thanks to the Reno4 Pro's ability to control undesirable artifacts. However, in loud environments, noticeable distortion and compression appear in the upper spectrum. Finally, note that the Reno4 Pro's microphones are easily occluded by the user's hands.
Sub-scores explained
The DXOMARK Audio overall score of 61 for the Oppo Reno4 Pro 5G is derived from its Playback and Recording scores and their respective sub-scores. In this section, we'll take a closer look at these audio quality sub-scores and explain what they mean for the user.
Playback
Timbre
Timbre tests measure how well a phone reproduces sound across the audible tonal range and takes into account bass, midrange, treble, tonal balance, and volume dependency.
True to its mid-ranger nature, the Oppo Reno4 Pro's timbre performance is focused on midrange frequencies. While the lack of high-end impairs clarity on high-pitched instruments and voices, the limited low-mids response (from 250 to 500 Hz) makes voices sound nasal and the overall rendering sound canny.
Music playback frequency response
The significant lack of bass is perceivable in all use cases — when listening to music, watching movies, or playing games. Further, the volume dependency score is particularly low, which means that the tonal balance varies appreciably depending on the listening volume.
Dynamics
DXOMARK's dynamics tests measure how well a device reproduces the energy level of a sound source, and how precisely it reproduces bass frequencies.
Despite a noticeable lack of lower spectrum, bass is fairly precise. Punch, however, is strongly affected, which makes for poor performance on rhythmic tracks. Attack is decent overall, affected by the lack of high-end only on snares and hi-hats.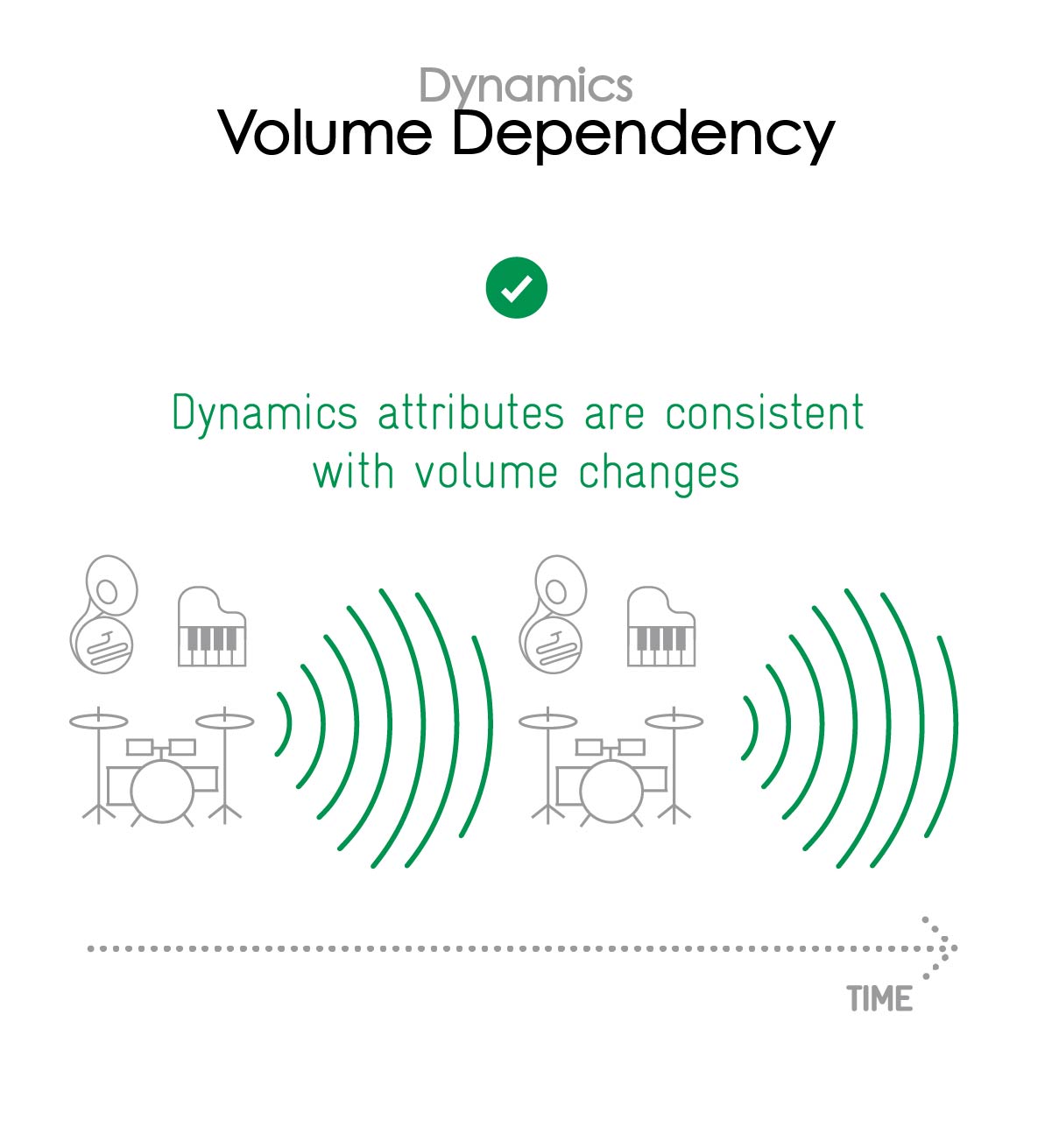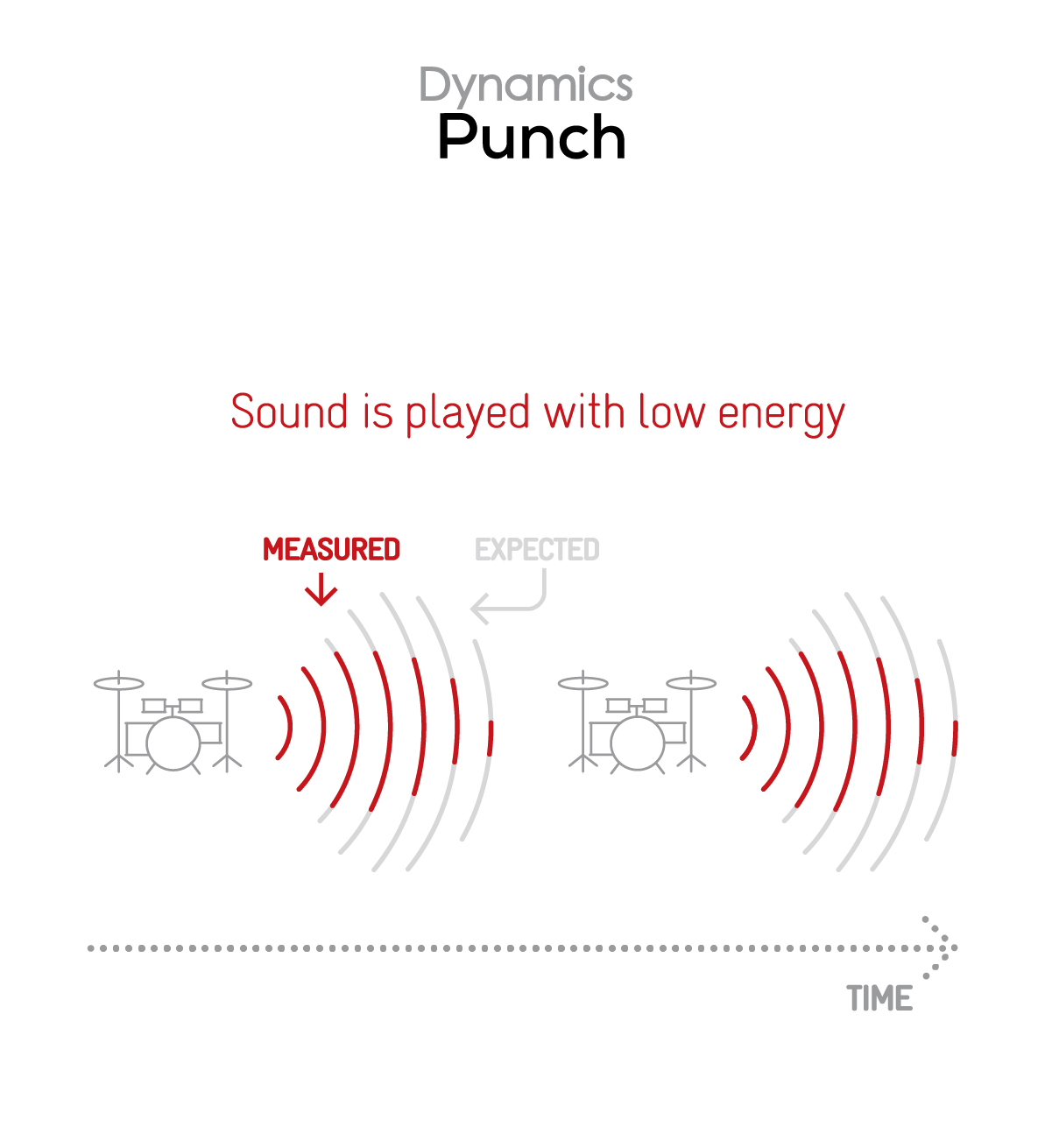 Unlike timbre, dynamics are fairly consistent, regardless of the volume — although at maximum volume, slight pumping affects the integrity of the sound envelope.
Spatial
The sub-attributes for the perceptual spatial tests include localizability, balance, distance and wideness of the sound field.
The Reno4 Pro is also an average performer in spatial testing. It delivers a satisfying stereo scene thanks to an exemplary balance between the left and right channels. The sound field wideness is fairly good, albeit impaired by the lack of treble clarity and precise reverberation.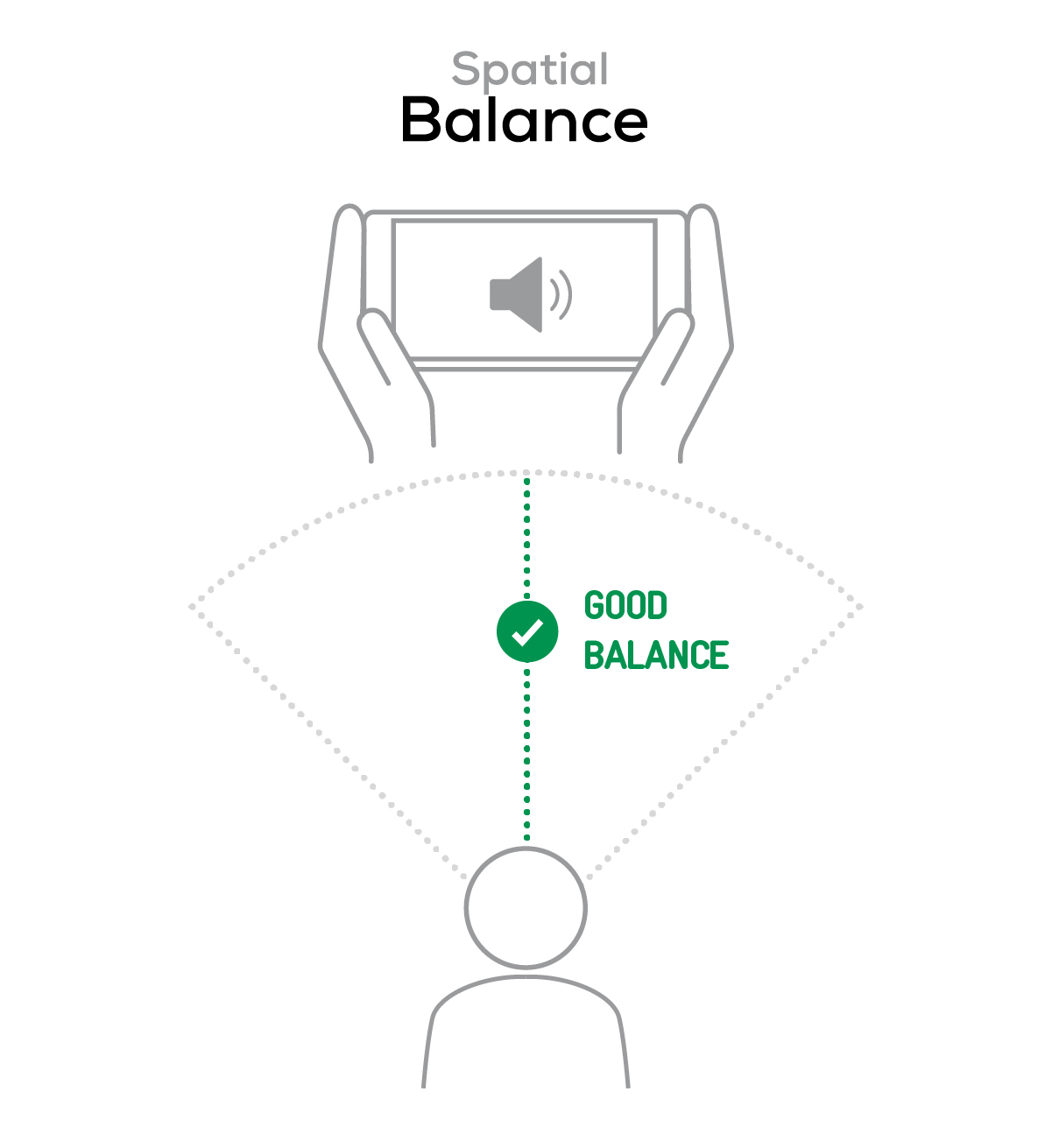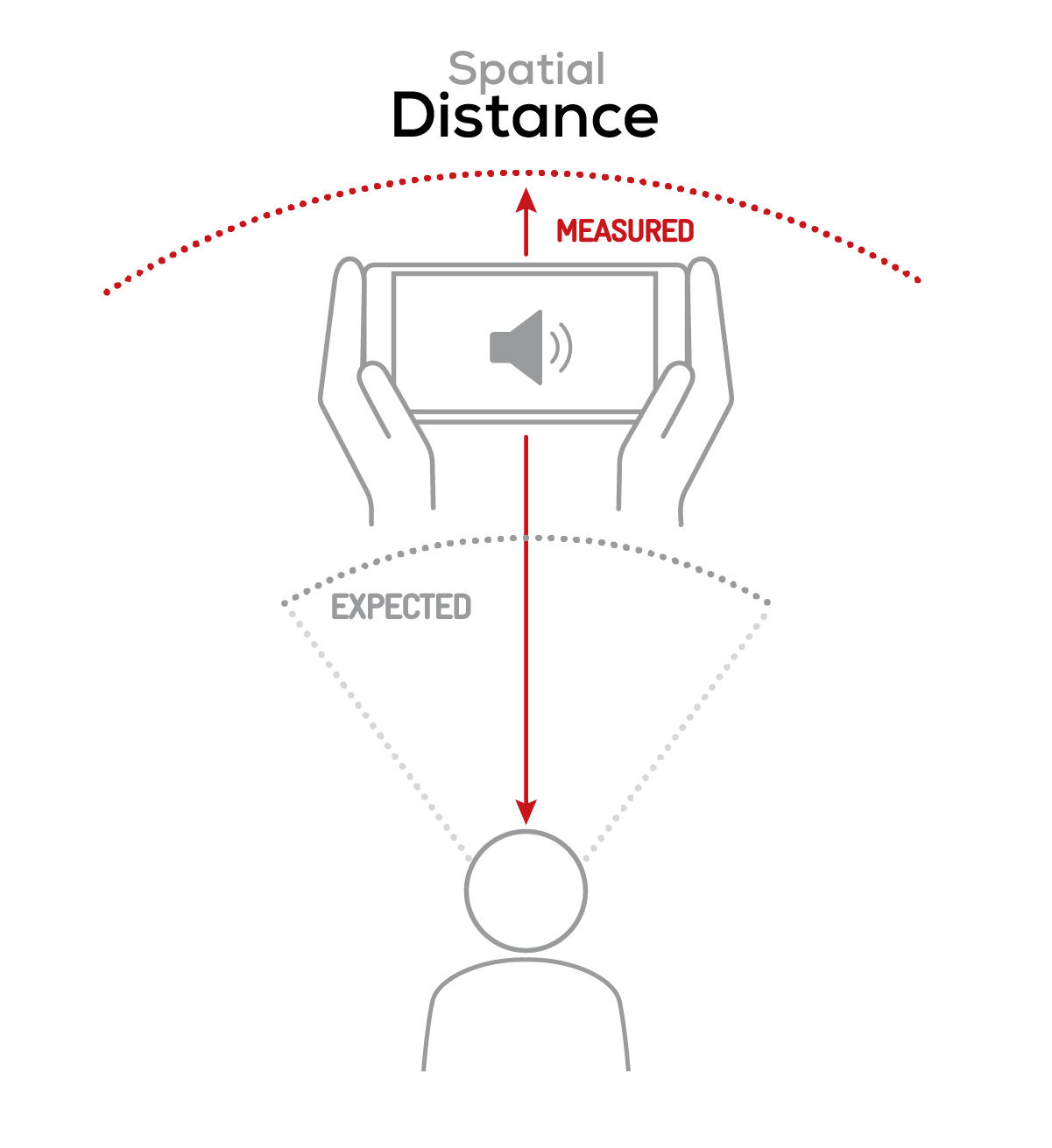 The lack of low-mids severely affects distance rendering. As a result, voices tend to be perceived further away than the screen position. Localizability of the sound sources suffers from the lack of high-end extension.
Volume
Volume tests measure both the overall loudness a device is able to reproduce and how smoothly volume increases and decreases based on user input.
The Reno4 Pro delivers a very good volume performance overall. Minimum volume is well-tuned on the Reno4 Pro, allowing dynamic content to remain properly audible even at quiet volumes. On the other end of the fader, maximum volume is loud enough for common usage, but could be a little louder. Despite not being perfectly linear, the volume steps are consistent enough.
| | |
| --- | --- |
| Hip-Hop | Classical |
| 75.4 dBA | 72.1 dBA |
Artifacts
Samsung Galaxy Note20 Ultra 5G
Artifacts tests measure how much source audio is distorted when played back through a device's speakers. Distortion can occur both because of sound processing in the device and because of the quality of the speakers.
The Reno4 Pro does a decent job at controlling undesirable sound artifacts. Noise and resonances appear when playing a synthetic signal, such as a sine sweep, but that shouldn't be problematic in everyday use — unless perhaps for electronic music aficionados.
Slight bass distortions can be triggered by transient sounds such as kicks. Out of all use cases and genres, the phone performs best when playing games, where our sound engineers detected no spectral or temporal artifacts.
Recording
Timbre
As shown in the graph below, the Reno4 Pro's recordings generally lack high- and low-end extension: below 250 Hz, instead of keeping straight like the Sony Xperia 1 II, the curve drops down to -15dB. This makes voices sound quite unnatural and the overall sound rendering fairly canny or nasal.
Life video frequency response
When recording in loud environments, treble response improves. On the other hand, recordings made with the memo app suffer from high-end distortions, which make treble imprecise.
Dynamics
Dynamics in audio recorded through the Reno4 Pro's microphones are middling due to the lack of treble clarity and of low-end extension.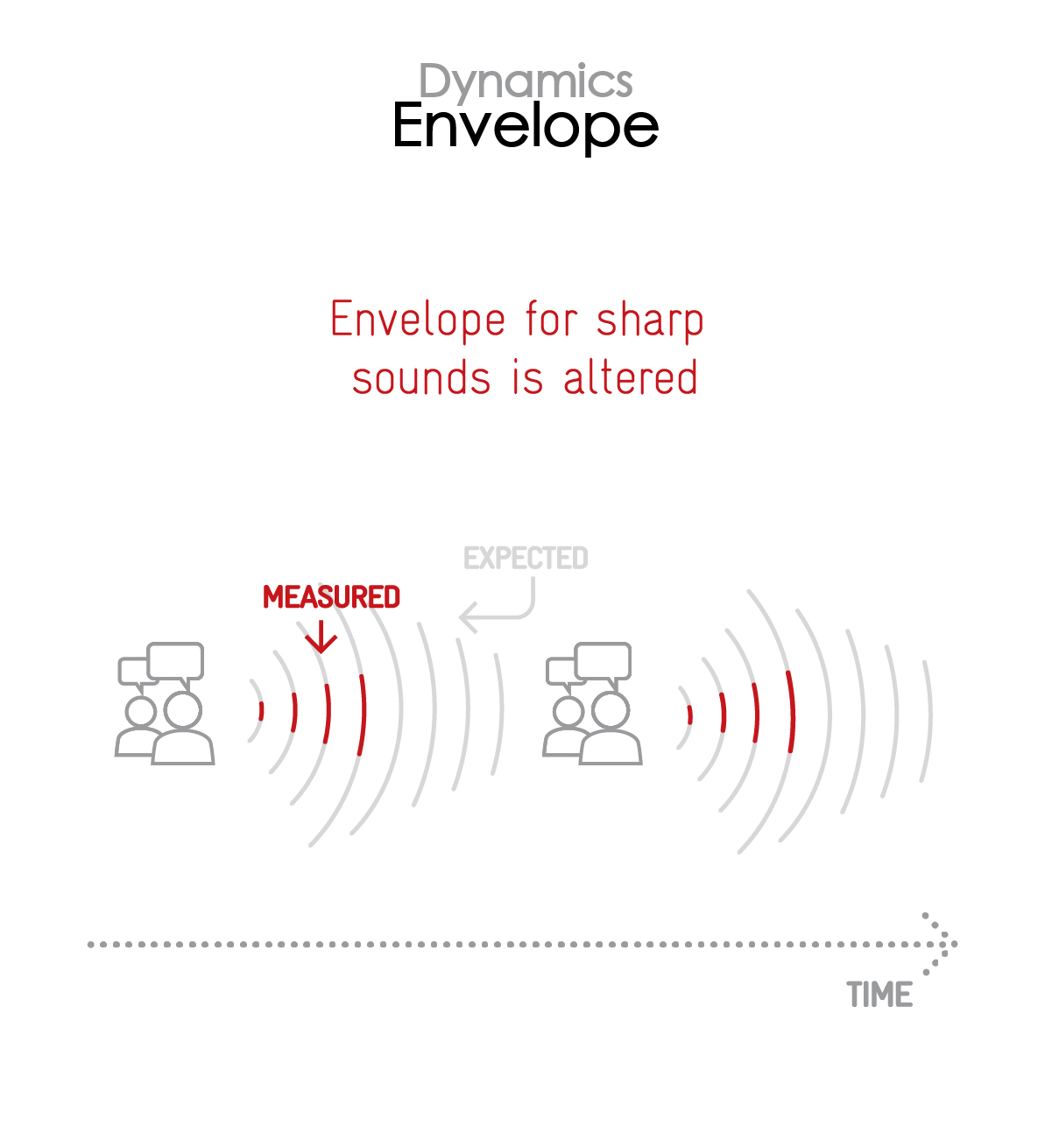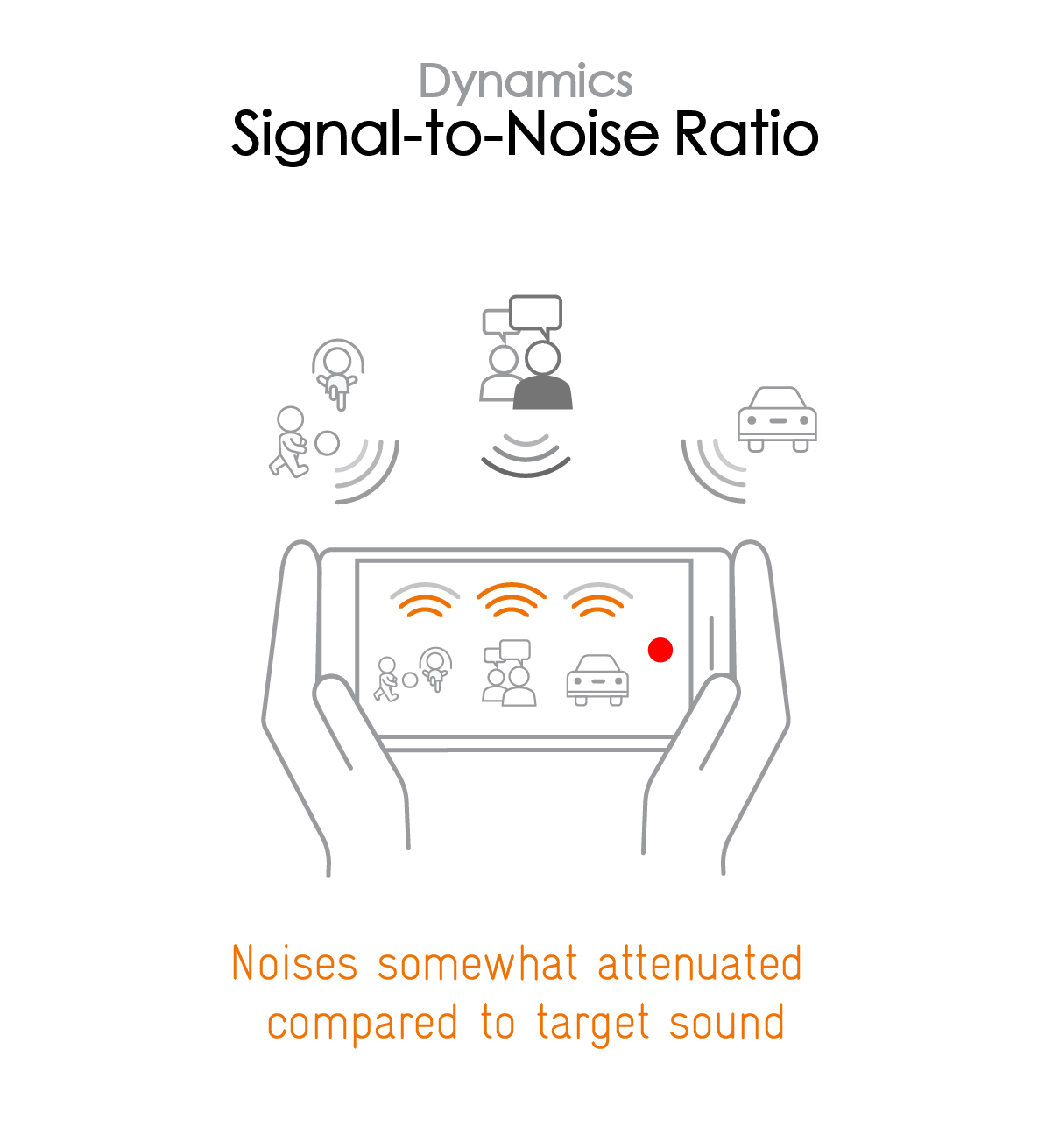 The signal-to-noise ratio is fairly good when filming videos, but only average when recording memos. Its score is brought down in quiet environments, where voices have a notably low loudness.
Spatial
Since treble becomes clearer in high SPL scenarios, localizability of the sound sources is fairly good when recording in loud environments. That said, recordings made with the memo app — such as a meeting — show good directivity, but below-average localizability of the sound sources.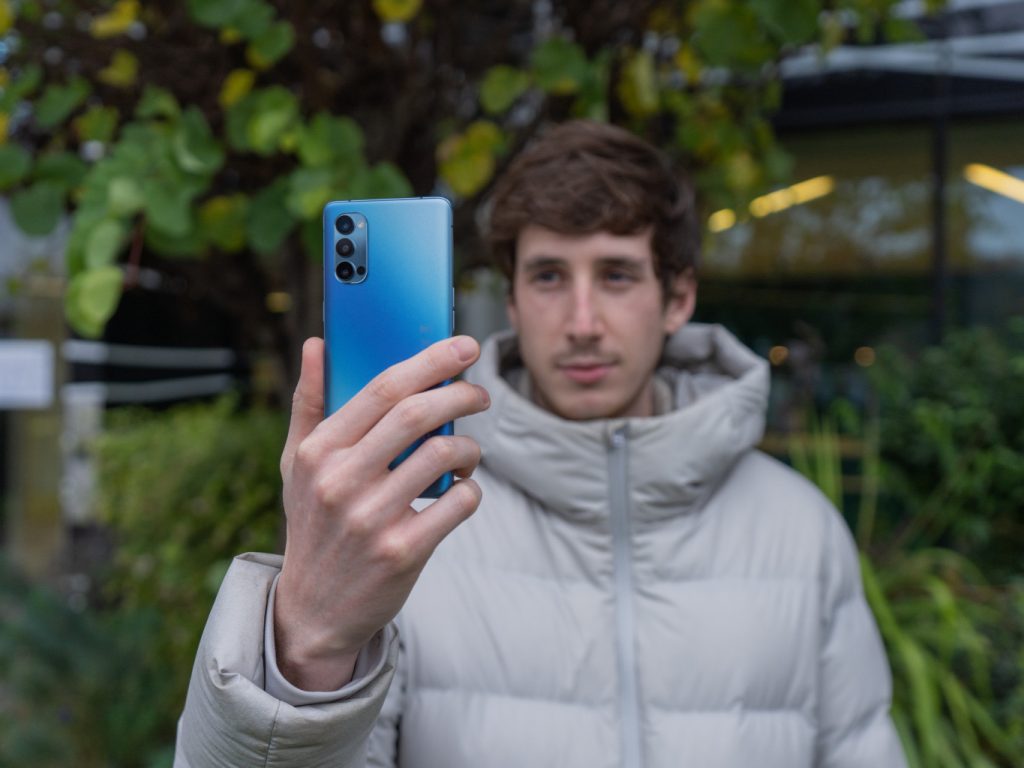 When filming selfie videos, the sound field wideness is notably reduced.
While the sound field is fairly wide when recording life videos or memos, it is considerably narrower in selfie videos. Finally, the distance rendering is fairly decent in life videos; however, voices in selfie videos and memos are perceived slightly farther away.
Volume
Unlike in playback, the Reno4 Pro has a poor volume score of 56 in recording, brought down by a particularly low nominal loudness. Here are our test results, measured in LUFS (Loudness Unit Full Scale); as a reference, we expect loudness levels to be above -24 LUFS for recorded content:
| | | | |
| --- | --- | --- | --- |
| Meeting | Life Video | Selfie Video | Memo |
| -30 LUFS | -22.4 LUFS | -20.8 LUFS | -23.5 LUFS |
As you can see, while memo recordings flirt with the loudness threshold, meeting recordings are way below it. That all said, the maximum loudness obtainable without perceivable distortion is decent.
Artifacts
Audio recorded with the Reno4 Pro is relatively clean at most volume levels. A few artifacts are audible when recording in average SPL scenarios, such as slight distortions on shouting voices when filming with the rear camera. However, in loud environments, strong distortions appear on low-mids and treble, as well as hissing and pumping in the upper spectrum.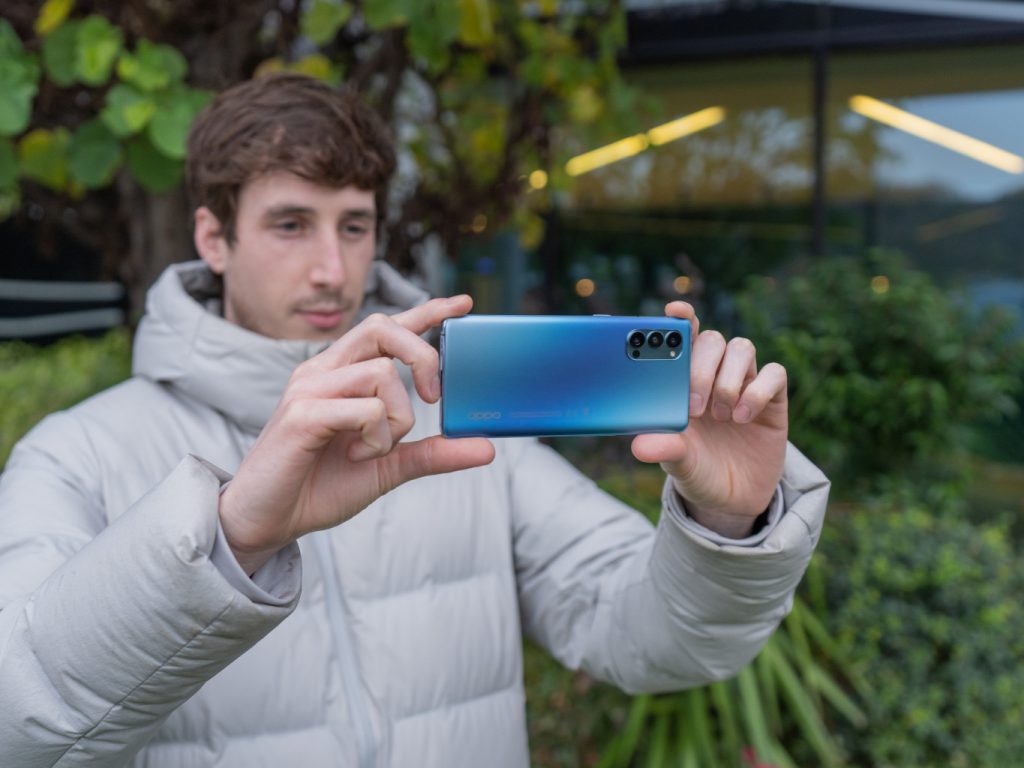 Filming a landscape video with both hands can occlude the microphones.
The Reno4 Pro's microphones are easily occluded by the user's palms: holding the smartphone with both hands when filming a video in landscape mode can completely mute one channel. Further, when filming a selfie video, finger movements induce a strong signal overshoot on the right channel, while vocal balance shifts to the left.
You can hear some of the artifacts for yourself in this sample recording:
Background
Unsurprisingly, the very consistent Reno4 Pro 5G score is average in this final category. Thanks to a fairly good artifacts performance and decent SNR, background recordings are clean overall. However, the canny and sometimes muffled rendering as well as the occasional distortion lead to a slightly less realistic and less natural feel.
Further, note that recordings are not at all directional. This means that when filming videos, the phone records sounds coming equally from all directions, not primarily from the scene being filmed.
Conclusion
Oppo's latest headlining Reno may well be a premium mid-ranger smartphone, but when it comes to audio, it is only an average performer. That said, the 4 Pro 5G is extremely consistent, delivering an average performance in almost every sub-category of our Audio protocol. Its main weakness is a lack of high- and low-end extension in both playback and recording, which impairs its timbre, dynamics, and spatial performance. Further, its microphones are easily occluded, and its recordings exhibit fairly low loudness in most use cases. Still, the Reno4 Pro 5G delivers a very good playback volume performance, better timbre and spatial results when filming in loud environments, and relatively clean background recordings.
Playback
Pros
Average performance, consistent overall
Good balance performance in all use cases and orientations
Good bass precision, despite speakers' lack of low-end extension
Very good volume performance with satisfying maximum volume, minimum volume, and volume step consistency
Few artifacts overall
Cons
Midrange-focused tonal balance, with lack of treble and significant lack of bass in all use cases
Localizability is affected by the lack of treble, while distance perception is impaired by limited bass performance.
Blurry attack and weak punch due to unbalanced timbre
Resonance and noises are noticeable on synthetic signals.
Recording
Pros
Average performance, consistent overall
Good treble performance in loud background scenarios
Great wideness in life videos along with good localizability in loud environments
Good SNR in life and selfie videos
Few noticeable artifacts in average SPL scenarios
Clean background, especially in selfie videos and memos
Cons
Midrange-focused tonal balance, with lack of both low- and high-end extension, especially in high SPL scenarios
Below-average localizability in memos
Voices are perceived as too distant in selfie videos and memos.
Average envelope performance in selfie videos and memos, affected by a lack of sharpness, clarity, and bass
Poor loudness, especially in selfie videos and memos
Significant microphone occlusion when handling, leading to drastic reduction of recorded level, as well as voice shifts and overshoots due to finger movement over the microphone.
Canny background due to lack of low-mids and bass