The Reno4 Pro 5G sits at the top of Oppo's Reno line. It's an upper-crust mid-range phone, with a Qualcomm 765G processor paired with 12 GB of RAM and 256 GB of storage (no expansion). It features a 6.5-inch 90 Hz AMOLED display with HDR10+ support. It has fast charging capability, jumping from 0 to 60% battery in 15 minutes, and comes in a few nifty colors.
There are three cameras on the back. The main wide module has a 48 MP sensor that bins down to 12 MP output behind a 26 mm-equivalent f/1.7 lens with optical image stabilization. A tele module pairs a 13 MP sensor (yielding 12 MP files) with a 52 mm-equivalent f/2.4 lens, and an ultra-wide camera rounds out the complement, with a 12 MP sensor (producing 9 MP files) and a 15.8 mm-equivalent f/2.2 lens.
The Reno4 Pro 5G shoots 4K video at 30 fps, which is how we tested it, but it also records at lower resolutions and higher frame rates for smoother video or for slow motion effects.
Read on to find out how this polished-looking phone fared in our testing.
Key camera specifications:
Primary: 48 MP 1/2.0-inch sensor with 0.8µm pixels and 26 mm-equivalent f/1.7 lens, OIS, PDAF, laser AF
Tele: 13 MP 1/3.4-inch sensor with 1.0µm pixels and 52 mm-equivalent f/2.4 lens, AF
Ultra-wide: 12 MP 1/2.43-inch sensor with 1.4µm pixels and 15.8 mm-equivalent (measured) f/2.2 lens, AF
LED flash
4K video at 30 fps, 1080p at 30/60/120 fps, 720p at30/60/240 fps, HDR, OIS and gyro-EIS
About DXOMARK Camera tests: For scoring and analysis in our smartphone camera reviews, DXOMARK engineers capture and evaluate over 3000 test images and more than 2.5 hours of video both in controlled lab environments and in natural indoor and outdoor scenes, using the camera's default settings. This article is designed to highlight the most important results of our testing. For more information about the DXOMARK Camera test protocol, click here. More details on how we score smartphone cameras are available here.
Test summary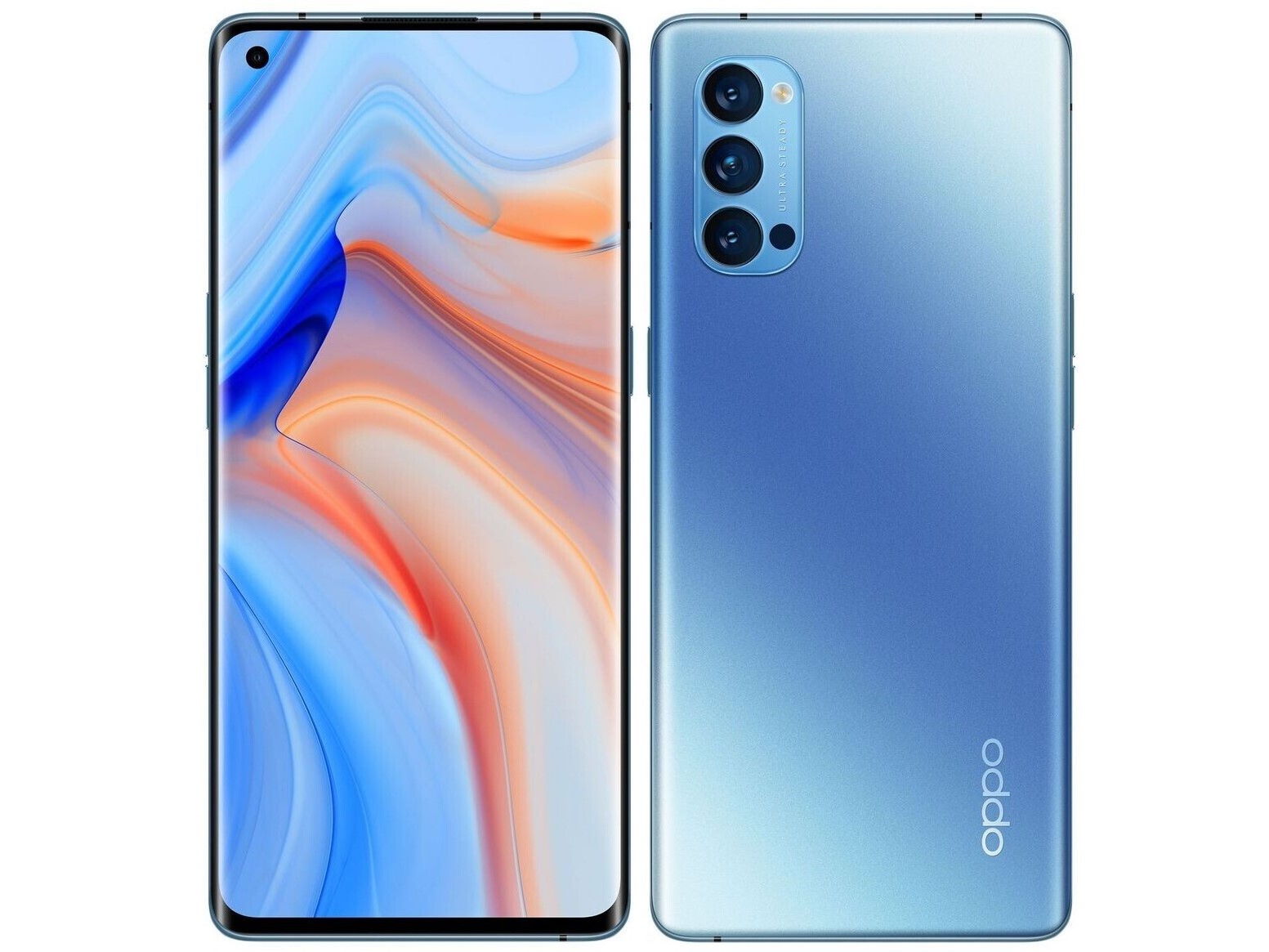 Oppo Reno4 Pro 5G
108
camera
The Oppo Reno4 Pro 5G earned a DXOMARK Camera score of 108, tying the OnePlus Nord and coming in above the Oppo Find X2 Neo at 105 points. It's an adequate performance for a phone at this price point.
Its Photo performance earns the Oppo a Photo score of 109 and comes with a few highlights. Exposure is fairly accurate in bright to moderate light; dynamic range is good when shooting indoors; autofocus is accurate. Color is subjectively pleasant, though lab tests show some inaccuracies. Detail levels are quite good.
On the downside, noise is higher than on most competing devices. Despite solid indoor performance, dynamic range outdoors is not enough to keep highlights from blowing out around backlit subjects. Artifacts are quite pronounced. Zoom performance is hampered by noise and low detail at the long end and a slightly restricted field of view at the wide end. Night shooting leaves room for improvement, too.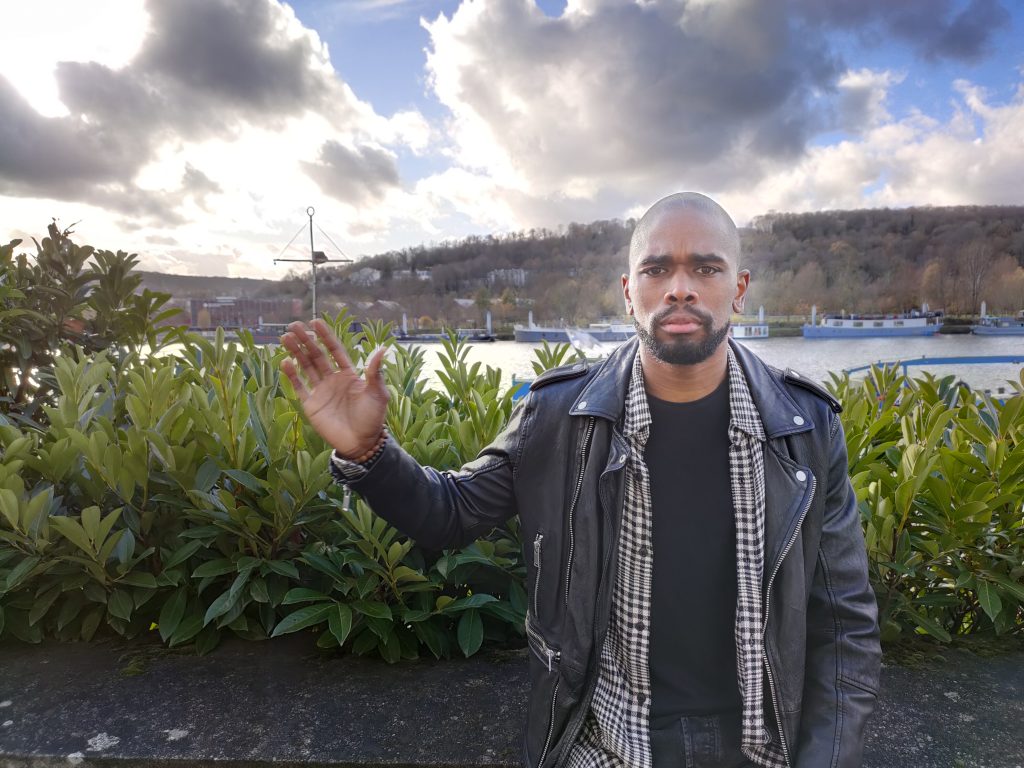 Blown highlights and haloing artifacts are often visible but in bright light the Oppo Reno4 Pro 5G tends to capture decent detail.
The Reno4 Pro 5G achieves a Video score of 101, landing among the top 20 scores calculated under our latest v4 protocol. Exposure is accurate in bright to moderate light, though it's low in dim conditions, and dynamic range is limited. Color is pleasant, though our testers noted some color shading. Detail is good in bright light, but decreases as the lights go down. As in stills, noise is higher than ideal. Stabilization is effective when standing still, but residual motion is a problem when walking. Autofocus tracking doesn't work very well.
Let's take a more detailed look at the strengths and weaknesses of the Reno4 Pro 5G, with some sample image comparisons for illustration.
Exposure is accurate in bright to moderate light levels, but the Reno4 Pro 5G has trouble keeping the exposure bright enough in very dim conditions, something that many competitors deal with better. Dynamic range is a mixed bag: our testers found it to be impressively wide when shooting indoors, but highlights clipped badly when the phone encountered strong backlighting outdoors.
In the example below we see how well the Reno4 Pro holds the highlight detail in the sky while also properly exposing for the subject. The other Oppo clings to a bit of detail in the window, while the iPhone lets it blow out completely.
The Reno4 Pro captures subjectively pleasant colors with appealing white balance choices despite the fact that its lab results show some minor color rendering inaccuracies (in the example below, we also see cyan shift in the sky of the Reno4 Pro and iPhone photos due to highlight clipping).
The Reno4 Pro captures a fair amount of detail in good light, and though it falls off some in lower light, it remains a strength for the phone. In the example below, the Reno4 Pro preserves plenty of detail in subdued indoor lighting. Both reference devices earned higher texture scores, but that's not apparent in this particular example: the Find X2 Pro loses more of the door's grain (and also adds a strong pink color cast), and while the iPhone 11 does better, it is not obviously superior to the Reno4 Pro.
Noise, on the other hand, is a weak point for the Reno4 Pro 5G, as it starts to peek through even in bright light and becomes progressively stronger as light levels drop. In the examples below, we see the dramatic difference between how the two Oppo devices handle noise: the Find X2 Pro suppresses it very effectively with little detail penalty, while the Reno4 Pro lets the noise shine through (and also underexposes a bit, which doesn't help). Noise is also quite visible in the iPhone image, even though scored a bit better than the Reno4 Pro in our tests.
Autofocus is mostly a strength for the Reno4 Pro, with some unusual caveats. Accuracy is excellent (as with most competitors) and speed is usually very good. For example, in the chart below illustrating speed and accuracy under high brightness range conditions, the Reno4 Pro does very well indeed (much better than the Find X2 Pro). In certain conditions, however, the Reno4 Pro slows down quite a bit. In very low light it might take over a second to find focus and take its shot, and strangely, in bright light with a more limited brightness range than shown below (in other words, a less challenging scene for most phones), it also sometimes slows down.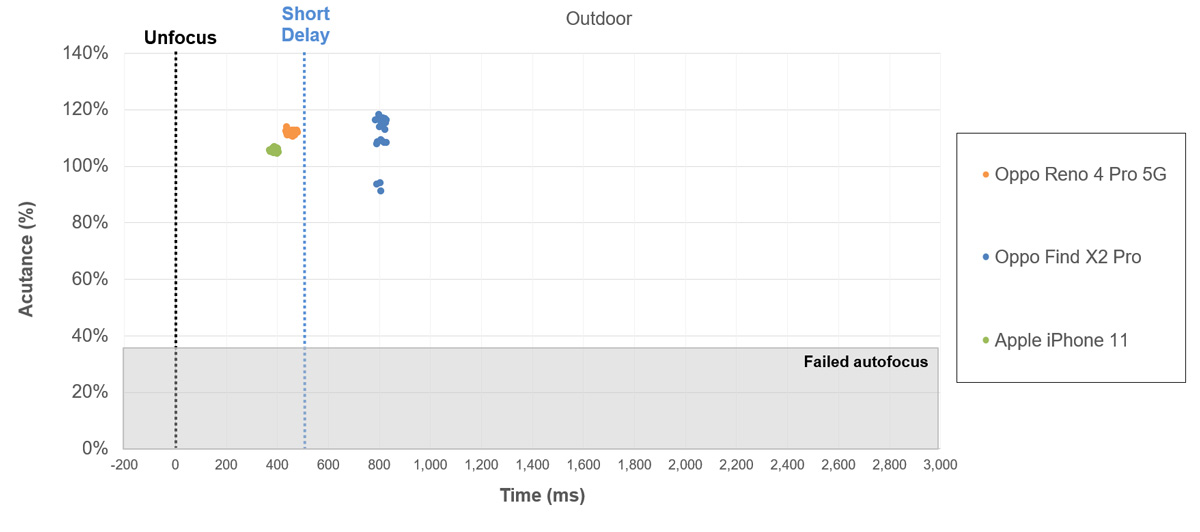 Autofocus performance in 1000 lux daylight with 7 EV brightness range
The Reno4 Pro earns a respectable score for its background-blurring portrait mode. Subject isolation is acceptable, and the blur effect is strong and generally convincing: though it does not render background highlights realistically, few people will notice this. Noise and detail are well balanced in portrait shots.
The Reno4 Pro's still image night performance leaves a lot of room for improvement. The phone's difficulty with low-light exposures really hurts it here: in the example below, we see the Reno4 Pro produces a very dark image, and noise is pronounced. Despite the difficult conditions, the Oppo Find X2 does much better, and the iPhone also manages to gather more light (though the Find X2 does a better job). The Reno4 Pro's night portraits are much better when the flash fires, with good exposure and detail levels.
We deduct points for obvious artifacts or image quality flaws visible in images and the Reno4 Pro takes penalties for ghosting, color quantization, hue shift, and ringing. People are sometimes rendered with a bright halo.
The Reno4 Pro earns a fairly good preview score when compared to the non-Apple competition (iPhones maintain a substantial lead on most of the competition in this metric). Target exposure is accurately shown, but the preview image doesn't benefit from effective HDR processing, so parts of the scene that might be successfully captured in the final image are blown out in the preview. The simulated blur in portrait mode is properly shown in the preview, but with a rough depth map.
The Reno4 Pro's Zoom score (a composite of the wide and tele sub-scores) is much better than phones that try to make do without a dedicated ultra-wide or tele camera, but it is held back by relatively low performance at the long end of the zoom.
On the wide end, the Reno4 Pro captures reasonably pleasant photos, though detail is lower than for the main camera. However, the ultra-wide module's 15.8 mm-equivalent lens has a slightly narrower field of view than some of the better offerings from the competition. This is obvious in the examples below, though the more conservative specification of the Reno4 Pro's lens at least spares it from strong anamorphic distortion.
The Reno4 Pro's 2X optical zoom is much better than not having a tele module at all, but images are noisier and lower in detail than in some other models. At higher zoom ratios the phone is also at a disadvantage to competitors with longer focal length lenses. In the medium-zoom example below (a 90 mm-equivalent field of view), the high noise is evident compared to the Find X2, though both Oppo phones outperform the iPhone, which has no tele module and just crops from its main wide camera.
The Reno4 Pro's overall video performance is quite competitive for a mid-range phone, although it does suffer from some notable weaknesses. Exposure is accurate in bright to moderate light, but drops too low in truly dim conditions. In the chart below we see that the Reno4 Pro's curve is comparable to the iPhone 11's; the Find X2 Pro does better overall.

Video exposure comparison
Dynamic range is fairly limited in video mode, so expect some clipped highlights in challenging light.
White balance is accurate when shooting video and colors are pleasant unless light levels get really low. However, our testers did note some color shading in videos.
The Reno4 Pro's videos capture plenty of detail in all but the lowest light. We see this in the chart below: even at 5 lux, texture detail remains high in the Reno4 Pro's output. However, at a near-dark 1 lux, the phone's exposure was too low for our testers to get usable data. Detail also takes a hit in HDR scenes.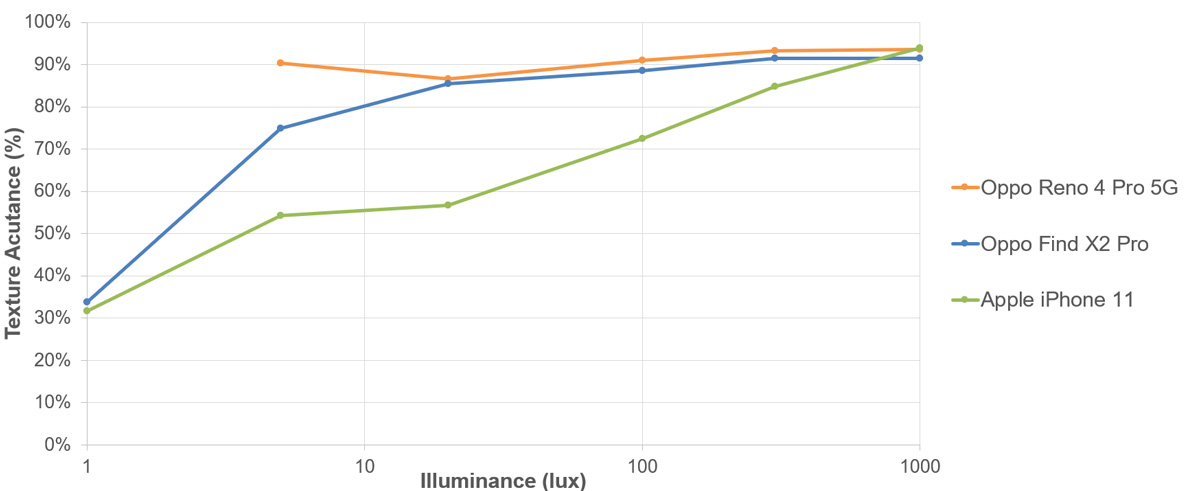 On the other hand, noise is quite high even in bright light. In the chart below we see how much higher the Reno4 Pro's noise floor is than the reference devices. Again at 1 lux the Reno4 Pro's exposure is too low for meaningful comparison.

Autofocus performance in video mode is hindered by poor tracking performance, something to keep in mind when shooting moving subjects.
The Reno4 Pro does a good job of minimizing artifacts in videos. It loses a few points for ringing, frame rate variation, and judder, but nothing is overly intrusive. Stabilization does introduce some distracting residual motion when walking, but is effective otherwise.
In this sample clip we can see that the Reno4 Pro captures detailed, well-exposed video in good light, but the problem with stabilization while walking is evident.
Oppo Reno4 Pro 5G, outdoor video
Oppo Find X2 Pro, outdoor video
Apple iPhone 11, outdoor video
Conclusion
The Oppo Reno4 Pro 5G turns in a mixed imaging performance. In good light it captures a lot of detail with nice colors, but noise impacts quality in both stills and videos. The tele camera has some weaknesses, too, though it's much better than not having one. Relatively speaking, video performance is bit stronger than stills, especially if you don't like to walk and shoot video at the same time. As of this writing, the Reno4 Pro's pricing puts it on the higher end of mid-range handsets and competition in this segment is fierce, but phone pricing can fluctuate quite a bit over time and from region to region, so interested buyers should have a closer look at this phone, especially if video is high up on your list of priorities.
Pros
Fairly wide dynamic range indoors
Accurate autofocus
Acceptable detail in bright light
Generally accurate white balance outdoors
Good balance between detail and noise in portrait mode
Video white balance accurate with pleasant color
Video detail high on faces
Video exposure accurate
Effective stabilization when standing still
Cons
High noise in stills and video
Low exposure in low light, limited outdoor dynamic range for stills
Halo, ghosting, color quantization artifacts in stills
Portrait mode bokeh highlights not well rendered
High noise, low detail at medium and long zoom ranges
Low exposure, high noise at night with flash off
Video dynamic range limited
Sharpness differences between video frames
Low video exposure in low light
Unsatisfactory video AF tracking
Low video detail in low light or in wide brightness range scenes
In the Press