The Reno4 Pro 5G sits at the top of Oppo's Reno line. It's an upper-crust mid-range phone, with a Qualcomm 765G processor paired with 12 GB of RAM and 256 GB of storage (no expansion), and features a 6.5-inch 90 Hz AMOLED display with HDR10+ support. It has fast charging capability, jumping from 0 to 60% battery in 15 minutes, and comes in a few nifty colors.
The front-facing camera is housed within a more modern punch hole design in the top left-hand corner of the display. It utilizes a high-resolution 32 MP standard array sensor with a full 6560 x 4928 pixel output. The lens is a fixed-focus f/2.4-aperture optic, and the device features artificial intelligence (AI) beautification for skin smoothing and face enhancement on selfies.
For Skype and video calls the Reno4 Pro 5G offers FHD 1080p and HD 720p resolutions at 30 frames per second (fps). Let's have a closer look at the performance of the Reno4 Pro 5G's front shooter in our DXOMARK Selfie review.
Key front camera specifications:
32 MP sensor
f/2.4-aperture lens
AI beautification
1080p/720p at 30 fps video
About DXOMARK Selfie tests: For scoring and analysis in our smartphone front camera reviews, DXOMARK engineers capture and evaluate over 1500 test images and more than 2 hours of video both in controlled lab environments and in natural indoor and outdoor scenes, using the camera's default settings. This article is designed to highlight the most important results of our testing. For more information about the DXOMARK Selfie test protocol, click here.
Test summary
Scoring
Sub-scores and attributes included in the calculations of the global score.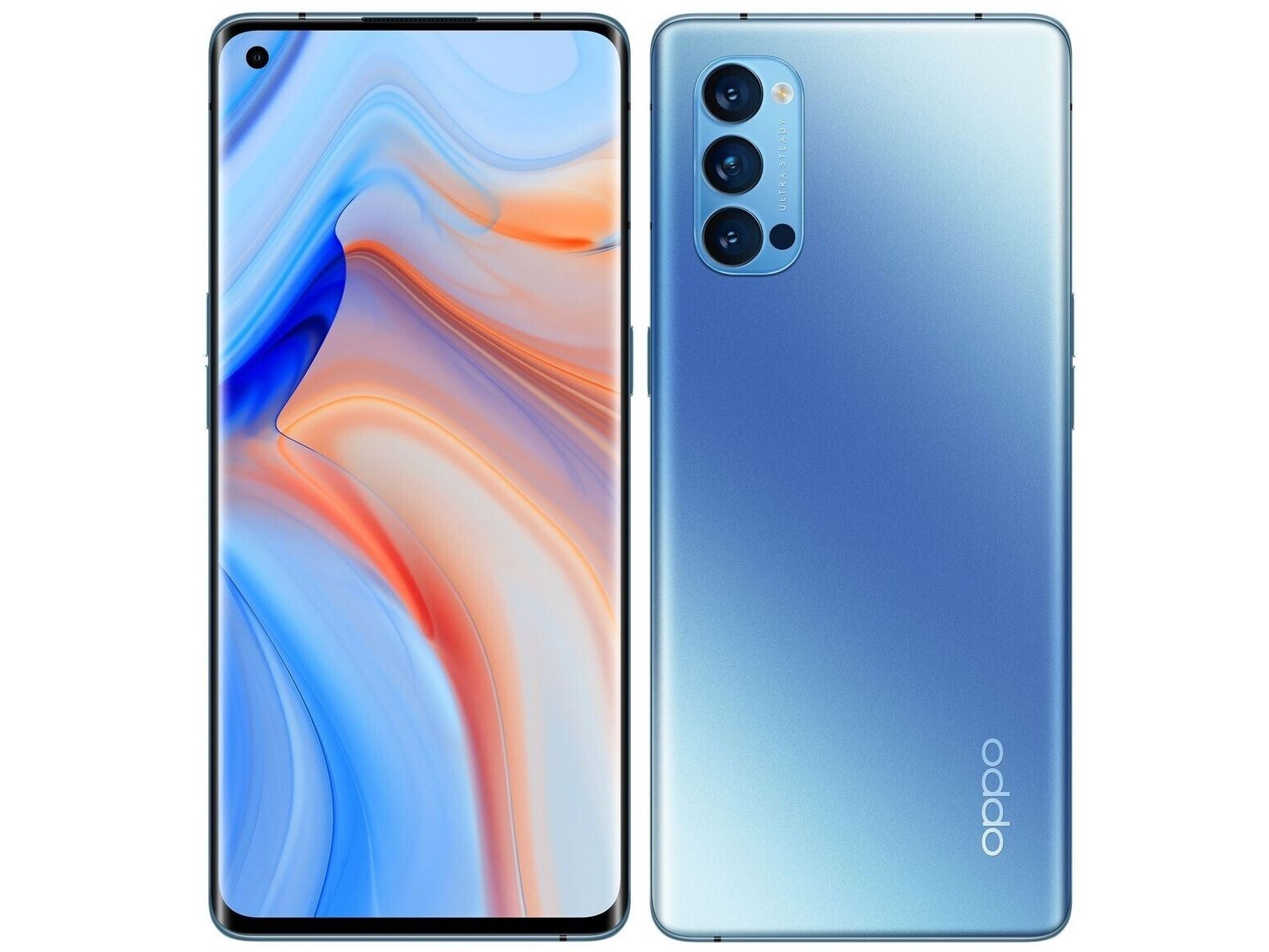 Oppo Reno4 Pro 5G
95
selfie
Please be aware that beyond this point, we have not modified the initial test results. While data and products remain fully comparable, you might encounter mentions and references to the previous scores.
With a DXOMARK overall score of 74, the Oppo Reno4 Pro 5G delivers accurate and repeatable target exposures in a wide variety of lighting situations, ensuring faces are nicely exposed in most selfies. Fairly neutral white balance in outdoor and indoor shots also helped this top-end Oppo device on its way to a Selfie Photo score of 71. Accurate exposure on faces in videos is also a key strength in our moving image analysis, where the Oppo Reno4 Pro 5G achieved a slightly higher Selfie Video score of 78.
Accurate face exposure is obviously a key ingredient for successful selfies and the Reno4 Pro 5G delivers this in spades. Across the vast majority of our tests target exposures were nice and bright, even in most low-light shots. Exposure is also stable and repeatable, mainly delivering consistent brightness over consecutive images. It's not quite as reliable in very challenging back- and side-lit conditions, with some variation in exposure, as well as slight highlight clipping in bright sides and low contrast in high-contrast conditions, too. But in the main, selfie shooters won't be disappointed with the exposure of faces.
Neutral white balance in outdoor and indoor selfies is also a good feature for the Reno4 Pro 5G. Again in those challenging backlit scenes, our testers observed slight inconsistencies, with occasional pinkish color casts and unnatural skin tone rendering, and color shading is also visible. In the comparison below, you can see the Oppo device achieves a very similar result for exposure and color to the OnePlus 8 Pro, along with white neutral white balance and well-exposed faces. Xiaomi's Mi 10 Ultra blows out the color in the sky, but also achieves slightly richer, warmer, and more natural-looking skin tones in this example.
The Reno4 Pro 5G's fixed-focus lens also ensures stable focusing in all selfies. Detail is best at close range with subjects at around 30 cm from the camera, but the Oppo device doesn't hold on to quite as much fine detail as we've seen from the best selfie cameras. Back up a bit to shoot a group selfie and detail remains broadly acceptable on faces at the front of the group. The lens's depth of field is quite narrow, though, so expect to see less detail on subjects at the back.
The fixed focus and narrow depth of field also means detail on faces is noticeably lower at long range when using a selfie stick. If those tourist selfies showing a lot of the background are important, an autofocus front camera for greater depth of field makes sense for you. But for single selfies or tight group shots, the Reno4 Pro 5G will do just fine. Overall, the texture-to-noise balance could also be improved a little, too. Noise on faces is reasonably well controlled and becomes visible only under close scrutiny, but expect to see more signal inference in the background and especially in areas of flat color.
We also penalized the device for a few noticeable image artifacts. The most obvious in our perceptual analysis were fusion errors, distortion of faces towards the edges of the frame, and slight hue shifts on faces in some indoor images. Pixel peeping reveals some aliasing and moiré patterns, as well as lower sharpness towards the corners, but these issues are less detrimental overall. The Reno4 Pro 5G's simulated bokeh effect is a nice strength, with a pleasant depth of field effect ensuring a good end result. Slight edge artifacts are visible and both blur gradient and spotlight contrast could be improved, but for producing selfies with a bit more impact, bokeh mode is a useful addition to this Oppo device.
On the video side of things, pros and cons remain broadly in line with still image quality. Accurate and stable exposure on faces is again the main strength, with good results in most selfie videos. Highlight clipping is evident in very bright areas, but you can rest assured your face won't be blown out when you Skype on the Reno4 Pro 5G. Focusing instabilities aren't a problem with the fixed-focus lens either. Just make sure you're fairly close to the camera (around 30 cm) to ensure that detail holds up pretty well in both outdoor and indoor videos. Noise and undersaturated color are the main areas for improvement, but the device's neutral white balance means it avoids seriously off-color casts in videos.
Accurately exposed faces with stable focus and acceptable detail when you're fairly close to the camera are the Reno4 Pro 5G's main strengths for front camera video.
Conclusion
The Oppo Reno4 Pro 5G offers very high-resolution 32 MP selfies characterized by stable and consistent focus with fairly good detail if you keep your face close to the screen. It's fair to say it doesn't really trouble the best mid-range front cameras we've tested for overall image quality, though. If super selfies are a key driver in your smartphone requirements, similarly priced devices such as the Google Pixel 5 or ZenFone 7 Pro offer a step up for color, detail, and dynamic range. That said, the Reno4 Pro 5G nails the most important aspect of selfies with nicely exposed faces in most shots. Add to that fairly neutral white balance, a competent bokeh mode, along with acceptable overall video quality, and the Reno4 Pro 5G's front camera will keep the Oppo faithful happy.
Pros
Accurate and repeatable photo and video target exposure
Pleasant bokeh effect
Mainly neutral white balance in photos
Reliable and stable video focus
Generally good detail in videos
Cons
Some loss of detail in most photos
Visible noise in most photos and videos
Limited dynamic range in photos and videos
Ineffective video stabilization
Visible color fringing and quantization artifacts in videos