Announced in December 2020, the Oppo Reno5 Pro+ 5G is the top-end device in the Chinese manufacturer's Reno5 line, offering a slightly bigger display and a more powerful chipset than its Reno5 and Reno5 Pro cousins. It's powered by Qualcomm's previous-generation top-end Snapdragon 865 chipset, and features a 6.55-inch AMOLED display with 2400 x 1080 (FHD+) resolution and a 90 Hz refresh rate.
The Pro+ model also differs from the other Reno5 variants in the camera department, offering a more advanced camera array all around. The camera is built around a 50 MP primary camera with a stabilized f/1.8-aperture lens. There is also a 13 MP tele module and a 16 MP ultra-wide module. Lastly, it features a 2 MP macro camera for closeup shots. Video can be recorded at 4K resolution at a frame rate up to 60 fps.
Read on to find out how the Oppo Reno5 Pro+ camera stacks up against the competition.
Key camera specifications:
Primary: 50 MP Sony IMX766 sensor with f/1.8-aperture lens
Ultra-wide: 16 MP sensor with f/2.2-aperture lens
Tele: 13 MP sensor with f/2.4-aperture lens
Macro: 2 MP with f/2.4-aperture lens (not covered by our test protocol)
4K at 60/30 fps, 1080p at 240/60/30 fps, 720p at 480/60/30 fps
Color temperature sensor
Qualcomm Snapdragon 865 chipset
About DXOMARK Camera tests: For scoring and analysis in our smartphone camera reviews, DXOMARK engineers capture and evaluate over 3000 test images and more than 2.5 hours of video both in controlled lab environments and in natural indoor and outdoor scenes, using the camera's default settings. This article is designed to highlight the most important results of our testing. For more information about the DXOMARK Camera test protocol, click here. More details on how we score smartphone cameras are available here. Note that photos in this review are for illustration purposes only and were not part of actual testing.
Test summary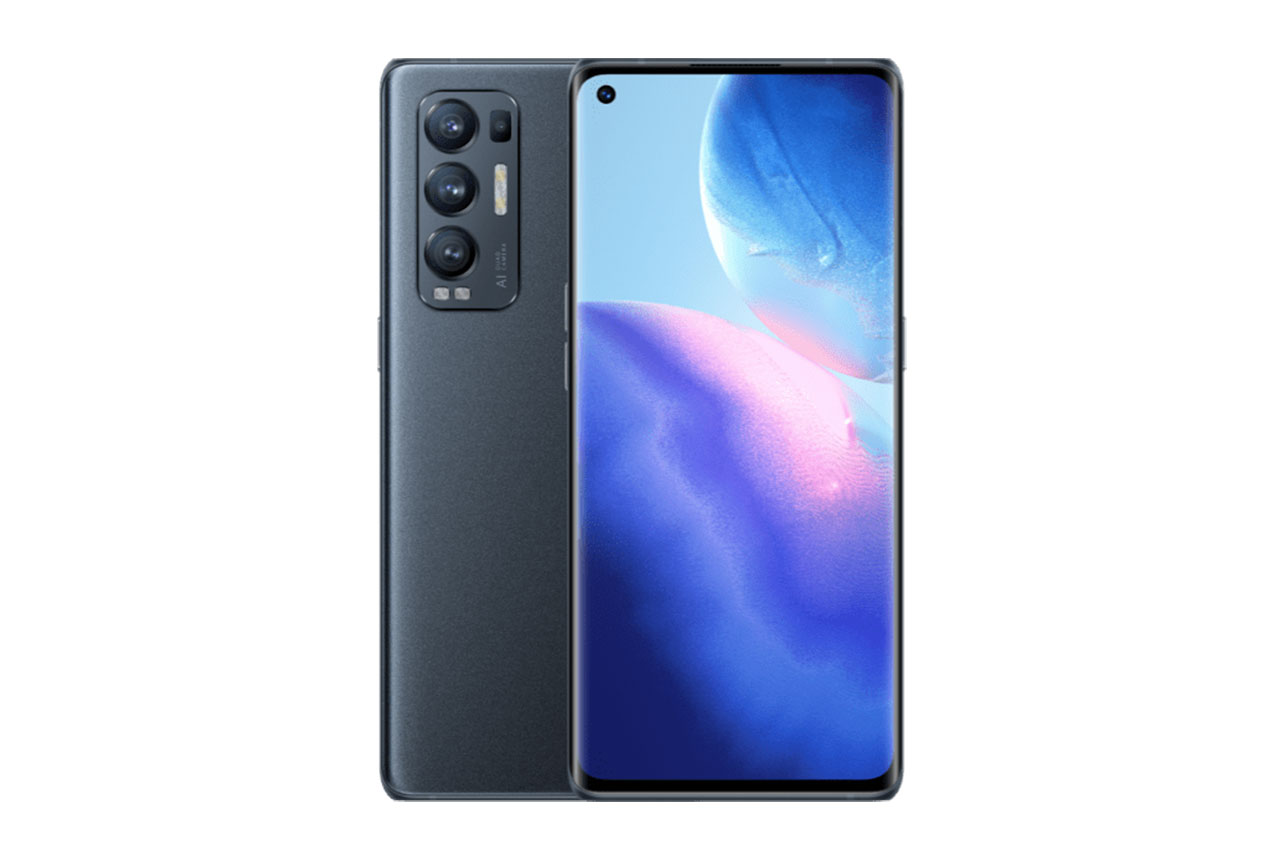 Oppo Reno5 Pro+ 5G
112
camera
With a DXOMARK Camera score of 112, the Oppo Reno5 Pro+ places itself in a lower midfield position in our ranking next to devices like the Samsung Galaxy Note20 (Snapdragon), the Huawei P40, and the Sony Xperia 1 II. The camera delivers a fairly balanced performance and both Photo and Video sub-scores put it in a similar performance bracket as the overall score.
The Oppo Reno5 Pro+ does generally well for exposure, with good target exposure as long as the light doesn't get too dim. On the downside, some tone compression can be visible in high-contrast scenes and our testers observed some exposure instabilities, too.
In terms of color, there is some work to do, with the device achieving a fairly low score in this category. This is due to often inaccurate white balance and color rendering when shooting under typical indoor conditions or in low light.
Artifacts is another area for improvement on the Reno5 Pro+, with several image artifacts visible. Hue shifts near clipped areas and ringing are the main issue, but our testers also observed some fusion artifacts, color quantization, and flare, among other artifacts.
Autofocus performance is decent and the Reno5 Pro+ sets the focus point reliably as long as you're not shooting in very low light. A wider depth of field than many competitors also helps keep subjects in the scene in focus and means backgrounds are rendered sharper.
Images captured with the Oppo generally show good detail and the phone scores high for texture. Unfortunately noise is quite intrusive and can be seen even in bright light conditions. It gets worse in lower light, and noise levels tend to be higher than for many direct competitors.
The Reno5 Pro+ isn't the ideal choice for night shots. Nightscapes are often underexposed compared to direct competitors, and auto-flash portraits such as the one below tend to show clipping and hue shifts on skin tones, in combination with strongly underexposed backgrounds.
Like pretty much all phones these days, the Reno5 Pro+ offers portrait mode that blurs the background in order to simulate the look of a DSLR and fast lens. With the Oppo version of this function, though, depth estimation errors around the foreground subject are often visible.
The Oppo's preview image on the display is reasonably close to the final capture, thanks to similar exposure in all conditions except low light. Dynamic range is more limited in preview, however, and bokeh mode results can differ quite a bit between capture and preview as well.
With a score of 63, Zoom is an area where the Reno5 Pro+ could improve. Despite the dedicated tele-camera, zoom performance is poor at all settings, with low levels of detail. The ultra-wide camera isn't among the best but achieves a solid mid-table position in our ranking. Still, noise levels are fairly high and detail could be better. Some textures can also be rendered slightly unnaturally and distortion can be observed.
A score of 102 lands the Oppo Reno5 Pro+ in the middle of the Video ranking. Video clips show good target exposure and dynamic range is fairly wide for video, capturing good highlight and shadow detail, although some clipping can still occur.
When recording in bright light, luminance noise is well controlled and the auto white balance system does a good job at producing natural colors, but color is often rendered inaccurately in low light. In addition, video artifacts such as hue shifts and ringing (among others) can be visible. The video stabilization system leaves some room for improvement as well. Camera shake is often noticeable, especially when walking while recording, and our testers also observed frame shifts and sharpness differences between frames.
Oppo Reno5 Pro+ 5G, outdoor video
Conclusion
The Oppo Reno5 Pro+ primary camera is capable of delivering good image quality in the right conditions, but starts to struggle when capturing more challenging scenes. For example, noise and color casts become more intrusive in low light than on many competitors, and backlit scenes show hue shifts and flare (among other artifacts).
Zoom and ultra-wide quality leave room for improvement as well, and with a lot of choices for consumers in the Oppo's price bracket, some direct competitors offer more in the photo department.
Pros
Good target exposure in bright light and indoors
Good detail in most conditions
Reliable focus in good light and indoors, wide depth of field
Wide dynamic range in videos
Low noise in bright-light videos
Cons
Noise in most conditions
Tone compression in HDR scenes
Inaccurate white balance and color rendering indoors and in low light
Underexposure and low detail in night shots
Noise and low levels of detail with ultra-wide camera
Ineffective video stabilization
In the Press