The Reno6 5G is the junior model in Oppo's Reno6 range, featuring a MediaTek Dimensity 900 chipset, 8GB RAM and 128GB of internal storage. Images can be viewed and composed using a 6.4-inch AMOLED display with FHD+ resolution.
The front camera couples a 32 MP sensor with a 23.55mm (equivalent) f/2.4 aperture lens that offers a 89° field-of-view. For video the Reno6 5G's front camera shoots either 1080p or 720p resolution at 30 frames per second.
Let's see how the Oppo Reno6 5G selfies performed in our DXOMARK Camera test.
Key front camera specifications:
Primary: 32 MP 1/28″ sensor with 0.8µm pixels
23.55mm, f/2.4-aperture, 5P lens
89° field-of-view
1080p/720p at 30fps video (1080p/30fps tested)
About DXOMARK Selfie tests: For scoring and analysis in our smartphone front camera reviews, DXOMARK engineers capture and evaluate over 1500 test images and more than 2 hours of video both in controlled lab environments and in natural indoor and outdoor scenes, using the camera's default settings. This article is designed to highlight the most important results of our testing. For more information about the DXOMARK Selfie test protocol, click here.
Test summary
Scoring
Sub-scores and attributes included in the calculations of the global score.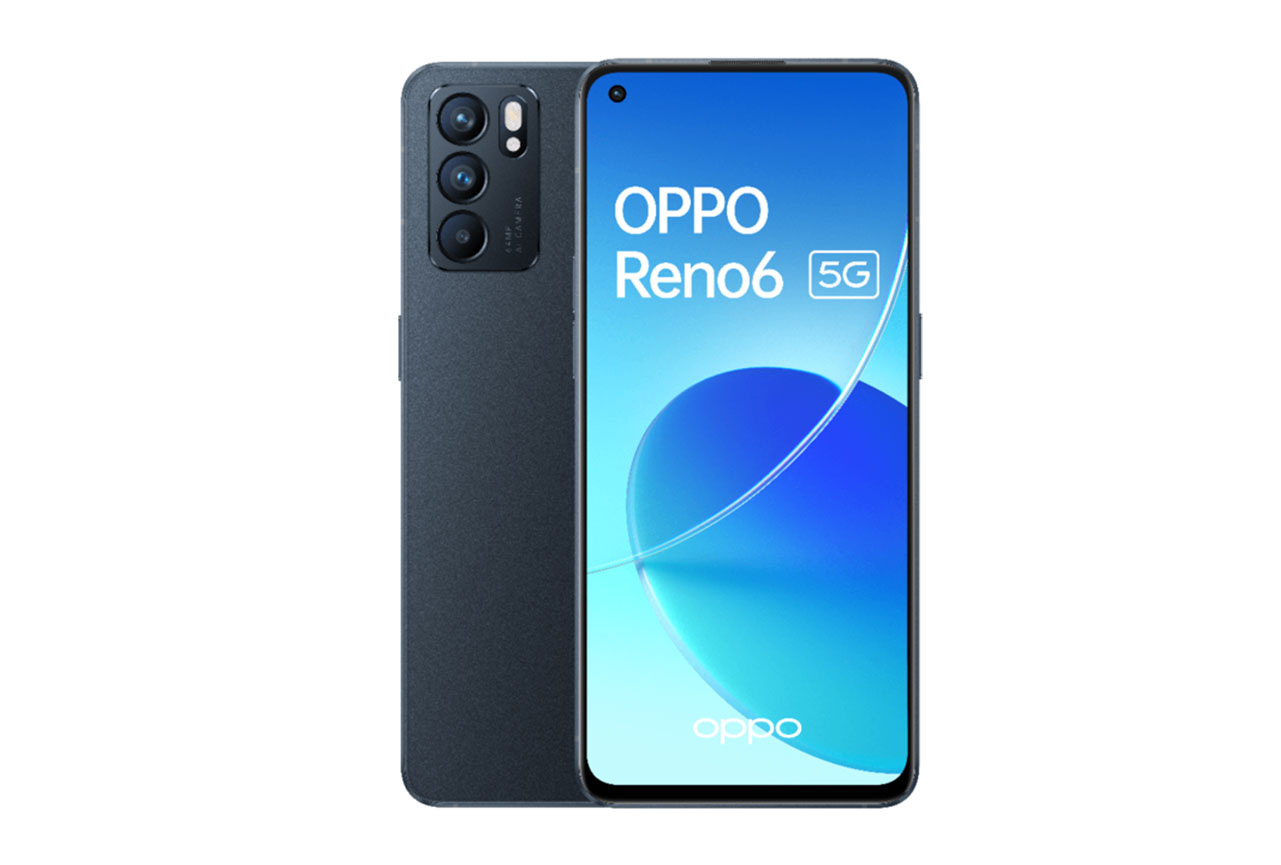 Oppo Reno6 5G
106
selfie
Please be aware that beyond this point, we have not modified the initial test results. While data and products remain fully comparable, you might encounter mentions and references to the previous scores.
Position in Global Ranking
64
th
1. Apple iPhone 14 Pro Max
145
12. Samsung Galaxy S20 Ultra 5G (Exynos)
137
14. Samsung Galaxy Note20 Ultra 5G (Exynos)
136
16. Samsung Galaxy S22 Ultra (Exynos)
135
16. Samsung Galaxy S21 Ultra 5G (Exynos)
135
16. Samsung Galaxy Note20 (Exynos)
135
19. Apple iPhone 13 Pro Max
134
19. Samsung Galaxy Note 10+ 5G (Exynos)
134
24. Samsung Galaxy S21 Ultra 5G (Snapdragon)
133
25. Apple iPhone 12 Pro Max
132
25. Samsung Galaxy S21 5G (Exynos)
132
31. Samsung Galaxy S10 5G (Exynos)
130
31. Samsung Galaxy Note20 Ultra 5G (Snapdragon)
130
33. Samsung Galaxy S10+ (Exynos)
129
35. Samsung Galaxy S21 FE 5G (Snapdragon)
127
42. Apple iPhone 11 Pro Max
122
42. Honor Magic4 Ultimate
122
46. Vivo X60 Pro 5G (Snapdragon)
119
55. Huawei Mate 30 Pro 5G
112
58. Samsung Galaxy Z Flip
111
59. Apple iPhone SE (2020)
110
69. Xiaomi Mi CC9 Pro Premium Edition
100
82. Samsung Galaxy Z Fold3 5G
83
Position in High-End Ranking
11
th
Pros
Well controlled noise in indoor and low light photos
Accurate target exposure in most conditions
Good detail on faces at close range
Well controlled noise in outdoor videos
Generally accurate white balance in videos
Cons
Limited dynamic range in most photos and videos
Generally low image quality at selfie-stick distance (120cm)
Anamorphosis on group selfie photos
Ineffective video stabilization
Video exposure and white balance instabilities on moving subjects
Strong noise in low light videos
With a DXOMARK Camera selfie score of 80, the Oppo Reno6 5G drops in to the 2nd half of devices in the High-End segment ($400-$599), just a little behind the Xiaomi Mi 10T Pro 5G on 88 but someway off the pace compared to Apple's iPhone 13 mini on 99.
The Oppo Reno6 5G controls noise well and holds on to a good level of detail in most tested conditions. Target exposures on the face are also accurate in many shots in most conditions, as well as when using flash.
There remains some room for improvement for exposure however, with limited dynamic range capabilities often leading to slight highlight clipping. Color saturation can also be low in bright outdoor scenes. You can see in the comparison below Apple's iPhone 13 Mini records greater dynamic range and better color for a more punchy selfie.
For focus, the fixed-focus lens ensures good detail on faces in the 30cm to 55cm range, but limited depth-of-field means faces positioned further from the lens are out of focus, with low detail, limited dynamic range and inaccurate target exposure. Some anamorphosis, or distortion, of faces towards the edges of the frame, is also visible in group selfies.
When successfully activated, the Reno6 5G's bokeh simulation effect is fairly pleasant overall, with only slight depth estimation artifacts visible around the subject. The device suffers from repeatability issues with this feature, however, with the effect not consistently applied across consecutive shots.
Limited dynamic range is an issue shooting front camera video, with both exposure and white balance instabilities problematic when walking. Static videos are more stable in this regard, but the Reno6 5G's video stabilization is ineffective on both static and walking captures, so expect to see some residual motion in most results. Like with stills, video detail is pretty good on faces close to the camera, and although noise is well-controlled in outdoor videos there's a noticeable build up of luminance when recording in low light.
Oppo Reno6 5G, good detail with accurate white balance but dynamic range is limited and stabilization ineffective
Oppo Reno6 Pro 5G, similar exposure, white balance and stabilization to the Reno6 5G, but with slightly improved detail rendering
Xiaomi Mi 10T Pro, wide dynamic range with a high level of detail, accurate white balance and effective stabilization