The Reno6 5G is the junior model in Oppo's Reno6 range, featuring a MediaTek Dimensity 900 chipset, 8GB RAM and 128GB of internal storage. Images can be viewed and composed using a 6.4-inch AMOLED display with FHD+ resolution.
The rear camera combines a 64 MP primary module with an 8 MP ultra-wide and a 2 MP macro lens. In video mode you can record 4K footage at 30 fps or Full-HD at up to 60 fps. Let's see how the Oppo Reno6 5G performed in our DXOMARK Camera test.
Key camera specifications:
Primary: 64 MP sensor, f/1.7-aperture lens, AF
Ultra-wide: 8 MP sensor, f/2.2-aperture lens with 120° field-of-view, fixed focus
Macro: 2 MP sensor, f/2.4-aperture lens, fixed focus
LED flash
Video: 4K at 30 fps, 1080p at 30/60 fps
About DXOMARK Camera tests: For scoring and analysis in our smartphone camera reviews, DXOMARK engineers capture and evaluate over 3000 test images and more than 2.5 hours of video both in controlled lab environments and in natural indoor and outdoor scenes, using the camera's default settings. This article is designed to highlight the most important results of our testing. For more information about the DXOMARK Camera test protocol, click here. More details on how we score smartphone cameras are available here.
Test summary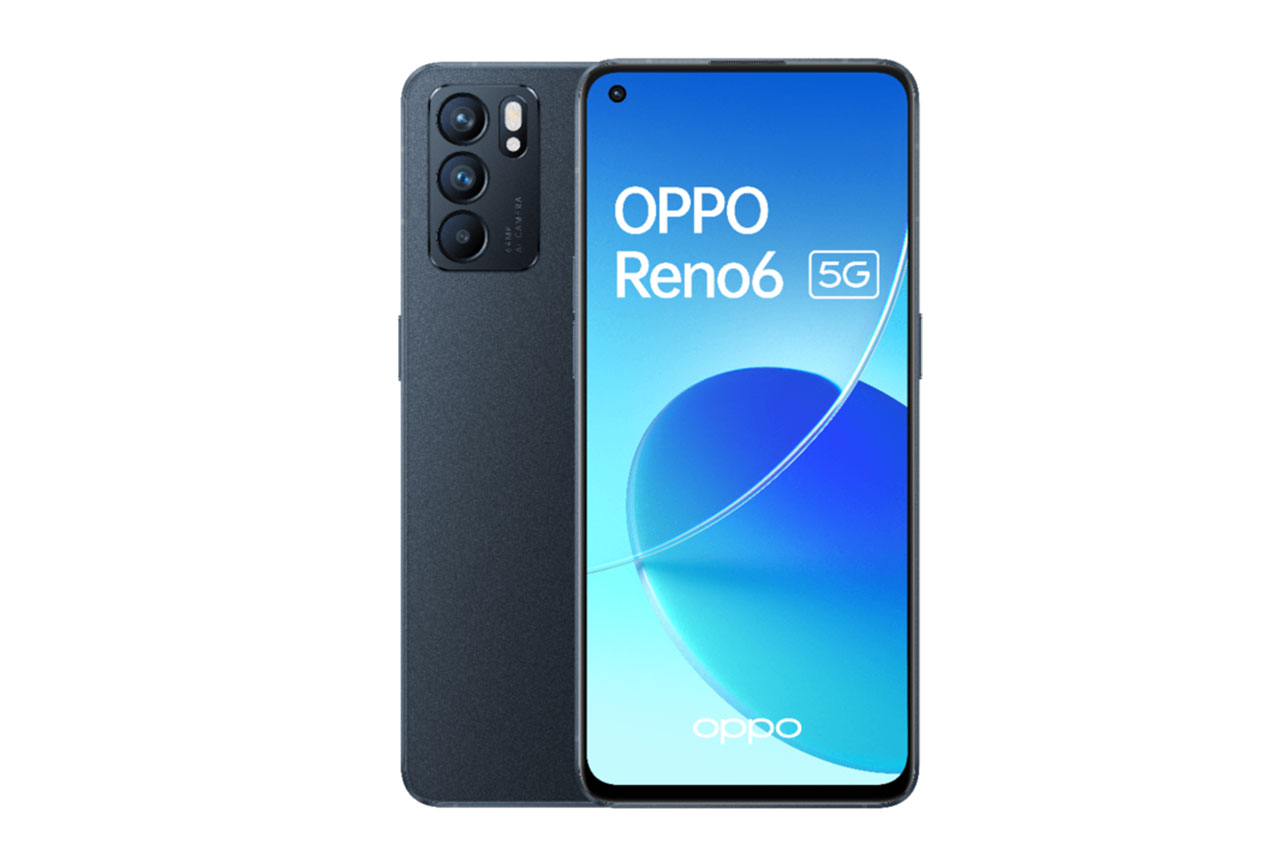 Oppo Reno6 5G
107
camera
[Smartphone not found]
Cons
Tone compression in high-contrast scenes
Desaturated color in photo and video
Low detail and occasional local loss of texture
Shadow noise
Color fringing on ultra-wide camera
Noise and loss of fine detail when tele-zooming
Noise and low detail in indoor and low light video
Exposure instabilities in video
Strong sharpness differences between video frames
A DXOMARK Camera score of 107 makes the Oppo Reno6 5G a decent option in the High-End segment ($400-$599) but better alternatives are available. Scores are also lower than on the Pro model in the same series for most categories.
When capturing still images the camera usually produces good exposures as long as you don't shoot in very low light, but exposure is unstable across consecutive shots and tone compression is visible in shots of high-contrast scenes. Colors look often desaturated and color rendering can be slightly inaccurate but on the plus side, the autofocus usually works reliably in all conditions.
In terms of texture and noise, there is some room for improvement, with the level of detail generally low and noise visible in most conditions, especially in the shadow areas of the frame. Our testers also spotted some fusion and ghosting artifacts. Some depth artifacts around the foreground subject are visible when shooting in bokeh simulation mode but overall the bokeh effect is pleasant with a fairly strong blur.
When shooting with the ultra-wide camera, image quality and performance are quite similar to the more expensive Reno6 Pro. At 16mm equivalent, the field of view is a little less wide than on the best in class and some image artifacts have a negative impact on image quality. The camera scores pretty low for tele, which is mainly due to the lack of a dedicated tele camera. Detail is low and noise is quite noticeable.
When recording video compared to the competition, exposure can be a little dark, and our testers also observed some exposure instabilities, especially when shooting in bright or low light. Like for stills, color is often desaturated, detail is fairly low, and noise is noticeable. White balance can be a little unstable, too. Video artifacts include judder effect, ringing, and aliasing, but the autofocus is accurate and stabilization is mostly effective, despite some sharpness differences between frames.
Good exposure but strong sharpness differences between frames, clipping and noise, as well as exposure and white balance instabilities