The Panasonic Lumix DC-S1R is the company's high-resolution version of the Lumix DC-S1 full-frame mirrorless camera. It uses the L-mount originally developed by Leica and supports Leica lenses as well as lenses from Sigma and Panasonic.
The S1R features an in-body, 5-axis, stabilized 47.3MP CMOS sensor that works in conjunction with the company's optically-stabilized lenses to provide up to 6 stops of correction. The stabilized sensor also offers multi-shot "high-res" capability for boosting resolution and for capturing 187MP images. In addition, Panasonic has paired the sensor with a new VENUS processor that enables an ISO range from 100 to 25,600 (plus expansion from ISO 50 to 51,200), and allows bursts at up to 9 fps.
Other features include a weather-resistant magnesium alloy body and higher-than-usual (1/320-sec) flash synchronization. It also has an ultra-high-res (5.76-million dot) OLED-type EVF and a 3.2-inch articulating touchscreen monitor. The S1R can capture footage at up to 4K (UHD) 60p, and features two media card slots—one for XQD and a second that records to SD UHS-II.
Key specifications:
47MP full-frame CMOS sensor
5-axis in-body Dual IS system for stills and video
Native ISO 100–25,600, with expansion to ISO 50–51,200
Up to 9 fps shooting in AFS, up to 6 fps with continuous AF
UHD 4K (UHD)/60p video
One XQD slot and one SD card slot (with UHS-II support)
Overall performance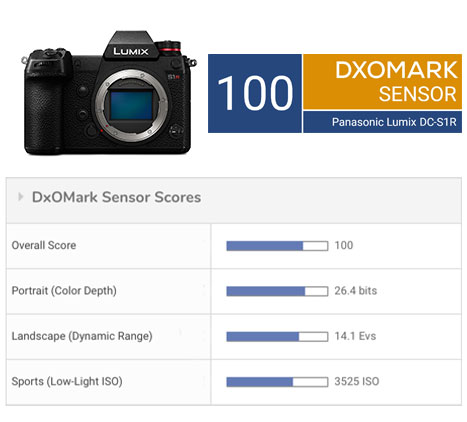 The S1R's full-frame CMOS sensor achieves an exceptional overall DxOMark score of 100, which is one the best results we've seen among all the sensors in our database.
Its key strength is its (Portrait) color depth: at 26.4 bits at base, it is the joint second-best result for a full-frame sensor. For that sub-score, it is even very slightly ahead of the highest-ranked sensor (the Hasselblad X1D-50c).
At 14.1EV, the S1R's (Landscape) dynamic range score is also very good, though it is lower than some rivals in this class, which are in the 14.7–8EV range at their maximum. Even with a high pixel count, the S1R's excellent color depth and very good dynamic range (particularly at high ISOs) bring up its Sports (low-light ISO) score to ISO 3525.
Combine that high pixel count with excellent color sensitivity, a low noise floor, and a very good dynamic range, particularly at low ISOs, and the Panasonic Lumix DC-S1R looks to be a very tempting proposition for a number of genres such as studio, architecture, and landscape work, as well as for portraiture.
Image quality compared
Panasonic has selected a new 47.3MP full-frame CMOS sensor for its high-end model, eschewing the existing 42.4 Sony and 45.7MP Nikon sensors adopted by rivals for their high-resolution cameras. Our testing shows that while the overall performance is at a similar level (there's a difference of just one DxOMark point among them), their responses at various ISOs show some subtle differences.
As the table below shows, the 47.3MP Panasonic S1R sensor is very close in color depth performance at base ISO to the Nikon Z 7 and D850, and even outperforms the larger sensors in the Pentax 645Z and the Hasselblad X1D-50c. (This said, the two medium-format cameras and the two full-frame Nikon cameras—which share similar 45.7MP CMOS sensors—and the 42.4MP Sony all have a slightly wider dynamic range at base.)
Low-light ISO is one area in which the 47MP Panasonic S1R outperforms the two Nikons and even returns a measurement identical to that of the Sony, despite the former's higher pixel density. Even so, the S1R can't quite match the dynamic range and low noise levels of the larger pixels of the two cropped digital medium-format sensors.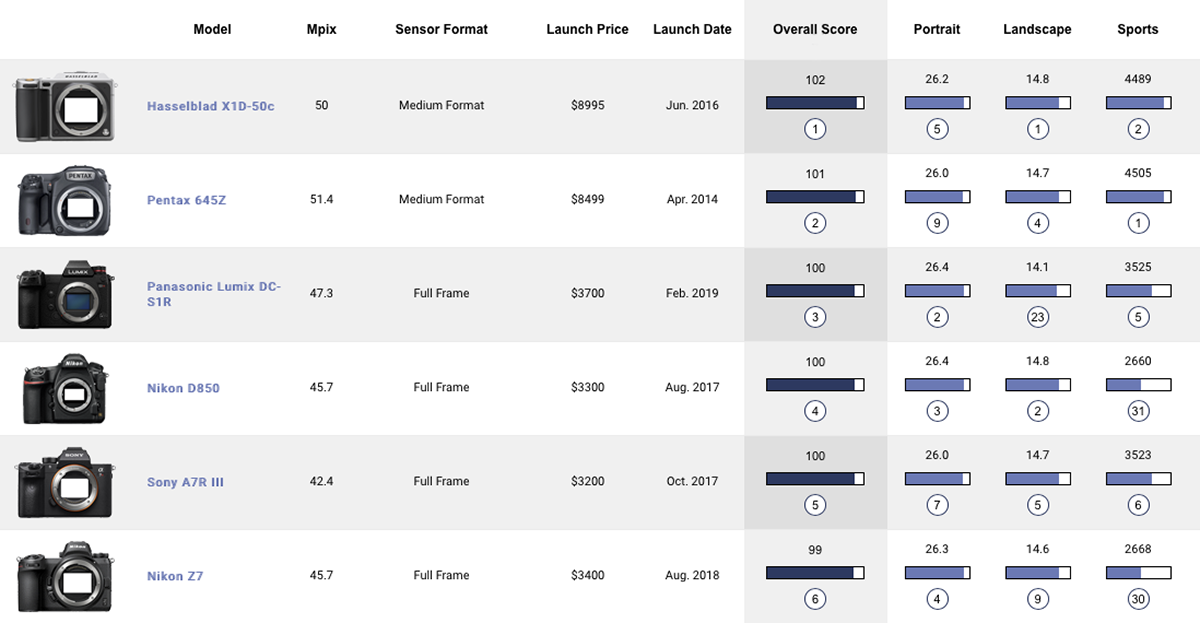 Click here to open our interactive DxOMark image sensor ranking tool.
In-depth comparisons
For a more detailed examination of sensor performance, we'll compare the Panasonic DC-S1R to the Sony A7R III as well as to the Nikon Z 7, its closest full-frame mirrorless rivals.
Portrait (color depth)
Across much of the ISO range, the Panasonic S1R outperforms both the Nikon Z 7 and the Sony A7R III in color sensitivity, starting at a high maximum of 26.4 bits at a base of ISO 100, falling to around 15 bits at ISO 25,600.
Some noise reduction in the shadow areas in RAW files is evident at low ISOs (between ISO 100 and 200). We've accounted for this in our measurements (shown as "smoothed" on our graphs), but even at higher ISOs, neither the Sony nor the Nikon can really match it, except briefly at around ISO 800 and above ISO 25,600. Above that, all three drop below our 14-bit threshold for acceptable image quality.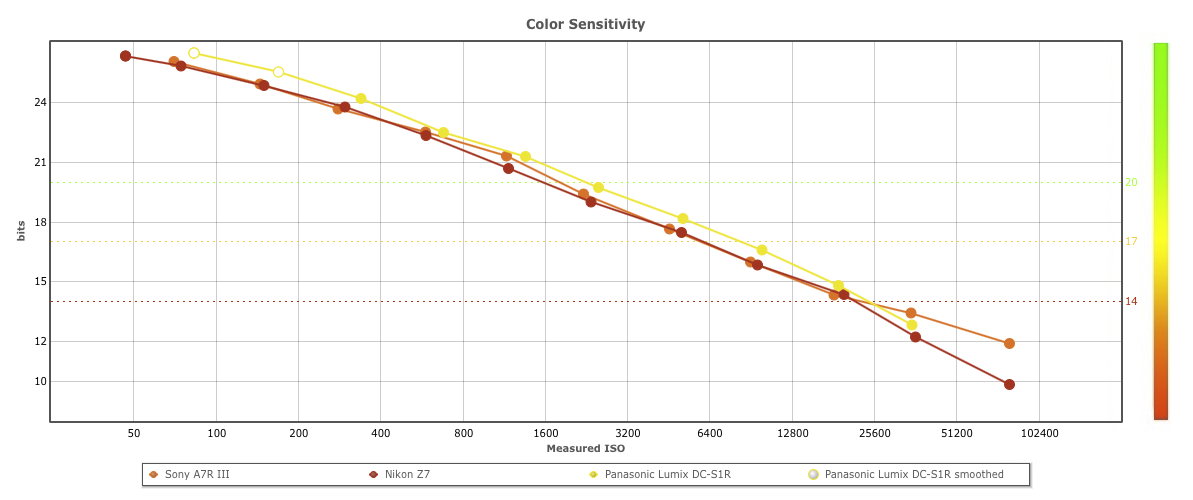 Overall, this an exceptional result and is notable not only for the color accuracy of its RGB Bayer-type filter array, but also in terms of lowering noise and improving sensitivity.
Landscape (dynamic range)
With such impressive color sensitivity, you might expect class-leading dynamic range. With a wide range of 14 stops at base (ISO 100) and a still-impressive 13 stops at ISO 200 (matching the Nikon Z 7 at those two settings), the SR1's range is indeed very good. But if you look closely, the Nikon Z 7's low base of ISO 64 has a marginally wider dynamic range of 14.6 stops (EV), and the Panasonic never quite matches the range of the Sony A7R III, remaining around 1 stop (1 EV) lower throughout the ISO range.
The Nikon also outperforms the S1R over the useful ISO 400 to 800 range. After that, the S1R sensor's dynamic range is marginally narrower than the Nikon's.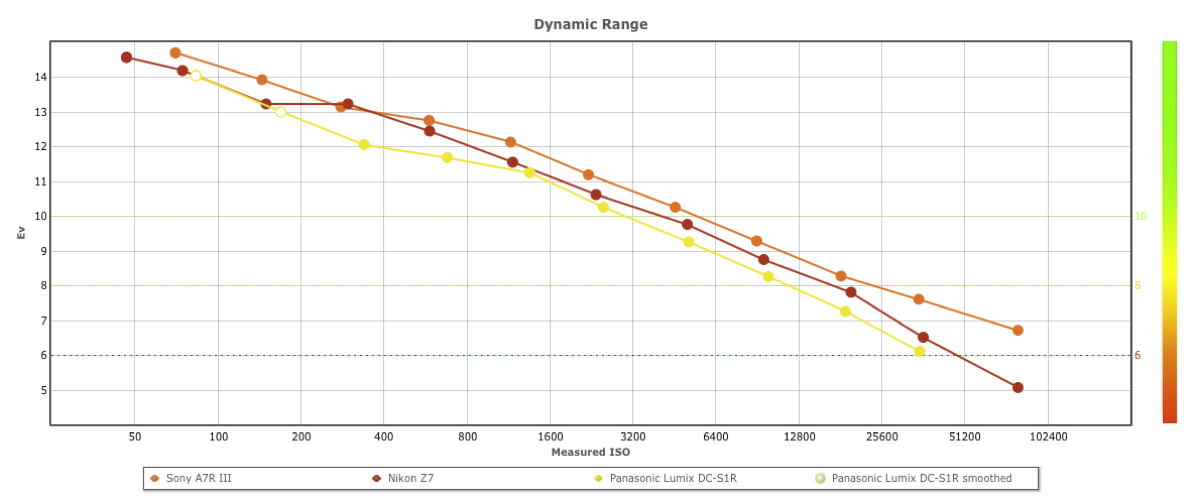 Although a wide dynamic range is useful at base ISO when attempting to capture a wide range of tones in a single RAW file, it is no less useful at higher ISOs. To its credit, the S1R sensor's maximum expanded sensitivity of ISO 51,200 falls just short of our 6-stop (EV) quality threshold, though it is still marginally behind the Nikon and the best-in-class Sony.
Sports (low-light ISO)
After taking into account the noise reduction of RAW files at ISO 100 and ISO 200, the S1R's noise levels are practically identical to the Sony throughout the majority of the ISO sensitivity range. The exception is at the uppermost ISO sensitivity settings, where the Sony just dips below our quality marker of 20dB at 102,400 ISO. The Nikon, on the other hand, has the lowest measured noise at base, due in part to its low ISO 64 setting, but it's not until 25,600 ISO that it matches the S1R. Noise levels are so close, though, that it's unlikely you would notice any difference among the three. However, the combination of low noise and wide dynamic range that we use to measure our Sports (low-light ISO) score—which partly accounts for the S1R's high score—may prove to be an advantage when brightening shadows in RAW files post-capture.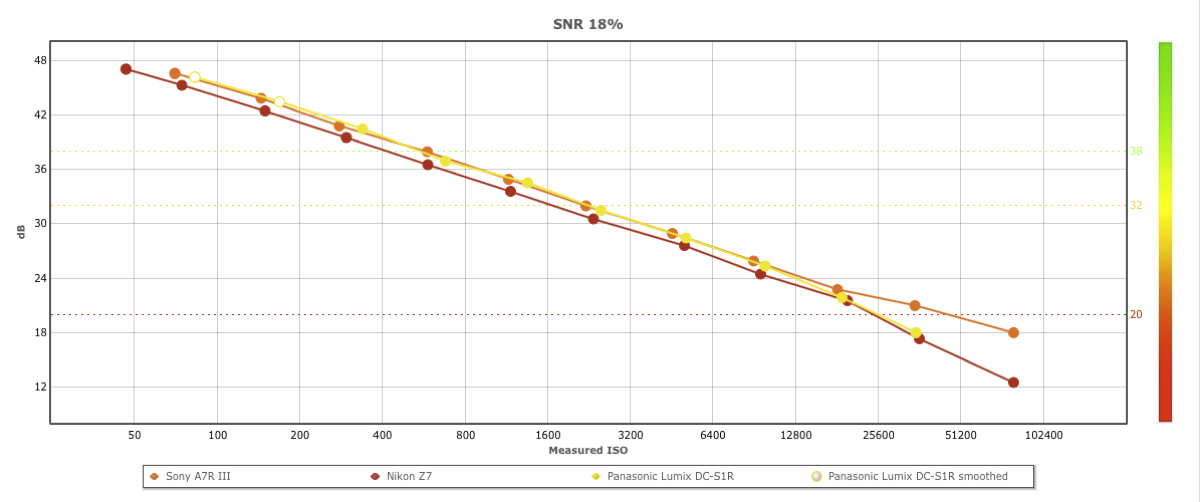 Conclusion
Panasonic has chosen a new high-resolution 47.3MP CMOS sensor for the Lumix DC-S1R—one that challenges the class-leading sensors in the Sony A7R III and the Nikon Z 7. Intriguingly, it combines attributes of both of its rivals (with some nuances) and achieves near-identical performance results overall.
With its combination of high pixel count, low noise, and exceptional color sensitivity, the Lumix DC-S1R is likely to appeal to the most demanding studio photographers. And when conditions require it, its excellent dynamic range means the S1R should be a viable candidate for interior, wedding, and landscape photographers. Finally, its competitive price will also strongly appeal to keen amateurs who are looking for a solid all-rounder.
In this review, we have compared the Panasonic Lumix DC-S1R to its most relevant rivals from other brands. As usual, you can create your own comparisons and in-depth analyses using our interactive image sensor ranking tool.
In the Press