The Samsung Galaxy A22 5G is a smartphone aimed at budget-minded users and competes against other devices in the Advanced segment ($200 to 399). General specs include an octa-core processor, a 6.6-inch TFT display with FHD+ resolution, 64 GB of internal memory, and a large 5000 mAh battery.
The rear camera comprises a primary module with a 48 MP sensor, a 5 MP ultra-wide, and a depth sensor. Let's see how this combo does in the DXOMARK Camera tests.
Key camera specifications:
Primary: 48 MP sensor, f/1.8-aperture lens, AF
Ultra-wide: 5 MP sensor, f/2.2-aperture lens
Depth: 2 MP sensor, f/2.4-aperture lens
LED flash
Video: 2048 x 1152/30 fps, 720p/120 fps
About DXOMARK Camera tests: For scoring and analysis in our smartphone camera reviews, DXOMARK engineers capture and evaluate over 3000 test images and more than 2.5 hours of video both in controlled lab environments and in natural indoor and outdoor scenes, using the camera's default settings. This article is designed to highlight the most important results of our testing. For more information about the DXOMARK Camera test protocol, click here. More details on how we score smartphone cameras are available here.
Test summary
Scoring
Sub-scores and attributes included in the calculations of the global score.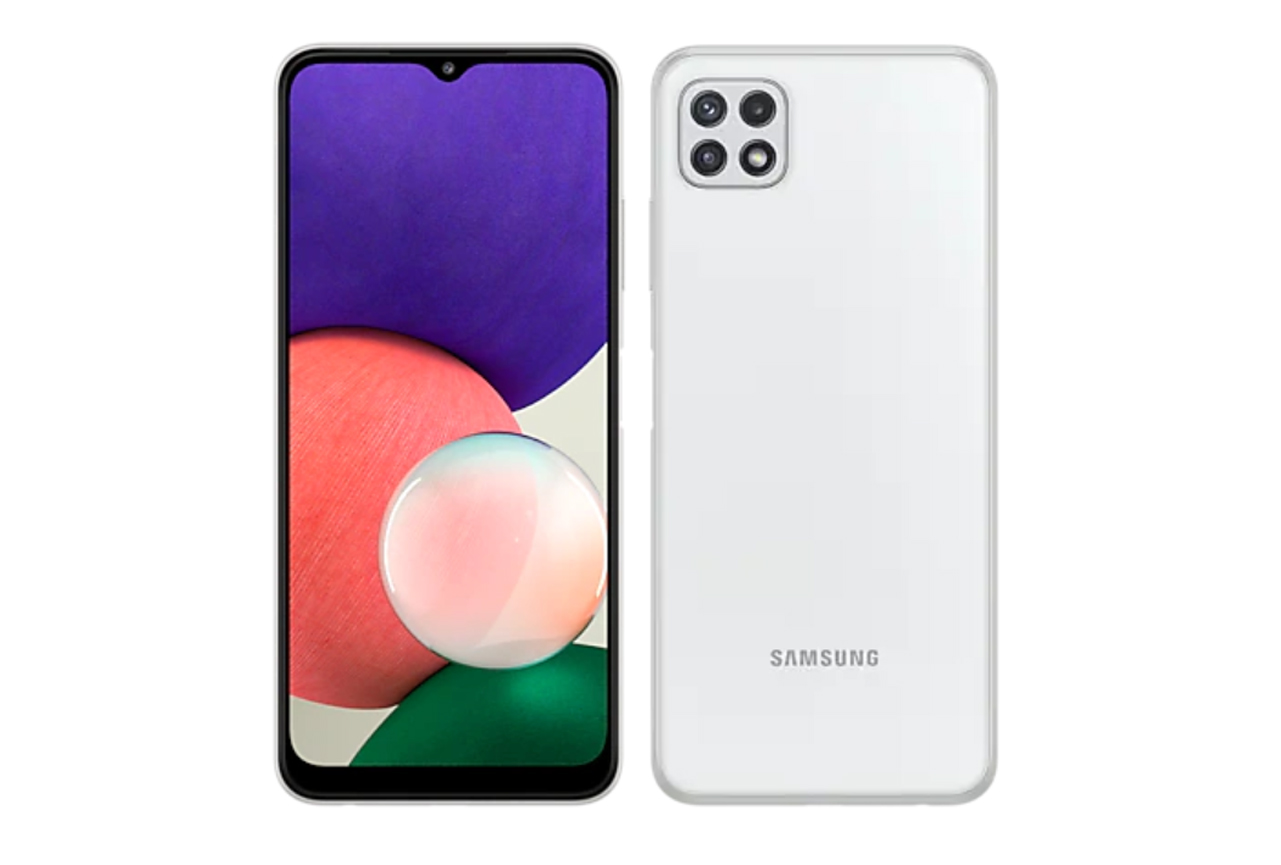 Samsung Galaxy A22 5G
48
camera
Use cases & Conditions
Use case scores indicate the product performance in specific situations. They are not included in the overall score calculations.
Outdoor
Photos & videos shot in bright light conditions (≥1000 lux)
Indoor
Photos & videos shot in good lighting conditions (≥100lux)
Lowlight
Photos & videos shot in low lighting conditions (<100 lux)
Friends & Family
Portrait and group photo & videos
Please be aware that beyond this point, we have not modified the initial test results. While data and products remain fully comparable, you might encounter mentions and references to the previous scores.
Position in Global Ranking
104
th
4. Apple iPhone 14 Pro Max
146
7. Apple iPhone 13 Pro Max
141
13. Samsung Galaxy S22 Ultra (Snapdragon)
135
18. Apple iPhone 12 Pro Max
131
18. Samsung Galaxy S22 Ultra (Exynos)
131
26. Asus Smartphone for Snapdragon Insiders
127
28. Vivo X70 Pro (MediaTek)
126
32. Samsung Galaxy S22+ (Exynos)
125
36. Samsung Galaxy Z Fold4
124
38. Apple iPhone 11 Pro Max
122
42. Samsung Galaxy Z Fold3 5G
120
42. Samsung Galaxy S22 (Exynos)
120
45. Samsung Galaxy S21 Ultra 5G (Snapdragon)
117
45. Samsung Galaxy S21 FE 5G (Snapdragon)
117
45. Samsung Galaxy S21 5G (Snapdragon)
117
50. Vivo X60 Pro 5G (Snapdragon)
116
53. Samsung Galaxy S21+ 5G (Snapdragon)
115
53. Samsung Galaxy S21 Ultra 5G (Exynos)
115
62. Samsung Galaxy Z Flip4
112
64. Samsung Galaxy Z Flip3 5G
111
64. Samsung Galaxy S21+ 5G (Exynos)
111
64. Samsung Galaxy S21 5G (Exynos)
111
68. Vivo X60 Pro 5G (Exynos)
108
74. Apple iPhone SE (2022)
100
83. Samsung Galaxy A52s 5G
88
83. Samsung Galaxy A52 5G
88
85. Samsung Galaxy A33 5G
85
88. Samsung Galaxy A53 5G
79
89. Xiaomi Redmi Note 11 Pro 5G
78
91. Samsung Galaxy A23 5G
70
94. Xiaomi Redmi Note 11S 5G
65
102. Xiaomi Redmi 10 2022
51
104. Samsung Galaxy A22 5G
48
Position in Advanced Ranking
16
th
7. Xiaomi Redmi Note 11 Pro 5G
78
11. Xiaomi Redmi Note 11S 5G
65
16. Samsung Galaxy A22 5G
48
Pros
Acceptable target exposure and mostly accurate focus outdoors
Fairly good detail outdoors, especially on portraits
Well-controlled noise in low light
Accurate white balance in video
Low noise in outdoor and indoor videos
Cons
Strong exposure instabilities in photos and videos
White balance casts and color instabilities in photos
Shutter delay in all conditions, focus failures in low light
Strong video autofocus instabilities
Limited dynamic range in videos
Low levels of detail in videos
With a DXOMARK Camera overall score of 89, the Samsung Galaxy A22 5G is located in the bottom half of the advanced segment and is hard to recommend to photo-centric users. The device earns itself a Photo score of 99 for its still image quality. Target exposure is good as long as there's not too much contrast in the scene, but our testers observed very noticeable exposure instabilities across consecutive shots and quite intrusive highlight clipping in more challenging scenes.
The Samsung also has some room for improvement in terms of color. White balance and color rendering are often inaccurate, especially in low light, and white balance is also unstable across a series of shots. The autofocus system is mostly accurate in bright light and under indoor shooting conditions, but there is noticeable shutter lag in all conditions and overall focus is less accurate and repeatable than for many competitors in the segment.
On the upside, the Samsung manages the texture/noise compromise pretty well. Texture is decent in most shooting conditions, with fairly well-preserved detail in outdoor portrait scenes. At the same time, noise is mostly well under control even in low light, which is unusual in this segment. You'd have to live with some image artifacts such as ghosting, aliasing, and ringing, though.
Zooming in general is not one of the Samsung's strengths, and users who zoom in or out a lot will find better options in this price bracket. The level of detail is generally low on the ultra-wide camera, and when using the tele-zoom, the loss of detail is akin to an oil painting effect.
The video score of 75 puts the A22 5G in the bottom half of this ranking, too. Although the Samsung can record video at a slightly higher 2048 x 1152 resolution, image stabilization is not available at this setting, so we recorded test samples at 1080p resolution to maximize overall video quality. While white balance is generally accurate, pictures sometimes lack saturation. Dynamic range is limited, resulting in highlight and shadow clipping, and exposure is often unstable when recording. The same is true for the autofocus. Unlike still images, detail is low in videos, but noise is well under control as long as you record in bright light or indoors. Stabilization could be better. Residual motion and sharpness differences between frames are often visible.
Strong autofocus instabilities are visible in A22 video clips.