Samsung's Galaxy A71 5G sits at the top of the mid-range A series. The U.S. version of the device, which we have tested on this occasion, is equipped with a Qualcomm Snapdragon 765G chipset backed up by 6 or 8 GB of RAM and 128 GB of storage (and an expansion slot if you don't have a second SIM installed). It's the biggest of the A line, sporting a 6.7-inch Super AMOLED Plus display covered with Gorilla glass. And of course it packs the titular 5G radio for fast data where supported.
There are four cameras on the back, with three for direct imaging. The main wide module has a 64 MP 1/1.72-inch sensor (binning down to 16 MP by default, though you can save full-resolution files if you prefer) behind a 26 mm-equivalent f/1.8 lens that has phase detect AF but no optical stabilization (a concession to mid-range pricing, presumably). There's also an ultra-wide module with a 12 MP sensor and an f/2.2 lens with a 123-degree field of view. Finally, there's a dedicated macro module for getting really close to subjects, with a 5 MP sensor and f/2.4 lens, and another 5 MP module that's used for building depth maps of scenes. Notably absent is a tele-module: Samsung crops from the 64 MP main sensor when you want to zoom in.
The A71 5G shoots 4K video at 30 fps and 1080p at up to 960 fps for slowing things down. Read on to find out how this more affordable Samsung phone fares in our tests.
Key camera specifications:
Quad camera
Standard-wide: 64 MP 1/1.72-inch sensor with 0.8µm pixels and 26 mm-equivalent f/1.8 PDAF lens
Ultra-wide: 12 MP sensor with f/2.2 aperture lens
Macro: 5 MP sensor f/2.4 lens
LED flash
4K/30 fps, 1080p/30, 240, 480 fps, gyro-EIS (tested at 4K/30fps)
About DXOMARK Camera tests: For scoring and analysis in our smartphone camera reviews, DXOMARK engineers capture and evaluate over 3000 test images and more than 2.5 hours of video both in controlled lab environments and in natural indoor and outdoor scenes, using the camera's default settings. This article is designed to highlight the most important results of our testing. For more information about the DXOMARK Camera test protocol, click here. More details on how we score smartphone cameras are available here.
Test summary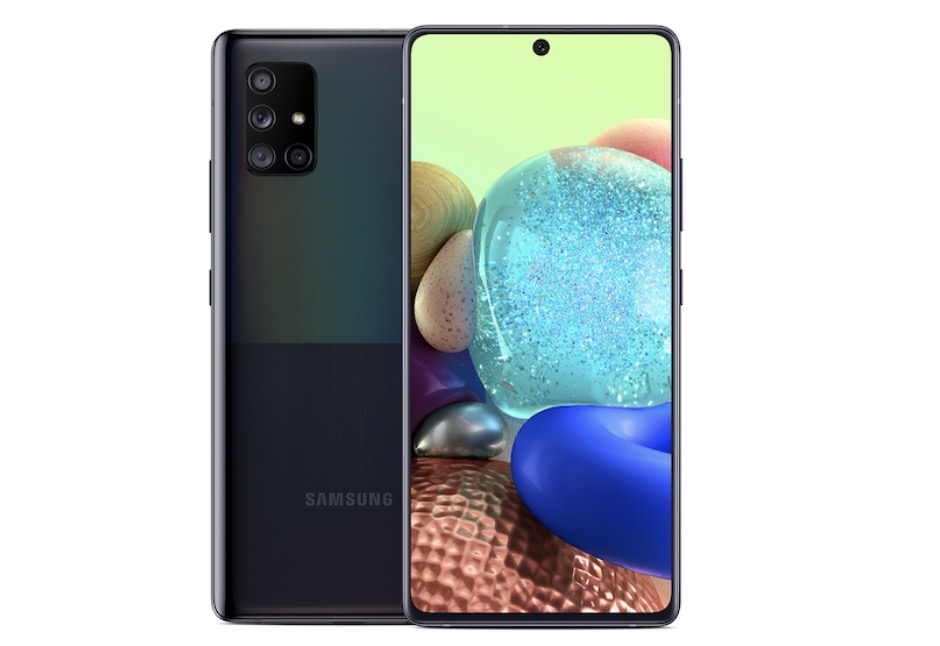 Samsung Galaxy A71 5G
88
camera
With an overall Camera score of 88, the Samsung Galaxy A71 5G (Snapdragon) lands fairly far down in our database: it's one of the lowest scores we've recorded using our new v4 test protocol, though we've been mostly focused on higher-end devices so far. The Photo score is 90, the product of middling scores in most areas plus a few disappointing categories.
The Zoom sub-score is 34, thanks to a capable ultra-wide module but low tele performance because of the lack of a dedicated longer focal length camera.
A Video sub-score of 87 is held down by unusual missteps in areas that many phones get right, such as autofocus performance.
The A71 5G delivers accurate exposures indoors and out. Light levels have to get quite low before underexposure becomes a problem. Dynamic range is fairly limited, though.
Color is vivid but sometimes oversaturated, especially in blue skies, but white balance tends to be accurate indoors. Detail levels are lower than for some of the A71 5G's competitors, and noise is also higher than expected, being visible in bright light and becoming intrusive at lower light levels. Preview performance is unimpressive, with significant differences noted between the previewed image and the final output.
Autofocus is consistent in terms of accuracy, but it's not as fast as the best of the competition, and timings under the same conditions show some variation. Our testers also noticed some image softness towards the edges of the frame: this was the main penalty against the phone's artifact score, though ringing, color quantization, and hue shift also make appearances and contribute to the low score in this test category.
The A71 5G stumbles when the lights get low. Noise is quite high and detail is low in moderately bright indoor conditions, and the image degrades more in dimmer situations. At night, underexposure is a problem. The flash can illuminate nearby subjects, but expect that "floating in space" look if the background is dark.
The A71 5G's ultra-wide performance is quite good. A genuinely wide field of view squeezes a lot into the frame, and exposure is accurate, though a blue cast tends to show up when shooting outdoors. Zooming in, however, is not this phone's forte. Image quality is unimpressive at close zoom ranges, with decreased detail and increased noise, and things go downhill from there, with detail dropping significantly as you zoom in. Digital zooming as implemented here, even when starting from the 64 MP native resolution, can't compete with dedicated tele-cameras.
Despite the depth-sensing camera, the A71 5G does not turn in a particularly strong performance in its portrait mode. Image quality is reasonably good, approximating camera output in normal shooting, but edge detection glitches are frequent, so the blur effect is not very convincing.
The A71 5G's video performance is generally acceptable but leaves room for improvement. Target exposure is usually accurate and dynamic range is fairly wide, so highlights don't blow out as often as they do when shooting stills. Noise is well controlled, even in low light, and detail levels are high in bright light, although they taper off fairly steeply when the lights go down. White balance is generally accurate.
On the downside, the A71 5G often fails to focus properly in video mode, especially when shooting in moderate to low light levels. The stabilization system introduces a lot of residual motion, especially when walking while recording. The artifacts score is quite low, with the phone penalized for heavy ringing (due to oversharpening), color quantization, and aliasing artifacts. Our testers also noticed an unusual floating texture artifact, in which parts of the scene appear to move in a different direction than the actual movement of the phone.
Samsung Galaxy A71 5G (Snapdragon), outdoor video
Conclusion
The Samsung Galaxy A71 5G (Snapdragon) could appeal to buyers looking for 5G speeds on a budget, as well as those who appreciate its large AMOLED screen. But when it comes to camera performance, this phone is a harder sell, mainly because the competition in the mid-range segment is so fierce. Although it's a substantial upgrade in terms of imaging over its older down-market sibling, the Galaxy A50, the A71 5G's street price puts it up against some very capable phones from other makers that provide generally better photo and video quality across the board. Buyers who simply want a nimble, affordable Samsung phone with a nice screen won't be disappointed, but those who prioritize camera performance should carefully consider other handsets in the same price bracket before opting for the A71 5G.
Pros
Accurate exposure
Fairly wide dynamic range in videos
Accurate white balance indoors in stills and generally in videos
Consistent stills autofocus
Wide ultra-wide coverage, accurate exposure
Low noise in videos
Cons
High noise in stills in moderate to low light
Oversaturated colors in stills, especially skies
Low detail in stills
Loss of detail towards edge of frame
Night photos often underexposed
Residual motion, stabilization artifacts visible in videos, especially walking
AF failures in videos, especially in moderate to low light
Ringing, color quantization, aliasing artifacts in videos
Floating texture artifact affects details in videos
In the Press