Like previous versions, the latest incarnation of the Samsung Galaxy J2 Pro is an entry-level smartphone that's marketed at an accessible price point. It features a relatively large 5-in Super AMOLED display and is powered by a Qualcomm Snapdragon 425 quad-core chipset.
The rear camera naturally is similarly poised at the entry level. Naturally, it eschews the double-camera module and accompanying AI tech found in the company's higher-end offerings, opting instead for a much simpler setup consisting of a single camera with a 8MP 1/3" type sensor and wide-angle lens. The latter is optically stabilized and has autofocus, but with an aperture of f/2.2, it is slower (less bright) than the lenses on higher-end models.
Other specs are relatively basic but include a single LED for low-light shots, HDR and Panorama modes. No smartphone would be complete without video capture, of course, but footage is restricted to a useful, if conventional, 1080p at just 30fps.
Key camera specifications:
8Mp 1/3-inch CMOS sensor
f/2.2 aperture lens
Optical image stabilization (OIS)
Phase detection autofocus (PDAF)
Single LED flash
1080p up to 30 fps video
5-in AMOLED display
About DxOMark Mobile tests: For scoring and analysis in our smartphone camera reviews, DxOMark engineers capture and evaluate over 1500 test images and more than 2 hours of video both in controlled lab environments and in natural indoor and outdoor scenes, using the camera's default settings. This article is designed to highlight the most important results of our testing. For more information about the DxOMark Mobile test protocol, click here. More details on how we score smartphone cameras are available here.
Test summary
The Samsung Galaxy J2 Pro achieves an overall DxOMark score of 65 points, placing it towards the lower end of the scale in our labs, behind the Sony Xperia XA2 Ultra at 75 points and above Energizer's ruggedized E520 at 49 points. In terms of capabilities between stills and video the Galaxy J2 Pro is a well balanced device, where it scored 64 and 65 points respectively.
For stills, the rear camera is quite strong in terms of autofocus accuracy, and has fairly low noise levels in all our test conditions. In fairness, the camera performs reasonably well, but there are several opportunities for improvement. This includes texture rendition, which was especially lacking in low-light shots. In low-contrast areas of the image, levels of detail are low, even when shooting in bright light. We would also like to see better control of flare, which was strong in several of our test shots.
We detected a bug in the OIS firmware which was the cause of uneven sharpness across the plane of focus. In addition, some slight color shading was detectable and dynamic range is somewhat limited. In low light and indoors when testing the LED flash, we also observed white balance inaccuracies.
As for video, the Galaxy J2 Pro had generally accurate target exposure in most conditions, and noise levels are pleasingly low in both indoor and outdoor scenes. Autofocus operation is also a highlight, with it working quickly and accurately. Areas for improvement include ineffective stabilization, some erratic autofocus behavior, and unreliable tracing. As with stills, white balance inaccuracies were noted in several test video scenes, along with some exposure inaccuracies (particularly with moving subjects), and underexposure in very low-light scenes (20 lux and less).
Returning to stills, the Galaxy J2 Pro is capable of delivering sharply focused and relatively clean images in outdoor scenes, with only a hint of luminance noise. Images have good color rendering outdoors, albeit with somewhat unsaturated reds. It also has generally good target exposure, though there are times when scenes are underexposed. White balance is accurate in outdoor conditions; however, there were noticeable instabilities, and there's an occasional cast to images shot indoors.
Limited dynamic range was also noticeable in our challenging high-contrast (HDR) test scene analyses, which resulted in lost details, particularly in the shadows. In backlit portraits, the subject is well-exposed, but since details are lost in highlight areas, the overall scene isn't particularly well-balanced. That said, the Galaxy J2 Pro is capable of producing quite acceptable results, though it has a tendency to deliver slightly underexposed images that are also lacking in detail.
Our tests reveal that the camera has fairly well-controlled levels of noise in both outdoor and indoor scenes, but luminance noise is noticeable in the sky in outdoor shots, and there's visible noise in low-light conditions. In our controlled tests in the lab, texture preservation is low even in bright daylight (1000 lux), and details are lost under indoor and low-light conditions. Using the Galaxy J2 Pro's single LED flash overcomes some of these issues, but while it has fairly low noise in comparison, detail preservation remains low, white balance is not accurate, and there's some noticeable fall-off or shading in the corners from the single LED unit.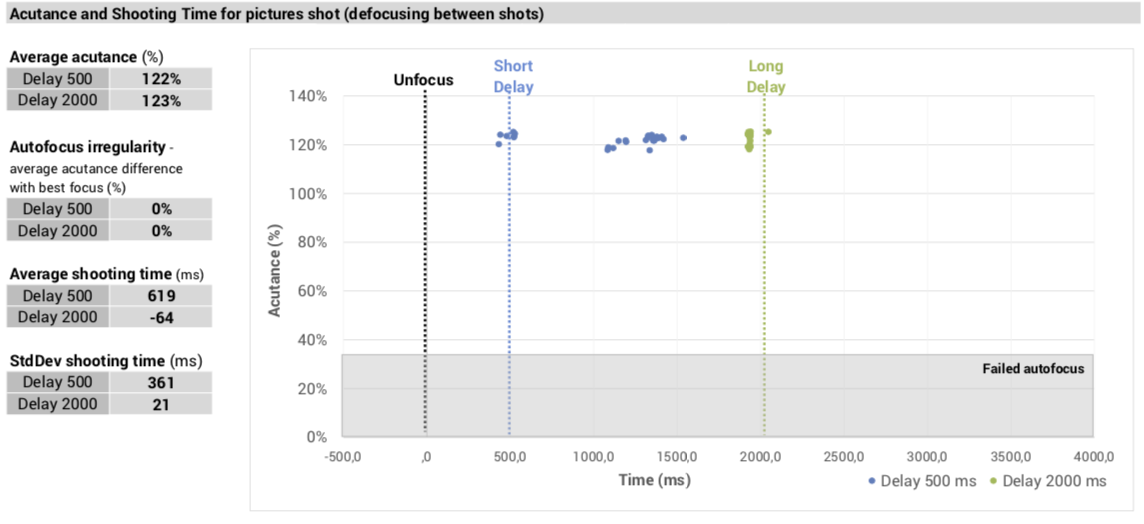 After defocusing the device, the Galaxy J2 Pro found focus very accurately after both long and short delays, but as you can see from the spread in the chart above (20 lux in this case), it is slow to focus.
Autofocus accuracy is a strong point. The Galaxy J2 Pro may not be all that fast when refocusing between subjects, but you can be assured of accurately-focused shots. However, as a fairly basic camera with just a single camera module, there's no optical zoom option, nor does it use AI to achieve the bokeh effects seen in premium devices. Instead, the J2 Pro crops the image, and with its already low sensor resolution, the loss of texture and detail rendition is both inevitable and noticeable.
On close examination, you can also expect visible aliasing and edge noise, blue sky saturation, and ringing from slight over sharpening. We also detected some lens artifacts such as color fringing, and irregular sharpness in the focus plane caused by a bug in the OIS algorithm. This bug also contributed to occasional haloing in areas of high-contrast, small-scale detail, such as backlit leaves and branches. The J2 Pro's lens unit also has a propensity for ghosting.
When it comes to video, the J2 Pro is a relatively strong performer in the field, achieving a similar level to that of stills. It has generally accurate exposure in most conditions, low noise levels even indoors, and autofocus operation is fast in all of our tests. It does have some weak areas, however. First, while resolution was satisfactory in daylight, it falls quickly in indoor and low-light scenes. Video stabilization is not all that effective, and we also noticed autofocus instabilities and unreliable tracking. White balance instabilities are visible in some scenes, and we occasionally saw exposure variance with moving subjects. The J2 Pro's tendency to underexpose stills is also retained with video. In low-light conditions (20 lux or below), clips were below target exposure.
Conclusion
With so much of the internet buzz concentrating on the premium end of the market, it is refreshing to see prestigious manufacturers such as Samsung catering to a different demographic. Given the modest camera specs (by comparison with the company's recent high-end S9 and Note 9 models), Samsung has seemingly prioritized other experiences with this particular model. Nevertheless, providing you keep within practical limits and avoid high-contrast scenes or unduly low light levels, the Galaxy J2 Pro offers a respectable performance. As for video, the results from the J2 Pro aren't that far off some of the far pricier higher-end models.
65
camera
Pros
Low levels of noise
Autofocus operation is accurate
Pros
Exposure accurate under most conditions
Noise levels are low, both outdoors and indoors
Autofocus operation is fast
Cons
Loss of texture visible, especially in low light
Strong lens flare
OIS bug occasionally causes lack of sharpness
Limited dynamic range with details lost in darkest areas
Slight color shading artifacts are sometimes visible
Cons
Ineffective video stabilization
Occasional autofocus irregularities and unreliable tracking
White balance occasionally inaccurate
Exposure inaccuracies with moving objects
Consistent underexposure in very low light levels