The Galaxy Note 10+ 5G is the 5G-equipped, premium version of Samsung's latest high-end device. Although Samsung has discarded the headphone jack this time around, the hardware is still top-notch. It features an Exynos 9825 chipset; four rear-facing cameras; a 10MP selfie cam with fingerprint sensor; and an S Pen stylus, along with Bluetooth connectivity and a 6-axis sensor.
Multimedia enthusiasts have always favored Samsung Note devices because of their large displays (the original Note was the first proper "phablet" on the market), which make them a great choice for watching videos. Its excellent DXOMARK Camera score of 117 also indicates that it is an ideal device for capturing photos and video. We've just put the phone through our DXOMARK Audio test suite to see if its audio capabilities live up to its other attributes.
The 5G version of the Note 10+ performed nearly identically to the LTE version we already tested a short time ago. (In fact, while there are some slightly audible differences, its final scores are identical to those of the LTE version, so for more detailed results you can refer to our Samsung Galaxy Note 10+ Audio review.) In this shorter review, we'll recap some of the highlights of that review, and point out the slight differences we found when testing the 5G version.
Key audio specifications:
Stereo speakers with sound by AKG
Surround sound with Dolby Atmos technology (Dolby Digital, Dolby Digital Plus included)
High AOP (acoustic overload point) microphone designed to minimize distortion in noisy environments
Active noise cancellation with dedicated microphone
About DXOMARK Audio tests: For scoring and analysis in our smartphone audio reviews, DXOMARK engineers perform a variety of objective tests and undertake more than 20 hours of perceptual evaluation under controlled lab conditions. This article highlights the most important results of our testing. Note that we evaluate both Playback and Recording using only the device's built-in hardware and default apps. (For more details about our Playback protocol, click here; for more details about our Recording protocol, click here.)
Test summary
66
audio
With an overall DXOMARK Audio score of 66, the Samsung Note 10+ 5G, like its LTE sibling, is among the top Android phones in our DXOMARK Audio ranking, beating its smaller sibling S10+ by one point. With a Playback sub-score of 68 and a Recording sub-score of 61, the Note 10+ 5G's performance is neither as strong nor as well-balanced as the leading phones we've tested, such as recent Apple iPhones and Huawei's multimedia-focused Mate 20 X, but it is nonetheless ahead of some other tested devices.
Playback
Like the LTE version, the 5G version of the Note 10+ does a good job in our playback tests, with a Playback sub-score of 68. Tonal reproduction, as measured by our Timbre sub-score, was a mid-pack 60, due to a lack of bass power. Bass frequency response is slightly improved compared to the LTE version, but not enough to change its score.
Music playback frequency response
Sound dynamics are solid, but performance is limited by a relative lack of punch and base precision compared to top-scoring phones, resulting in a Dynamics sub-score of 64. Among our use cases, sound dynamics were better for media consumption than for gaming scenarios.
Playback Volume (70) is good, although not the loudest we've tested. Minimum volume was also inconsistent—too low when playing our classical music test track and too high for synthetic signals.
| | |
| --- | --- |
| Hip-Hop | Classical |
| 74.8 dBA | 70.2 dBA |
In terms of sound stage, the device gets high marks for accurately representing sounds originating over a wide area, including good balance between left and right channels, but there is still room for improvement.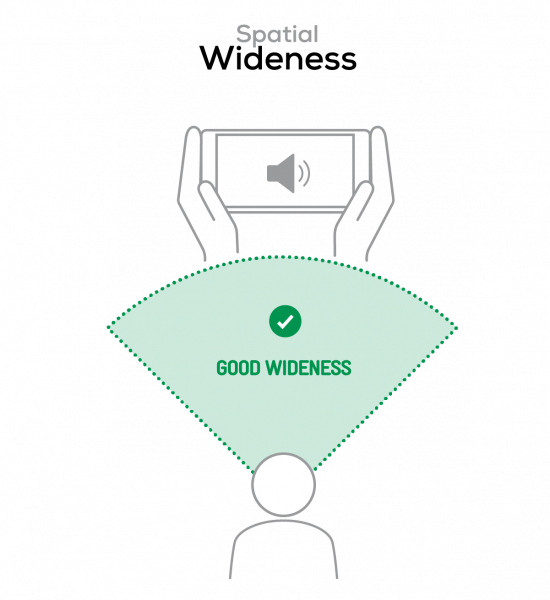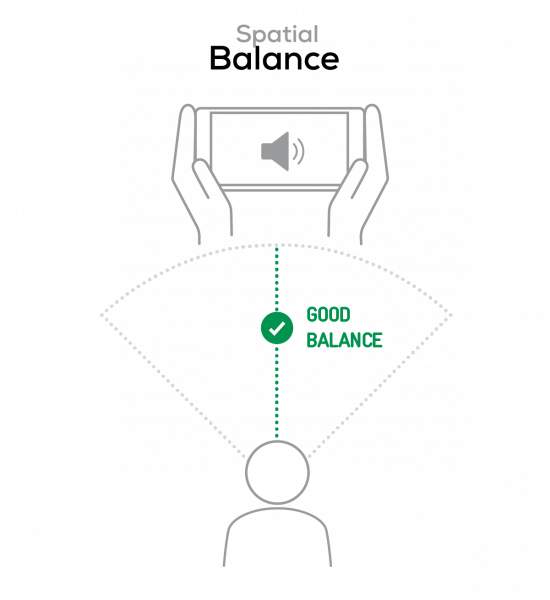 Sound reproduction is largely free of audible artifacts, with very controlled distortion levels. However, there is some volume pumping in gaming scenarios and slight spectral distortion at high volumes, leading to an overall Artifacts sub-score of 83.
Recording
The Note 10+ 5G's audio recording quality is no different than its LTE sibling's, with both models doing an adequate, but not particularly impressive job.
One bright spot for the phone's recording capabilities is bass response, which is very good compared to other phones. However, mid-range and treble response is not as good and can sound muffled. As a result, tonal balance is not as good as it could be, giving the phone a recording Timbre sub-score of 68.
Selfie video frequency response
The device does a decent job of reproducing a sound stage, but its 50 Spatial sub-score indicates room for improvement. Recordings are also not as loud as they should be, and the maximum recording volume setting should be increased. Both of these factors contributed to the device's recording Volume sub-score of 61.
| | | | |
| --- | --- | --- | --- |
| Meeting | Life Video | Selfie Video | Memo |
| -22.2 LUFS | -17.9 LUFS | -17.6 LUFS | -20 LUFS |
Unlike with playback, recordings made on the Note 10+ 5G suffer from multiple audible artifacts. For example, there is noticeable volume pumping after shouting, and aggressive noise reduction can sometimes make voices sound robotic, as demonstrated in this sample clip:
Casual finger movements across the microphone also cause more noise on recordings than they should. Sudden sound level changes can also result in a lag as the system alters sound compression levels.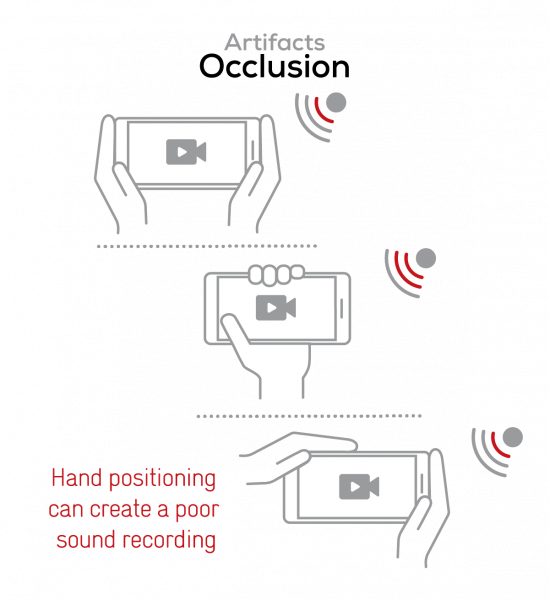 The Note 10+ 5G is prone to occlusion artifacts from fingers moving across the microphone.
The phone also doesn't do a great job of reducing background noise when recording, including when recording memos. Even so, the noise reduction of background sounds also affects the foreground speaking voice: background sounds come across as unnatural, and sound direction is not well preserved. In aggregate, those shortcomings resulted in the device's relatively weak recording Background sub-score of 40.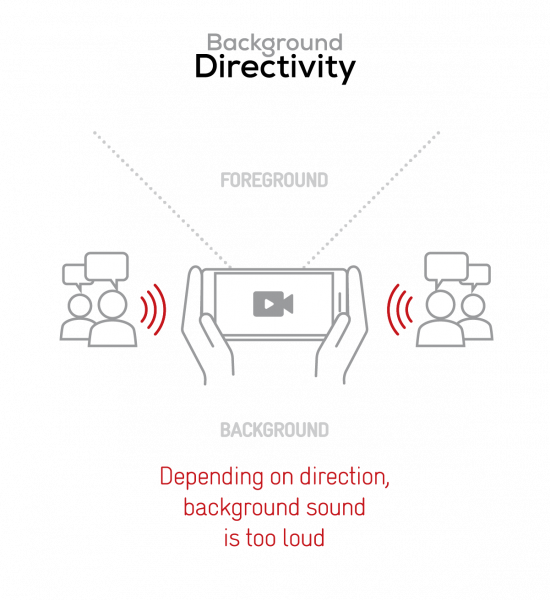 Background sounds aren't suppressed well and can sound unnatural.
Conclusion: Decent playback, but poor recording
The Samsung Galaxy Note 10+ 5G has a large high-definition display that makes it a great option for media consumption. Playback performance is among the best we've seen among the Android phones we've tested, and is stronger for media playback than for gaming. A slightly stronger bass response also represents a small improvement over the LTE version we tested earlier. However, the device still doesn't play back audio as well as recent iPhone models.
For recording, the Note 10+ 5G doesn't match the level of other top flagship phones, and situations in which is background noise are particularly challenging for it. So it isn't the perfect phone for content creators needing quality audio and who expect to rely on the device's own internal microphones.
Playback
Pros
Good overall performance, especially for media consumption
Good preservation of sound stage
Largely free of audible artifacts
Cons
Lacking in bass power and precision
Inconsistent volume
Recording
Pros
Good bass response
Decent sound stage
Cons
Poor tonal balance, muffled midrange and treble sounds
Pumping, noise reduction, and distortion artifacts