We tested the main camera of the global version of the Samsung Galaxy Note20 (powered by Samsung's Exynos 990 chipset) in late 2020, and now it's time to evaluate its front camera. The single selfie camera looks through a centered hole punch at the top of the screen, and has a 10 MP 1/3.2″ sensor behind a 26 mm-equivalent f/2.2 lens with phase detect autofocus. We've seen good results from Samsung front camera setups before, but read on to find out how the Galaxy Note20 fared in our tests.
Key front camera specifications:
Primary 10 MP 1/3.2″ sensor, 1.22µm pixels
F/2.2-aperture lens with 26 mm-equivalent focal length
Dual-pixel PDAF
Display flash
4K at 30/60 fps, 1080p at 30 fps
About DXOMARK Selfie tests: For scoring and analysis in our smartphone front camera reviews, DXOMARK engineers capture and evaluate over 1500 test images and more than 2 hours of video both in controlled lab environments and in natural indoor and outdoor scenes, using the camera's default settings. This article is designed to highlight the most important results of our testing. For more information about the DXOMARK Selfie test protocol, click here.
Test summary
Scoring
Sub-scores and attributes included in the calculations of the global score.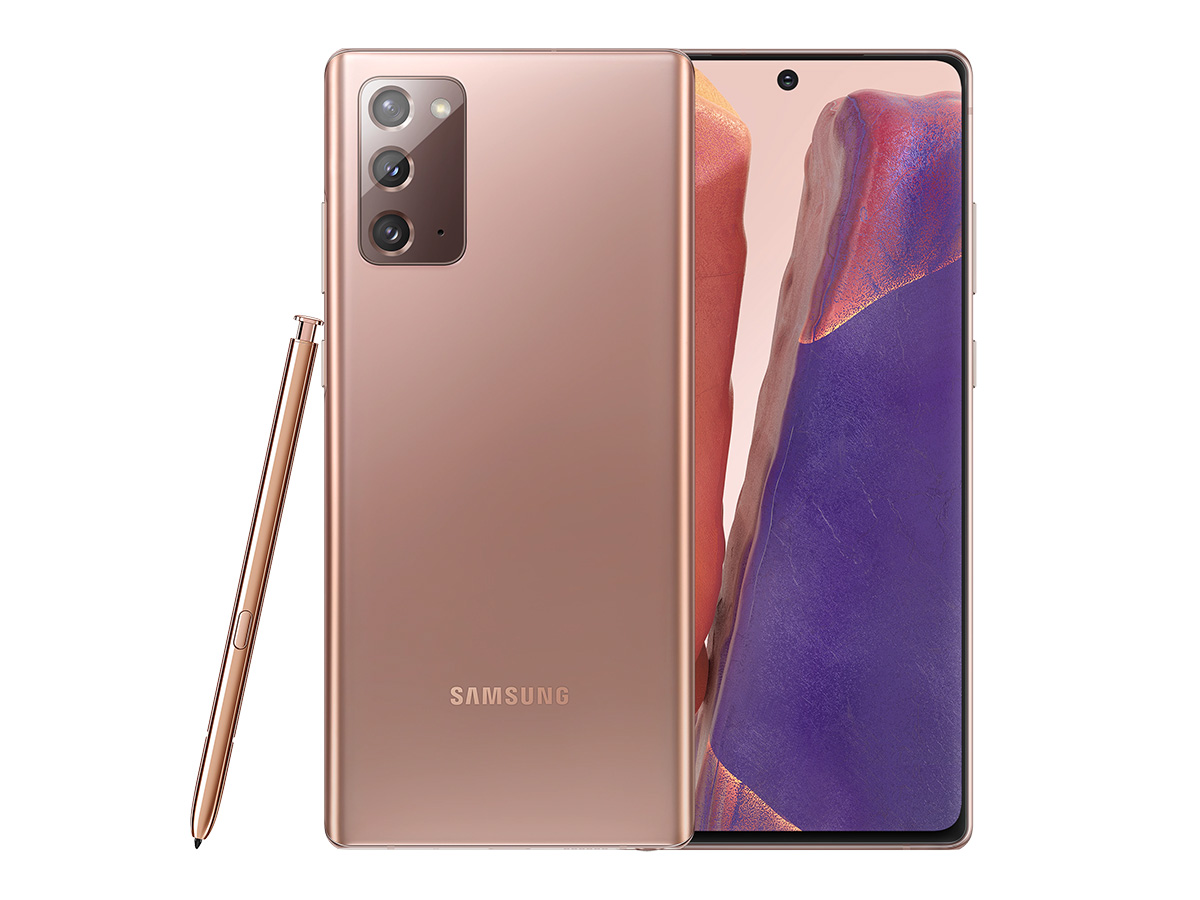 Samsung Galaxy Note20 (Exynos)
135
selfie
Please be aware that beyond this point, we have not modified the initial test results. While data and products remain fully comparable, you might encounter mentions and references to the previous scores.
With a DXOMARK Selfie overall score of 100, the global version of the Samsung Galaxy Note20 ties several other phones, including Samsung's Galaxy S20 Ultra and Note20 Ultra, for fourth place in our database. There are sub-score differences between the Note20 and the S20 Ultra (unsurprising, given they use different camera modules), but the Note20's sub-scores very closely track those of the Note20 Ultra, and like that phone, for the most part, the Note20 delivers very satisfying performance across the board.
The Note20 exposes accurately under most conditions, though exposure can be a little low in very dim light. Target exposure is good in high dynamic range scenes, but highlights tend to clip. Color is very pleasant with accurate white balance, though occasionally skin tones are rendered unnaturally.
The Note20's autofocus system provides accurate and consistent focus. The camera also has enough depth of field to keep most of the scene in focus at the same time, so group selfies generally won't leave anyone blurry.
In bright light, the Note20's selfie camera captures a lot detail, but texture drops off sharply in low light. Noise is a bit higher than ideal, and becomes fairly visible in moderate and low light. This is an area where the Galaxy Note20 Ultra 5G has a slight edge.
In very dark conditions the phone's screen doubles as flash, providing accurate, consistent exposures. Color is slightly yellow/green when using just the screen for light, and slightly orange when the flash is mixed with dim tungsten light, but still pleasant. The Note20 controls artifacts well: it loses some points for ringing (from oversharpening) and color quantization, but there's nothing egregious to complain about.
The Note20 has a capable portrait mode for simulating background blur. The blur effect is fairly natural, and the phone does a pretty good job of separating the subject from the background, with just the usual small errors around difficult subjects like hair.
Tested at 4K and 30 frames per second, the Note20's front camera Video score is just two points shy of the best in our database. Exposure is usually very accurate, even when faced with high dynamic range scenes (though as with stills, underexposure is an issue in low light). Color is pleasant, with a slightly warm cast visible when shooting outdoors. Focus is accurate and depth of field is deep enough to avoid problems. Detail is high in bright to moderate lighting levels. Stabilization is effective in bright conditions but leaves some room for improvement in moderate to dim lighting.
The main weakness of note here is noise, which is higher than ideal: it's visible in all shooting conditions, and is more obvious in lower light.
Samsung Galaxy Note20 (Exynos), front camera video
Conclusion
The global version of the Samsung Galaxy Note20 features a very capable front camera. Selfie shooters will appreciate the generally high quality of its still output, which apart from a bit of noise is strong across the board. Its excellent video quality will appeal to vloggers. Budget-conscious selfie-shooters will appreciate that the Note20's front camera performance is very close to that of the significantly more expensive Note20 Ultra.
Pros
Stills and video exposure accurate in most lighting conditions
Accurate stills white balance
Accurate and consistent autofocus with extended depth of field
Pleasant color in videos
Focus locks on faces in video
Video detail high in bright to moderate light
Cons
Noise often visible in stills and video
Stills skin tones sometimes unnatural
Reduced stills detail in moderate to low light
Stabilization less effective in moderate to low light