Launched in August 2020, the Galaxy Note20 is Samsung's less expensive and slightly smaller version of their flagship business/consumer-oriented smartphone. It features the same high-end Exynos 990 chipset as the more expensive Note20 Ultra model, runs Google's Android 10 operating with 8GB RAM, and offers 256 GB of non-expandable internal memory. The 6.7-inch AMOLED Plus display on the Note20 is only slightly smaller than the 6.9-inch Ultra version, too, although the latter does boast a higher-resolution display and a faster refresh rate.
Both devices come with three cameras, including standard-wide, ultra-wide and telephoto modules, but camera specifications vary between the two models. The standard-wide on the Note20 features a 12MP 1/1.76-inch sensor, linked to a 26 mm-equivalent f/1.8-aperture lens with dual pixel phase-detection autofocus (PDAF) and optical image stabilization. That's a significantly different configuration compared to the 108 MP Quad Bayer sensor Samsung has implemented on the Note20 Ultra.
The ultra-wide camera on the Note20 looks to be the same as the Ultra's, with Samsung sticking with the 12 MP 1/2.55-inch sensor linked to a 13 mm-equivalent lens. For tele-zoom shots, however, Samsung has again opted for a different setup on the Note20. Instead the 120 mm-equivalent periscope-style lens built into the Ultra, the standard Note20 utilizes a high-resolution 64 MP sensor with a 27 mm-equivalent f/2.0 lens. So essentially there's no optical tele-zoom and the camera uses cropping and digital processing to offer what Samsung calls 3x "hybrid zoom" shots on the Note20.
For video, the Note20 shoots up to 8K/24 fps using the tele-camera sensor, or 4K resolution at 30/60 fps and 1080p up to 240 fps using the standard-wide sensor. The subject of this review is the Note20 model with the Samsung Exynos chipset that is sold in most parts of the world, except North America. Read on to see how it performed under the latest version of our testing protocol.
¨Key camera specifications:
Triple camera
Standard-wide: 12 MP 1/1.76″ sensor with 1.8µm pixels and 26 mm-equivalent f/1.8-aperture PDAF OIS lens
Ultra-wide: 12MP 1/2.55″ sensor with 1.4µm pixels and 13 mm-equivalent f/2.2-aperture lens
Telephoto: 64MP 1/1.72″ sensor with 0.8µm pixels and 27 mm-equivalent f/2.0-aperture PDAF OIS lens
Dual pixel PDAF and OIS
LED flash
Up to 8K/24 fps video (tested at 4K/30fps)
About DXOMARK Camera tests: For scoring and analysis in our smartphone camera reviews, DXOMARK engineers capture and evaluate over 3000 test images and more than 2.5 hours of video both in controlled lab environments and in natural indoor and outdoor scenes, using the camera's default settings. This article is designed to highlight the most important results of our testing. For more information about the DXOMARK Camera test protocol, click here. More details on how we score smartphone cameras are available here.
Test summary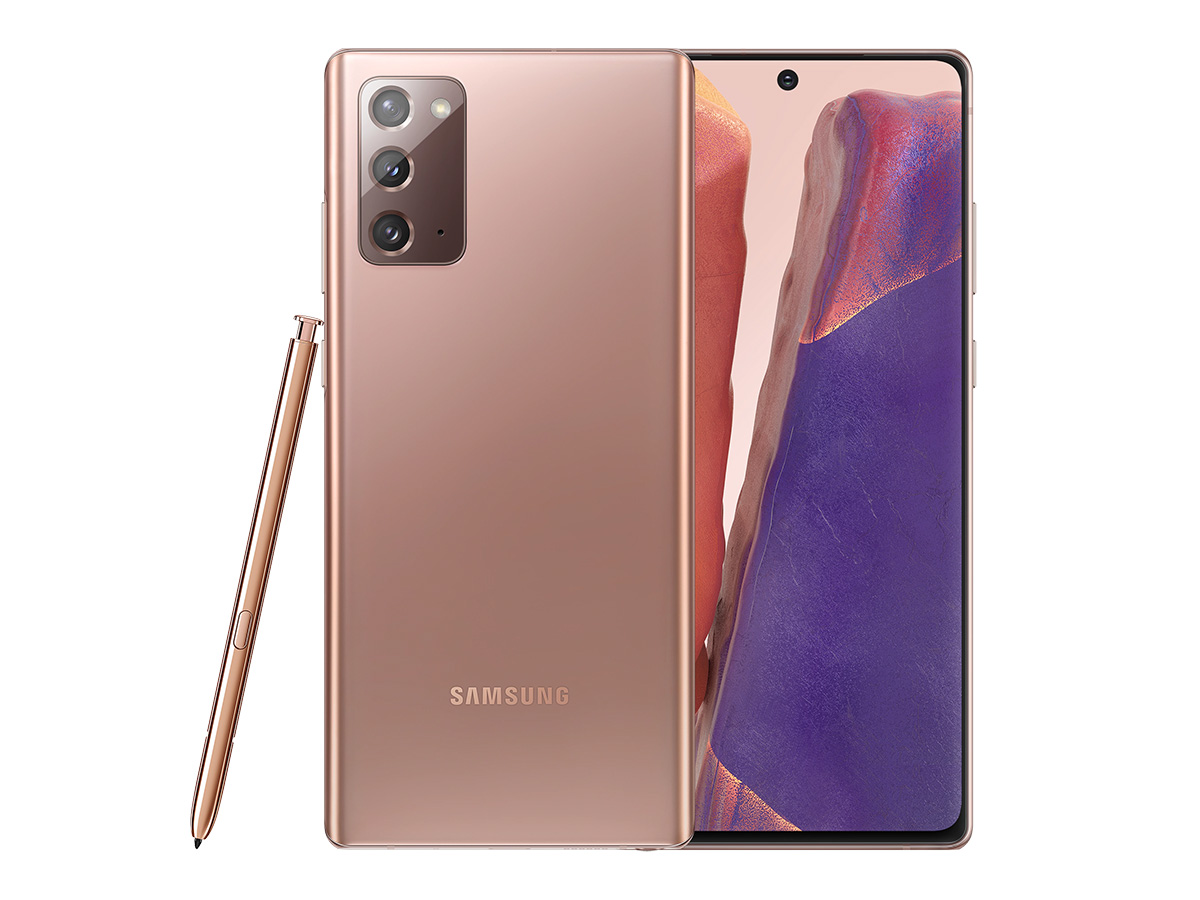 Samsung Galaxy Note20 (Exynos)
120
camera
With a Camera score of 120, the Samsung Galaxy Note20 is a reliable performer across our range of test categories and is just a few points behind the Samsung S20 Ultra at 126. For stills, the Note20 achieves a good Photo sub-score of 123, with generally excellent exposure and pleasant color rendering.
Featuring both ultra-wide and tele-lens modules, the device is also a solid performer for zoom shots, where it achieves a Zoom sub-score of 74. Ultra-wide shots are particularly successful, thanks in part to the lens's very wide field of view, and the "hybrid zoom" shots are good at close range.
A Video sub-score of 105 puts the Note20 just outside the top 10 for shooting moving images. Video performance isn't far behind the best, however, with the Samsung device delivering reliable results across the range of video attributes we test.
Stills on the Note20 are excellent in indoor and outdoor lighting conditions, where target exposures are accurate and dynamic range is wide in high-contrast scenes. Overall texture isn't quite as good compared to our top performers, but detail is fairly well rendered in good lighting conditions and noise is well controlled.
Preview image quality is also a strength of the Note20, with accurate target exposure representation between screen and capture, as well as stable performance while zooming. Limited live HDR capabilities means dynamic range is often lower in preview, however, so what you see on screen is not exactly what you get in high-contrast scenes.
Autofocus is very respectable, too. It's not quite the fastest we've tested, with the Note20 missing the Laser AF Sensor found on the Note20 Ultra, but it's very accurate and we observed no significant failures. The lens configuration also offers good depth of field, so faces behind the main subject, as well as backgrounds generally, display a good level of detail. Our testers observed several artifacts, however, with hue shifts, color quantization, ringing, and ghosting problems often impacting the overall quality of some still photos.
The main drawbacks we see on the Note20 are in low-light photos, where noise and white balance color casts are often visible. Target exposures are sometimes low in night shots without flash, and a red color cast is often visible under some artificial light sources. Using flash, exposure, detail, and color are good on the subject in night portraits, but dynamic range is limited, resulting in fairly underexposed backgrounds.
The ultra-wide camera on the Note20 offers one of the widest fields of view available and with excellent exposure and color, it's a good asset on the Samsung device. Detail is lower compared to the main camera and artifacts such as ringing, color fringing, and lower sharpness in the outer field are sometimes visible, but overall the results are very satisfying.
In our tele-lens category, "hybrid zoom" shots from the Note20 display excellent detail at close range in indoor and outdoor lighting conditions. It's not as successful at medium or long range, however, where shots from the device's high-resolution 64 MP sensor and 27 mm-equivalent lens have a visible loss of texture. Hue shift, ringing, and color quantization artifacts are usually visible at longer zoom distances, too. But although the Note20 is not a top performer for tele-zoom shots overall, you can expect good results if you don't push the magnification too far.
Bokeh simulation when shooting in portrait mode is another strong area for the Samsung device. Depth estimation is accurate and the level of detail on the portrait is generally high in good lighting conditions. The depth-of-field effect is pleasant and simulated bokeh spotlights are well contrasted with a nice circular shape when the spotlight effect activates — but it doesn't always do so.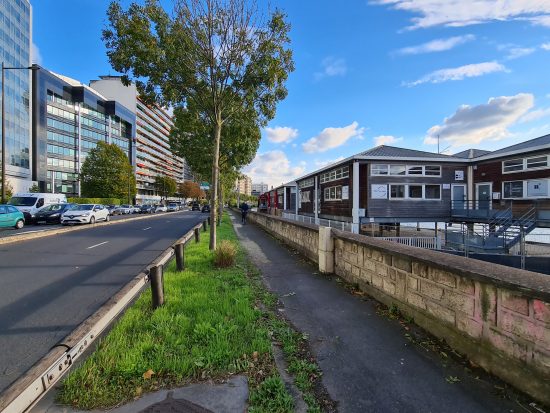 Ultra-wide shots offer a great field of view, with good exposure and nice color.
Capturing video, the Note20 is a very competent device overall. Target exposures are generally accurate with nice color rendering, and wide dynamic range in bright light ensures nice results with well-controlled highlights. Texture is a slight weakness, as even in outdoor conditions, fine details are often lost and texture rendering in intricate areas often looks a little unnatural. Noise is well controlled, though, and files are fairly clean even in low-light video.
The Note20 posts a low score for artifacts, with visible ringing in most videos as well as aliasing and moiré patterns in high-frequency areas. Video autofocus is fast, with good reaction times when faces are detected, but focusing steps are often visible with tracking, which can be a bit distracting on playback. Stabilization is fairly effective, too, with good compensation in both static and walking videos, as well as stable performance during scene changes.
Outdoor videos display accurate exposure with wide dynamic range, nice color, fast autofocus, and effective stabilization.
Conclusion
If you're after a Samsung smartphone with style and don't want to crash through the $1000 barrier, the Note20 is a good choice. With the exception of a slightly smaller screen, phone specs aren't widely different compared to the Note20 Ultra, with the more affordable model featuring the same high-end processor and a triple camera for versatility in your smartphone photography. Although the camera configurations vary significantly between the two models, we found the results to be very comparable overall. The Note20 is a very reliable performer for both stills and video, without any serious weaknesses. The ultra-wide and close-range zoom shots are excellent, with nice bokeh images and a fairly reliable preview feed to boot. Better performance for medium- and long-range zoom shots would help the Note20 climb higher in our rankings, but otherwise it's a device that is easy to recommend for smartphone photography.
Pros
Wide dynamic range in outdoor photos
Good detail in close-range zoom photos
Excellent field of view on ultra-wide camera
Nice face exposure in night portraits using flash
Effective stabilization in outdoor videos
Cons
Color casts in indoor photos
Low texture in medium- and long-range zoom photos
Low exposure in nightscapes
Exposure instabilities in outdoor videos
Autofocus tracking failures in videos with challenging lighting