The Samsung Galaxy S20 FE (Fan Edition) is the budget-conscious option in Samsung's latest S20 smartphone line. It features a large 6.5-inch Super AMOLED display with FHD+ resolution and a 2.73 GHz octa-core processor. This time around we've tested the non-5G version featuring the Exynos chipset, which is the model available in most markets outside the United States.
Like the standard S20 model, the S20 FE features a triple camera setup including standard wide, ultra-wide, and telephoto lens modules, but misses out on the DepthVision Camera that Samsung implemented on their S20+ and S20 Ultra models.
The configuration of the standard-wide camera on the S20 FE looks similar to the regular S20, but there are some differences between their ultra-wide and tele-lens cameras. The S20 FE's primary wide-angle camera features a 12 MP sensor linked to a f/1.8-aperture lens. The ultra-wide module also utilizes a 12 MP sensor alongside a f/2.2-aperture lens. Resolution is lower on the tele-lens shooter, which features a 8 MP sensor; its f/2.4-aperture lens enables up to 3x optical zoom shots.
The S20 FE also captures 4K video at up to 60 fps, with faster frame rates of 960 fps at HD and 240/120 fps at FHD resolution also available.
Read on to find out how Samsung's more pocket-friendly version of their S20 smartphone performed in our DXOMARK Camera tests.
Key camera specifications:
Primary: 12 MP sensor, 1.8μm pixels, f/1.8-aperture lens
Ultra-wide: 12 MP sensor, 1.12μm pixels, f/2.2-aperture lens
Tele: 8 MP sensor, 1.0μm pixels, f/2.4-aperture x3 optical zoom lens
Autofocus and OIS
Rear camera flash
4K video, 2160p/60 fps
About DXOMARK Camera tests: For scoring and analysis in our smartphone camera reviews, DXOMARK engineers capture and evaluate over 3000 test images and more than 2.5 hours of video both in controlled lab environments and in natural indoor and outdoor scenes, using the camera's default settings. This article is designed to highlight the most important results of our testing. For more information about the DXOMARK Camera test protocol, click here. More details on how we score smartphone cameras are available here.
Test summary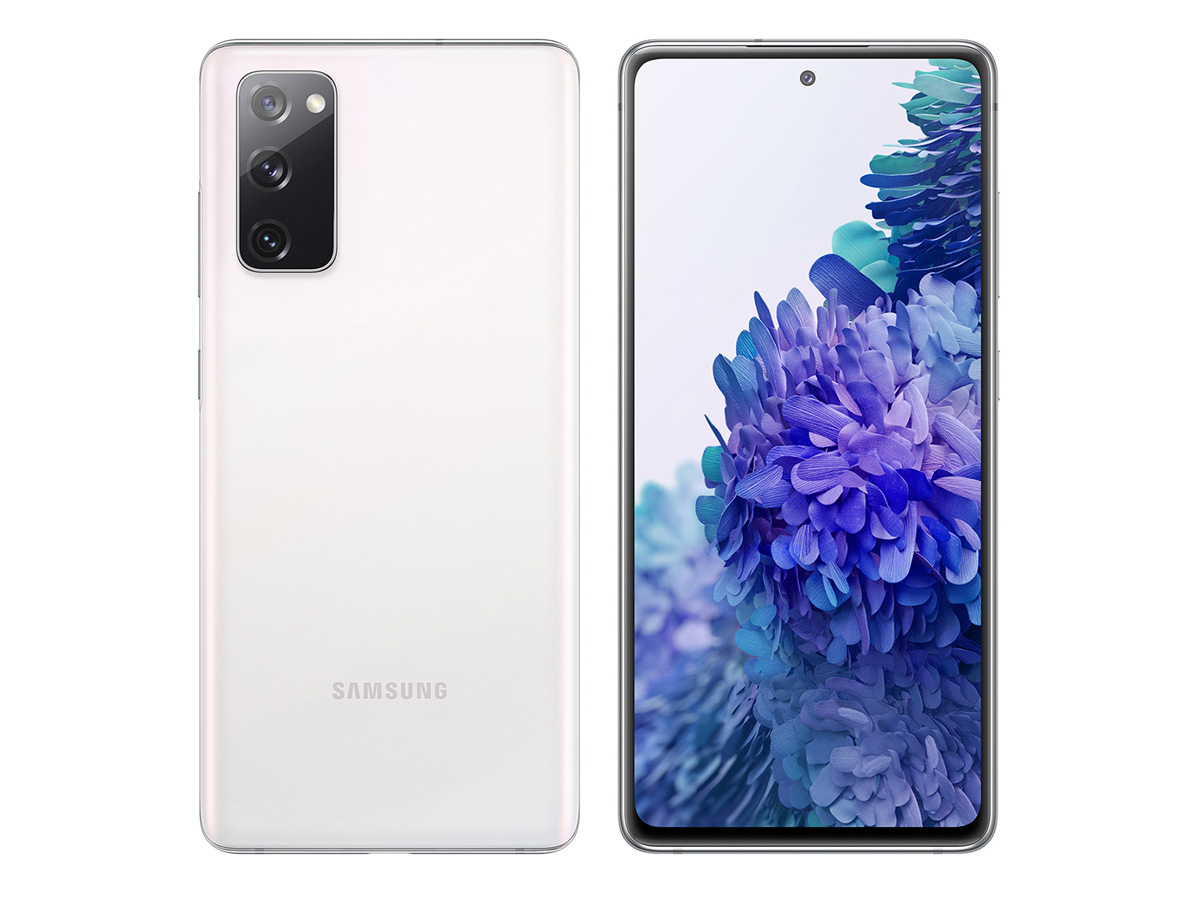 Samsung Galaxy S20 FE (Exynos)
115
camera
With a DXOMARK Camera score of 115, the Samsung Galaxy S20 FE is a very competent mid-range device for smartphone photography, offering the versatility of wide, ultra-wide and telephoto shots. While it doesn't rank in the upper echelons of our database, the S20 FE gets most of the basics right. Achieving a Photo score of 119, the device's key strengths are accurate target exposures with fairly wide dynamic range, pleasant color rendering with neutral white balance, and generally a high level of detail.
There's some loss of highlight and shadow detail in very challenging high-contrast scenes, but as you can see in the example below, the S20 FE delivers pleasant results in many outdoor scenes, capturing striking skies and nice color. While detail and texture isn't quite up there with the best devices we've tested, it's more than acceptable on the S20 FE in good to fair lighting. A little noise is visible in indoor shots, but it's only in low light that a very noticeable increase in noise and reduction in detail starts to become apparent.
Color is very similar to the rendering we saw on the Samsung Note20, with perhaps slightly colder or more neutral white balance. So overall color is a nice strength, and pleasant skin tones in portraits makes the S20 FE a good choice for your people pictures. Autofocus is a small area for improvement, as our testers observed a few failures in challenging high-contrast lighting as well as in some standard outdoor scenes, which was a little disappointing. Depth of field from the main camera's f/1.8-aperture lens is also fairly narrow, so expect to see slightly out-of-focus faces towards the back when snapping a group shot, as well as on backgrounds generally.
The S20 FE isn't the perfect device for night owls. In our after dark perceptual analysis, the loss of detail in nightscapes was very apparent, and flash performance when shooting night portraits tended to be quite inconsistent, with large variations in both exposure and white balance. Artifacts such as color quantization, hue shift, and ghosting are often visible in most images at close inspection, too. While that should be noted for those intending to print or display images at a large scale, they're less problematic if you're simply posting to Instagram.
Bokeh mode is a useful feather in the S20 FE's cap, delivering reliable performance when you're after a more arty portrait shot. The focal length is a bit too wide for ideal portraits and some anamorphosis effects occur, but the depth-of-field effect created is generally very pleasant. Despite eschewing the DepthVision sensor found on the pricier versions of the S20 line, depth estimation is fairly accurate in the S20 FE's bokeh shots, the level of noise is uniform across sharp and blurred areas, and it applies a reasonably realistic gradient effect.
For ultra-wide enthusiasts on a budget, the S20 FE is definitely a device to consider. While it doesn't trouble our top performers for overall quality, it's close to the best in its class, thanks principally to its very wide field of view, as well as generally accurate target exposures with good dynamic range capabilities. The same can't be said for tele-lens photos, unfortunately, and if you're a fan of pushing the zoom hard, the S20 FE is probably one to avoid. Sticking within the 3x optical zoom range of the dedicated tele-lens module affords the best results, but even here we noticed lower levels of detail than we've come expect. Its 3x zoom shots are at their best in good lighting conditions, but when shooting in lower light or when working the zoom harder at medium or long range, don't be surprised to see a significant deterioration in quality.
There were also slightly mixed results in our analysis of the S20 FE's preview image quality. For standard photos it's pretty good; dynamic range isn't quite as extended in preview as it is in the final capture, but overall you get a fairly decent representation of what your photo will look like. That's not true for portrait mode however, where significant edge artifacts and an unnatural and patchy blur effect is displayed on screen. This could put you off snapping a bokeh shot, but don't let it stop you, as the final images are rendered much better. The smoothness of the preview image as you zoom needs to improve as well. The device is quite slow to react to pinch zoom gestures, and obvious jumps in framing and variations in exposure are visible as it pulls the image feed from the different cameras.
With a Video score of 101, the S20 FE isn't one of our top-ranked devices for moving images. Again, it gets most of the basics right and offers strengths and weakness that are fairly consistent with its still photo performance. Dynamic range is a slight exception, which we found to be a little limited in most bright-light videos, but the S20 FE delivers good target exposures in outdoor and indoor videos. The same solid performance for color is evident in videos, which display generally pleasant rendering and neutral white balance in outdoor movies. Stick to video capture in good lighting on the S20 FE if you can, though. Indoors and in low light, both white balance and autofocus start to become a little unstable, with blue or orange color casts appearing, and there are problems with the autofocus sticking to a subject. Noise is well controlled in lower light levels, though, so videos aren't spoiled by strong or blotchy noise. Some fairly aggressive video denoising means that details are often lost, however, especially in high-contrast scenes.
Samsung Galaxy S20 FE (Exynos), indoor video
Samsung Galaxy Note20 (Exynos), indoor video
OnePlus 8 Pro, indoor video
On the plus side, video stabilization is a good strength for the S20 FE. Our testers observed some residual motion and frame shifts, but overall this Samsung device has a good grasp of controlling unwanted motion effects in handheld videos.
Conclusion
With the S20 FE (Exynos), Samsung has attempted to bring together many of the key smartphone features that fans are looking for. Central to those features are an impressive display and a versatile camera. The S20 FE delivers on both counts with its 6.5-inch Super AMOLED LCD and triple camera that offers wide, ultra-wide, and tele-lens modules. Overall we found image quality to be quite similar to the slightly more expensive Samsung Galaxy Note20: the S20 FE delivers good quality in core areas, with generally accurate exposure, pleasant color, and a good texture-to-noise compromise. Performance for zoom, autofocus, preview, and night shots are areas for improvement, but the ultra-wide camera and bokeh shots are nice strengths. Video quality is competent, too, so the S20 FE (Exynos) is a solid choice overall for smartphone photography enthusiasts after a device in the mid-range price bracket.
Pros
• Accurate photo and video target exposure in most conditions
• Neutral white balance with pleasant color rendering in most photos
• Neutral white balance in outdoor videos
• Good detail in outdoor and indoor photos
• Well-controlled noise in outdoor and indoor videos
• Accurate depth estimation in bokeh photos
• Good ultra-wide capabilities
• Effective video stabilization
Cons
• Strong noise in low-light photos
• Visible artifacts in many photos
• Narrow depth of field in photos
• Exposure and white balance instabilities, as well as low detail in night photos
• Low detail in all tele-lens photos
• Unnatural bokeh rendering in preview
• Autofocus instabilities in video
• Limited dynamic range in videos
In the Press