Samsung's Galaxy S21+ 5G is the middle seat of the company's current high-end S21 series, squeezed between the slightly smaller S21 5G and the top-of-the-line S21 Ultra 5G. It sports a 120 Hz, 6.7-inch AMOLED screen, slightly larger than its sibling S21, but with the same resolution (2400 x 1080), and has a centered hole punch for the selfie camera. Here we are testing the global version based on Samsung's Exynos octa-core 2100 chipset; a variant built around Qualcomm's Snapdragon 888 is sold in the US and China. Both have 8 GB of memory with either 128 GB or 256 GB of storage.
There are three cameras on the back, with specs that exactly mirror the smaller S21. The primary camera has a 12 MP coupled with a 26 mm-equivalent optically stabilized lens. The ultra-wide offers 12 MP and has a 13 mm-equivalent lens. The tele camera used a wide angle lens (29 mm-equivalent) but uses a 64 MP sensor, which gets binned down to 12 MP output.
The Galaxy S21+ 5G shoots video at up to 8K resolution at 24 fps; however, just like on the S21 Ultra and the standard S21 we used 4K and 60 fps for testing. Lower resolutions and higher frame rates are also available for recording in slow motion.
Read on to find out how the Samsung Galaxy S21+ 5G (Exynos) fares in our tests.
Key camera specifications:
Standard-wide: 12 MP 1/1.76-inch sensor with 1.8 μm pixels, 26 mm-equivalent f/1.8 lens, dual-pixel PDAF, OIS
Ultra-wide: 12 MP sensor with 1.4μm pixels, 13 mm-equivalent f/2.2 lens
Tele: 64 MP 1/1.72-inch sensor with 0.8μm pixels, 29 mm-equivalent f/2.0 lens
LED flash
8K at 24 fps, 4K at 60 fps (tested), HDR10+
About DXOMARK Camera tests: For scoring and analysis in our smartphone camera reviews, DXOMARK engineers capture and evaluate over 3000 test images and more than 2.5 hours of video both in controlled lab environments and in natural indoor and outdoor scenes, using the camera's default settings. This article is designed to highlight the most important results of our testing. For more information about the DXOMARK Camera test protocol, click here. More details on how we score smartphone cameras are available here.
Test summary
Scoring
Sub-scores and attributes included in the calculations of the global score.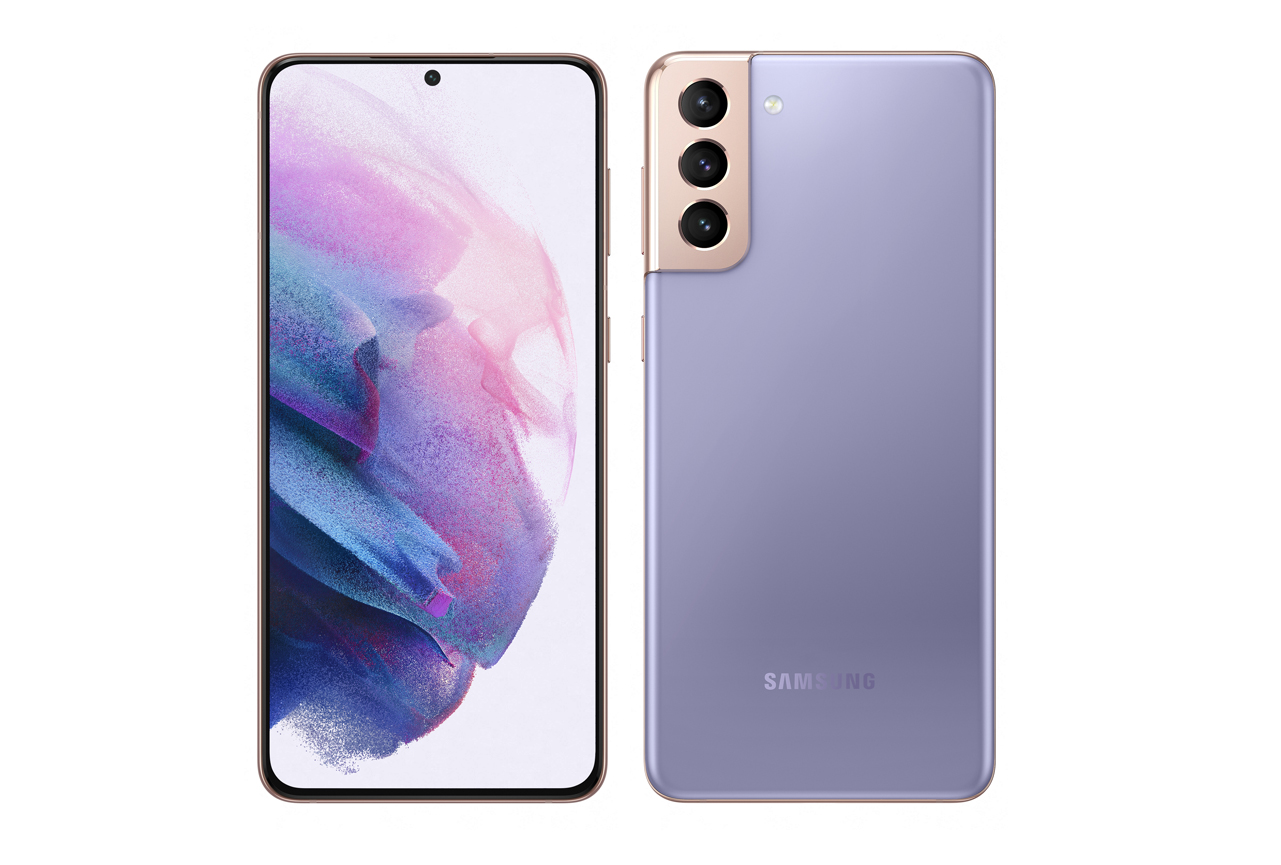 Samsung Galaxy S21+ 5G (Exynos)
111
camera
Use cases & Conditions
Use case scores indicate the product performance in specific situations. They are not included in the overall score calculations.
Outdoor
Photos & videos shot in bright light conditions (≥1000 lux)
Indoor
Photos & videos shot in good lighting conditions (≥100lux)
Lowlight
Photos & videos shot in low lighting conditions (<100 lux)
Friends & Family
Portrait and group photo & videos
Please be aware that beyond this point, we have not modified the initial test results. While data and products remain fully comparable, you might encounter mentions and references to the previous scores.
With an overall Camera score of 116, the Exynos version of the Galaxy S21+ 5G is a solid performer that ties its slightly smaller Exynos-based sibling, perhaps unsurprisingly, given the similarity of the hardware. It's not a big step forward compared to the preceding generation of Samsung devices: its Photo score of 123 ties the Exynos-based Samsung Galaxy Note20, for example. There have been some improvements (stills color is up a few points), but they're balanced out by some slippage in texture and noise performance.
The composite Zoom score of 77 lands the S21+ in the top ten, with solid tele performance and a very good ultra-wide showing (a historic strength for Samsung).
The Video score of 93 is a little lower than we would have hoped, mainly due to weaknesses in noise and texture handling.
The S21+ 5G (Exynos) exposes accurately, though our testers noticed some instability in exposures when the phone is faced with high dynamic range scenes. In those situations, highlights are also liable to clip.
Overall exposure results are pretty much identical to the vanilla S21 5G, but slightly lower results in objective lab measurements mean the S21+ scores one point lower in this category.
Color performance in stills is excellent, with the S21+ (Exynos) scoring just three points below the category high (Huawei Mate 40 Pro+, Apple iPhone 12 Pro Max, Google Pixel 4a). Colors are vivid, white balance is accurate across different lighting conditions, and skin tones are usually nicely rendered. Color results for the S21+ are the same as for the S21.
Detail levels are acceptable but on the low side for a high-end phone, and portraits in particular sometimes show disappointingly low detail. As you can see in this image texture rendering is identical to the vanilla S21 5G.
As with the baseline S21 (Exynos), there is also more noise than one would expect, with images showing higher luminance noise levels than most recent flagship phones.
In the sample images above you can see that noise on the S21+ can be very slightly higher than on the S21 which is why the noise score is one point lower. This slight difference can also be seen in our lab results.
Autofocus is fast in bright light and generally does fine. Depth of field is quite wide, so in group shots with subjects at different distances, it's usually easy to get everyone in focus.
Artifacts are not particularly well controlled (something we've seen in several other Samsung devices, including this phone's smaller sibling): the S21+ (Exynos) gets penalties for color quantization, hue shift, ghosting, and fusion artifacts, among others. We measured slightly less lens shading and ringing on the S21+ than on the S21 but this is likely down to sample variation.
In night shots target exposure is generally good but fine detail is lost and some fairly strong noise is visible. Image results in night conditions are the same for the S21+ and S21.
The S21+ (Exynos) does a good job of separating the subject from the background in its portrait mode, making only minor errors. The blur effect is strong, with a natural increase over distance from the plane of focus. Highlights in the blurred area are sometimes not handled realistically, but this won't break the illusion under most circumstances. Again, results are identical to those from the vanilla S21.
In terms of preview image the S21+ delivers a very similar performance to the S21 but shows smaller differences in exposure between preview and final capture, resulting in a one point higher score for this category.
The phone's ultra-wide camera offers a satisfyingly wide field of view, with a measured focal length shorter than most of the competition. The S21+ (Exynos) lands just outside the top five in our database for this sub-score, and it's worth noting that three of those five are also Samsung devices. Overall performance is the same as for the standard S21.
Tele performance is fairly good for a device in this class but detail at medium zoom ranges begins to lag behind that of better offerings and at longer zoom ratios, detail drops precipitously, despite the fairly high native resolution of the tele module. Overall tele zoom performance is on par with the S21.
However, the S21+ 5G (Exynos) has slightly better overall tele-zoom performance than the top-of-the-line S21 Ultra 5G (Exynos). It's noticeably better at close range and still holds an edge at medium and long ranges. (See our review of the Exynos version of the S21 5G, which has identical zoom performance, for an illustration of this.) Only at very high zoom ratios (approximately 10x and longer) does the Ultra model best the other two.
The Exynos Samsung Galaxy S21+'s Video score means the phone is not among the best for recording moving images. The main areas for improvement are low detail and high noise. The S21+ (Exynos) earns the poorest video noise score we've logged under our latest test protocol, falling under its S21 (Exynos) sibling by a single point. Noise is quite visible in all shooting conditions, including bright outdoor light. Meanwhile, texture remains low even in bright light. Overall video performance is very similar to the standard S21, with only small differences in the noise, artifacts and stabilization test categories.
Samsung Galaxy S21+ 5G, indoor video
Exposure is accurate, and highlights are well preserved, although sometimes at the expense of clipped shadows. White balance is generally accurate, but colors are undersaturated. Light skin tones are rendered accurately, but dark skin tones are often inaccurate and can also suffer from lost shadow detail. Autofocus is fairly fast and accurate.
Stabilization is a slight improvement over the Exynos S21, but the S21+ is still one of the lower performing devices in this category. Frameshift and residual motion remain a problem. Our testers also noted ringing and ghosting artifacts in video.
Differences to the S21 are mainly visible in static handheld scenes, like the one below. The S21+ is compensating more effectively for camera shake than the S21.
The Samsung Galaxy S21+ 5G (Exynos), low light video handheld,
The Samsung Galaxy S21 5G (Exynos), low light video handheld,
Conclusion
The Samsung Galaxy S21+ 5G (Exynos) delivers satisfying stills performance, with pleasant color and accurate exposure despite more noise and clipped highlights than we like to see at this price point. Video performance could be better for a Samsung flagship, considering the higher-than-expected noise. Overall, however, the S21+ 5G (Exynos) will get the job done for Samsung users who want a bigger screen than the S21's which delivers near identical image quality in all areas.
Pros
Accurate stills exposure in all conditions
Neutral white balance and natural skin tones
Wide depth of field for group photos
Accurate depth estimation and nice blur effect in portrait mode
Large ultra-wide field of view
Wide dynamic range in video
Accurate and stable exposure in video
Fast and reliable video autofocus
Cons
Exposure instabilities in stills shooting
High noise in stills, especially in low light
Stills detail sometimes low, especially in portrait scenes
Low detail at long zoom ratios
Noise high and fine detail low in videos
Video color often desaturated indoors and in low light
In low light, shadow detail lost in videos