Released in September 2020, the Samsung Galaxy Z Fold2 5G is the brand's followup on the first Galaxy Z Fold, which was released in late 2019. It has a bigger cover display (6.2 vs. 4.6 inches on the first edition), and the unfolded display inside is a 7.6-inch square dynamic AMOLED screen with a 120 Hz refresh rate (vs. 60 Hz on the Fold 1). Weighing in at 282 grams and powered by the Qualcomm SM8250 Snapdragon 865+ chipset, it's basically a tablet that you can stick in your pocket. Speaking of pockets, they'll need to be deep, as the Z Fold 2 is priced at about 2,000 euros.
Photographically speaking, the Galaxy Z Fold2 describes its setup as having three main cameras — a standard with an f/1.8, 26 mm-equivalent lens with dual-pixel PDAF and OIS; an ultra-wide with an f/2.2, 12 mm-equivalent lens; and a telephoto with an f/2.4, 52 mm-equivalent lens. All three are coupled to 12 MP sensors.
Read on to see how the Samsung Galaxy Z Fold2 performed under our latest testing protocol.
Key camera specifications:
Main: 12 MP 1.8µm-pixel sensor, f/1.8-aperture lens with 26mm equivalent focal length, OIS, dual-pixel PDAF
Ultra-wide: 12 MP 1.12µm-pixel sensor, f/2.2-aperture lens with 12mm-equivalent focal length
Telephoto: 12 MP 1.0µm-pixel sensor, f/2.4-aperture lens with 52 mm-equivalent focal length
LED flash
4K/60 fps video (tested at 4K/30 fps)
About DXOMARK Camera tests: For scoring and analysis in our smartphone camera reviews, DXOMARK engineers capture and evaluate over 3000 test images and more than 2.5 hours of video both in controlled lab environments and in natural indoor and outdoor scenes, using the camera's default settings. This article is designed to highlight the most important results of our testing. For more information about the DXOMARK Camera test protocol, click here. More details on how we score smartphone cameras are available here.
Test summary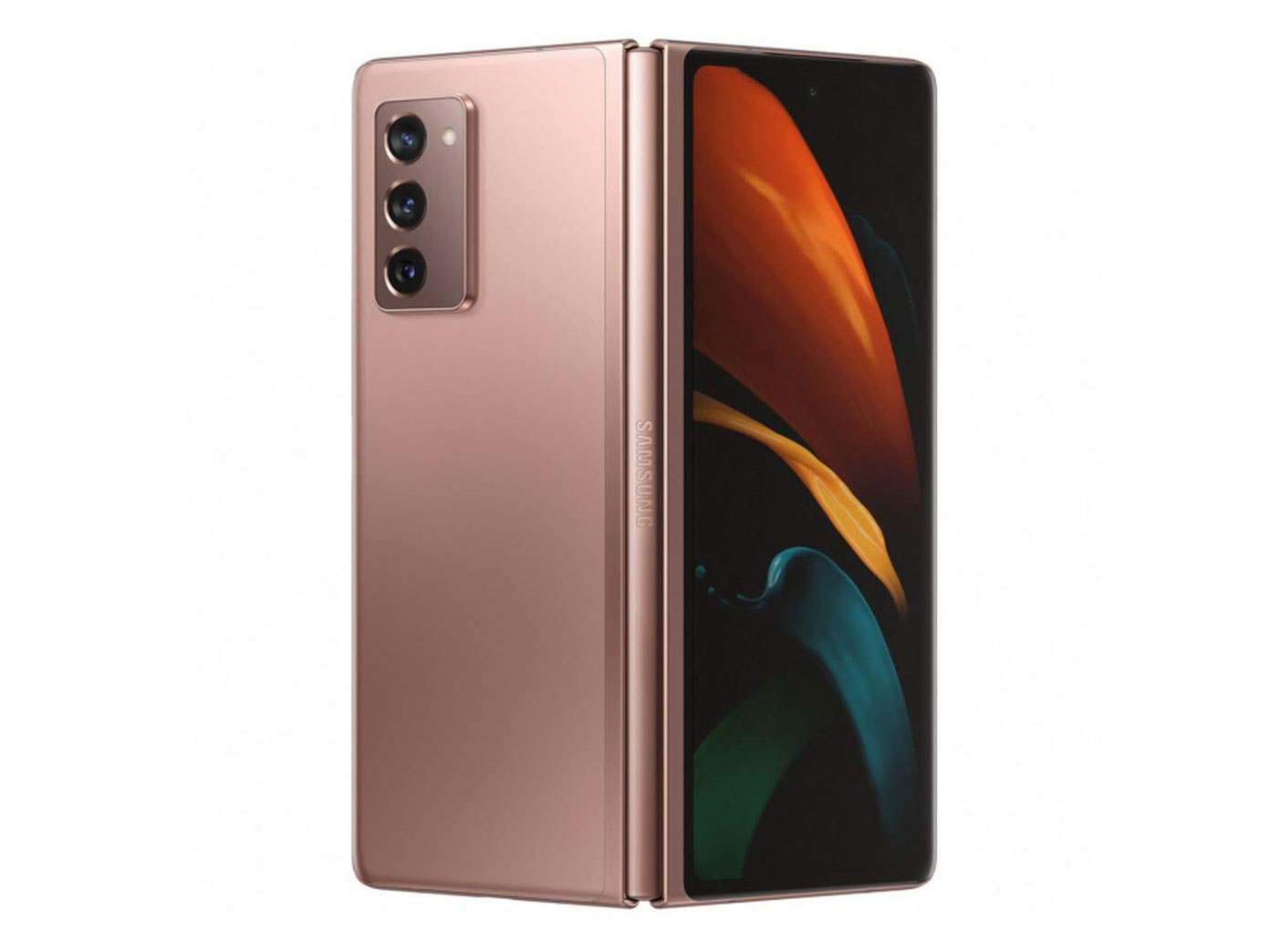 Samsung Galaxy Z Fold2 5G
109
camera
With a DXOMARK Camera score of 109 (and Photo score of 108), the Samsung Galaxy Z Fold2 5G is considerably down in the rankings of top flagship phones, but not far out of line with previous folding models. The main selling point is that big display. That said, the Z Fold2 produced vivid and appealing colors under almost all tested conditions for both stills and videos, and its target exposure was on the mark both indoors and out. The ultra-wide is indeed very wide, and the pinch-in and -out zoom in preview was quite smooth in all tested conditions. As for drawbacks, fine details are often lost in images taken by the main camera. In low-light and indoor situations, autofocus failures and noise are issues. Artifacts like color fringing, color quantization, hue shift, loss of acutance in the field, and ringing occasionally become visible.
While the Samsung Galaxy Z Fold2 produced accurate target exposure and did well in reproducing vivid, eye-catching color, our engineers noted that some fine details are lost in the texture. The autofocus failed to lock on properly sometimes, especially in indoor and low-light conditions. Noise was also an issue in low-light conditions.
In the artifacts attribute, the Galaxy Z Fold2 produced images that sometimes showed color fringing, color quantization, hue shift, loss of acutance in the field, and ringing.
Shooting at night with the flash activated, the device was fairly accurate for target exposure on the human face, but the background was very underexposed, and some skin tones had a bit of a yellow-green cast. Without the flash, the Z Fold2 sometimes missed the mark with autofocus and produced a lot of noise.
The somewhat low Zoom score of 63 reflects some issues with both the ultra-wide and the telephoto cameras. With its 52 mm-equivalent lens, the telephoto camera on the Samsung Galaxy Z Fold2 produced images with a visible loss of texture at medium and long range. Samsung describes the ultra-wide as a 12 mm-equivalent, but our engineers measured it as being closer to 14 mm, which is still quite wide. Using this lens, fine texture is lost, and the lens does not manage anamorphosis — visible distortion of perspective — particularly well, leaving faces looking distorted.
When it comes to bokeh, the Samsung Galaxy Z Fold2 manages depth of field well overall, but there are sometimes depth estimation artifacts visible, with the rendering of subject and background slightly off kilter.
The preview on the Samsung Galaxy Z Fold2 is fairly close to exposures in indoor and outdoor situations, but not as effective in low light, nor did it display bokeh very accurately. The pinch-in and pinch-out zoom is quite smooth, however, earning some bonus points.
The Samsung Galaxy Z Fold2's Video score of 102 is respectable, but well below the top-in-class flagships. Our engineers tested the video mode at 4K at 30 fps, and noted that while 60 fps is possible, recording quality is best at 30 fps for this device. White balance is accurate under indoor and outdoor conditions. The Z Fold2 renders colors well and usually reproduces accurate skin tones. The target exposure is generally accurate, and the camera captures a fairly wide dynamic range, although highlights are sometimes clipped. The stabilization works pretty well on static scenes when hand-held. Noise is well controlled outdoors, though it becomes visible under indoor and low-light situations. As with still camera results, the Z Fold2 often loses fine texture under many tested conditions.
The Galaxy Z Fold2 lost some points for visible problems with refocusing, focus overshoots, and limited tracking abilities. Loss of texture is evident in most conditions, and ringing artifacts are often visible.
Samsung Galaxy Z Fold2, low-light video
Conclusion
The Samsung Galaxy Z Fold2 is probably not the smartphone to buy if your primary aim is a great camera setup. It performs fairly well across a range of general circumstances, but has many small issues that would be problematic for photo perfectionists. Color and exposure are good across most tested circumstances, but loss of texture emerges as a problem in a variety of our tests, especially in low-light and indoor situations.
Noise and a variety of artifacts also dragged down the device's score. The ultra-wide brings an enormous field of view, but again loss of texture, too. The same texture problem rears its head with the telephoto module. In video, it's a similar story: functional in general, but not delivering on the fine details. Accurate white balance, good color rendering, and exposure are counterbalanced by issues with autofocus, limited tracking abilities, and again, loss of texture.
Pros
Accurate target exposure
Vivid colors
Ultra-wide captures very wide field of view.
Good white balance in video in most situations
Efficient stabilization on hand-held static videos
Pinch-in and -out zoom is smooth in preview.
Cons
Loss of texture evident in both stills and videos
Issues with autofocus in low-light and indoor situations
More than usual number of artifacts
Limited tracking and autofocus issues in video
In the Press