The Sony Alpha 1 is the new Sony full-frame mirrorless flagship, sitting above the Sony A9 and the Sony A7 models. Housed in a familiar-styled and still relatively compact body, the Sony A1 features a completely new 50 MP "stacked" BSI CMOS sensor capable of 30 fps bursts (lossy compressed RAW/JPEG only), blackout free, and captures 8K/30p video.
Besides the impressive sensor, it has built-in sensor stabilization, which Sony claims can reduce camera shake by up to 5.5 steps, plus there's also multi-shot capability of outputting a 199 MP image. Other high-end features include a 9.44 million dot OLED viewfinder with impressively large 0.9x magnification, and a tilting 3.0", 1.44M dot touch-sensitive LCD. On a camera destined for press and studio use, the electronic shutter can now sync with flash and can do so at up to 1/200s. If a higher sync speed is required, the mechanical shutter can sync at up to 1/400 second.
Besides the pro-oriented stills specs, the Sony A1 also has a full complement of video capabilities, including full-width 8K/30p and full-width 4K/60p (though the latter is binned, not oversampled, which accounts for the higher frame rate). It can also shoot 4K 120p from a slightly cropped region, and Sony promises a 4.3K 16-bit RAW option over HDMI in the future.
The camera has two CFexpress (Type A)/SD UHS-II card slots. There's also full-size HDMI and USB Type C for super-fast transfer speeds or external charging, plus there's Wi-Fi, Bluetooth and Ethernet for additional camera control and image sharing options.
Key specifications
50.1 MP full-frame stacked BSI CMOS sensor
5.5-stop, 5-axis image stabilization
Fast hybrid AF with 759 points, Real-time Eye AF
Native ISO 100-32,000, with expansion to ISO 50-102,400
12 fps mechanical, 30 fps with electronic shutter
9.44-M dot viewfinder, 240 fps refresh
3.0" touch-screen LCD, 1.44 M dots
8K 30p, 4.3K 16-bit RAW (over HDMI), 10-bit 4K 120p
Dual band (2.4/5 GHz) Wi-Fi, Bluetooth, USB-C, 1000BASE-T Ethernet
Dual CFexpress (Type A)/SD slots (UHS-II compatible)
Overall performance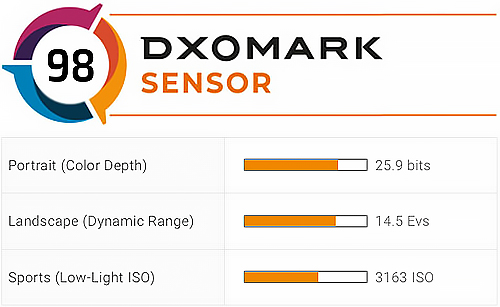 Click on the score chart above to open the Sony A1 product page.
The Sony A1 achieved an overall sensor score of 98, which puts it in 9th position in our overall sensitivity ranking (including medium format) and in 7th place for full-frame 35 mm. That places the Sony A1 fractionally behind the Sony A7R IV and Nikon Z7 II at 99 and 100 respectively, and just slightly in front of the Canon EOS R5 at 95 points by less than 0.2EV in overall sensitivity. There's really not much between them on the face of it, but it's always worth looking at the individual metrics and how the sensors perform throughout the sensitivity range.
The Sony A1 sensor has excellent maximum color depth and dynamic range at base, measured at 25.9 bits and 14.5 EV ,respectively. While still very good, the sensor doesn't compare quite so well in our low-light ISO (Sports) category, however, where it achieved a computed value of ISO 3163. Given the pixel count (and smaller pixel size), though, it is still impressive.
In-depth comparisons
As this is a camera aimed at working professionals, news agencies, and well-heeled enthusiasts, we've compared the Sony A1 with the 20 MP Canon EOS 1 DX Mark III and the 24 MP Leica SL2 S. We've also chosen these to compare because the Canon adopts a high-end but conventional CMOS sensor design, now known as a front-side illuminated type, while the Leica has also has a BSI-type sensor (though not the more advanced "stacked" type found in the Sony A1).
Portrait (color depth)
The Sony A1 has a very strong response for color sensitivity, especially at low ISOs, up to ISO 200, where it peaks at 25.9 bits at ISO 50/ISO 100 (overlaid on the graph), compared with the maximum 25.2 bits recorded by the Leica SL2-S. There's also slight bump of around 0.5 bit between ISO 12,800 and ISO 25,600, though otherwise there isn't much between them, which is pretty remarkable given the difference in pixel count.
For a conventional front-side CMOS sensor, the Canon EOS 1DX Mark III performs very well at high ISOs, practically matching the A1 from ISO 3200 and up, but it doesn't compare quite so well at lower ISOs up to ISO 200, nor between ISO 800 and ISO 1600. In fairness, though, the difference there is minimal.
Images from the Sony A1 remain within our high quality range when set at ISO 1600 (measured ISO 1175), and thanks to a second gain in the response, they stay comfortably above the 14-bit threshold (measured at 15 bits) at ISO 25,600 (measured ISO 17859). However, so do both the Leica and the Canon, though the latter records exactly 14 bits at at ISO 25,600 (measured ISO 18,482).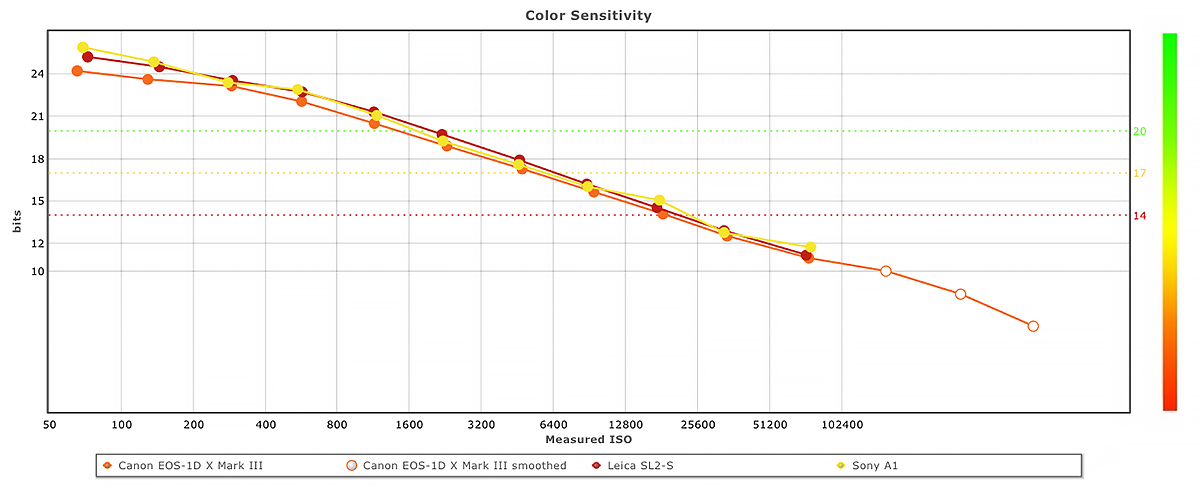 Landscape (dynamic range)
At base ISO, the stacked sensor in the Sony A1 peaks at around 14.5 stops of dynamic range, which is close enough to parity with the very best results from full-frames at around the 14.7 EV mark. Even against the impressive BSI CMOS in the Leica SL2-S, the Sony A1 has around +0.5 EV more at base. While that's a small amount, it may give the A1 a slight edge when adjusting highlights and shadows in high-contrast scenes, such as dimly lit interiors with brightly lit windows.
Although the Sony A1 beats the Leica SL2-S, the conventional FSI CMOS in the Canon EOS-1DX Mark III has the same 14.5 EV dynamic range at base, and the Canon trumps both rivals up to ISO 800. After that point, though, a gain in the response of the Sony and Leica put them both on a similar trajectory as the Canon, with the DR diminishing by around -1 EV per whole ISO step — up to ISO 102,400, anyway (although the Canon can go higher).
A closer look reveals the BSI CMOS in the Leica SL2-S performs slightly better than either the FSI Canon or the stacked Sony, and from ISO 3200 on, the Leica and the Canon have a slightly wider DR than the Sony, around +0.3-0.5 EV. Interestingly, a second gain in the response of the Sony A1 between ISO 12,800 and 25,600 increases DR to the same level as the Canon and Leica, but it falls back by the same amount at ISO 102,400.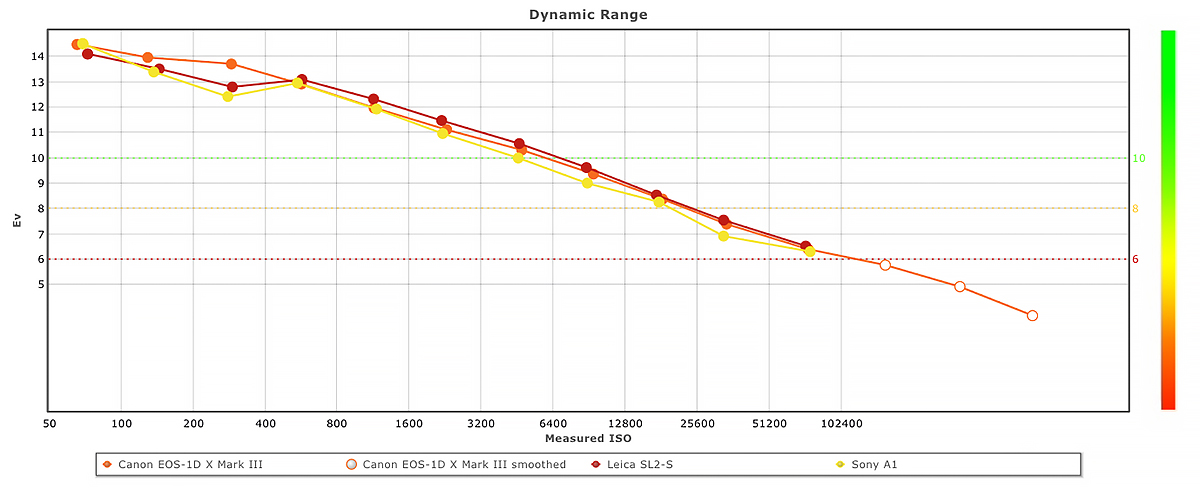 Sports (low-light ISO)
Given the Sony A1's much higher pixel count, it isn't really surprising to see slightly noisier images reflected in the Sony's Sports score. However, what is perhaps surprising is that at low ISOs, the Sony is cleaner than the Canon and only marginally noisier than the Leica. At higher ISOs, the differences between the results reduce as the ISO sensitivity increases, with the Sony A1 only slightly noisier than both at our 30 dB quality threshold. That said, the +0.15EV difference between the Leica SL2-S (3163 ISO vs 3504 ISO) is barely noticeable, and it's negligible when compared to the Canon EOS-1DX Mark III (3163 ISO vs 3248 ISO). At least that's the case when output is normalized to 8 MP (equivalent to a 12×8 inch print at 300 dpi); when viewed on-screen, the difference in noise levels is more apparent.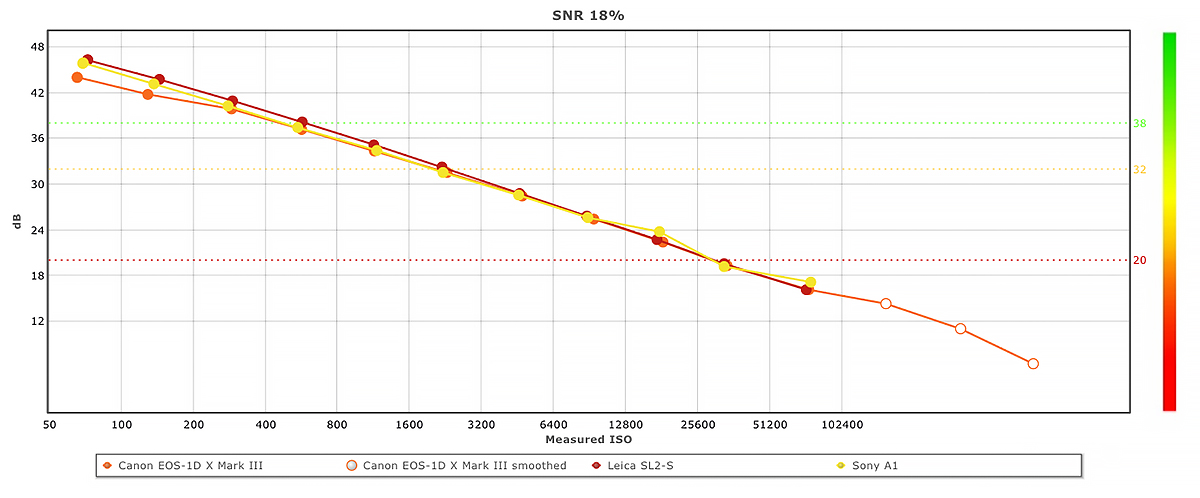 Conclusion
After the introduction of the Sony A9 it seemed that Sony had established a flagship series; with the appearance of the Sony A1, however, that's clearly not the case. Indeed, on paper the Sony A1 combines the best of the A9, A7R, and A7S series in one package, and naturally that doesn't come cheap.
The Sony A1 has a high-resolution 50 MP sensor that produces exemplary images and is practically identical in performance to existing high-end sensors which feature far lower pixels counts, such as those found in the superb Leica SL2-S and in Canon's equally superb flagship EOS-1DX Mark III. Combined with the wide range of available native-mount lenses, its sensor makes the Sony A1 a highly attractive option for professionals working in a wide range of genres and markets, and will no doubt be on the wish lists of a tranche of enthusiasts and amateurs alike.
In this review, we have mentioned the Sony A1 most relevant rivals from other brands. As usual, you can compare it with these and with other models and create your own comparisons and in-depth analyses using our interactive image sensor ranking tool.