After some three years since the introduction of the A6300, Sony has launched its follow-up, the A6400. Featuring a familiar rangefinder-style body, the design is mostly unchanged from the earlier model and shares many of the same features, such as the OLED EVF and touch-enabled, tilting 3-inch, 921K-dot rear LCD screen.
Also unchanged is the 24.2 effective megapixel resolution using an APS-C Exmor (back-illuminated) CMOS sensor. This is paired with a BIONZ X processor that delivers a slightly wider ISO range of 100-32,000 with only upper expansion to 102,400, along with continuous shooting at up to 11fps.
Although the A6400 also features the same hybrid AF system with 425 points, it borrows some of the advanced data-processing abilities of the top-of-range A9, and it's the first to adopt what Sony is calling "AI-based object recognition" technology. Most of these improvements target autofocus performance, especially Eye AF and focus tracking that uses artificial intelligence methods to help recognize subjects based on color, brightness, and distance.
In terms of video, the Sony A6400 can capture footage up to 4K (UHD) at up to 30 frames per second, using full pixel read-out without binning. The new camera records to a single SD memory card slot, which supports the slightly slower UHS-I spec media cards.
Key specifications:
24.2MP APS-C Exmor CMOS sensor
Hybrid AF with contrast-detection and phase-detection AF with 425 points
BIONZ X processor
Native ISO 100-32,000 (expandable to ISO 102,400)
Up to 11fps shooting with continuous AF
4K video up to 30fps and 1080p up to 120fps
Single SD card slot (with UHS-I support)
Overall performance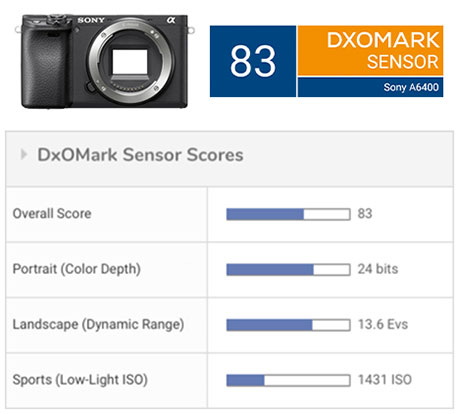 The Sony A6400's APS-C size CMOS sensor achieves an overall DxOMark score of 83 points, which puts it on the same level as slightly older APS-C models, such as the Nikon D7100 and the Samsung NX1.
It shouldn't come as any surprise to see that the Sony back-illuminated sensor has excellent all-round performance and is impressive not only for its wide dynamic range (Landscape) score of 13.7 EV at 100 ISO, but also for its low-light ISO (Sports) score of 1431 ISO, where it's among the best in class for APS-C size sensors. Even so, it still comes in 55th place when compared against the larger full-frame 35mm and medium-format size sensors.
Measuring 24 bits, the A6400's sensor (Portrait) color depth is also excellent and on par with some current physically-larger full-frame, front-side illuminated sensors, but of course it doesn't match the color sensitivity of the full-frame back-illuminated models.
Image quality compared
With the same 24MP resolution as the earlier A6300, the APS-C sensor in the new A6400 performs very closely to that of its predecessor. However, the recorded results are marginally lower.
With 0.4 bit lower color depth, the (Portrait) score displays the single largest discrepancy; however, both the dynamic range (Landscape) and low-light ISO (Sports) scores also see a decrease—though in practical, "real-life" terms, they're effectively unchanged.
As the table below shows, the 24MP A6400 sensor scores are also very close to those of the 20.9MP Nikon D500. Even with the latter's larger photoreceptors, color depth, and low-light ISO measurements are similar; however the Nikon camera leads slightly in dynamic range.
And it's a similar case for the mid-range 24.2MP Nikon D5600, where it also leads the way in terms of dynamic range, at least at base ISO. If we look more closely, though, we see that Sony A6400 has improved dynamic range at higher ISOs, even if that isn't directly reflected in the low-light ISO (Sports) score.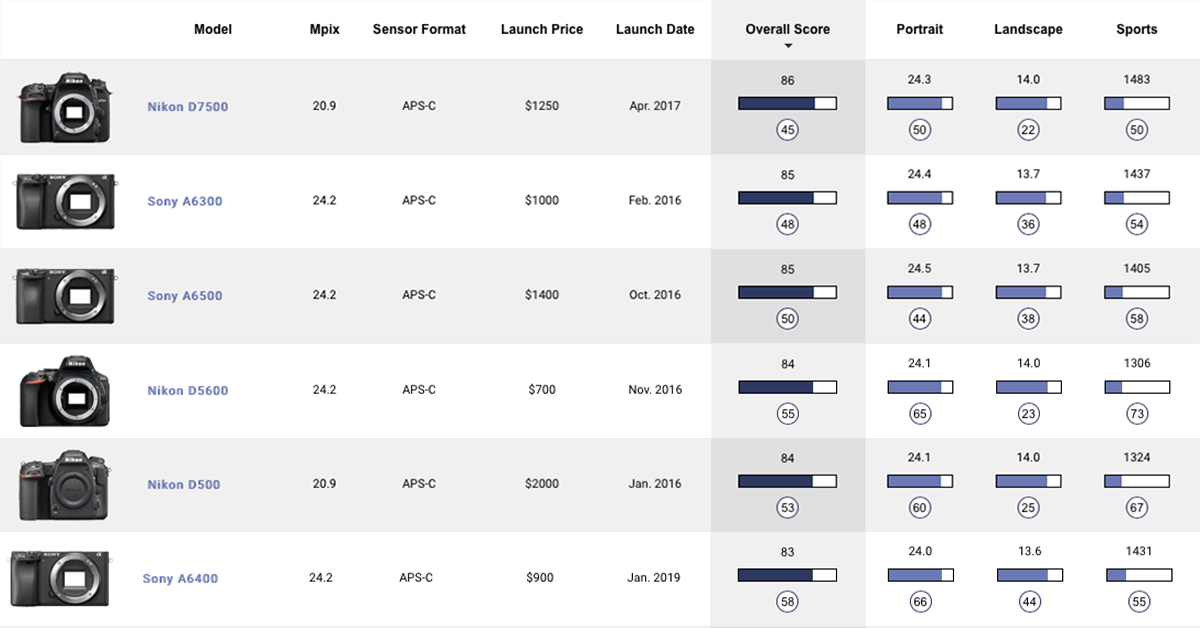 Click here to open our interactive DxOMark image sensor ranking tool.
In-depth comparisons
For a more detailed examination of sensor performance, we'll compare the Sony A6400 to the older Sony A6300, as well as to the similarly-priced mid-range Nikon D5600 DSLR.
Portrait (color depth)
Even though the Sony A6400 has a similar body, pixel count, and many features of the A6300 on which it is based, the APS-C BSI CMOS sensor performs similarly, but its results are quite different in terms of color sensitivity.
At base ISO, the A6400 achieves a maximum color depth of 24.1 bits, a difference of 0.4 bit compared to the A6300, which is noticeably lower. At ISO 1600, the variation maxes out at 1.4 bits, but the discrepancy between the two cameras continues throughout the sensitivity range.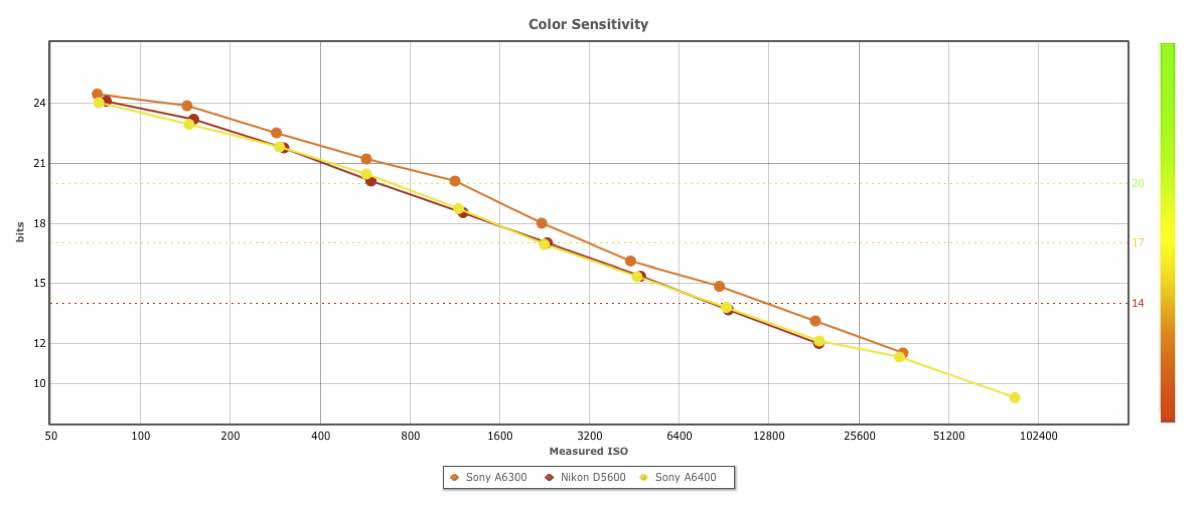 The lower color response on the A6400 means that it can't quite distinguish as many colors as the earlier A6300, and this may at times be apparent in images, particularly where transitions occur between hues. This is because the A6400 has higher read noise than the A6300, which limits the former's color sensitivity.
Strictly speaking, the Nikon D5600 has better color discrimination than the newer A6400 as well, but as it's just 0.1 at base, peaking at 0.3 bits at ISO 200, it's unlikely to be noticeable in images.
Landscape (dynamic range)
With a measurement of 13.6 EV at base (ISO 100), the A6400 has very good dynamic range that's capable of recording a wide range of tones in a single image. That typically means there's more latitude in exposure when adjusting the A6400's images in post-processing than doing so to those with lower dynamic range, with less likelihood of revealing noise or banding.
Although it is a little lower than the Nikon D5600 at base, the A6400—even with a higher noise floor—is pretty much on par with the A6300 at up to ISO 200. Beyond that, up to ISO 800, the A6400 has the better response, though from ISO 1600 onwards, both Sony models perform similarly up to ISO 12800, at which point the A6300 has a slight advantage again.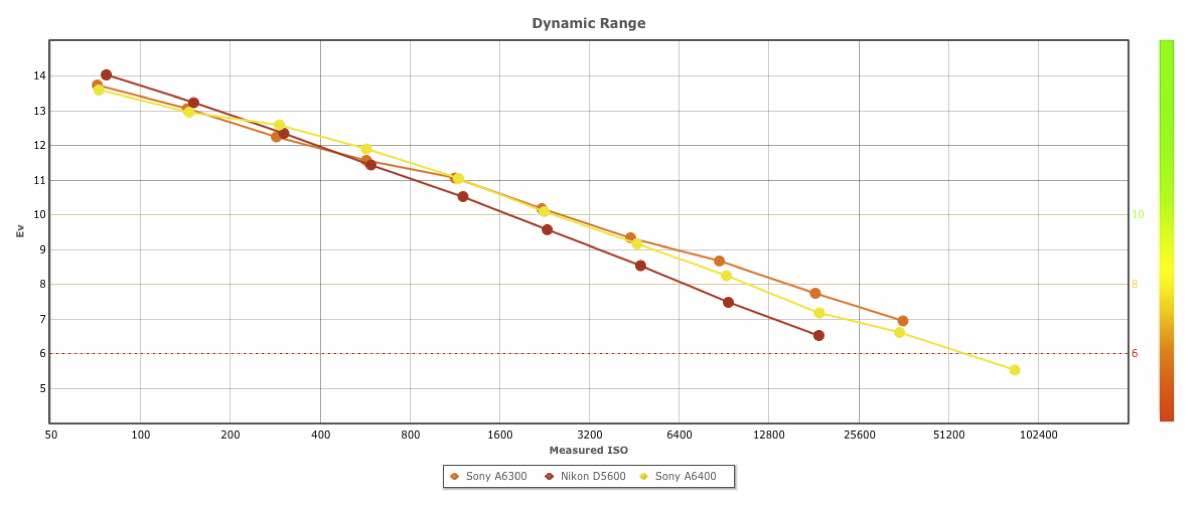 While the Nikon has the widest dynamic range of the three at base ISO (100), the Sony A6300 and A6400 models have more flexibility at higher ISOs, with the latter having a bump at the arguably more useful lower ISOs. Although the difference isn't that much—around 0.5 EV—it could be noticeable in some cases.
Sports (low-light ISO)
With the exception of the uppermost sensitivity values, all three cameras share practically identical signal-to-noise ratios. At around ISO 12800, the lower noise levels of the A6300 may be noticeable over the Nikon D5600's, but it's unlikely that you'd spot a difference between the images from the two Sony models. Combining the lower noise and wider dynamic range of the Sony A6400 at higher sensitivity settings, however, as per our criteria for the Sports score, may deliver an advantage over the Nikon D5600 when brightening images during post-processing.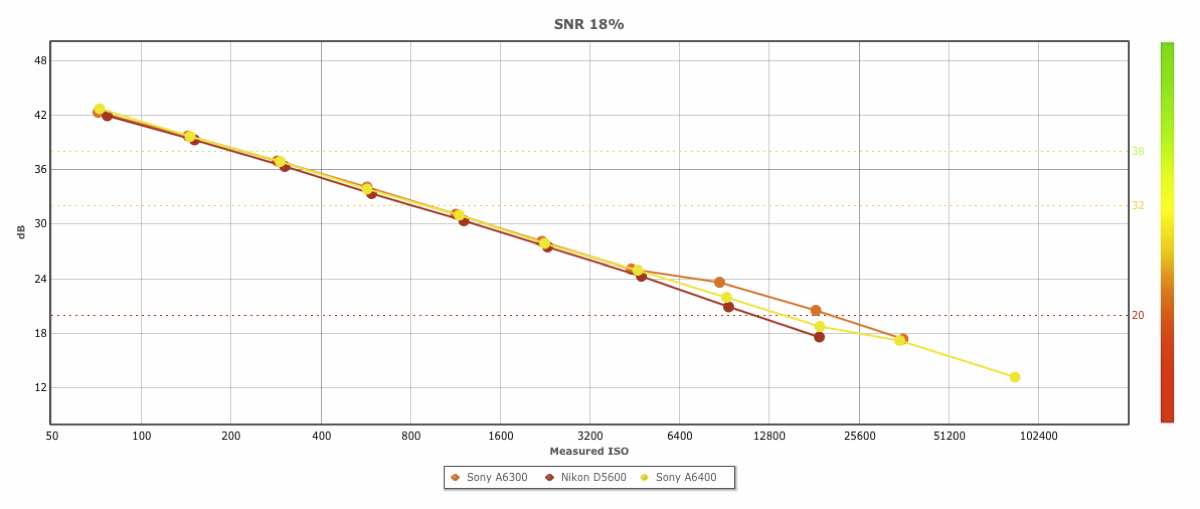 Conclusion
Anyone comparing the Sony A6300 and A6400 will find the results intriguing. Although the two models share a similar sensor resolution (pixel count) and the overall results are very close, the measurements are not identical.
Despite its slightly higher noise floor over the A6300, the new A6400 sensor performs well, combining a wide dynamic range over a highly useful range of ISO sensitivity settings and excellent low-light ISO capabilities. Although that directly impacts the color depth, the A6400 remains capable of delivering extremely pleasing images. Combine those attributes with the new AF system, 11fps continuous shooting, and a relatively affordable price, and you have a very enticing camera for sports and action photographers on a budget.
In this review, we have compared the Sony A6400 to its predecessor and to its most relevant rival from other another brand. As usual, you can create your own comparisons and in-depth analyses using our interactive image sensor ranking tool.
In the Press