The Sony A6600 is the follow-up to the A6500, and is now the premium camera in the company's range of rangefinder-style, mirrorless interchangeable-lens models that feature an APS-C sensor.
Like its forerunner, the new model features a 24.2 MP Exmor CMOS sensor and in-body image stabilization (IBIS) with compensation up to 5 stops; however, the A6600 includes Sony's vaunted Real-Time Tracking Autofocus for both stills and video. This new capability allows the camera's autofocus to select dynamically between tracking AF and eye and face detection AF modes, without additional user input.
As for the body design, there have been some changes to the ergonomics, including a larger handgrip to accommodate a higher-capacity (2280mAh) Z battery that is rated at up to 800 shots per charge. Despite the compact dimensions, there's a 2.3 M-dot EVF and a 3-inch, 921k-dot touchscreen LCD that can tilt 180 degrees for vlogging and selfie use. However, Sony removed the built-in flash found in its predecessor.
A continuous shooting rate of up to 11 fps is possible, with AF and auto-exposure saving to two slots—albeit these are for Memory Stick Pro and SD (with support for the slower UHS-I standard). There's also Wi-Fi and USB 2.0 data transfer, plus NFC for connection to mobile devices and Bluetooth for location data acquisition. Video capture is 4K/30p full-pixel readout without binning from essentially a Super-35mm area with HLG and flat log options.
Key specifications:
24.2-MP APS-C Exmor CMOS sensor

Real-Time Tracking AF for stills and video

Native ISO 100–32,000, with expansion to ISO 50–102,400

11 fps maximum burst

3-inch tilt screen

4K UHD/30fps video, Full HD at up to 120fps

Two cards slots: single SD UHS-I + Memory Stick Pro
Wi-Fi, USB 2.0, NFC, and Bluetooth
Overall performance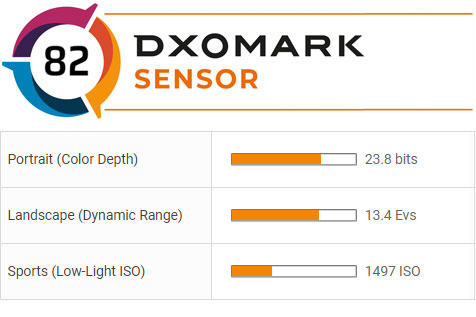 Click on the score chart above to open the Sony A6600 product page.
The Sony A6600 24MP sensor achieves an overall DXOMark score of 82, which puts it in 21st place (joint 4th) overall in our database of APS-C and Four-Thirds sensors used in mirrorless cameras, dropping to joint 6th when we include APS-C DSLRs.
The A6600 sensor is strongest in our Sports (low-light ISO) category, and at 1497 ISO, achieves the highest value we've measured for this sensor type.
Not surprisingly, a strong result in the Sports category usually means a strong result in the Landscape (dynamic range) category, and so it is here. The A6600 achieves a maximum dynamic range of 13.4 EV at its expanded setting of ISO 50, and it also has an excellent high ISO dynamic range.
The Sony A6600 doesn't compare quite so well in the Portrait (color depth) category. Although it has a very good maximum color depth of 13.4 bits at its expanded setting of ISO 50, it doesn't fare quite so well after that, especially at mid and high ISOs.
Image quality compared
A strong result in the Sports category means that the A6600 has low noise and good dynamic range, but it's worth remembering that the results in ISO values in this category are a function of SNR and dynamic range. The differences between the leading sensors are very small indeed, and all of the recent Sony 24MP APS-C sensors going back to 2016 achieve very similar results in this category. Indeed, you would have go back to the 2011 Sony NEX 7 to see a difference of 0.5 EV.
The A6600's nearest competitor in terms of sensor size is the one it replaces, the Sony A6500. It's intriguing that that older model with a similar 24 MP sensor and on-chip phase detection autofocus has slightly better dynamic range and has significantly better color sensitivity throughout the sensitivity range.
It's interesting to compare the A6600 with the Micro-Four-Thirds Olympus OM-D E-M1 Mark II. With the introduction of the Mark III, the price has fallen significantly, though not quite to the level of the Sony. Still, the E-M1 Mark II's lower-resolution 20.4MP sensor is the best of its type and comes remarkably close, achieving a very good maximum color depth of 23.7 bits, and has both a wide maximum dynamic range of 12.8 EV and a very strong Sports score of 1312 ISO.
Like the Sony, Canon's mirrorless M models also adopt an APS-C size sensor, though they're typically slightly smaller than the Sony sensors by a few millimeters. All three in our database—the M100, the M5, and the M56—perform similarly, though the 24.2MP Canon EOS M5 is arguably the closest direct competitor to the Sony A6600. Dating back to 2016, it's still in range but lags behind the A6600 sensor slightly in all three categories. Maximum dynamic range and color sensitivity of the M5 is 12.4 EV and 23.4 bits, respectively, while its low-light ISO score is just 0.2 EV behind at ISO 1262.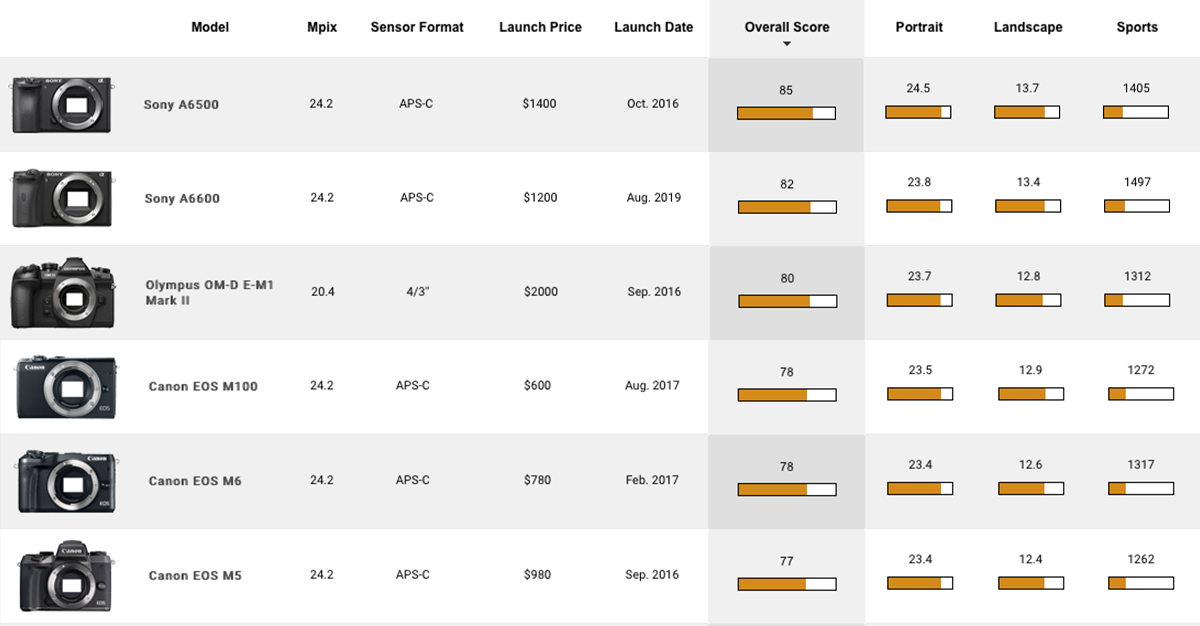 Click here to open our interactive DXOMARK image sensor ranking tool.
In-depth comparisons
As we've already mentioned, the Olympus OM-D E-M1 Mark II is a premium model that is pitched at a similar market segment as the Sony A6600. Not only does the Olympus have an extremely extensive and well-thought-out lens range, the Mark II is now at a similar price to the Sony.
We'll also look at the 24.2MP Canon EOS M5. As Canon's top-of-the-range APS-C mirrorless camera, costing around $1000 when launched in 2016, the EOS M5 is aimed at much the same type of user as the Sony A6600. Lens range is a little limited, though it can access Canon's vast EF range using an EF-M adapter. Like the Olympus, it has also come down in price, however, it's overdue for a refresh. Whenever that happens, it will likely have the same new 32.5MP sensor as the Canon M6 Mark II, which we're waiting to test.
Portrait (color depth)
All three sensors share similar maximum color depth at their minimum ISO settings. However, while the similarly-sized APS-C Canon sensor is 0.4 bits lower at base, the smaller Four-Thirds sensor in the Olympus OM-D E-M1 Mark II is only 0.1 bits lower than the Sony at 23.8 bits. Intriguingly, the Sony A6600 adopts a marked ISO 50 (measured at ISO 72) setting rather than the more usual "Lo" expanded setting. In typical cases, the measured sensitivity is lower than the marked (manufacturer's) setting, presumably to protect highlights. That's not the case here, however.
There's also some evidence that the Sony A6600 has changed its behavior in sensitivity from ISO 200 onwards. It certainly outperforms the Canon EOS M5 for color depth at low to mid sensitivities, but even then, the Olympus has a marginally higher color depth at ISO 400 (measured ISO 162). While measured ISOs are dissimilar between the Sony and Olympus, their color sensitivity curves are practically identical from ISO 800 onwards. Even the Canon curve is similar from ISO 3200 onwards, despite the different measured values.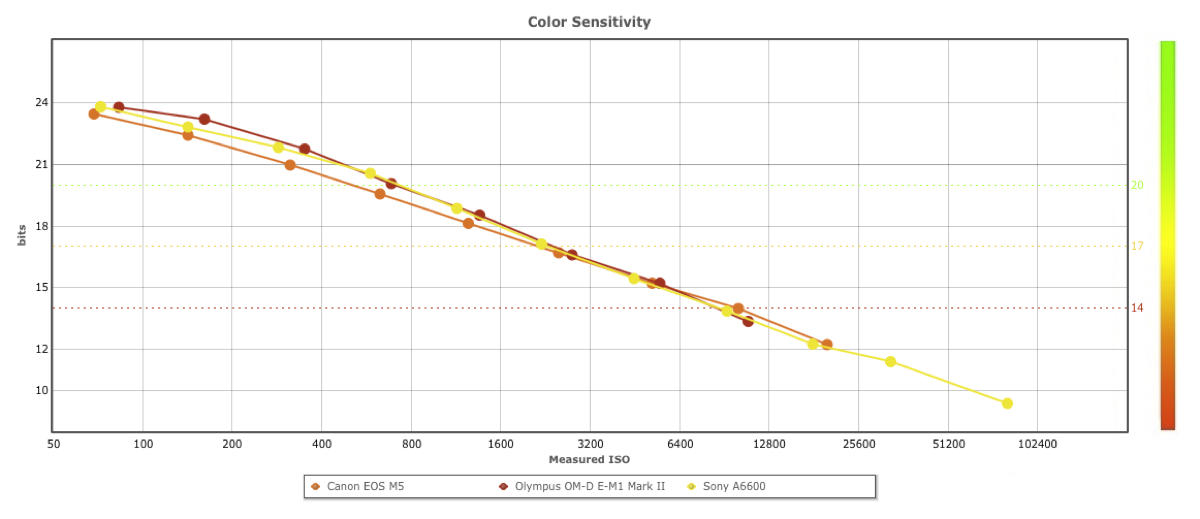 The Sony just breaches our 14-bit color depth threshold of acceptable image quality when set to ISO 12,800 (measured 9,275 ISO), which is around a stop lower than leading full-frame sensors, but slightly better than the Four-Thirds Olympus at 13.3 bits and just less than the APS-C Canon at 14 bits.
Landscape (dynamic range)
A maximum dynamic range of 13.4 EV is excellent for this size sensor, and like most typical sensors, it achieves this score at its lowest sensitivity. The A6600 achieves the maximum dynamic range at its expanded setting of ISO 50 (ISO 70 measured), though ISO 100 offers an identical result. Even so, the Sony A6600 captures an extra +0.56 EV more than the smaller Four-Thirds sensor in the Olympus at its lowest sensitivity setting, ISO 200 (measured ISO 83). It also trumps the Canon at ISO 100 (measured ISO 69) with a dynamic range that is +1 EV wider.
More importantly, with the exception of ISO 200 (measured 142), the Sony has a wider dynamic range than either rival at every sensitivity setting up to ISO 102,400. The change of sensitivity behavior is clearly noticeable early on, between ISO 200 and ISO 400. This gives the Sony an advantage when capturing high-contrast scenes at higher ISOs (such as when hand-held, for instance). At ISO 3200, for example, the Sony is still within our high-quality dynamic range threshold of 10 EV and has a dynamic range that is nearly a stop (+0.93 EV) wider than the Olympus and +1.33 EV wider than the Canon.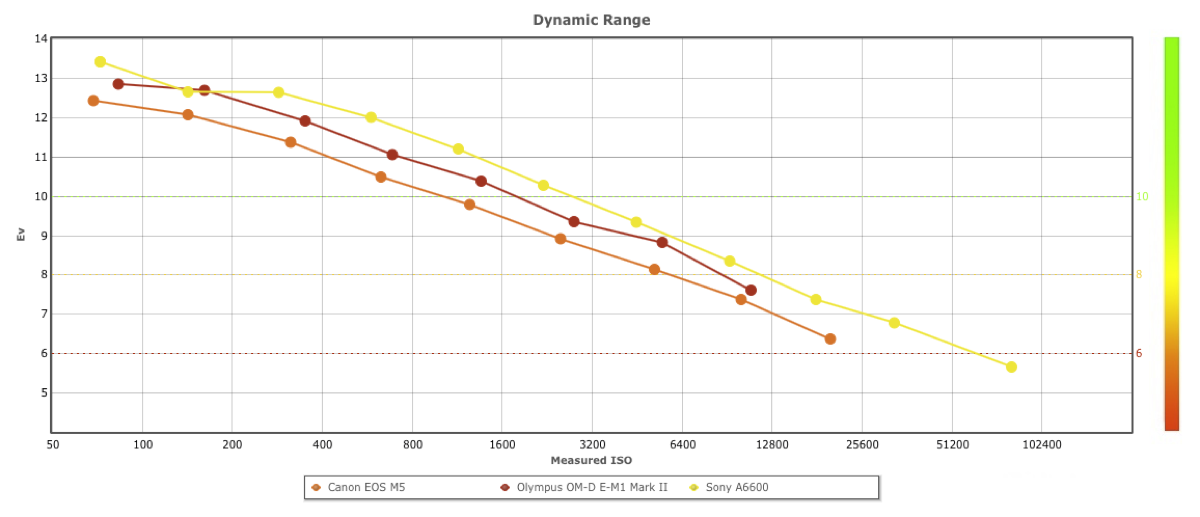 Also worth noting is that images from the Sony A6600 sensor remain within our minimum 6 EV (measured at 6.78 EV) dynamic range quality threshold at the extended sensitivity setting of ISO 51,200.
Sports (low-light ISO)
Despite the notable differences in color sensitivities and dynamic range, SNR 18% results for all three cameras are similar, especially at high ISOs. Even so, images from the Sony A6600 sensor are slightly cleaner than those from the Canon EOS M5 up to ISO 3200 (ISO 2207 vs 2516 measured), and up to ISO 6400 (ISO 2797 measured) on the Olympus, which only highlights how arbitrary manufacturers' settings can be.
At 30dB, where we measure ISO for our Sports score, the Sony a6600 has around a +0.3 EV advantage over the Olympus, but only around +0.1 EV over the Canon.
That isn't much between the two APS-C models, but to Sony's credit, the A6600 sensor maintains that difference between the two until ISO 12,800 (ISO 25,600 on the Olympus). Even at ISO 25,600 (ISO 18001 measured), the Sony just dips below our 20dB benchmark for acceptable image quality, staying a little over + 0.1 EV ahead of the Canon EOS M5.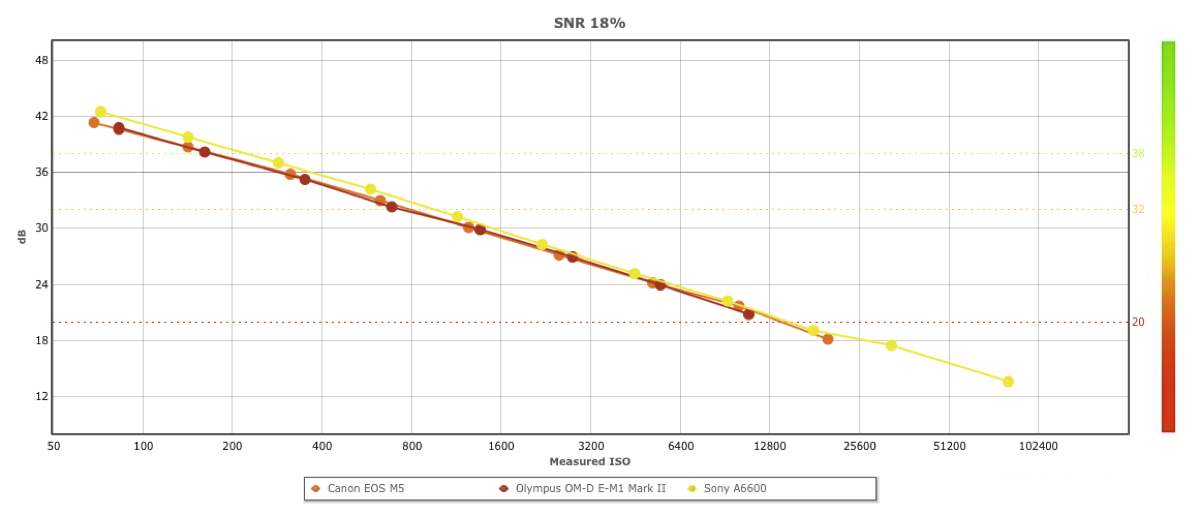 Conclusion
Sony continues to stay ahead with its 24MP APS-C Exmor sensor, particularly with regard to low-light performance and high ISO dynamic range, though overall image quality is largely unchanged from earlier models. It has also ceded some ground to rivals' smaller Four-Thirds sensors (albeit most likely Sony-made); as for APS-C, Canon has trumped Sony in resolution with a new 32.5MP sensor.
Nevertheless, the Sony A6600 is capable of producing superb-quality images, and the inclusion of its Real-Time Tracking Autofocus for both stills and video, along with a larger battery over its predecessor, make it an appealing upgrade over the A6500. With a well-rounded feature set, the Sony A6600 is an attractive camera at a relatively affordable price.
In this review, we have compared the Sony A6600 to its most relevant rivals from other brands. As usual, you can create your own comparisons and in-depth analyses using our interactive image sensor ranking tool.