The Sony A7 IV is the fourth-generation, full-frame mirrorless A7 "general-purpose" model that sits in-between the high-resolution A7 "R" and video-centric A7 "S" variants. As a result, the Sony A7 IV is arguably the most balanced of the two and leverages the most of the hybrid mirrorless design to offer a wide range of stills and video capabilities.
With its predecessor, the A7 III and many rivals, fielding the hugely popular 24 MP Sony sensor, the A7 IV is the first camera to leave that behind and adopt a completely new sensor — a 33 MP BSI-CMOS device. Sony has paired it with the high-end BIONZ XR processor, enabling a native sensitivity range of ISO100-51,200 and a maximum continuous shooting rate of up to 10 fps (12-bit lossey) and up to 6 fps (14 bit lossless).
AF has also been upgraded in line with other "IV" Gen models, including improved subject tracking in both stills and video.
In addition, the Sony A7 IV has full-width oversampled 4K (3840 x2160) 10-bit video recording up to 30p, and up to 60p in a Super-35 (roughly APS-C) crop.
The Sony A7 IV features a 3.68M-pixel OLED electronic viewfinder (EVF) built-in, along with a 3-inch, 1.03M-dot vari-angle LCD touchscreen and in-body stabilization with up to 5.5 stop compensation. Further advances include the new touch-sensitive menu interface and improvements to the body's ergonomics. There are also lossless compressed Raw and HEIF (10-bit) file options, plus dual SD card slots with slot 1 also compatible with CFexpress Type A cards.
Connectivity options include full-size HDMI, Bluetooth LE and USB-C 3.2 (Gen 2) with charging. The Sony A7 IV is available now for $2800/€2800.
Key specifications
33 MP full-frame BSI-CMOS sensor
ISO 100-51,200, with expansion to ISO 50-204,400
3.68 M-pixel OLED electronic viewfinder (EVF)
10 fps (12-bit lossey), up to 6 fps (14 bit lossless)
4K/30p 10-bit full-width video
In-body stabilization up to 5.5 stops compensation
Twin card slots (CFe A/SD UHS-II, SD UHS-II)
Bluetooth LE, USB-C 3.2, HDMI connectivity
Overall performance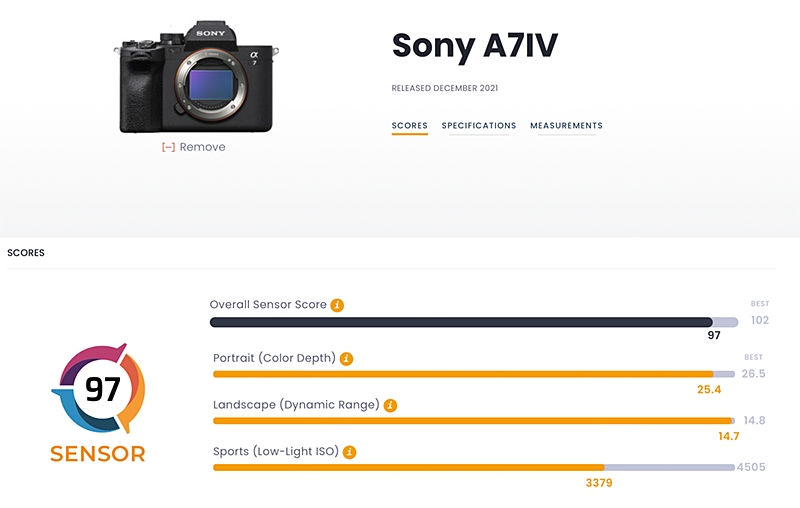 Click on the score chart above to open the Sony A7 IV product page.
The Sony A7 IV sensor achieved a high score of 97 in our benchmarking, which puts it in joint 7th position in our rankings for all sensor sizes, including medium format. That places the Sony A7 IV sensor performance alongside the older high-res full-frame sensors in the Nikon D810 and Sony Cyber-shot RX1R II compact, and just behind the Sony A1 and Sony A7R IV at 98 and 99 points, respectively.
At base ISO, the Sony A7 IV has solid results for color depth and dynamic range, peaking at 25.4 bits and 14.7 EV respectively. The Sony A7 IV also faired well in our low-light ISO (Sports) category, which takes minimum SNR, DR, and Color Depth values into account, where it achieved a high computed sensitivity of ISO 3379.
In-depth comparisons
As a camera aimed at amateurs and enthusiasts, we've compared the Sony A7 IV with the 20 MP Canon EOS R6. That camera doesn't have a BSI-type CMOS sensor, but it's claimed to be based on the sensor in the top-of-the-range Canon EOS-1DX Mark III.
While the 24 MP Nikon Z 6 II and Panasonic Lumix DC-S1 and S5 are also competing in the same space as the Sony A7 IV and Canon EOS R6, we've opted instead to take a detailed look at the Sony A7 III to see how the new sensor and processing differ. It was just $2000 upon introduction back in February 2018.
Portrait (color depth)
Across the ISO sensitivity range color depth in the Sony A7 IV isn't so different from the camera it replaces. Sony uses a base of ISO 100 but the ISO 50 extended option is essentially the same and both measure ISO 68 on the A7 IV. In our tests, there's a slight improvement at those settings of 25.4 bits in the A7 IV vs. 24.1 for the A7 III (measured at ISO 74) through to ISO 400, where color depth has dropped in the new sensor to 24 bits. That's around +0.7 bits better than the outgoing model. After that, the values and downward trajectory of the two sensors are similar. However, there's a very slight reversal in performance, with the older sensor having around +0.2-0.3 bits advantage up to ISO 6400 (manufacturer settings).
Comparing the Sony A7 IV against the Canon EOS R6 reveals that the former has better color depth at just about every sensitivity setting. Values of 1.3-1.0 bits difference were measured against the Canon sensor over the ISO 50/100 to ISO 400 range.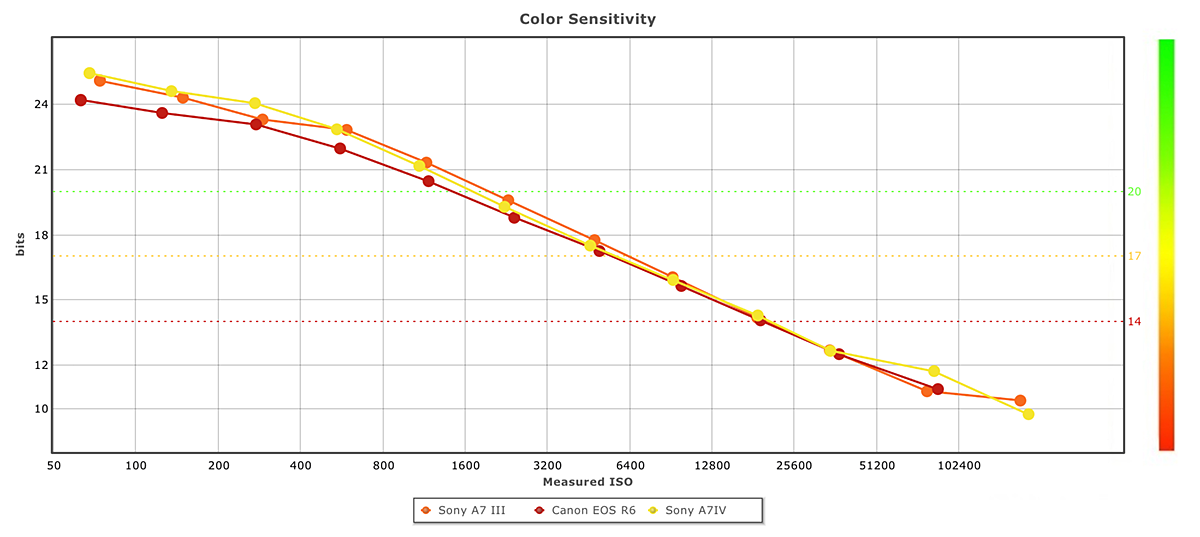 Landscape (dynamic range)
Small improvements can also be seen in dynamic range at low ISOs from ISO50/100 to ISO200. For example, there's a negligible +0.1 EV improvement at the ISO50/100 settings over the A7 III. However, it is interesting to see the implementation of the second read-out mode at ISO 400, instead of ISO 800 in the A7 III. Although this results in DR of just over 14 stops at ISO 400, equating to around +1.2 EV uplift over the A7 III, this has little bearing overall. The older sensor's second gain a step later at ISO 800 results in a smaller uplift of +0.3-0.2EV that persists throughout the higher ISOs to ISO 25,600. After that their responses are similar until further noise reduction is applied at their very highest sensitivities.
The Canon EOS R6 sensor on the other hand has slightly lower maximum DR, albeit still a respectable 14.2 stops at base. After that, it has a very gentle decline in DR of about -0.6 EV per ISO step to ISO 800, increasing to around -1.0 EV per step after that. While there's possibly a second gain, or perhaps smoothing applied, resulting in a bump in DR at ISO 400 and beating the A7 III, the EOS R6 only matches the Sony A7 IV at higher ISOs.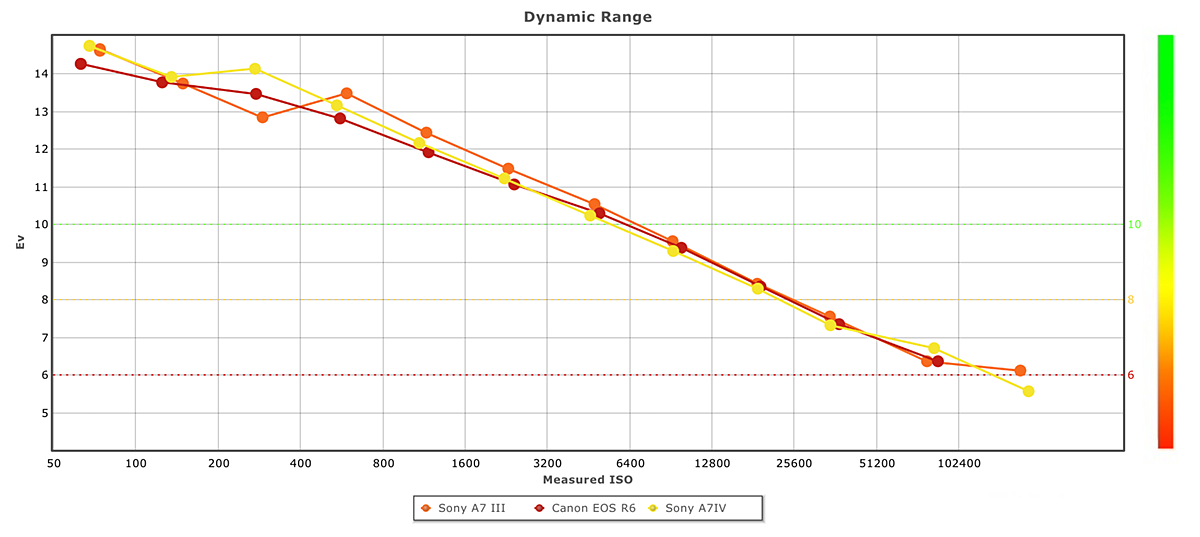 Sports (low-light ISO)
In this category, which gives an indication of noise levels and image quality, with higher ISO values showing better low-light performance, the Sony A7 IV sensor shows a very similar response to that of the Sony A7 III (ISO 3379 vs. ISO 3722), a difference of just -0.14 EV. Contrast that with the Canon EOS R6 sensor, calculated at ISO 3394, which is effectively identical to the Sony A7 IV.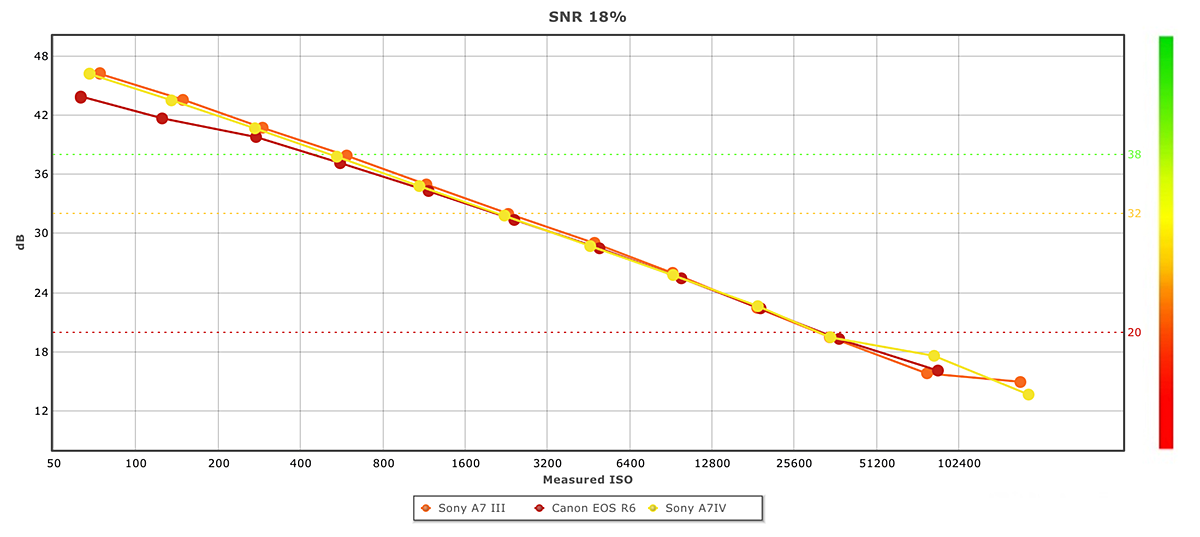 Conclusion
As the 24 MP BSI-CMOS full-frame sensor equips the out-going Sony A7 III, and the majority of Sony's rivals at this level, the new 33 MP BSI-type CMOS in the Sony A7 IV will also probably appear in forthcoming competitor's models, so the results are doubly interesting.
While the new sensor doesn't perform a lot differently from the outgoing device, there has been a useful increase in the overall pixel count of 37.5% (albeit a 16.8% increase in linear pixel count on the long-edge). This may appear somewhat incremental, but when combined with the various improvements in stills and video features, the new Sony A7 IV is an incredibly well-rounded hybrid and a highly attractive option for all sorts of genres.
In this review, we have mentioned the Sony A7 IV's most relevant rivals from other brands. As usual, you can compare it with these and with other models and create your own comparisons and in-depth analyses using our interactive image sensor ranking tool.