Although already handily compact, Sony's full-frame A7 series cameras followed the established wisdom of aping the design and layout of the DSLR — that is, until now. The Sony A7C breaks with tradition and shoehorns a large 35 mm sensor into a compact body that's more akin to their A6xxx series, hence the "C" for "compact."
Despite being the smallest and lightest full-frame camera when introduced, the A7C has a 24 MP BSI-CMOS sensor mounted on a (5-axis) stabilized platform that can reduce camera shake by up to 5 stops. Its autofocus is a hybrid of 693 phase-detection points covering 93% of the frame and 425 contrast detection points. It also has Sony's latest implementation of AI-based real-time tracking and Eye AF for both stills and movies from earlier models.
As for the shutter, the Sony A7C eschews a fully mechanical design and offers electronic front curtain or fully electronic operation only. This means a slightly lower flash sync of 1/160 and that continuous shooting is limited to 10 fps with continuous AF/AE. A slower 8 fps option is available with minimal display lag.
Featuring a rangefinder-like body, the Sony A7C has a 2.35 million-dot OLED finder with 0.59x magnification in the upper left corner, viewed from the rear. At the rear is a 2.95-inch fold-out (fully articulated), touch-sensitive LCD with 921K dots.
In addition to stills, the Sony A7C can capture oversampled 4K (UHD) video at up to 30p, and can shoot Full HD up to 120p. It can record footage using S-Log 2/3 for additional versatility in post-production and it supports HLG (HDR) on a suitably equipped HDR monitor.
The camera has one SD card slot with support for UHS-II, and has both Wi-Fi and Bluetooth for wireless camera control and image sharing.
Read on to find out how the Sony A7C's image sensor performed in our test.
Key specifications
24 MP BSI CMOS sensor
5-stop, 5-axis image stabilization
Real-time tracking and Eye AF system
Native ISO 100-51,200, with expansion to ISO 50–204,800
10 fps with electronic shutter
2.95-inch articulated LCD touchscreen, 921k dots
4K 30p video, Full HD up to 120p
Wi-Fi, Bluetooth connectivity
Single SD slot (UHS-II compatible)
Overall performance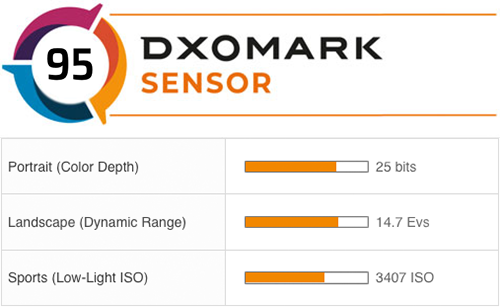 Click on the score chart above to open the Sony A7C product page.
Sony's 24 MP BSI-CMOS in A7C has a competitive DXOMARK sensor rating of 95. That places it in 19th position in our database of full-frame 35 mm and MF sensors overall, 17th place for full-frame 35 mm, and in 7th place for Sony cameras.
As for individual scores, in our Portrait category the Sony A7C sensor has a high maximum color depth measured at 25 bits at its minimum ISO. The Sony sensor also performs very well in our Landscape score, where it has a wide maximum 14.7 EV dynamic range. And in our low-light ISO (Sports) category, which is essentially a threshold for what we consider as acceptable color sensitivity, dynamic range and noise, the Sony A7C measures a high sensitivity value of 3407 ISO.
Overall, the Sony A7C BSI-CMOS sensor has high color depth, wide dynamic range, and low noise, which makes it a nicely balanced performer and highly competitive. While the rangefinder-like body design somewhat influences how it will be used, it's highly promising for still lifes and landscapes, as well as for portraiture, reportage, and street-style photography.
Image quality compared
As a step up from APS-C to Sony's full-frame A7xx series, the rangefinder-esque 24 MP Sony A7C is an intriguing concept that's likely to find favor with vloggers and others looking for a highly compact and portable camera. However, the 24 MP sensor it uses can be compared directly with other DSLR-style cameras in the 20-30 MP range.
As a BSI-CMOS it performs closely to others with a similar spatial resolution, such as the sensors used in the Nikon Z 6 and the Panasonic Lumix DC-S1, not to mention the Sony A7 III. All those sensors show almost identical performance characteristics, with only very small differences in color depth and dynamic range attributable to micro-managing at the processing level.
Adopting a different design using memory built into the sensor to lessen distortion when using the electronic shutter, even the Sony A9 II is close in sensitivity to the A7C and to others using the standard 24 MP BSI-CMOS. The main concession here with the A9 II's stacked BSI CMOS is in maximum dynamic range, where it's a little less at the lowest ISO values.
When compared with the 20 MP Canon EOS R6, the BSI-CMOS in the A7C has around a 1/3 stop improvement in sensitivity overall, with improvements in both maximum color depth and maximum dynamic range at low ISOs. At higher sensitivity settings the benefits between the Sony and Canon sensors are less conspicuous.
Against the new 45 MP sensor in the Canon EOS R5, the Sony A7C sensor's overall performance is practically identical; however, there are obvious differences in noise levels and thus the response in terms of dynamic range and color depth.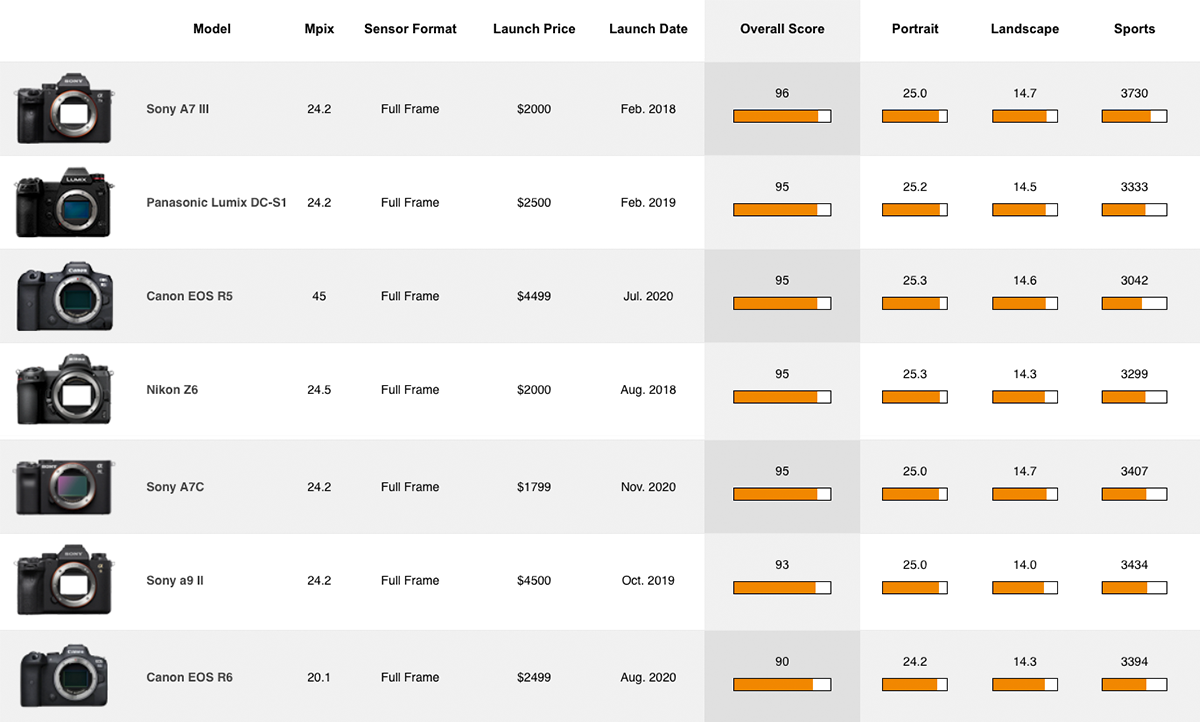 Click here to open our interactive DXOMARK image sensor ranking tool.
In-depth comparisons
For this comparison we'll take a look at Sony's high-end A9 II, which adopts a "stacked" BSI-CMOS. This design is said to combine the light-sensitive advantages of BSI sensors with the ability to reduce image distortion at high frame rates when using the electronic shutter. We'll also take a look at the 45 MP sensor in the Canon EOS R5. While it's not necessarily targeting the same market, the sensor is inferred as the successor to the 30 MP unit used in the Canon EOS 5D Mark IV and EOS R, two models that were directly competing with rivals using 24 MP sensors.
Portrait (color depth)
The Sony A7C sensor's color depth for much of the sensitivity range is practically identical to that of the Sony A9 II, which isn't that surprising. It achieves maximum color depth at the lowest ISO setting and both Sonys measure out at 25 bits. The higher-pixel-count Canon EOS R5 sensor, however, achieves a higher maximum of 25.3 bits from a slightly lower ISO (ISO 55 measured). While strictly speaking it means improved color accuracy, the 0.3 bit improvement isn't likely to be noticed in image comparisons.
At higher settings, the Canon sees a bump in the response at ISO 400, keeping color depth above 24 bits, and usefully, around 0.8 bit higher than the Sony A7C and the A9 II; however, ultimately it's the Sony pair that has the better response. Although less pronounced than that seen in the Canon EOS R5 sensor's response, the Sony A7C and A9 II have an uptick in color depth from ISO 800 and higher of around +0.8 bit through ISO 3200. Above that, there's less difference, but a second increase in gain after ISO 102,400 results in a +1.3 bit advantage over the EOS R5, which could be noticeable, particularly in areas with smooth transitions.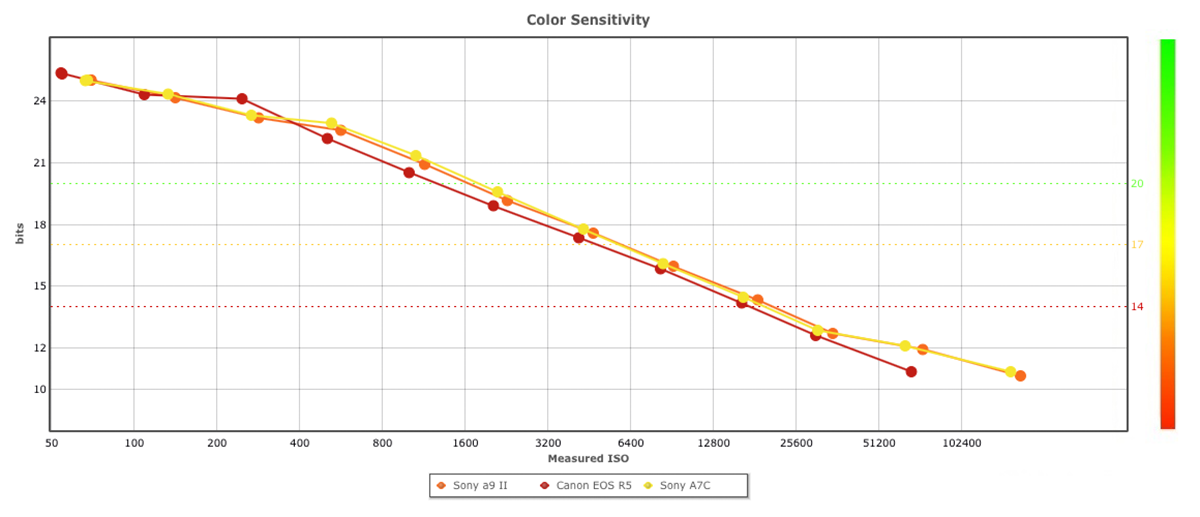 All three cameras in this comparison just dip beneath our 20-bit measurement threshold for good image quality (green dotted line on the graph) at ISO 3200, and all fall below our 14-bit threshold for acceptable image quality at ISO 25,600.
Landscape (dynamic range)
Like so many other modern cameras, the Sony A7C has the same measured ISO at ISO 50 as at ISO 100 (ISO 67 measured), and it has the same wide maximum dynamic range at both, which is over 14.5 stops (14.56 EV).
Dynamic range (DR) decreases from ISO 100 at the rate of just under one stop of DR per stop increase in ISO to ISO 400, but between that and ISO 800, there's a useful bump in DR of +0.5 EV to around 13.5 stops in DR. After that, DR continues to depreciate at more or less the same rate to ISO 51,200. At that point there's a second, less dramatic bump. While it doesn't manage to increase DR over the last value like it did at ISO 800, it reduces the rate of depreciation from just under one stop of DR per doubling of ISO to -0.65 EV at ISO 102,400, and then to a remarkable -0.24 EV loss of DR at ISO 204,800. While it would have been more useful to have seen the second gain at ISO 3200, it's impressive nonetheless.
While the also Sony A9 II adopts a "stacked" BSI-CMOS to help reduce rolling shutter, noise-wise it can't quite match the A7C for maximum DR, though it's close at 14 stops. There are also similar bumps resulting in a gain in DR of just under a stop (0.83 EV) at the same point, which is seen at ISO 800 and again at ISO 102,400, with similar benefits to DR.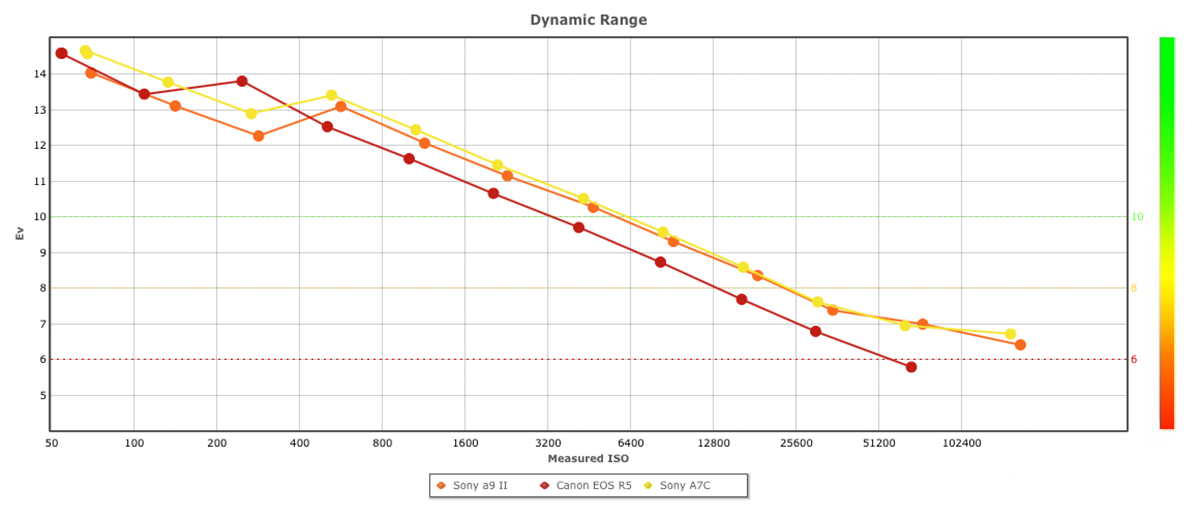 As we'll see later, both Sony models have similarly low noise; however, only the Canon EOS R5 can match the A7C for maximum dynamic range. The R5 sensor also has a bump in DR, but it's at ISO 400 rather than at ISO 800 as with the two Sonys. After that, though, the R5 sensor's DR decreases by a wider margin of nearly 1.3 stops (-1.28 EV) at ISO 800 and then falls at the rate of nearly one stop in DR per one stop increase in ISO, which is around -0.8 EV behind the Sonys.
Sports (low-light ISO)
Noise levels are low, with the Sony A7C having a maximum SNR of 45.6 dB at its lowest ISO — a near-identical value for the Sony A9 II. Indeed, the two Sonys are practically identical throughout the sensitivity range.
While the Canon EOS R5 has a higher pixel count and higher sampling as a result, when normalized to the same size output (10 x 8-inch) print, its sensor doesn't handle noise quite as well. Although it's a still excellent 44.4 dB at its minimum ISO, the EOS R5 sensor is about a 1/3 stop behind the Sony A7C. At higher ISOs, and at ISO 400 in particular, the Canon EOS R5 sensor controls noise nearly as well, but technically the Sony A7C has a slight edge. And as we've seen in the color depth and DR measurements, at ISO 102,400 the second bump in gain brings about a significant 2.6 dB difference, which is close to a one-stop advantage in noise.
But if we look at this from a different perspective, combining the highest ISO value that maintains 9 EV of DR, a still excellent 30 dB SNR (measured on a gray patch with 18% reflectance), and a threshold of 18 bits color sensitivity (which is how we compute our low-light ISO score), the Sony A7C sensor measures a slightly higher and more useful 3400 ISO, compared the EOS R5 sensor's ISO 3042. Even so, that's just over +0.1 EV in favor of the Sony and not a very big difference.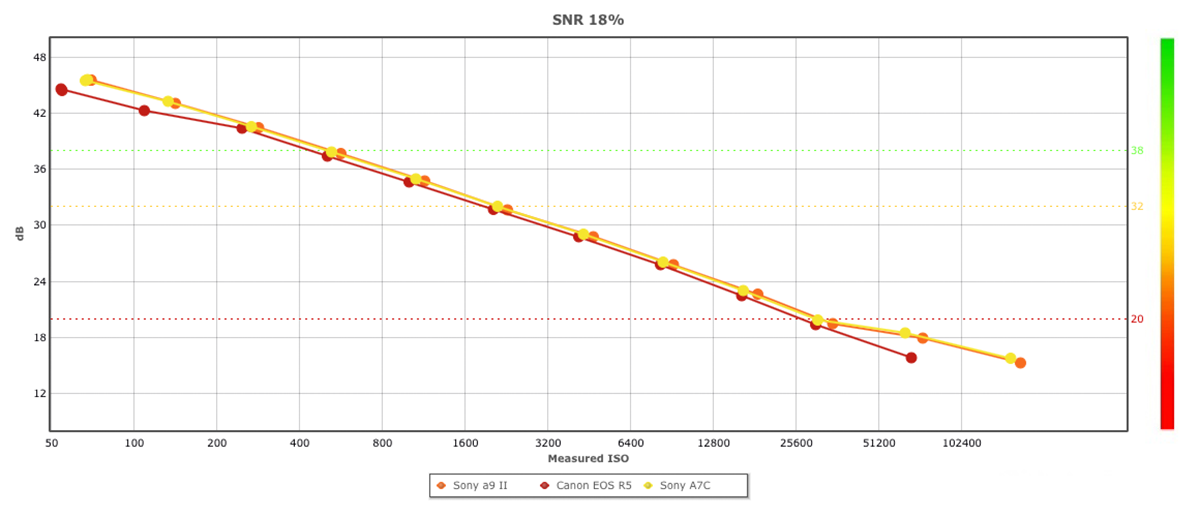 Conclusion
Featuring a rangefinder-style body, the Sony A7C is an intriguing step between the Sony A6xxx series and the DSLR-style A7xxx models. While targeting the hybrid stills and video market, the design means it's likely to find favor with vloggers and others looking for a highly compact and portable full-frame camera, and it's an attractive alternative to the larger A7 III and A9 models. At launch, the price is advantageous as well.
The BSI-CMOS in the Sony A7C performs well altogether. The results are practically identical to the sensors in the Sony A7 III and A9 II, and it produces a nice balance between maximum dynamic range at low ISOs and maintaining a usefully wide dynamic range at higher ISO settings. And the same can be said for color depth. All combined, the Sony A7C is an attractive option for landscape, travel, wedding, and portrait photographers, while the rangefinder-style body should also appeal to the traditional street photographer.
In this review, we have compared the Sony A7C to its most relevant rivals from other brands. As usual, you can create your own comparisons and in-depth analyses using our interactive image sensor ranking tool.