The Sony A7S III is the latest iteration of Sony's full-frame video and stills hybrid mirrorless cameras, based on the A7 series bodies and tech. As the most video-centric of the series, the camera features a new 12 MP BSI CMOS sensor that's optimized for 4K video, with a sensitivity from ISO 80 to 102,400, plus expansion to ISO 40–409,600.
Like others in the A7 series, it has built-in stabilization: the sensor is mounted on a platform that's stabilized on 5 axes, which is said to reduce camera shake by up to 5.5 stops. Autofocus now consists of a hybrid of contrast- and phase-detection technologies, with the new model adding 759 phase-detection points covering 92% of the frame, and has Sony's enhanced implementation of the AI-based real-time tracking and Eye AF for both stills and movies. Continuous shooting is possible at up to 10 fps with continuous AF/AE.
Featuring the highest-resolution viewfinder currently available, the Sony A7S III has a 9.44 million-dot OLED finder with a usefully high 0.91x magnification. At the rear is a 3.0-inch fold-out (fully articulated) touch-sensitive LCD with 1.44M dots.
In addition to the relatively modest 12 MP stills, the Sony A7S III has impressive video capabilities. The choice of a relatively low 12 MP sensor enables capture of essentially full-width 4K (UHD) video at 60p, or up to 120p with a slight (1.1x) crop, and it can shoot Full HD up to 120p. The A7S III has 3 internal codecs for frame rates up 120p (and even 240p in HD), including a new efficient H.265 compression option. It can record up to 10-bit, 4:2:2 footage internally with S-Log options for greater versatility when grading in post-production, and it supports a HLG (HDR) option for minimum post-production. A 16-bit RAW footage option up to 60p is also available using an external recorder.
The camera has two dual-format memory card slots that support both SD UHS-II and the new CFexpress Type A cards. Connectivity includes full-size HDMI and USB 3.2 (Gen 1) with external charging, plus Wi-Fi and Bluetooth for wireless camera control and image sharing.
Key specifications
12 MP BSI CMOS sensor
5.5 stop, 5-axis image stabilization
Hybrid AF with 759 points, real-time tracking and Eye AF system
Native ISO 80-102,400, with expansion to ISO 40–409,600
10 fps continuous shooting in stills
3-inch LCD touchscreen, 1.44M dots
4K up to 120p, Full HD up to 120p
Wi-Fi, Bluetooth connectivity
Dual SD/CFe slots (UHS-II /Type A compatible)
Overall performance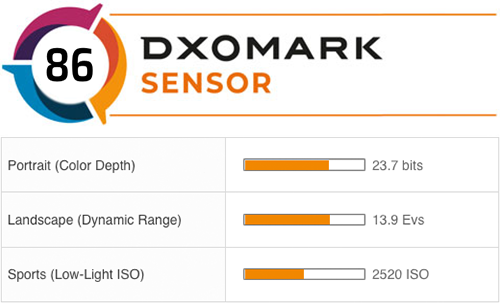 Click on the score chart above to open the Sony A7S III product page.
After testing the sensor dynamics, the Sony A7S III has a DXOMARK sensor rating of 86. That places it in 53rd position in our database of full-frame 35 mm and MF sensors overall, 51st place for full-frame 35 mm, and in 17th place for Sony cameras.
As for the three component metrics, the 12 MP Sony A7S III sensor has good maximum color depth, as noted in our Portrait category, measured at 23.7 bits at its minimum ISO 80 base setting, and at the lower ISO 40 expanded setting. The Sony sensor also performs well in our Landscape category, where it has a wide maximum dynamic range of 14 stops (13.9 EV) at the same minimum ISOs.
However, while it's a good performer at low ISOs, it's at high ISO values where the most significant benefits of this sensor lie, as we will see later.
In our low-light ISO (Sports) category, which is an indicator of image quality at high sensitivities, the Sony A7S III measures a mid-to-high 2520 ISO value.
Overall, the Sony A7S III BSI-CMOS sensor has relatively high maximum color depth, good dynamic range at base (albeit optimized for high ISOs), and low noise at all ISO settings. Bear in mind that the sensor results are derived from RAW stills, and not from movie footage; however, we still view the results as being relevant when comparing with other models.
Image quality compared
The sensor rating of 86 places the Sony A7S III a little below the 24 MP BSI CMOS sensors, such as those found in the Sony A7 III, the Nikon Z 6, and the Panasonic Lumix S1, which is around 2/3 of a stop lower in overall sensitivity. Given the large pixel size and state of the art BSI CMOS tech, evidently there's been some concession made to high ISO performance.
As a BSI CMOS sensor, particularly one that's optimized for sensitivity, it's well down our rankings. However, that has more to do with optimization for low-light stills and movie capture than with maximizing dynamic range and color depth for added versatility during post-capture manipulation.
Against its predecessor, it's almost identical in overall sensitivity, with the two having practically the same DXOMARK rating. While color sensitivity is similar at base, there's a useful increase between ISO 1600 and 6400. However, mid-tone noise levels are slightly higher at all ISOs in our SNR 18% tests.
Another benefit is the Sony A7S III sensor has a useful 2/3rds of stop (+0.7 EV) extra dynamic range (DR) at base, as well as a dramatic increase in DR of 1.5 stops (+1.5 EV) at ISO 1600. That's not without some downsides, however, the most significant being that the rate at which DR decreases in between is higher than on the A7S II, meaning that DR is actually lower in the A7S III between ISO 200-400, and there's no advantage beyond ISO 12,800.
When compared with the 20 MP Canon EOS-1DX Mark III, a DSLR that also combines impressive stills and video capabilities, the Sony A7S III sensor is around a 1/3 stop lower in sensitivity overall. The Canon sensor has both higher maximum color depth and maximum dynamic range at low ISOs. At higher sensitivity settings, the differences between the two sensors are less noticeable, specifically for the low light (ISO) result.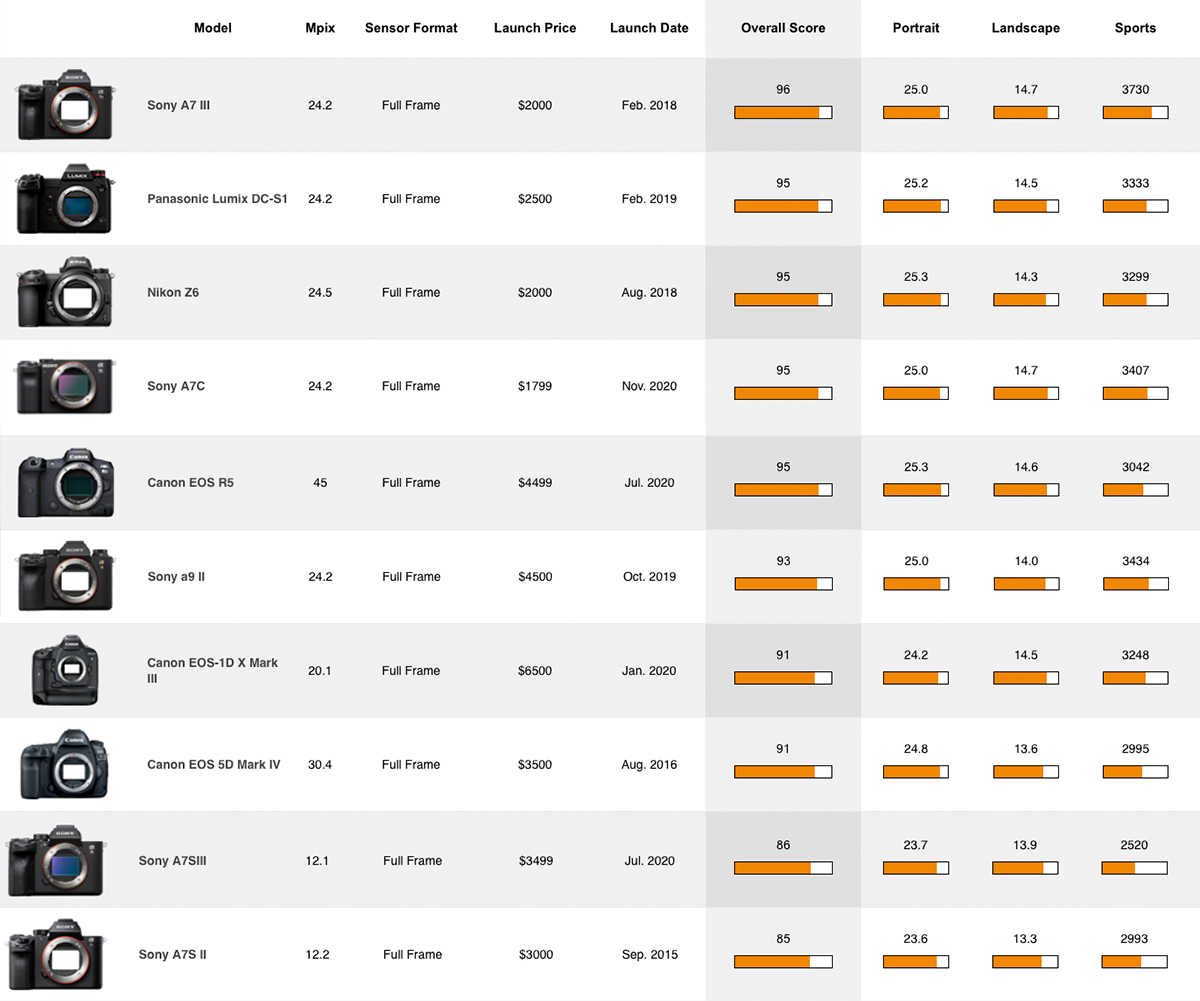 Click here to open our interactive DXOMARK image sensor ranking tool.
In-depth comparisons
For this comparison we'll take a look at Canon's latest mirrorless hybrid, the EOS R5. With a stabilized 45 MP CMOS, the latest addition to the EOS R system has a high-end mix of stills and video capabilities, being the first of its kind to offer 8K 30p video, as well as 4K up to 120p like the A7S III.
We'll also take a look at the 24 MP sensor in the Panasonic Lumix DC-S1. While Panasonic has a more video-centric S1H model, the S1 has a similar sensor and has a strong leaning towards video anyway, with oversampled 4K (UHD) 30p from the full sensor width, or 60p from an APS-C size crop.
Portrait (color depth)
At the lower ISOs and up to ISO 1600, the Sony A7S III sensor's color depth is lower than either of the higher pixel-count Canon or Panasonic sensors. Maximum color depth is just under 24 bits (23.7 bits) at its lowest ISO setting. This compares with 25.3 bits from a slightly lower ISO (ISO 55 measured) for the Canon EOS R5 sensor, and practically the same (25.2 bits) for the Panasonic. An extra 1.5 bits at base is significant, with those cameras technically able to distinguish more colors.
At higher settings, specifically at ISO 1600, the Sony A7S III has a bump in its response, leveling color depth at around 21 bits for ISO 800 and ISO 1600, and making the results competitive with the two sensors in this comparison. At higher ISOs between ISO 1600 and ISO 12,800, the Sony A7S III response remains competitive with the Panasonic and around 0.5 bit above the Canon. Between ISO 25,600 and 102,500, the Panasonic has a slight advantage; however, above that, at ISO 204,800, the Sony has a second bump in the response at 9.9 bits, which is 0.6 bit above the Lumix S1 sensor. While these are only small differences, selecting specific ISO settings such as ISO 1600 and ISO 204,800 has the beneficial effect of increasing the color response.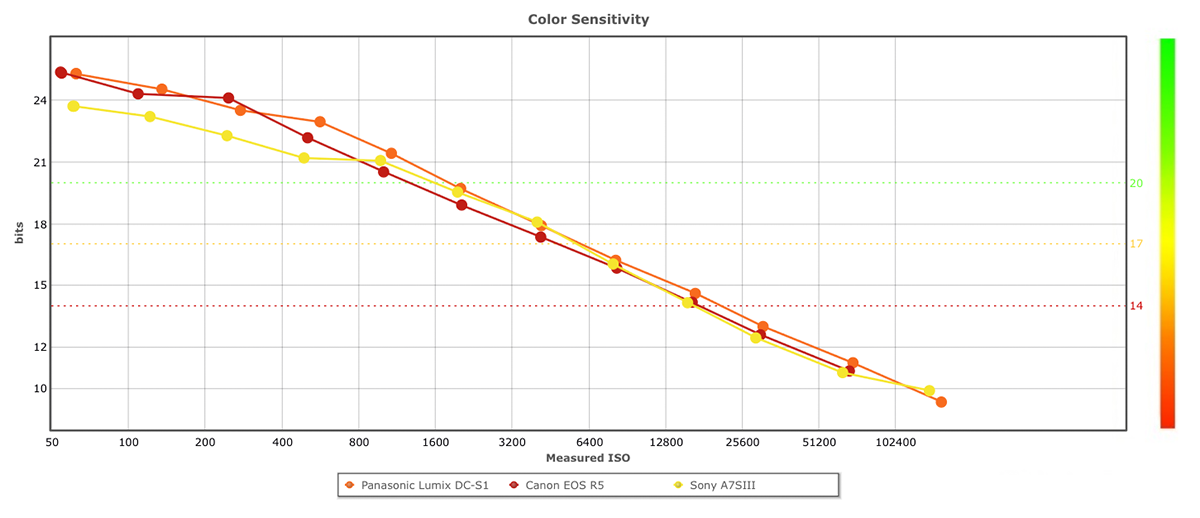 All three cameras in this comparison just dip beneath our 20-bit threshold for good image quality (green dotted line on the graph below) at ISO 3200, and all are below our 14-bit threshold for acceptable image quality at ISO 25,600.
Landscape (dynamic range)
At its lowest ISO settings of ISO 40 and ISO 80 (which are effectively the same, as both measured ISO 61), the Sony A7S III has a wide maximum dynamic range of 14 stops (13.91 EV). That's around 1/2 stop (0.5 EV) below both the Canon EOS R5 and the Panasonic Lumix S1 at their lowest ISOs. After that, however, all three vary in the rate that dynamic range diminishes.
Dynamic range decreases in the Sony A7S III between 0.7 to 0.9 EV per stop increase in ISO up to ISO 800, where there's a DR of just over 11 stops. The Canon EOS R5 loses a stop in DR between ISO 100 and ISO 200 to 13 stops, and the Panasonic drops at a rate of 0.8 EV per doubling of ISO to 13 stops at ISO 400. At each of those respective ISO values, though, there's a useful bump in the response. Canon is first at ISO 400; Panasonic is next at ISO 800, and both have just under a 1/2 stop increase in DR (around +0.4 EV).
However, the Sony A7S II sees a much more significant increase of around 1.5 stops (+1.5 EV ) at ISO 1600, resulting in a DR of close to 13 stops, which is back to ISO 200 levels. Not only is this an impressively useful increase at that ISO 1600 setting, but the response remains higher throughout the sensitivity range, even if the rate at which it diminishes doesn't change.
Against the rivals in this comparison, the Sony A7S III has a useful 1/2 stop (+0.5 EV) wider DR than the Panasonic Lumix S1 and well over a stop (+1.2 EV) more DR than the Canon EOS R5 throughout the sensitivity range, and it only just dips below our 6 EV threshold at ISO 204,800.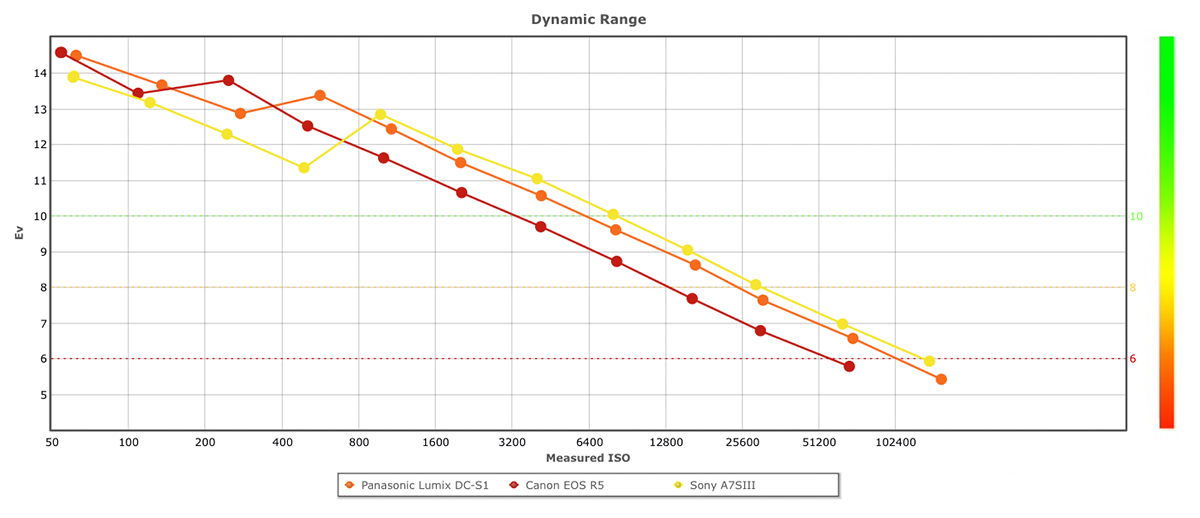 Sports (low-light ISO)
Noise levels are low with the Sony A7S III, but it has the weakest response of the three in our SNR 18% tests, which measure mid-tone noise levels from a grey patch with a typical 18% reflectance. At the Sony A7S III sensor's lowest ISO values, SNR is 2.2 bits lower than the Panasonic, though only 0.6 bit lower than the Canon EOS R5. While that correlates with the results seen with DR and color sensitivity to some extent, we would expect to see a bump in the response at ISO 1600 in the SNR 18% results. The improvement at ISO 1600 is visible in the full SNR (logarithmic) results, but that's due to lower noise levels on the darker patches, not on the brighter and grey patches. However, it is intriguing that the second bump at ISO 204,800 is visible in the SNR 18% results and not in the first that starts at ISO 1600. Evidently, it is the result of some optimization.
While the Panasonic appears to do the same as the Sony in the SNR 18% measurements, the Canon EOS R5 has a slightly improved SNR at ISO 400 for both the dark and the bright patches per the full SNR data, and that explains why we see a slight bump in the response in the SNR 18% graph (below).
Be that as it may, the lower than expected SNR 18% result adversely affects the Sony A7S III sensor's low-light ISO score. Both the Panasonic Lumix S1 and the Canon EOS R5 sensor measure a slightly higher and more useful ISO 3333 and ISO 3042, respectively, compared to the Sony A7S III sensor's ISO 2520. That's around a 1/3 stop advantage (+0.4 and +0.3 EV, respectively) in favor of the two rivals.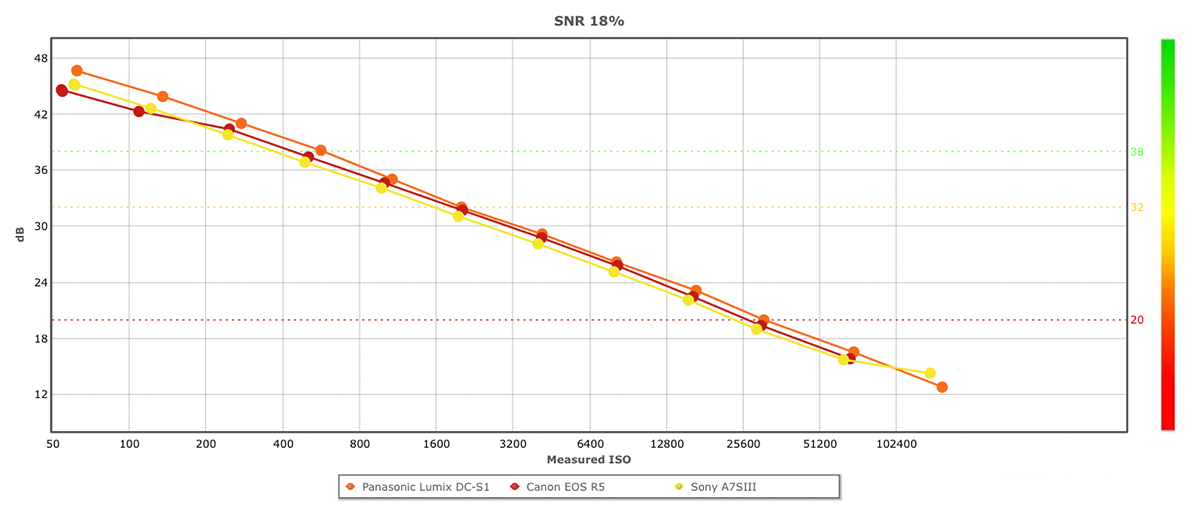 Conclusion
The Sony A7S III leverages a lot of tech from the A7 and A7R models, and its stills credentials are impressive. However, 12 MP is considered a bit on the low side for stills nowadays, and it is principally as a video camera that the Sony A7S III appeals. The lower pixel count means the sensor's pixel dimensions on the long edge deliver essentially native 4K without cropping, and those large pixels should have benefits when working with less than ideal lighting.
Although it puts in a strong performance at its lowest ISO settings, with a relatively high maximum dynamic range and maximum color sensitivity, evidently some concessions were made in that regard, as it is at high ISOs where it's class-leading. In particular, the Sony A7S III sensor has an impressive response between ISO 1600 and ISO 6400, even outperforming rivals using 24 MP BSI CMOS sensors.
Whether that's enough to entice dedicated stills photographers is debatable, given the price, but videographers are likely to be attracted by the benefits it brings in post-production, especially when working in S-Log. With excellent high ISO image quality, small size, low weight, and a built-in stabilizer, the Sony A7S III is highly appealing as a versatile hand-held camera for single operators or small production crews.
In this review, we have compared the Sony A7S III to its most relevant rivals from other brands. As usual, you can create your own comparisons and in-depth analyses using our interactive image sensor ranking tool.