The Sony a9 II is an updated version of the original a9, which was the first flagship in the series sitting above the a7 line. Like the original, the new model is aimed at the professional sports market and has kept the 24.2 MP Exmor RS "stacked" CMOS sensor unchanged. With integral memory, the stacked sensor enables ultra-fast readout times and complements the electronic shutter that is capable of 1/32,000 second maximum shutter speed and super-quick 20 fps burst shooting, and comes with a blackout-free viewfinder.
Covering some 93% of the frame, there's also the same 693-point phase detection AF system as before; however, new capabilities include Real-Time Tracking AF for both stills and video capture, which allows the camera's autofocus to select seamlessly between tracking AF and eye and face detection AF modes, without prompting.
The a9 II also has a higher continuous shooting rate of 10 fps using a new mechanical shutter rated to 500K cycles; stronger sealing at all body seams; and many of the same ergonomic updates to the body as the a7R IV. There's also an improved in-body IS system, which can reduce shake by an additional 0.5 stop (up from 5 stops previously), while its 3.76M-dot EVF and tilting 3-in touchscreen LCD remain unchanged.
Key specifications:
24.2-MP Exmor RS CMOS sensor

Real-Time Tracking AF for stills and video

Native ISO 100–51,200, with expansion to ISO 50–204,800

10 fps mechanical shutter, or up to 20 fps electronic (blackout free)

3-inch touchscreen

4K UHD/30fps video, Full HD up to 120fps

1000BASE-T ethernet, 5 GHz Wi-Fi, and USB 3.2 (Gen 1)
Overall performance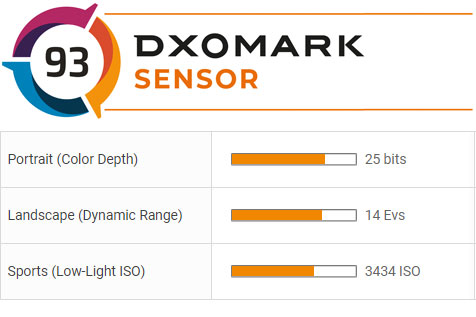 Click on the score chart above to open the Sony a9 II product page.
The new Sony a9 II sensor achieves an overall DXOMark score of 93, which puts it 21st place overall in our database of full-frame and MF sensors (10th place when taking joint positions into account). That's close to the best 24MP sensors, but a little behind the best of the higher-res sensors of 36MP and beyond.
The Sony a9 II sensor is strongest in our Sports (low-light ISO) category, the 8th-highest value we've measured at 3434 ISO—though note that the differences in ISO are small (around a 2/5 stop, or 0.39 EV) between it and the best of the larger medium-format sensors at 4505 ISO, aided in this by their wide dynamic range.
As we can see, the Sony a9 II sensor doesn't compare quite so well in the Landscape (dynamic range), nor Portrait (color depth) categories, achieving 14 EV and 25 bits at base, respectively.
Image quality compared
While a maximum dynamic range of 14 EV is very good at base, it is a bit behind other 24MP sensors such as that found in the Sony A7 III and those of such rivals as the Nikon Z 6 and Panasonic S1, which are spread between 14.3 and 14.7 EV at their lowest ISO, and have similar Sports and Portrait peak values.
Still, it's an advancement on the original Sony a9 at 13.3 EV, which is intriguing, given that Sony says it's the same sensor.
It's also an improvement on the two sports-oriented cameras in our database, the 20.2MP Canon EOS-1D X Mark II and the 20.8MP Nikon D5, at 13.5 EV and 12.3 EV, respectively. The Sony a9 II sensor comfortably outdoes the Nikon D5 in Sports category at 3434 ISO vs 2434 ISO (around + 0.5 EV), and it outshines the Canon EOS-1D X Mark II in the Portrait category at 25 bits vs 24.1 bits. (That's even more impressive when you take into account the smaller sensels (individual sensor elements) of the a9 II; however, both of those rival DSLRs were recently superseded by new models.)
It's also interesting to compare the Sony a9 II sensor against the 30.3 MP sensor in the Canon EOS R, which is very similar to the sensor found in the semi-pro Canon EOS 5D Mark IV. Although the a9 II trumps the EOS-R in all three of the metrics, the differences are slight, with a +0.5 EV improvement in Landscape and a 0.5 bit improvement in Portrait at their peak values, and a +0.3 to +0.4 EV improvement in Sports (low-light ISO). These differences are slight, though, and only likely to be noticed in some of the more extreme cases.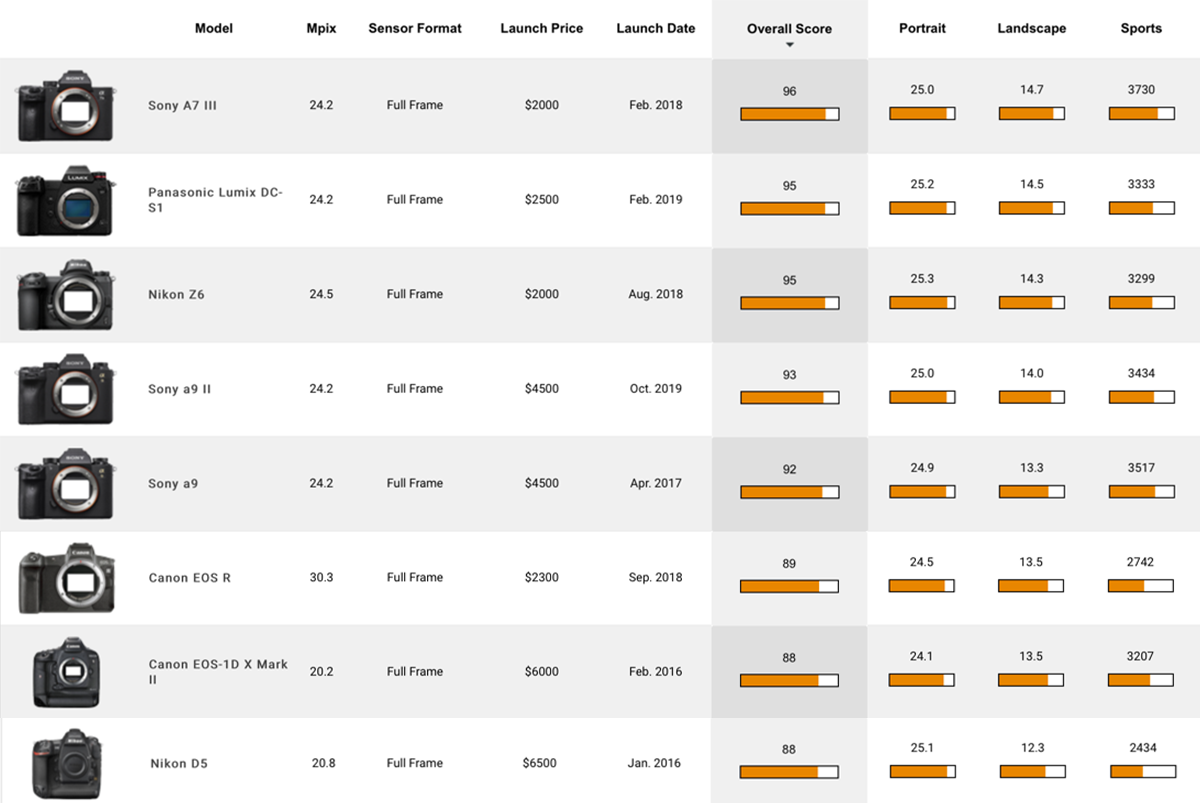 Click here to open our interactive DXOMARK image sensor ranking tool.
In-depth comparisons
As a sports-oriented camera, the Sony a9 II is pitched at the same market as the Canon EOS-1D X Mark II and the Nikon D5. However, as those two brands have announced new models in the past couple of weeks, we will instead compare the Sony with the 24MP Panasonic Lumix DC-S1, which as a mid-to high-end model would still appeal to photojournalists in much the same way as the a9 II would. We'll also look at the 30MP Canon EOS R, mainly on the strength of its association with the EOS 5D Mark IV sensor, and also because it's still the best in Canon's current mirrorless lineup.
Portrait (color depth)
The Sony a9 II outperforms the Canon EOS R for color depth mostly at higher ISOs (between ISO 800 and ISO 12,800). At lower sensitivity settings, the a9 II has only a slight advantage. The Panasonic, on the other hand, has a slight advantage over the a9 II at sensitivities up to ISO 3200, due to a similar change of sensitivity behavior at ISO 800 (measured ISO 569).
Even so, both the Sony a9 II and the Panasonic S1 share a very similar response in color sensitivity and have very good maximum color depth at 25 and 25.3 bits, respectively. They also both exhibit the same change of behavior in sensitivity, leading to an improvement of 1.1 bits at ISO 800 over the Canon, which could well be noticeable at times in more extreme cases of low light and/or heavy exposure correction. That change of behavior in sensitivity continues to provide a small but significant increase at mid-range and up into higher sensitivities, albeit with a slow decline to ISO 51,200, where all three curves converge.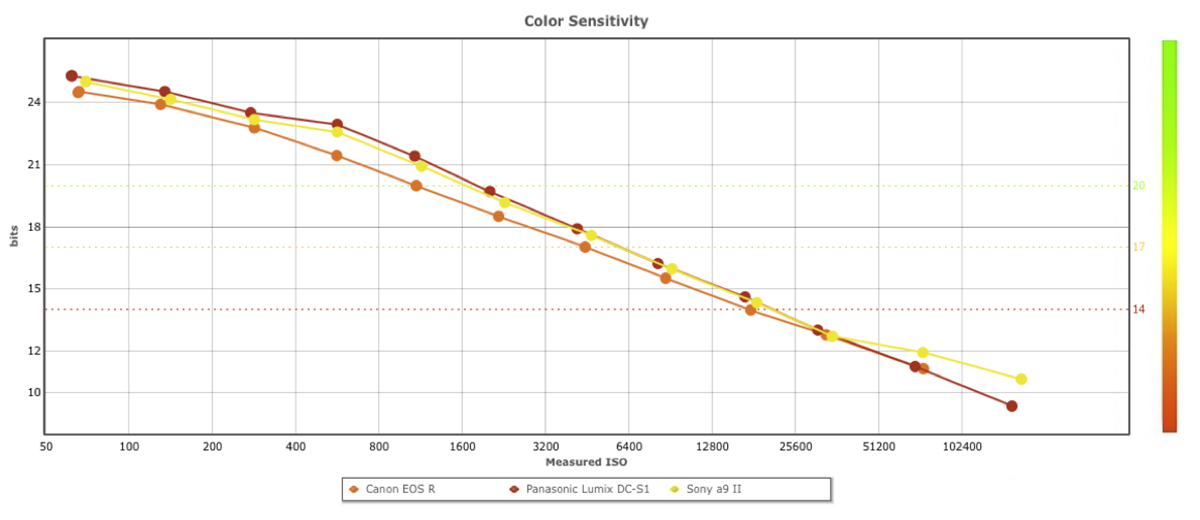 The a9 II's images stay within our high-quality threshold up to ISO 25,600 (measured ISO 18633). However, there's a second change in the behaviour of sensitivity at (or just before) ISO 102,400 (ISO 74,400 measured), delivering improved color depth over rivals and another at ISO 204,800 (ISO 169,390 measured) leading to around a one stop (1 EV) advantage over the Canon and 1.3 bits over the Panasonic.
Landscape (dynamic range)
With a maximum 14-stop dynamic range at base ISO 100 (ISO 70 measured), the Sony a9 II captures an extra +0.52 EV more than the Canon EOS-R at its lowest expanded sensitivity setting, equivalent to ISO 50 (measured ISO 66). That contrasts with the a9 II's lowest expanded sensitivity ISO 50, which actually sees a slight loss in dynamic range.
While a half stop is a relatively small amount, it gives the Sony a slight advantage when capturing high-contrast scenes at that particular sensitivity, especially when trying to recover highlights or when lifting shadows. As you can see from the graph below, though, the EOS R's curve is commendably flatter at lower ISOs, with the result that it has the same dynamic range at ISO 200 and even surpasses the Sony a9 II by just over 0.5 EV at ISO 400.
The Panasonic Lumix S1 has a slight advantage in this respect over the Sony, however, with a further +0.5 EV advantage at its lowest sensitivity setting, and it continues to have a slightly wider dynamic range at lower ISOs. However, the S1 shares the same change of sensitivity behavior at ISO 800 as the Sony a9 II. While this reduces the difference in dynamic range at higher ISOs, the Panasonic still has on average around a +0.3 EV advantage in dynamic range over the a9 II at each ISO setting.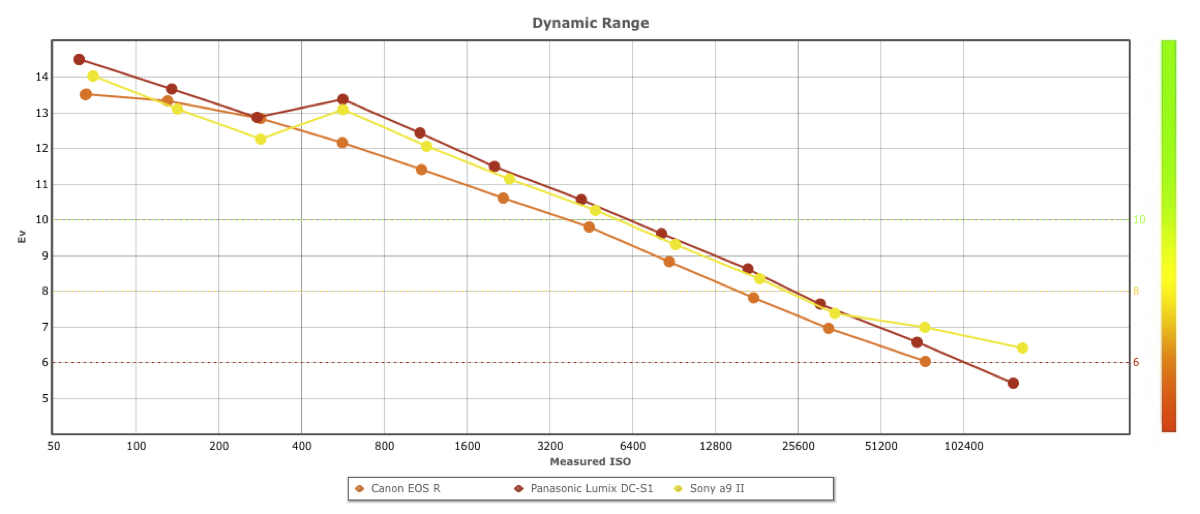 Thanks to the second change in the behaviour of sensitivity, it is worth noting is the Sony a9 II's ability to remain within our minimum 6 EV dynamic range quality threshold at the extended sensitivity settings of ISO 102,400 and ISO 204,800.
Sports (low-light ISO)
SNR 18% results for the three cameras are all very similar, with the Sony a9 II sensor producing slightly cleaner images than the Canon EOS R up to ISO 1600. In similar fashion, the Panasonic has slightly lower noise levels than the Sony a9 II up to the same manufacturers' settings of ISO 1600.
The change of sensitivity behavior between ISO 400 and ISO 800 seen in the other categories doesn't have any effect on these results, but the a9 II's noise at its expanded ISO settings is lower than its rivals'. Neither of the two expanded settings fall within our minimum 20 dB quality threshold, however, although all three cameras reach that benchmark at a still very respectable ISO 51,200.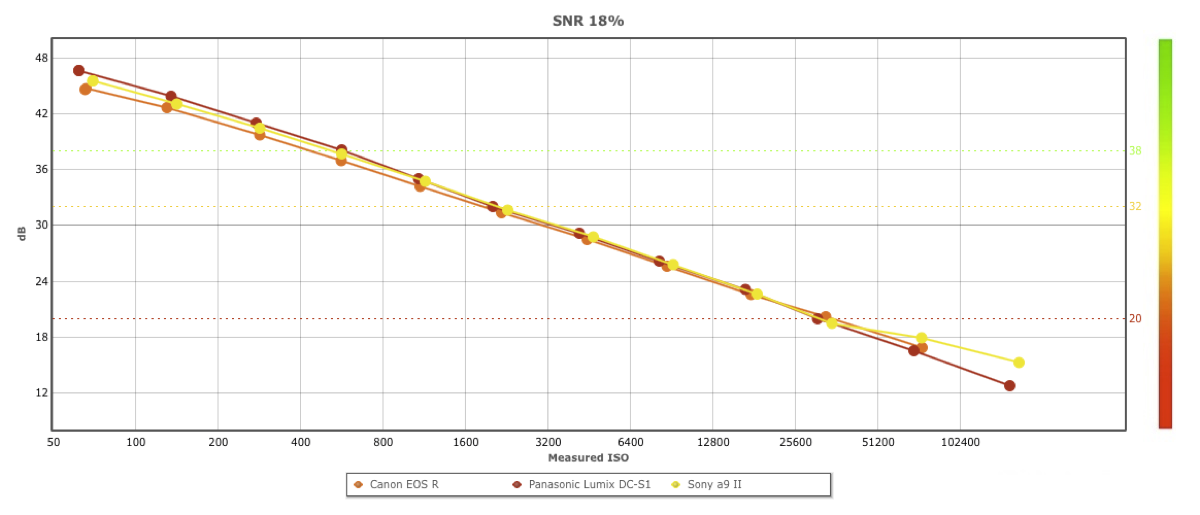 Conclusion
Sony says that the a9 II has the same sensor as the original a9, but as we've seen the new model adopts a different approach to processing, using a change in sensitivity behavior both to improve color discrimination and to widen dynamic range at higher ISOs. It's the first time we've seen this and it marks a shift in strategy for Sony.
The Sony a9 II is certainly a niche camera, built to compete alongside the Canon EOS-1 DX Mark II and Nikon D5. However, while it's unlikely that individual photographers or agencies would switch from those rival cameras, bearing in mind their investment in lenses, the Sony a9 II's high sensor performance and lower price would be tempting for newcomers thinking of entering the competitive field of sports journalism.
In this review, we have compared the Sony a9 II to its most relevant rivals from other brands. As usual, you can create your own comparisons and in-depth analyses using our interactive image sensor ranking tool.