Models in the popular Sony Cyber-shot RX100 compact camera line share a similar body design and a 20MP 1-inch type sensor; they differ mainly by lens choice. As the seventh iteration (or eighth, if you count the VA), the Sony Cyber-shot RX100 VII is an updated version of the VI, which was the first in the series to feature a stabilized 24-200mm-equivalent, f/2.8-4.5 zoom lens.
In addition, according to Sony, the VII features a newly-developed stacked BSI-CMOS sensor, with a native 100-12,800 ISO range (expandable to 64-25,600), and can shoot continuously at 90 fps or 20 fps without blacking out. In other respects, the VII shares many of the same features as the VI, including a phase detect AF system (but with 357 points), a tilting 3-in touchscreen LCD (albeit with a lower 921K-dot screen), and a retractable 2.36M-dot OLED viewfinder.
Also new to the RX100 VII—and arguably the most significant update—is the vaunted "Real-Time Tracking AF" feature that debuted on the Sony A9 II, which automatically selects either tracking AF or eye and face detection AF modes, saving you the trouble. There's also Wi-Fi with Bluetooth and NFC for wireless connectivity. Video capture options include the previously-mentioned Real-Time Tracking AF, UHD 4K recording up to 30p, Full HD at up 120p, and a high-speed mode at up to 1000 fps, as well as a new mic socket.
Key specifications:
20MP 1-inch CMOS sensor

24-200mm equivalent, f/2.8-4.5 stabilized zoom

Real-Time Tracking AF for stills and video

ISO 100-12,800, with expansion to ISO 64–25,600

Bursts at 90 fps, or up to 20 fps, blackout-free

3-inch touchscreen

4K UHD/30fps video, Full HD at up 120fps

Wi-Fi with Bluetooth and NFC
Overall performance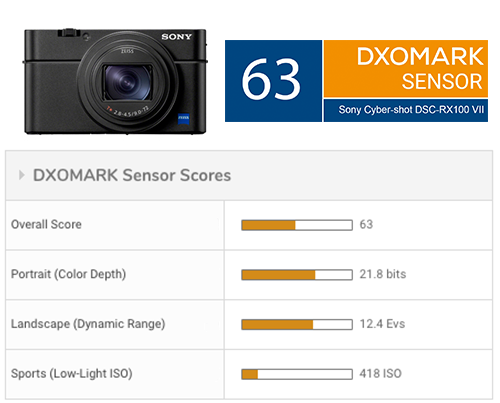 Click on the score chart above to open the Sony Cyber-shot RX100 VII product page.
The new Sony RX100 VII sensor achieves an overall DXOMark score of 63—surprisingly a little below the expected performance for a 20MP 1-inch type BSI CMOS sensor, which is typically around the 70-point mark.
However, this sensor has on-chip PDAF with 357 points and is a "stacked"-type sensor with a layer that uses dynamic random access memory (DRAM) for processing, enabling faster readout. This could mean faster AF and burst capture, as well as improved video and live view; it appears from our results, however, that the design impacts image performance somewhat.
Nevertheless, for its size, the RX100 VII sensor performs well for dynamic range (a key area for photographers), measuring a very respectable 12.4 EV maximum at base ISO in our Landscape test, corresponding with the best performers.
However, while still very good, the sensor doesn't measure up quite so well for Sports (Low-light ISO), achieving a maximum of ISO 418, nor for Portrait (color depth), where it peaked at 21.8 bits at base ISO.
Image quality compared
Sony has selected a newly-developed sensor for the RX100 VII and its performance in dynamic range is among the best for the (1-inch type) sensor format. It's a very competitive area, however, and the RX100 VII is ranked joint fourth—but only 0.3 EV behind the current best in our database (the Canon PowerShot G7X).
Meanwhile, the RX100 VII sensor's Portrait score, peaking at 21.8 bits, is its second-strongest performing area, where it ranks in 10th place just behind the Canon PowerShot G9X MII from 2017. In practice, a difference of 0.1 bit is negligible; but when pitted against the best in this category (the Sony Cyber-shot DSC-RX 10 at 23.1 bits), the RX100 VII comes in at 1.3 bits lower, which may be noticeable in some circumstances.
It's a similar situation for the RX100 VII sensor's Sports (Low-light ISO) score. Measured at ISO 418, the sensor ranks 18th for 1-inch format sensors, only just above the original RX100 model (introduced in 2012) at ISO 390. Against the best performer in this category, the Sony RX100 V (at ISO 586), that equates to around a 0.3 EV advantage to the earlier model. Although not a big difference in practice, this is, again, a highly competitive field, where even small differences can matter.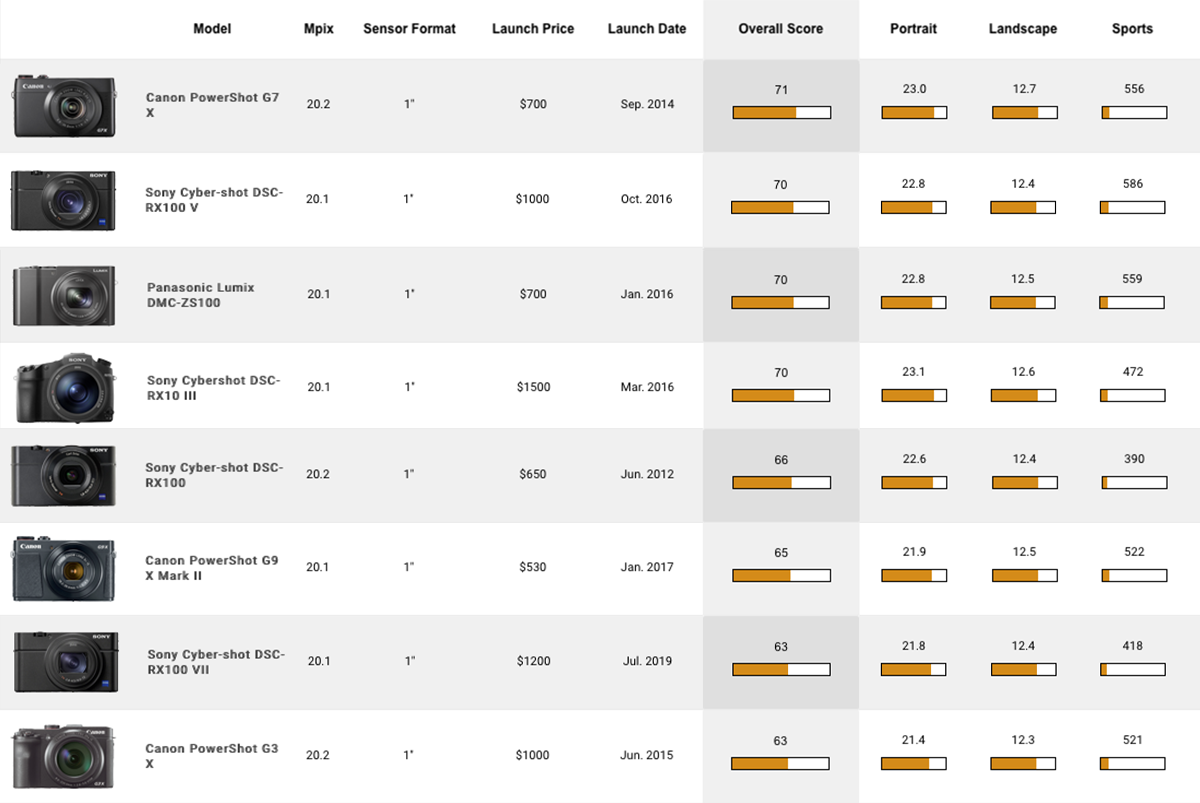 Click here to open our interactive DXOMARK image sensor ranking tool.
In-depth comparisons
The nearest competitor to the RX100 VII in our database is the Panasonic Lumix DMC-ZS100. Introduced in 2016, it combines a 20MP 1-inch BSI-CMOS (without PDAF pixels) in a stylish and compact body with a high-end Leica-branded, 25-250mm-equivalent f/2.8-5.9 zoom. We'll also include the closest model in our database from Canon, the PowerShot G3 X from 2015, which also has a 20MP 1-inch BSI-CMOS sensor, albeit coupled with a powerful 24-600mm f/2.8-5.6 zoom.
Importantly, though, all three share the same f/2.8 maximum aperture, which allows a closer comparison when making assumptions about light transmission on non-removable lenses like these. You can, however, compare the results with other models yourself, using our comparison tool.
Portrait (color depth)
The Sony RX100 VII has very similar color depth to that of the Canon PowerShot G3 X at all sensitivities, and even surpasses the Canon (21.8 vs 21.4 bits) at their respective lowest sensitivity settings. The Panasonic, however, easily surpasses both in terms of higher color depth, at least from base up to ISO 1600 (manufacturer's setting).
The Sony's relatively high maximum color depth is achieved at the extended sensitivity of ISO 64 (measured ISO 72), which incidentally is identical to the result at ISO 100. Both the Panasonic and Canon lack lower extended ISOs and are slightly disadvantaged in this way; even so, the Sony is still fully 1 bit lower than the Panasonic at lower sensitivities, and that difference in color depth gradually increases to 1.5 bits up to ISO 800 in favor of the Panasonic.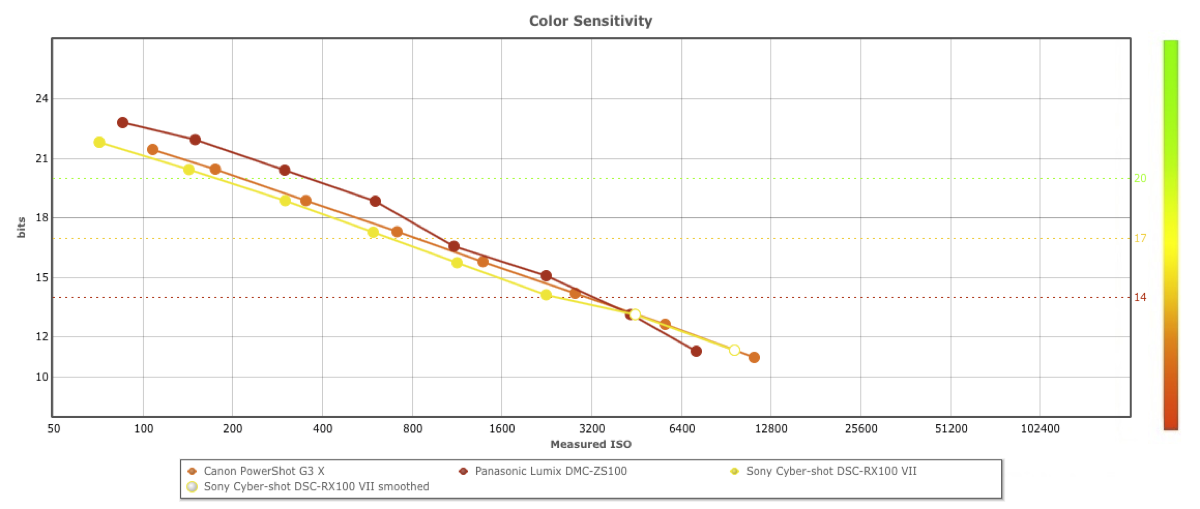 Both the Sony and Canon stay within our 14-bit threshold for acceptable image quality at ISO 3200; however, the Panasonic continues to outdo both and achieves 15 bits at that setting. All three dip below that threshold at ISO 6400; but note that the Sony's color depth in this range can be accounted for by the discovery of some noise reduction in the shadow areas in the RX 100 VII's RAW files (smoothed in our graphs).
Landscape (dynamic range)
At its lowest sensitivity, the Sony RX100 VII captures a maximum dynamic range of 12.4 EV, on par with the Panasonic ZS100 at 12.48 EV. This said, the Panasonic sensor achieves that result at its base setting of ISO 100 (measured ISO 86), which can give it an advantage in terms of highlight protection. From the ISO 200 onwards, the two models show very similar measured ISO values. However, with around a +0.2–0.4 EV advantage, the Panasonic ZS100's dynamic range is just slightly wider than that of the Sony RX 100 VII.
The Canon G3 X is similar in dynamic range to the Sony RX100 IV for the most part, except that the former has a very slightly higher measured sensitivity for each setting. This gives the Sony RX100 VII (and Panasonic ZS100) a slight edge when photographing high-contrast scenes, such as landscapes or interiors with both deep shadows and bright highlights. For the most part, though, the difference in performance is marginal.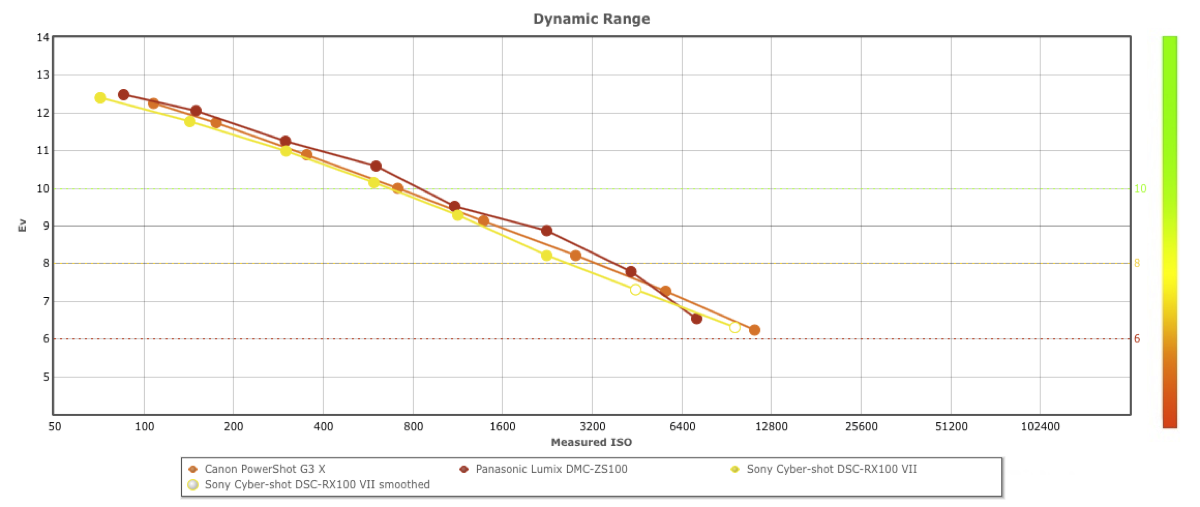 Sports (low-light ISO)
With their slopes practically overlapping throughout the sensitivity range, the earlier Panasonic ZS100 and Canon G3 X sensors have very a similar noise response. However, its lower measured ISO means that the Panasonic ZS100 has less noise at any given ISO setting (with the exception of ISO 12,800), which can result in slightly cleaner-looking images.
Although perhaps not immediately obvious from the graph, the Sony also benefits from its generally lower measured ISOs, resulting in very similar noise levels to those of the Canon G3 X at each ISO setting. Noise levels are even a little lower at ISO 6400, where the Sony RX100 VII actually matches the Panasonic sensor—though again, that is due to some selective noise reduction on RAW files. Interestingly, both the Sony RX100 VII and the Panasonic ZS100 at ISO 6400 sit just above our minimum 20 dB noise threshold at 20.4 dB, while the Canon at that setting dips just below it at 19.5 dB.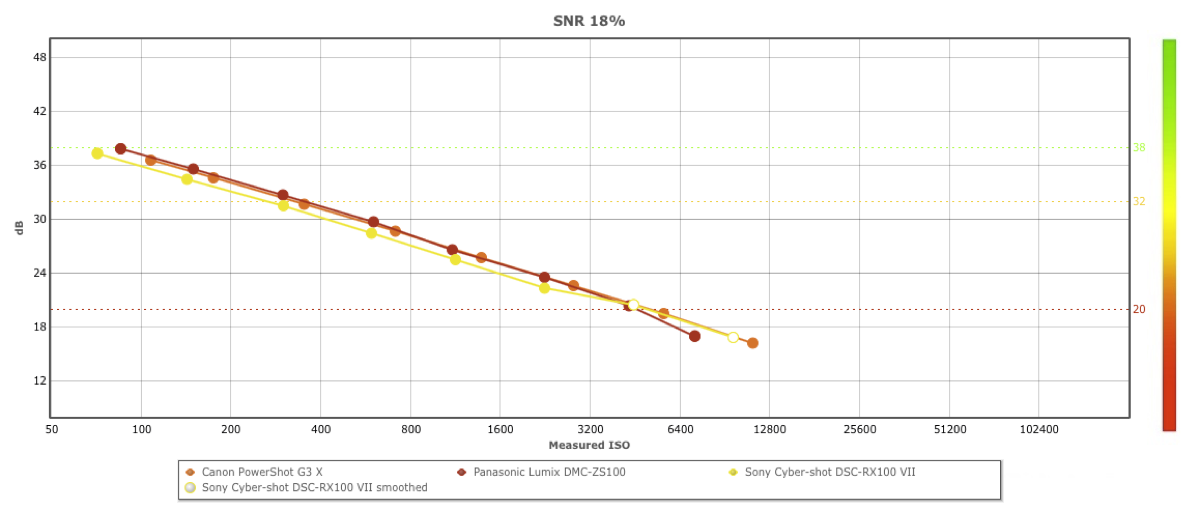 Conclusion
With sensors larger than those found in typical compacts, offering 20MP resolution and high image quality with low noise, and with dynamic range approaching that of some interchangeable-lens camera, the Sony Cyber-shot RX100 series has come to define an enthusiast's advanced compact ever since it was introduced in 2012.
Although it doesn't quite match the exceptional imaging performance of the previous generation of 1-inch type BSI CMOS sensor, the Sony RX100 VII's newly-developed "stacked" sensor comes very close. With its built-in DRAM and enhanced PDAF providing a number of benefits, along with the Real-Time Tracking AF feature, it seems a fair tradeoff. All in all, with its new capabilities and solid image quality, the Sony Cyber-shot DSC-RX100 VII looks like one of the most compelling compacts available.
In this review, we have compared the Sony Cyber-shot RX100 VII to its most relevant rivals from other brands. As usual, you can create your own comparisons and in-depth analyses using our interactive image sensor ranking tool.