Sony announced the RX0 in August 2017, and although many people assume it's an action camera, it's a bit more than that. It may have the rugged body that we expect from an action cam such as those in the GoPro Hero Black range, but inside is a 21Mp (15.3Mp effective) 1″-type sensor. Furthermore, Sony has used its stacked CMOS sensor design to help maximize the pixel size and boost the light-gathering potential for better image quality.
On the front of the RX0 is a ZEISS Tessar T* 24mm (equivalent) f/4 lens, and on the back there's a 1.5″ (3.8cm) Clear Photo TFT LCD with 230,400 dots.
Still images can be shot in RAW or JPEG format, and Full HD video can be shot at up to 50/60fps or 50/60p. There's also a High Frame Rate (HFR) mode that enables Full HD output at 240/250, 480/ 500, or 960/1000fps. (There is a 4K video option, but this must be recorded to an external device.)
The RX0 is waterproof, shockproof, crushproof, and dust-proof. Its robust construction and its small size make it suitable for shooting in harsh environments and in hard-to-reach locations where photographers might want to trigger it remotely.
As usual, this review concentrates on the camera's still-image performance.
Key specifications:
15.3Mp 1″-type stacked CMOS sensor
Bionz X processor
ZEISS Tessar T* 24mm f/4 lens
Fixed f/4 aperture
Up to 1/3200sec anti-distortion shutter
25-point contrast-detection AF system
1.5″ Clear Photo TFT LCD with 230,400 dots
16fps continuous shooting
Extended ISO range of 80-12,800 or 125-25,600, with multi-frame noise reduction
Overall image sensor performance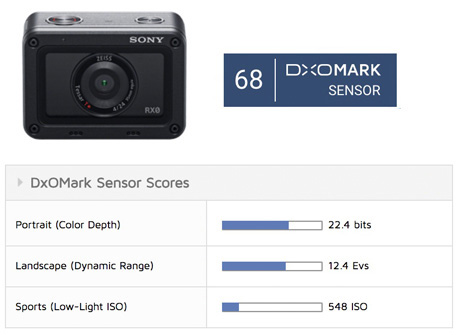 An overall score of 68 means that the Sony RX0 sits near the middle of the table for 1″-type sensor performance in our testing. As is often the case, the best image quality is delivered when the camera is set to its lowest sensitivity setting. For the RX0, that's ISO 80, which has a measured value of ISO 86.
While the Sports (low-light ISO) score may look fairly low, it's actually good for a sensor of this size. It means that images are of high quality, provided that the sensitivity is kept to ISO 548 or lower. (In reality, this means setting a value of ISO 500 or lower.)
At 12.4EV, the Landscape (dynamic range) score is also respectable, indicating that there's a good range of tones in the RX0's images and that highlights don't burn out quickly.
Image quality compared
The table below shows how far ahead the RX0 is from the GoPro Hero5 Black. The action cam's smaller sensor lags behind in every respect. The RX0's Sports (low-light) performance, for example, is over 2EV higher, while its Landscape (dynamic range) score is 1.2EV better. Meanwhile, there's a 3.4-bit difference in the Portrait (color depth) score, meaning that the RX0 will produce noticeably better color with nicer tonal gradations in images.
As you can see, the RX0 compares very well with such high-end compact cameras as the Sony RX100 II, the RX100 III, and the Canon PowerShot G9 X Mark II. It's also not far behind the PowerShot G7 X.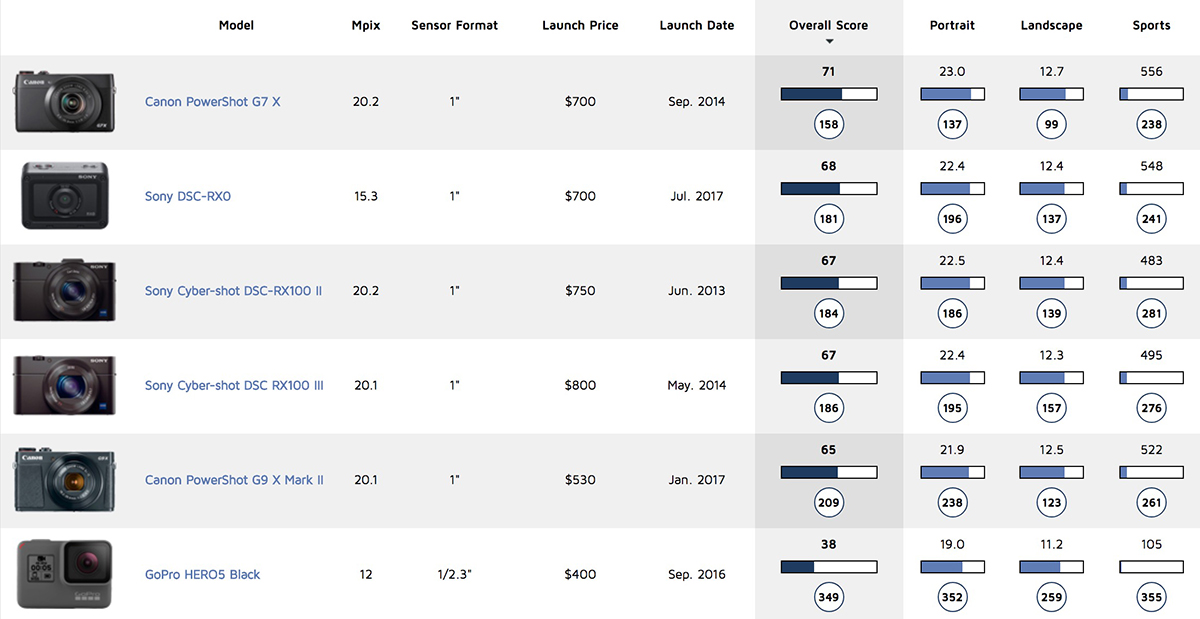 Click here to open our interactive DxOMark image sensor ranking tool
As it's a small rugged camera with a fixed lens and fixed aperture, the Sony RX0 occupies a niche in the market. However, it's interesting to compare it with some high-end compact cameras that have the same size sensor, such as the Sony RX100 II and the Canon PowerShot G9 X Mark II.
Interestingly, the RX100 II matches the RX0 for Portrait and Landscape scores, but the difference in the Sports score sees it take the lead overall. In fact, the RX0's Sports (low-light) score is only about a third of a stop better than the RX100 II's, but this gives it a slight edge. Even the difference between the RX0 and Canon G9 X II is very slight, and it's unlikely to make a noticeable difference in images.
In-depth comparisons
In this section, we'll take a look at the performance behind the headline scores and examine in detail how the Sony RX0 sensor compares with the chips in the Canon PowerShot G9 X Mark II and the Sony Cyber-shot RX100 II.
Portrait (color depth)
Although the Sony RX0 has a lower minimum sensitivity setting than the competing cameras, it can't quite match the RX100 II for color sensitivity at that end of the scale. However, it matches or marginally outperforms the Canon camera's sensor throughout the sensitivity (ISO) range.
The most significant difference is at settings of around ISO 400 (measured as ISO 281) and ISO 800 (measured ISO 562). But even at its height, the RX0 is only about 1.2 bits better, and in practice, this is going to make very little difference.

Landscape (dynamic range)
Again, the greatest measured difference between the three cameras' dynamic range is around the ISO 400-800-1600 area, with the RX0 leading the pack. It's not dramatically better at these values, but it delivers up to 0.41EV more tone, which could be noticeable in certain situations. The RX0 may just hold the highlights a little better or have a fraction more detail in the shadows when contrast levels are quite high.

Sports (low-light ISO)
All three cameras control noise well up to around ISO 400, but above this value, they slip below our 30dB threshold for excellent image quality. That's nonetheless good for 1″-type sensors.
At the lowest ISO values, the Sony RX0 is a little below the two comparison cameras, but it's extremely unlikely that this would be visible in images.
From their ISO settings of 400 to 3200, the three cameras' signal-to-noise ratios are almost identical. It's only at the upper settings where we see some divergence again. This time it's the Sony RX100 II that produces the slightly-better results, perhaps explaining Sony's marketing it towards "low-light artists."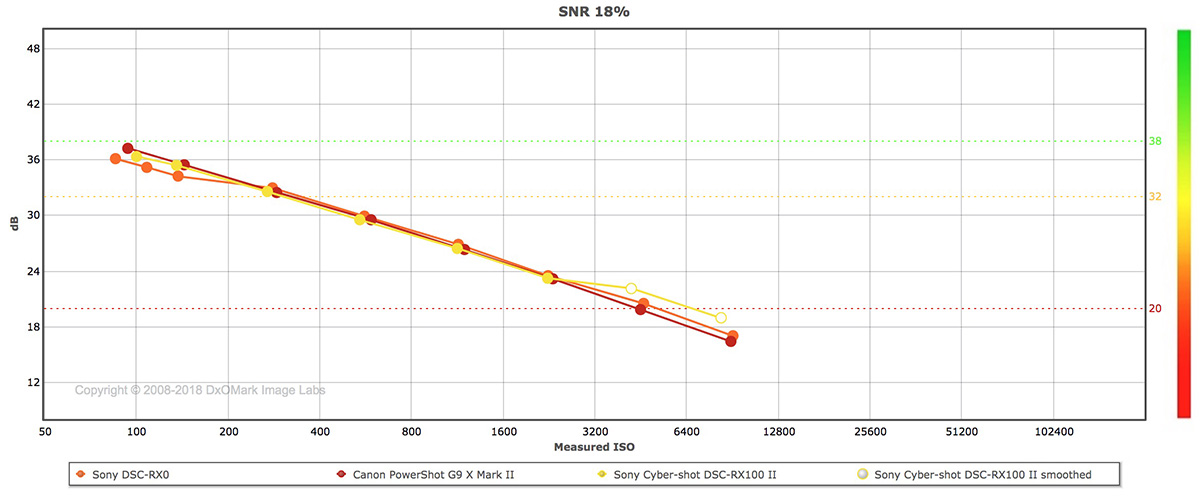 Conclusion
Sony is aiming the RX0 at professional photographers who need a small rugged camera for specific projects. It's not really intended to be fitted to a ski helmet or mounted on bike handlebars, though it's clear that it outperforms one of the most popular action cams around. In fact, it's a strong competitor against high-end compacts with the same size sensor. However, it offers a far superior range of video features in a tough body.
In terms of image quality, the greatest differential between the RX0 and the cameras we've pitched it against is the color depth in the lower-middle sensitivity range. Even then, there's little chance of it being noticeable in images captured under the same conditions.
In this review we have compared the Sony RX0 to its most direct rivals that we've tested. As usual, you can create your own comparisons and in-depth analyses using our interactive image sensor ranking tool.
In the Press