Sony's current flagship smartphone, the Xperia 1 II, began shipping in mid-2020. It has a Qualcomm 865 5G chipset, providing speedy performance and fast connectivity where supported. It features a 6.5-inch OLED HDR screen with extremely high 4K resolution. There's 8 GB of RAM and 256 GB of storage along with an expansion slot.
There are four cameras on the back, with three used for direct imaging, all at 12 MP. The main wide module pairs a 24 mm-equivalent f/1.7 lens with a 1/1.7-sensor. An ultra-wide module has a 16 mm-equivalent f/2.2 lens and a 1/2.55-inch sensor, and a tele module uses a 70 mm-equivalent f/2.4 lens and 1/3.4-inch sensor for tighter framing. The main and tele cameras are optically stabilized, and burst shooting at an unusually fast 20 fps (with AE/AF) is supported. There's also a 3D ToF sensor for focus and depth mapping assistance.
The Xperia 1 II shoots 4K video at 24, 25, 30, and 60 fps, and also supports slow motion capture at 120 fps in 1080p. A combination of optical and electronic stabilization keeps things steady. The Sony is also one of very few phones to feature a hardware shutter button. Read on to find out how this top-of-the-line Sony fares in our tests.
Key camera specifications:
Standard-wide: 12 MP 1/1.7-inch sensor with 1.8µm pixels and 24 mm-equivalent f/1.7, dual pixel PDAF, OIS
Ultra-wide: 12 MP 1/2.55-inch sensor and 16 mm-equivalent f/2.2 lens, dual pixel PDAF
Tele: 12 MP 1/3.4-inch sensor with 1.0µm pixels and 70 mm-equivalent f/2.4 lens, PDAF, OIS
0.3 MP 3D ToF sensor
LED flash
4K at 24, 25, 30, 60 fps (tested at 4K/30fps), 1080p at 30, 60, 120 fps
About DXOMARK Camera tests: For scoring and analysis in our smartphone camera reviews, DXOMARK engineers capture and evaluate over 3000 test images and more than 2.5 hours of video both in controlled lab environments and in natural indoor and outdoor scenes, using the camera's default settings. This article is designed to highlight the most important results of our testing. For more information about the DXOMARK Camera test protocol, click here. More details on how we score smartphone cameras are available here.
Test summary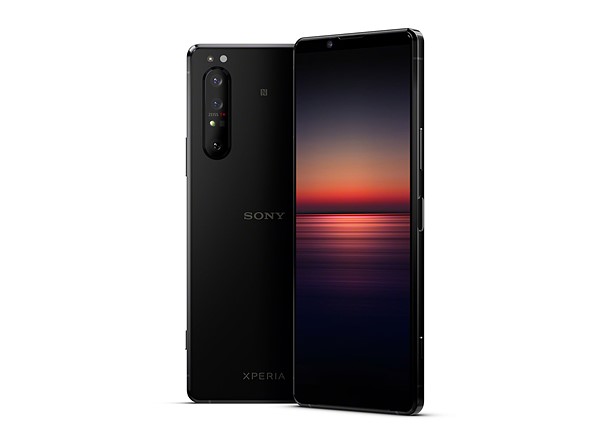 Sony Xperia 1 II
112
camera
With an overall Camera score of 112, the Sony Xperia 1 II does substantially better in our testing than the original Xperia 1 launched in 2019. It makes meaningful progress over that phone in nearly every category, but its overall performance still lags behind most current high-end devices. Its Photo score of 114 beats its predecessor by a decisive 25 points, but comes in behind most other flagship phones we've tested under our V4 protocol.
The Zoom score is 63, thanks mainly to a fairly strong ultra-wide camera. Its tele performance is lower than most phones in the premium segment, however.
The Video score of 102 is somewhat stronger than its stills performance, relatively speaking, but is still behind what most devices in the Sony's price bracket deliver.
The Xperia 1 II can capture well-exposed photos in good light, but shows quite a bit of exposure instability and underexposes in dim conditions. Dynamic range outdoors is impressively wide, but drops off indoors and in lower light levels. Its exposure sub-score represents a leap over the first Xperia 1's performance, but is still quite low.
Color is not very accurate, and images frequently show color casts. Noise is very low across all lighting conditions, but this comes at the expense of some detail. Preview performance is middle-of-the-pack: the most noticeable problem is that the preview blacks out entirely for a moment when zooming crosses from one camera to another.
Autofocus is slower than many competitors across various lighting conditions, and the phone makes more focusing errors than is typical for its class. The Xperia 1 II's artifact sub-score is held down by color quantization, hue shift, and occasional ghosting.
Night performance is better than its predecessor's, but still leaves room for improvement. In flash-auto mode the phone can take decent night portraits, though backgrounds tend to be underexposed and a warm cast is prominent. When the flash isn't in play, expect underexposure, high noise, and limited dynamic range.
The Xperia 1 II's ultra-wide camera delivers solid image quality, although with a 16 mm-equivalent lens, its field of view is not as wide as that of some competitors. Detail is good, and noise is well-controlled in the central part of the image, though it's more visible towards the edges. Exposure is accurate and dynamic range is wide in bright light, but performance drops in lower light.
The tele module provides some extra reach, but performance is noticeably behind that of other phones in this class. Noise is low, but detail levels are very low.
The Xperia 1 II's portrait mode does a reasonably good job of separating the subject from the background and produces a convincing blur gradient. Its bokeh score is nonetheless lowered by limited dynamic range, general softness on the subject, and the wide field of view used.
Sony has made dramatic improvements in video performance over the Xperia 1 II's predecessor, leading to a 22-point increase in its Video score. Videos are nicely detailed in bright to moderate lighting. The autofocus issues of the original Xperia 1 have been largely resolved, with the Xperia 1 II earning a score more in line with other high-end phones. Focus is stable, but tracking sometimes loses the subject, especially in low light.
Exposure is generally accurate, though it drops into underexposure in dim light, when chroma noise also becomes visible, and dynamic range is limited. Stabilization is not very effective, with too much residual motion visible when the phone is moving. White balance is accurate outdoors, but the phone could deal with lighting transitions more smoothly than it does.
Sony Xperia 1 II, low-light video
Conclusion
Sony has made great strides with the Xperia 1 II, delivering a phone that's more appealing to demanding photographers than its predecessor. It is photographically competent and capable of recording pleasing video, but it's also in the very highest price tier for smartphones, and competition at these rarified four-figure heights is fierce. Most of the top-end phones we've tested outperform the Xperia 1 II, and there are even some mid-range handsets that approach its numbers. Those who appreciate other aspects of Sony's approach to phone design will be pleased that the Xperia 1 II provides a significant upgrade over its predecessor's imaging capabilities, but buyers who prioritize camera performance should consider alternatives before committing.
Pros
Low noise, even in challenging low light
Wide dynamic range outdoors
Good detail in ultra-wide shots
Accurate depth estimation in portrait mode
Accurate white balance in outdoor videos
Cons
Limited dynamic range in moderate to low light
Color casts in stills
Color quantization and hue shift artifacts in stills
Unstable stills autofocus
Limited dynamic range and exposure variance in portrait mode
Low detail with tele camera
Video dynamic range limited, exposure low in dim light
Video AF does not track in dim light
Chroma noise in low-light videos
Stabilization causes residual movement
Uneven white balance transitions in videos