The Vivo X70 Pro (Mediatek) is the international version (there is also a China-only version with Exynos chipset) of Vivo's Premium smartphone. It is powered by a Mediatek Dimensity 1200 chipset and comes with up to 12GB of RAM and 256GB of onboard storage. The curved AMOLED display measures 6.56 inches and displays images at FHD+ resolution and with a 120Hz refresh rate.
Like the flagship model X70 Pro+ the X70 Pro comes with a quad-camera that features a dual-tele setup and Zeiss-certified optics but the Plus model uses higher resolution sensors and/or faster apertures in some modules. The primary camera uses a large 50 MP sensor behind a f/1.75 lens and the 12 MP ultra-wide comes with a gimbal-style stabilization system. Tele zooming is delivered by a 12 MP 2x lens in combination with an 8MP 5x periscope-style module.
Let's see how the Vivo X70 Pro Camera compares to its rivals.
Key camera specifications:
Ultra-wide: 12 MP sensor, f/2.2-aperture
Tele: 12 MP sensor, f/1.98-aperture 2x lens
Tele: 8 MP sensor, f/3.4-aperture 5x lens
LED flash
Video: 4K/1080p/720p at 60/30/24 fps (4K/30fps tested)
About DXOMARK Camera tests: For scoring and analysis in our smartphone camera reviews, DXOMARK engineers capture and evaluate over 3000 test images and more than 2.5 hours of video both in controlled lab environments and in natural indoor and outdoor scenes, using the camera's default settings. This article is designed to highlight the most important results of our testing. For more information about the DXOMARK Camera test protocol, click here. More details on how we score smartphone cameras are available here.
Test summary
Scoring
Sub-scores and attributes included in the calculations of the global score.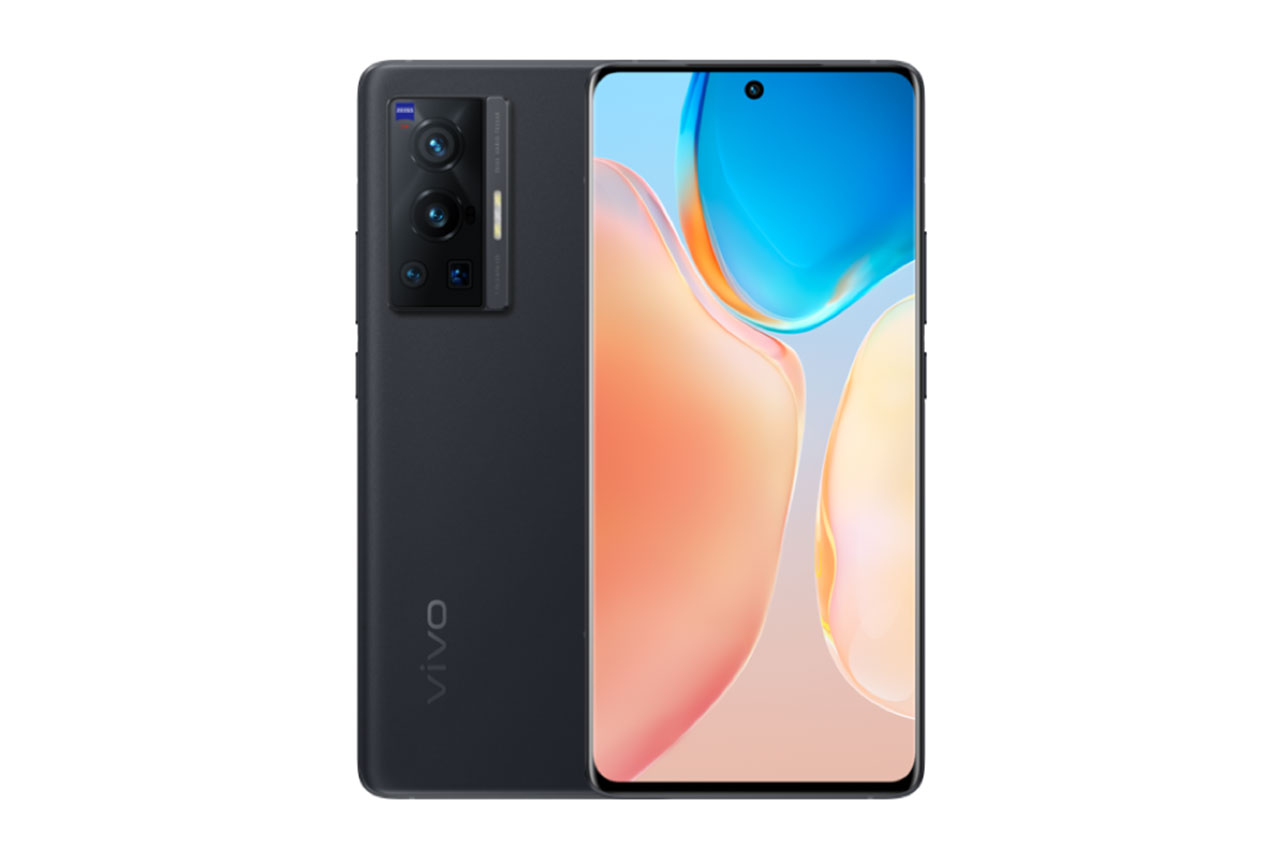 Vivo X70 Pro (MediaTek)
126
camera
Use cases & Conditions
Use case scores indicate the product performance in specific situations. They are not included in the overall score calculations.
Outdoor
Photos & videos shot in bright light conditions (≥1000 lux)
Indoor
Photos & videos shot in good lighting conditions (≥100lux)
Lowlight
Photos & videos shot in low lighting conditions (<100 lux)
Friends & Family
Portrait and group photo & videos
Please be aware that beyond this point, we have not modified the initial test results. While data and products remain fully comparable, you might encounter mentions and references to the previous scores.
Position in Global Ranking
33
rd
4. Apple iPhone 14 Pro Max
146
7. Apple iPhone 13 Pro Max
141
13. Vivo X80 Pro (Snapdragon)
137
16. Samsung Galaxy S22 Ultra (Snapdragon)
135
16. Vivo X80 Pro (MediaTek)
135
23. Apple iPhone 12 Pro Max
131
23. Samsung Galaxy S22 Ultra (Exynos)
131
31. Asus Smartphone for Snapdragon Insiders
127
33. Vivo X70 Pro (MediaTek)
126
37. Samsung Galaxy S22+ (Exynos)
125
41. Samsung Galaxy Z Fold4
124
43. Apple iPhone 11 Pro Max
122
47. Samsung Galaxy Z Fold3 5G
120
47. Samsung Galaxy S22 (Exynos)
120
50. Samsung Galaxy S21 Ultra 5G (Snapdragon)
117
50. Samsung Galaxy S21 FE 5G (Snapdragon)
117
50. Samsung Galaxy S21 5G (Snapdragon)
117
55. Vivo X60 Pro 5G (Snapdragon)
116
58. Samsung Galaxy S21+ 5G (Snapdragon)
115
58. Samsung Galaxy S21 Ultra 5G (Exynos)
115
67. Samsung Galaxy Z Flip4
112
69. Samsung Galaxy Z Flip3 5G
111
69. Samsung Galaxy S21+ 5G (Exynos)
111
69. Samsung Galaxy S21 5G (Exynos)
111
74. Vivo X60 Pro 5G (Exynos)
108
81. Apple iPhone SE (2022)
100
90. Samsung Galaxy A52s 5G
88
90. Samsung Galaxy A52 5G
88
92. Samsung Galaxy A33 5G
85
95. Samsung Galaxy A53 5G
79
96. Xiaomi Redmi Note 11 Pro 5G
78
98. Samsung Galaxy A23 5G
70
100. Motorola Moto G62 5G
66
101. Xiaomi Redmi Note 11S 5G
65
104. Honor Magic4 Lite 5G
61
106. Xiaomi Redmi Note 11
60
109. Xiaomi Redmi 10 2022
51
111. Samsung Galaxy A22 5G
48
Position in Premium Ranking
3
rd
3. Vivo X70 Pro (MediaTek)
126
6. Samsung Galaxy S22 (Exynos)
120
7. Samsung Galaxy S21 FE 5G (Snapdragon)
117
7. Samsung Galaxy S21 5G (Snapdragon)
117
11. Vivo X60 Pro 5G (Snapdragon)
116
16. Samsung Galaxy S21 5G (Exynos)
111
18. Vivo X60 Pro 5G (Exynos)
108
Pros
Accurate exposure down to low light and wide dynamic range
Nice colors
Good detail in low light
Accurate autofocus and wide depth of field
Accurate white balance on ultra-wide camera, good detail at medium range tele
Good exposure, white balance and detail in bright light video
Effective video stabilization
Cons
White balance casts indoors and in low light photo and video
Clipping of fine detail in high-contrast scenes
Slight noise in all conditions
Shutter lag in all conditions
Color fringing on ultra-wide camera
Sudden resolution drops in consecutive tele shots
Unstable exposure in video
Lack of detail and autofocus instabilities in low light video
With a DXOMARK Camera score of 131 the Vivo X70 Pro achieves a new top score for the Premium price segment and comes pretty close to the X70 Pro+ (135) and other top performers in the Ultra Premium category. Despite the different chipsets (Mediatek instead of Snapdragon 888) and the slightly less impressive camera hardware the non-plus model matches the overall Photo performance of the X70 Pro+ and even outperforms the Vivo flagship in some categories, for example autofocus. With the X70 Pro Vivo presents a very well-rounded imaging package without any real weaknesses.
When shooting still images the camera excels for landscape and interior shots, thanks to an excellent dynamic range as well as vivid colors. It also does well in low light. The autofocus system works reliably in all conditions but has a slight shutter lag in all conditions.
The Vivo also does a good job when using the ultra-wide and tele cameras. The ultra-wide doesn't offer the widest field of view we have seen but produces good image quality. Exposure is good with a fairly wide dynamic range ensuring good detail in the brightest and darkest parts of the frame. The auto white balance system delivers natural color but shadow noise and color fringing artifacts are areas for improvement.
The dual-tele setup delivers good image quality at longer tele settings but lacks a little at closer distances. Our testers also observed an occasional sudden drop of resolution between two consecutive shots of the same scene.

The X70 Pro is also among the best Premium devices for Video. Video footage usually has good exposure and nice color with accurate white balance, especially when recording in bright light. In addition the stabilization system works effectively, with only very little residual motion. In typical indoor conditions and in low light our testers saw some color casts, though, as well as a loss of detail and some autofocus instabilities.
Vivo X70 Pro, accurate target exposure, nice colors and effective stabilization