The Xiaomi Mi 10 Pro is the Chinese brand's latest top-end smartphone, featuring premium components and specs in all areas. It's powered by Qualcomm's premium Snapdragon 865 chipset and comes with a 6.67-inch Super-AMOLED display with FHD+ resolution.
The rear camera module combines a primary 108MP shooter with an ultra-wide and not one but two tele-cameras for optimized performance across the zoom range, achieving stellar results in our DXOMARK Camera test.
Things are much simpler at the front, though, where the selfie camera uses a 20MP 1/3-inch sensor and a fixed-focus lens with an f/2.0 aperture. In video mode, the Mi 10 Pro front camera is capable of recording footage at 1080p resolution and 30 frames per second. Read the full review to find out if the Xiaomi's front camera can match the rear module's excellent results.
Key front camera specifications:
20MP 1/3-inch sensor with 0.9µm pixels
Fixed-focus, f/2.0-aperture lens
1080p/30fps video
About DXOMARK Selfie tests: For scoring and analysis in our smartphone front camera reviews, DXOMARK engineers capture and evaluate over 1500 test images and more than 2 hours of video both in controlled lab environments and in natural indoor and outdoor scenes, using the camera's default settings. This article is designed to highlight the most important results of our testing. For more information about the DXOMARK Selfie test protocol, click here.
Test summary
83
selfie
A DXOMARK Selfie score of 83 puts the Xiaomi Mi 10 Pro in a mid-table position in our front camera ranking, close to mid-rangers like the Samsung Galaxy A71 or to older high-end models like the Apple iPhone XS Max.
Its Photo score of 84 is also quite a bit lower than the top-ranked Huawei P40 Pro at 108, but the Mi 10 Pro is capable of recording decent selfie shots in the right conditions. Target exposure on faces is good in most conditions, and a wide depth of field means that even subjects at the back of the group or selfie-stick users are captured with acceptable sharpness. On the downside, limited dynamic range results in quite intrusive highlight clipping in high-contrast scenes, and the color rendering leaves room for improvement.
In our exposure tests, the Mi 10 Pro front camera usually got target exposure on the face right. Only in very low light (10 lux and below) can images be slightly underexposed. However, dynamic range is noticeably more limited than on many devices in this class, and backgrounds and skin tones can often show clipped areas in bright conditions.
In the comparison samples below, you can see that exposure on the face is pretty good for all three devices, but the bright blue sky in the background shows a shift towards cyan in some areas, which is a sign of channel clipping. Both the iPhone and the Huawei camera are capable of capturing the blue of the sky without any issues in the same conditions.
As far as color goes, the Mi 10 Pro usually delivers accurate white balance in bright light and under typical indoor conditions, but color rendering is not fantastic overall. Saturation in outdoor images can be slightly on the low side, and skin tones can turn unnaturally reddish in low light. The sample below also shows the highlight clipping on skin tones that we mentioned in the exposure section above.
The Xiaomi Mi 10 Pro comes with a fixed-focus lens. While this doesn't provide the same flexibility as a good autofocus system, the lens's depth of field is pretty wide. In practice this means that sharpness is good at a shooting distance of around 50cm and remains acceptable even at 120cm. In the group selfie below, you can see a slight loss of sharpness on the person furthest away from the lens, but detail is still pretty good and better than on the fixed-focus iPhone or on the Huawei P40 Pro, whose dual front cameras actually come with an AF system.
The Mi 10 Pro selfie shooter does a good job at capturing detail, especially in bright outdoor conditions, but image noise both on faces and the background is always visible, too. Acutance levels hardly decrease in indoor conditions, but the drop in low light is more significant. This said, the Xiaomi still records acceptable detail in low light.
In the outdoor samples below, however, you can see that both the iPhone 11 and P40 Pro record slightly better textures than the Mi 10 Pro. This is especially true for the P40 Pro, with its larger sensor and higher resolution.
Even taking into account the "beautification effect" that the Xiaomi device has applied to the model's face (softening or erasing freckles and other facial details), the overall drop in detail in the indoor image below is fairly small; this said, image noise becomes more intrusive in these lighting conditions. The P40 Pro again delivers the best image in this comparison, with good detail and very low noise levels.
We found a range of image artifacts in our sample shots from the Mi 10 Pro front camera, but flare is arguably the most intrusive one. Strong flare is noticeable in the left image below. The shot in the middle shows a strong color shift towards cyan in the sky, and a hue shift is visible around the clipped skin tone areas in the image on the right. We applied penalty points for additional artifacts, including anamorphosis (perspective distortion close to the edges of the frame), color quantization, and color fringing.
When using the front camera flash without any additional light source, the Mi 10 Pro produces images with accurate white balance and pleasant color rendering. On the downside, there is strong image noise and quite noticeable vignetting. When the flash is mixed with low tungsten illumination, the auto white balance system gets a little confused, which results in a greenish cast and unnatural skin tones. Some color shading and vignetting are visible, too.
The Mi 10 Pro features a bokeh mode on its front camera, but it is not one of the camera's strong points. The system detects the subject in the frame and then blurs everything around them, even objects on the same focal plane. There is also no blur gradient, with the camera applying the same amount of blur across the entire frame. In addition, spotlights in the background are rendered too small and lack contrast. Overall, the Xiaomi's bokeh effect is pretty unnatural-looking.
The Mi 10 Pro achieves a score of 81 for video, which puts it in the middle of the pack for this category. Overall, many of the strengths and weaknesses we saw for still images can also be seen in the Mi 10 Pro's video footage. Its Video sub-scores are as follows: Exposure (66), Color (76), Focus (79), Texture (74), Noise (81), Artifacts (80), and Stabilization (42).
When recording video, target exposure on faces is good in bright light and under typical indoor illumination. Once light levels drop below 10 lux, exposure starts dropping, too, and footage recorded in very low light is underexposed. Like with stills, dynamic range is limited and recording in high-contrast conditions will almost inevitably result in some highlight clipping in bright areas of the frame.

Video exposure comparison
Video color characteristics are very similar to those for still images, too. Skin tones are rendered nicely in bright light and when shooting indoors, but can look slightly unnatural in footage recorded in low light.
On the plus side, the camera's wide depth of field helps keep subjects in the scene in focus, even when moving or panning, and detail is good in bright light when shooting at 1080p. Detail levels remain good until 100 lux but start dropping noticeably when things get dimmer.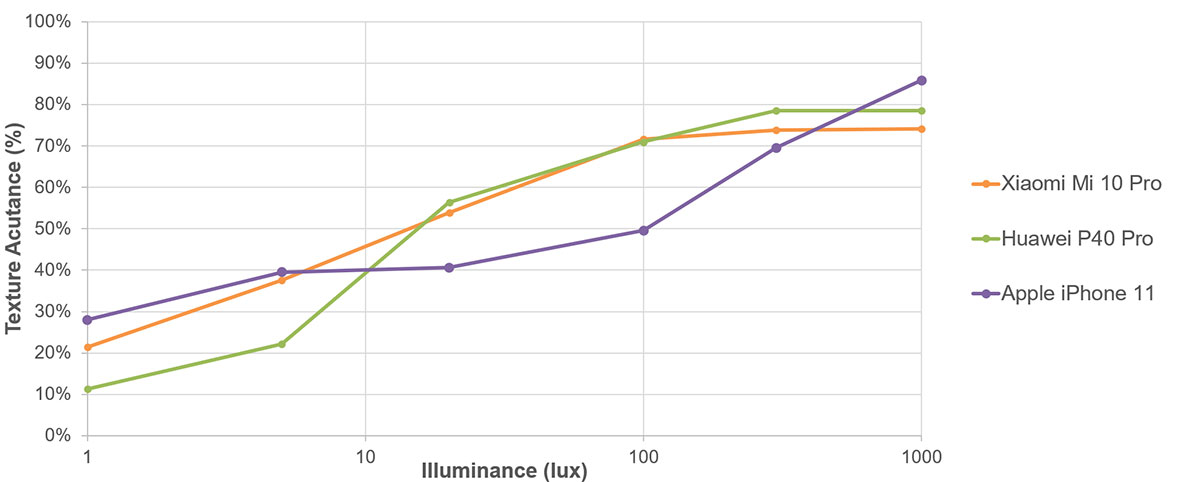 Image noise is better controlled in video mode than for stills and remains comparatively low across all light levels. In terms of artifacts, the Xiaomi's video clips show the same hue shift and flare effects that we observed in still images.

Unfortunately, video mode is slightly let down by the stabilization system, which is not very effective at counteracting camera shake or walking motion, so using a gimbal or at least some kind of add-on grip might be a good idea when using the Mi 10 Pro for vlogging or similar tasks. A jello effect can also be quite visible when panning quickly.
Xiaomi Mi 10 Pro, outdoor video
Huawei P40 Pro, outdoor video
Xiaomi Mi CC9 Pro Premium Edition, outdoor video
Conclusion
The Xiaomi Mi 10 Pro is one of the best devices we have tested for rear camera quality, but unfortunately the selfie camera cannot quite keep up. It will do the job for anyone who wants to post the occasional selfie shot or video on social media and who isn't too concerned about the lack of dynamic range or the ineffective stabilization system. However, if you are a vlogger or simply want high-quality front camera images and videos, better alternatives are available in the Xiaomi's price bracket.
Photo
Pros
Accurate target exposure on faces
Wide depth of field
Good detail in bright light
Good flash exposure
Cons
Limited dynamic range
Unnatural skin tones in low light
Image noise in all conditions
Unnatural blur gradient in bokeh mode
Video
Pros
Good exposure on faces in bright light and indoor conditions
Nice skin tones in bright light and indoor conditions
Wide depth of field
Good detail in bright light
Cons
Fairly ineffective video stabilization, jello effect
Hue shift and flare artifacts
Exposure instabilities
Limited dynamic range in bright light
Unnatural skin tones in low light